Semyon the lucky cat. Picture: Sergey Baranov/The Siberian Times
The fluffy cat was shivering from fright after becoming wedged to the snow-covered surface leaving him unable to move.
Good Samaritan Sergey Baranov, 41, a knife maker from Zlatoust and his wife Yelena, 36, spotted the pet under their vehicle on one of the coldest days of winter.
It took a total of SEVEN buckets of warm water to melt the ice gripping Semyon's paws.
'It must have got under the car in the evening, looking for a warm place, fell asleep and all its paws got frozen solid by the morning,' said Sergey.
Sergey held the shaking cat while his wife ran back and forth from their house refilling the buckets.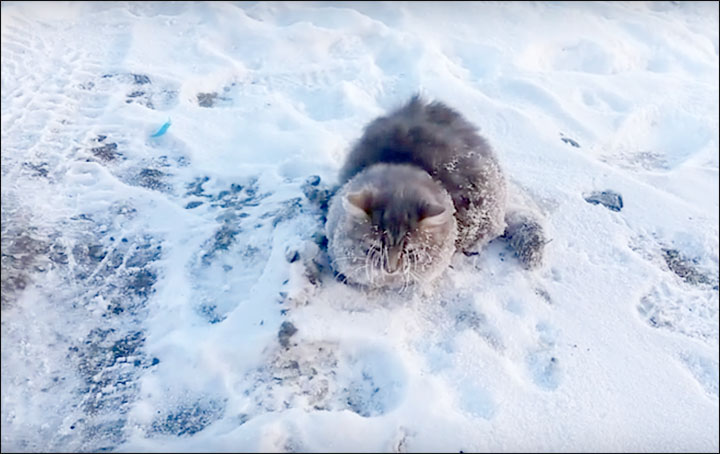 Semyon the cat is rescued after all four paws got frozen in ice at a glacial minus 35C. Picture: Sergey Baranov/The Siberian Times
---
The front paws were freed fairly quickly, using two buckets of water. Semyon's back paws had sunk 6 centimetres into the snow which had then frozen thick.
Another five buckets of ice were needed to free the paws and in all the operation took the couple seven and a half minutes.
'It's now minus 35C,' said Sergey on the remarkable video showing the cat rescue. 'You see how cold is our winter if even cats get frozen outside.'
The couple had prepared a thick blanket to wrap the cat after his release.
'It looks like she can't move her paws at all,' said Sergey ominously as the animal was finally freed.
Yelena replied: 'I've got a contact for a vet, let's call him now.'
Later Sergey posted an update on his social media.
'We called a vet who came right away and he did an anti-inflammatory shot. By the end of the day, the cat had started to walk.
'It looks very young, only seven to nine months.
'Three days later, after making sure the cat was all right, I posted an announcement on my page and a girl from our city said she wanted to pick it up.
'The cat lives has now lived at her house for a week and she says he seems to be fine. He runs and jumps around.'
During the rescue, waiting for another bucket of water, Sergey said: 'Always check what's under your cars before you start the engine!'
A frozen can rescue. Pictures: Sergey Baranov/The Siberian Times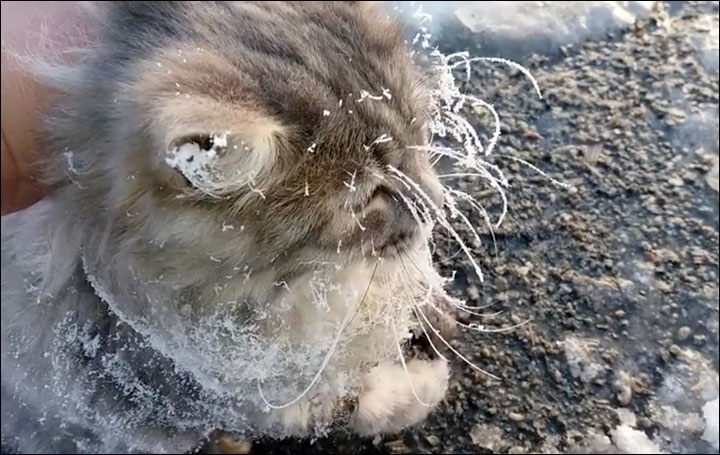 ---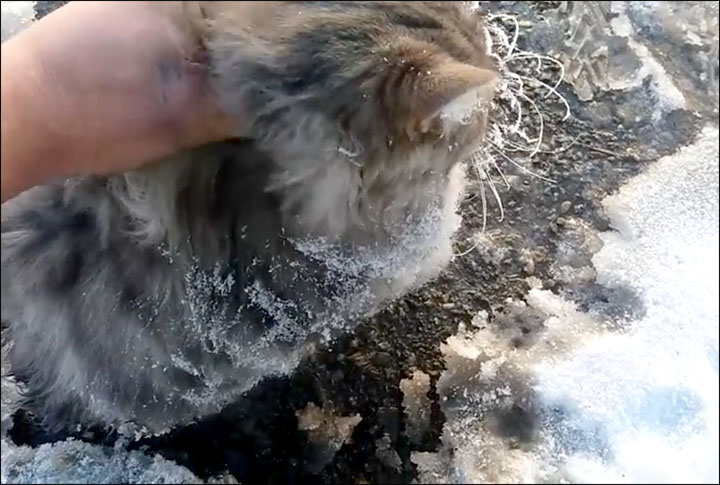 ---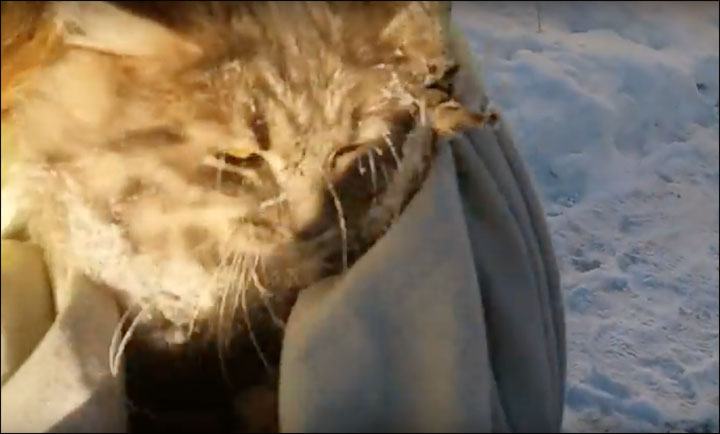 ---