The discovery follows years of gossip, some of it cruel, with their families and among neighbours that they were not the offspring of their parents. Picture: Dugarma Tsyrenova
DNA evidence indicates that the pair - both born on the same day, 21 January 1983 - were accidentally swapped by staff at the maternity hospital in Kurumkan, Republic of Buryatia.
The discovery follows years of gossip, some of it cruel, with their families and among neighbours that they were not the offspring of their parents. The older the girls got, the more visible became the differences in looks.
Villagers spread rumours and relatives and friends asked questions, to the dismay and embarrassment of their mothers Alisa Tsyrenova, now 56, and Lyubov Tsyrenova.
And here is perhaps the reason for the blunder: the mothers both had the same family name. They were not relatives, and 34 years on it maybe hard to understand who was to blame for the appalling mistake.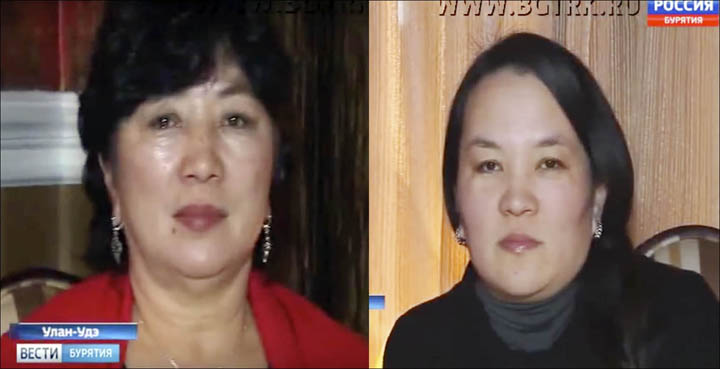 ---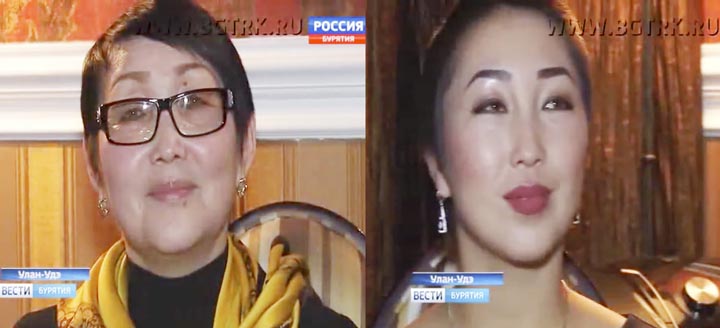 Lyubov Tsyrenova and Yulia Tsyrenova-Bazarova (top). Alisa Tsurenova and Dugarma Tsyrenova (bottom). Pictures: Vesti.Buryatia
Alisa lived far away in regional capital Ulan-Ude but had gone back to give birth in her native village. She then raised the daughter she took from the hospital - Yulia - in the city some 400 kilometres away.
But then in 2003, Alisa brought her 20 year old daughter Yulia back to the village Maiskoye, in Kurumkansky district, so she could undertake educational practice as an accountant. It was close to where Lyubov and her daughter Dugarma lived.
'A woman came up to me and said that I looked like the children of Lyubov and her husband Dashi from Bulak village,' said Yulia. 'I was shocked.
'When I came back home, my mother calmed me down. She said that she was the only one who gave birth that morning. After that we did not talk about this.'
But the rumours spread. Alisa's friends in Kurumkan district told her that there is a girl in the district who looks like her as a young woman.
Happy mothers and their toddlers. Lyubov and Dugarma (left). Alisa and Yulia (right). Pictures: Vesti.Buryatia
Dugarma is also very talented: singing, dancing, writing and staging plays, a winner of many national and Russian competitions, a songwriter in the Buryat language; likewise Alisa is a talented artist.
Durgama lodged with Tsytsygma Angabaeva during her studies, and she happened to be an old classmate of Alisa's. She noticed the resemblance at once. 'She is an exact copy,' said Tsytsygma.
The parents still tried to find the arguments to explain the fact that their children do not look like themselves.
Lyobov Tsyrenova said: 'In our family, all children are swarthy, but Dugarma has light skin, eyes with a green tint, reddish hair, like her grandmother Olga, mother of my husband Dashi... Dugarma is like her grandmother.'
Alisa thought that Yulia looked like her father's relatives.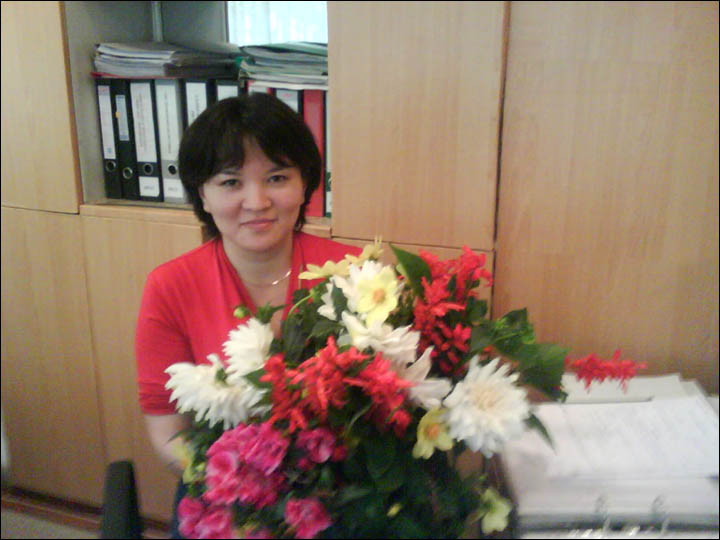 ---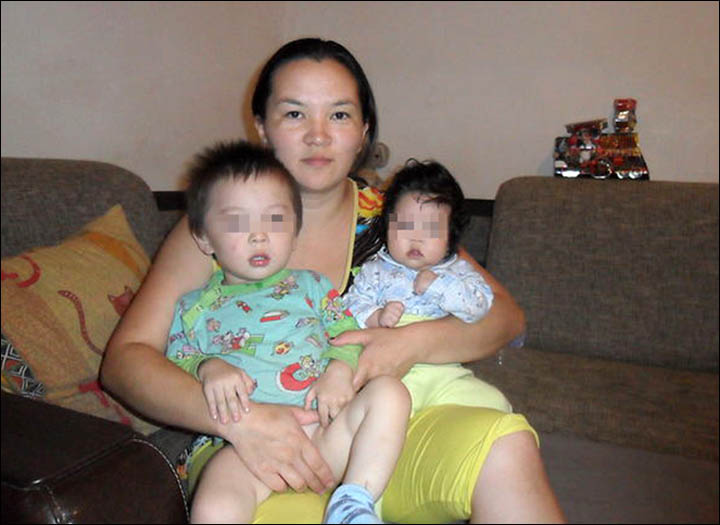 Yulia Bazarova (nee Tsyrenova) and her kids. Pictures: The Siberian Times
Seven years ago Alisa called Lyubov to discuss the rumours, but then both mothers calmed themselves down, deciding that there was nothing suspicious is about their daughters. There was a slight difference in weight, but this happens often.
In 2013, when Alisa became seriously ill, she decided to find out the truth with the help of DNA analysis. She and Yulua called Dugarma, but at the time Dugarma refused to allow her DNA to be compared. The disease worsened and in late 2016 Alisa and her daughter Yulia decided to take a test.
'Yulia and me decided that we needed to be courageous and to take this test to finally clear up these endless conversations,' she said. The test, conducted by the Centre for Molecular Genetics in Moscow proved that Alisa was not Yulia's mother.
Yulia said: 'Different feelings overwhelmed me. On the one hand, I was ready for being told I was not the natural daughter of my mother. On the other hand, my mother is Alisa. It was, is, and always will be so. She is the best one in the world.'
Both mothers and daughters also knew the place and date of birth, which meant by now it was obvious what had happened, however traumatic to come to terms with it.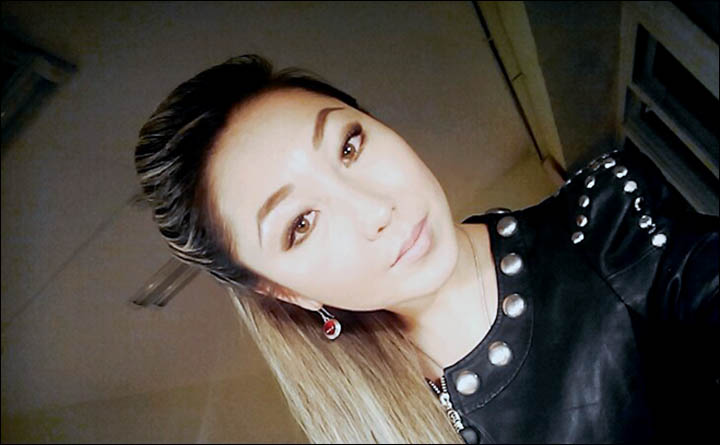 ---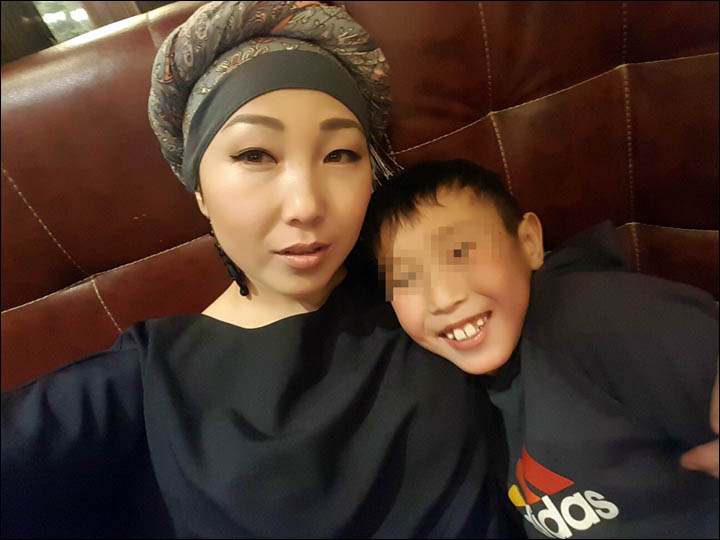 ---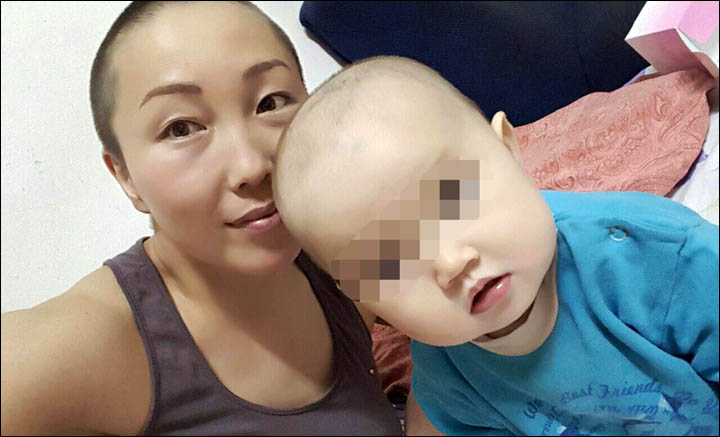 Dugarma Tsyrenova and her kids. Pictures: The Siberian Times
Recently the families decided to do a DNA tests and found out that the girls were swapped in the maternity hospital. This confirmed that Dugarma is the biological daughter of Alisa, and Yulia is the biological daughter of Lyubov.
Both girls have grown up in good, decent families: Alisa Tsyrenova is an Honoured Artist of Buryatia, and worked in the theatre 'Baikal'. It is clear her biological daughter has inherited similar talents as an artist and singer. Lyubov Tsyrenova - a mother of five - is a librarian. She and husband own their own farm.
The girls and their mothers met on 21 January to jointly celebrate their daughters' birthday, and they bravely spoke to local TV about their feelings.
Alisa said: 'It is purely the human factor. Though... even in theory... we gave birth in one day in one maternity hospital, on January 21, but there were only two of us. It is not a conveyor, like in a big city...
'And on that day only me and Lyubov gave birth in Kurumkan maternity hospital. I gave birth in the morning and Lyuba [short for Lyubov] in the afternoon.'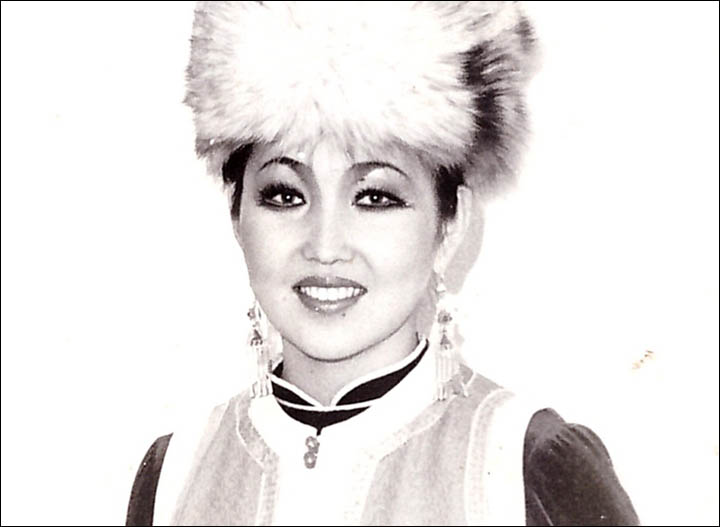 ---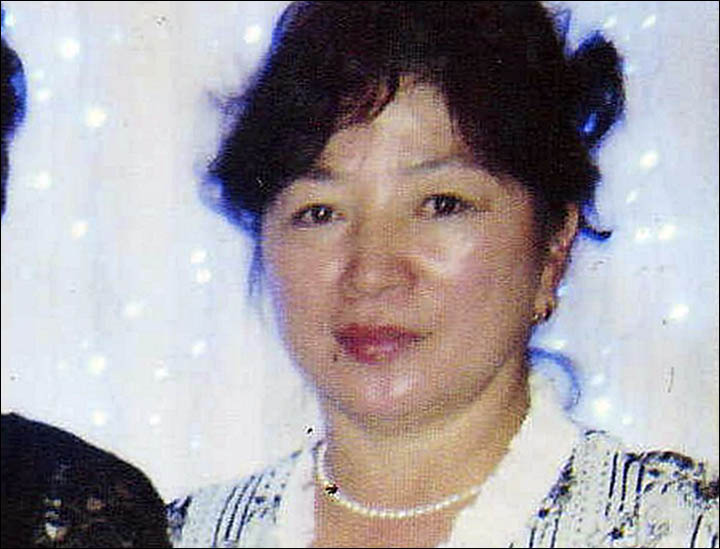 Alisa Tsyrenova, young artists, pictured in 1986 (top). Lyubov Tsyrenova, librarian, pictured in 1990s (bottom). Pictures: Inform.Polis
She added: 'The drama here is not that someone lives better, and someone lives worse, the question is absolutely not in this. The tragedy is that mothers were deprived of the chance to raise their own children...'
Lyubov Tsyrenova said: 'It is very hard for me, very hard. I still cannot believe this. I feel sorry for my daughter, I feel sorry for Yulia... Just... 34 years, a mother gives everything.
'How we will live further? We will raise our children, our grandchildren, help. Both of the girls are my daughters... so we will live further.'
Yulia Tsyrenova - who changed her surname to Bazarova after marrying said: 'How can you change it? We're not babies, we have our own lives, our own fate, children. We need to get re-acquainted. I saw Dugarma for the first time and it was like - that's my mom, young again in front of my eyes.'
Dugarma added: 'It is a great joy. It is happiness, it is good luck. We need to see the best sides in this.' She and Yulia are themselves both mothers, each has a boy and girl.