Days after meeting her real daughter and lookalike Dugarma, Alisa was told the truth about herself. Pictures: Channel 1
Alisa Tsyrenova's desire for the truth about her family, spurred by a need-to-know during a serious illness for which she is now having treatment, led to two separate devastating discoveries about her life.
Her heartrending find that Yulia, 34, the daughter she had lovingly raised, was not her own we reported in detail last week. Yulia had been mistakenly swapped with another newborn infant by nursing staff at a maternity hospital in Buryatia, close to Lake Baikal.
Days after meeting her real daughter and lookalike Dugarma, also 34, and explaining that now she saw and felt them both as her daughters, Alisa was told the truth about herself established by a remarkable TV investigation Andrey Malakhov 'Let Them Speak' on Channel One.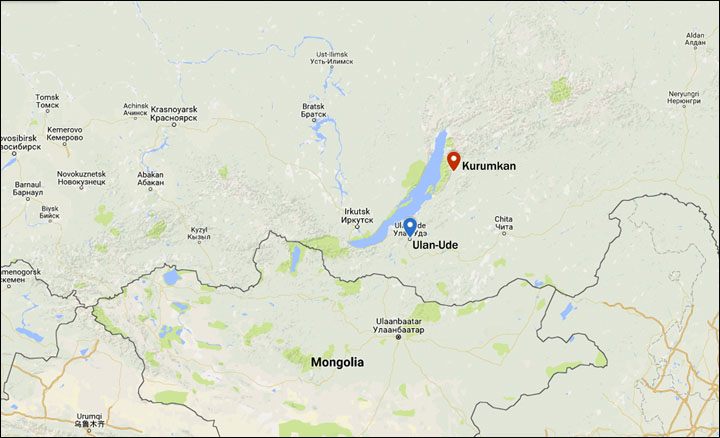 ---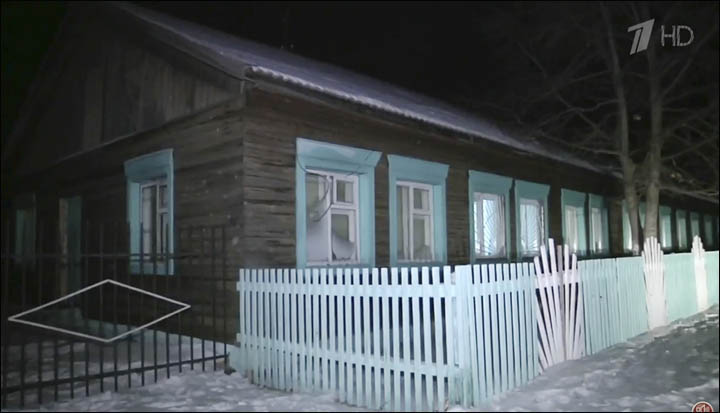 Alisa was born on 18 December 1960 in the same Kurumkan district maternity hospital where she would later give birth to her own daughter. Pictures: The Siberian Times, Channel 1
DNA research proved that Alisa herself was not raised by her blood parents, now both dead, but by the mother and father of a baby she, too, was swapped with at the same maternity hospital 56 years ago.
Gripped by emotion, she said: 'It is so hard for me... extremely hard to talk... It is very painful. I had urged my daughters to make the DNA test, but I was so scared deep inside... I was really shaking.
'But I realised that someone needed to start this, to put the dots (and clarify doubts that had emerged). If we were all scared of this, we would never know the truth.
'Now we are saying that we will come to terms with it all, that we are strong, and that we will get used to it. But those who have never walked in these shoes cannot understand how hard it is.'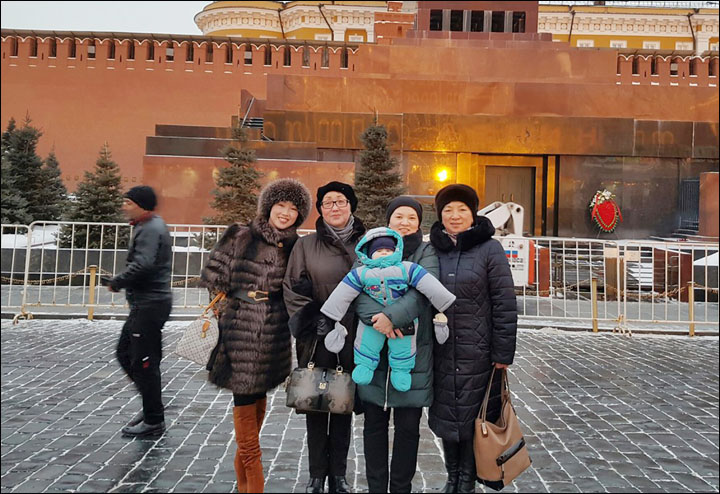 From left to right: Dugarma Tsyrenova, Alisa Tsyrenova, Yulia Bazarova (with baby) and Lyubov Tsyrenova in Moscow. Picture: Dugarma Tsyrenova
She told TV viewers: 'It was difficult for me to decide on this. But obscurity is even worse. It is the worst thing. It is not easier. Many people say about such cases - now you know the truth so you can live happily ever after. They argue the main thing is that your baby did not turn into some drug addicts family. But, in fact, in reality, it is very difficult.
'If I only knew that this could have happened to me, I would never have let my baby out of my sight from the moment I gave birth. I would grab her and hold near. There is a natural instinct, to feed your own baby. And it doesn't matter at all if the family is rich or poor. This is an instinct.'
Alisa recalled that her father long ago had hinted to her the belief that she had been swapped.
'Once my father said casually that there were rumours that I was not their daughter,' she said. 'But I did not really hear him. I told that him that whatever had happened I loved my family so much. I did not want to hear him then...'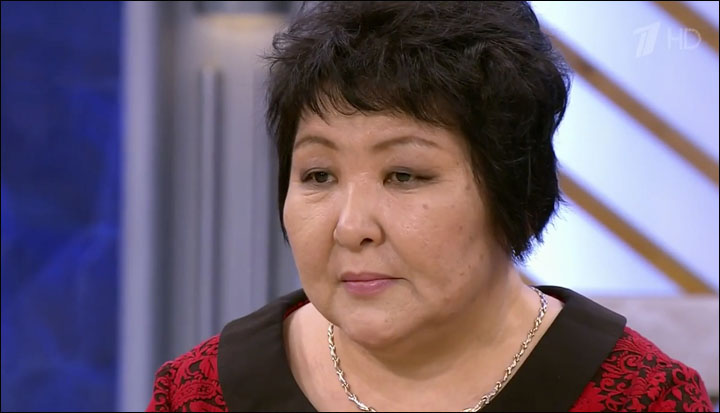 ---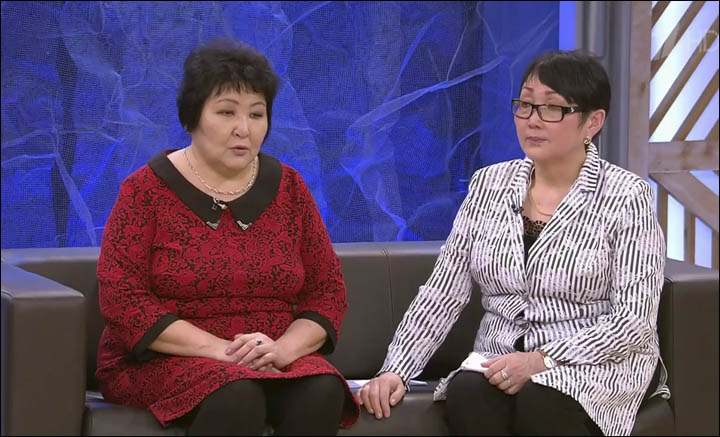 Tsytsyg Putushkina told about the gossips that Alisa was swapped in maternity hospital. Pictures: Channel 1
This was all long before DNA technology could answer the questions raised by village and family gossip.
Alisa was born on 18 December 1960 in the same Kurumkan district maternity hospital where she would later give birth to her own daughter. And there was indeed gossip, some of it cruel.
The sister with whom Alisa was raised, Tsytsyg Putushkina, 53, said: 'When I was 23, my cousin got married and I was a bridesmaid. Late in the evening, when most guests had gone, an unknown woman came to me and said: 'Your sister, Alisa, is my daughter.'
'I looked at her in shock, and asked: 'What? What are you saying?'.' Confused, Tsytsyg said: 'Then I went out. And forgot about all this.'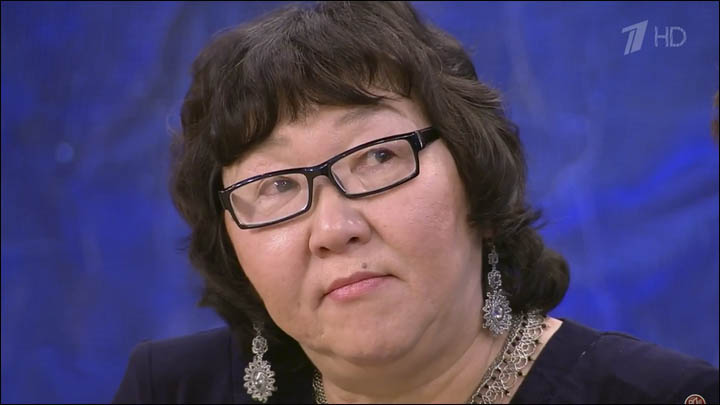 Butydma Budakova, 56, was registered as being born on 17 December 1960, the day before Alisa. Picture: Channel 1
With hindsight, it is impossible to imagine the agony of Alisa's blood mother who clearly knew the truth but had no way to prove it in the years before such DNA tests were available.
It was after Alisa and her 'two daughters' went on a TV talk show to discuss their swap that Tsytsyg asked if they could do a DNA test for her and Alisa to establish if they were blood sisters.
They did so, and the analysis revealed that Tsytsyg and Alisa were not related. The TV show then set about investigating if there was another swap.
From birth records, they identified the other mother - who is dead but not named - who gave birth at the same time as the woman Alisa knew as her mother.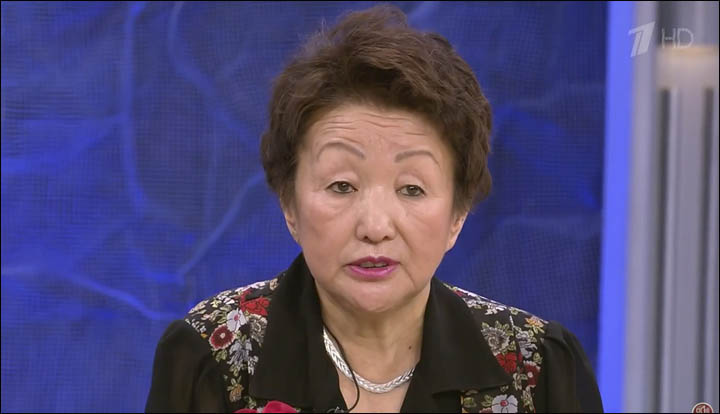 Tatiana Zhigzhitova, 62, revealed that Butydma is not her blood sister. Picture: Channel 1
This woman's 'daughter' Butydma Budakova, 56, was registered as being born on 17 December 1960, so the day before Alisa. Butydma Budakova was invited to the show in Moscow along with her elder sister Tatiana Zhigzhitova, 62, to find out the truth.
DNA analysis showed that they, too, were not blood sisters. Moreover, the test proved that Butydma was the natural sister of Tsytsyg, and that Alisa was the true sibling of Tatiana.
Alisa is a singer, and artist and a performer at theatre Baikal in Ulan-Ude, the capital of the Republic of Buryatia, a Buddhist region in southern Siberia. It turns out that Tatiana was also known for her singing voice.
'I love singing too,' she said. 'I studied in a musical college, but got married early and gave up music. I gave birth to my children and I'm very proud of it,' said the mother of three and grandmother of four, relatives Alisa had no idea she had.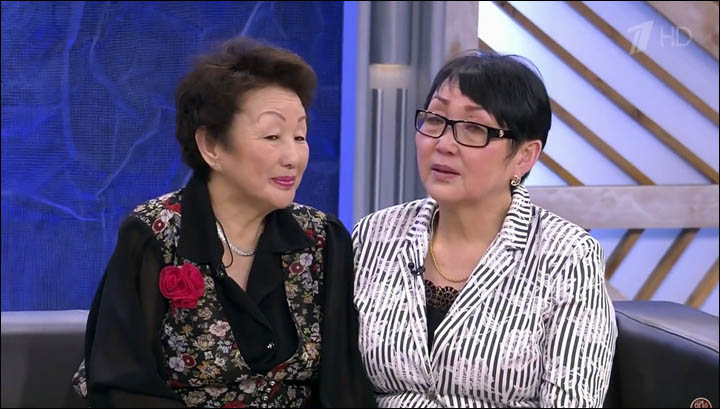 ---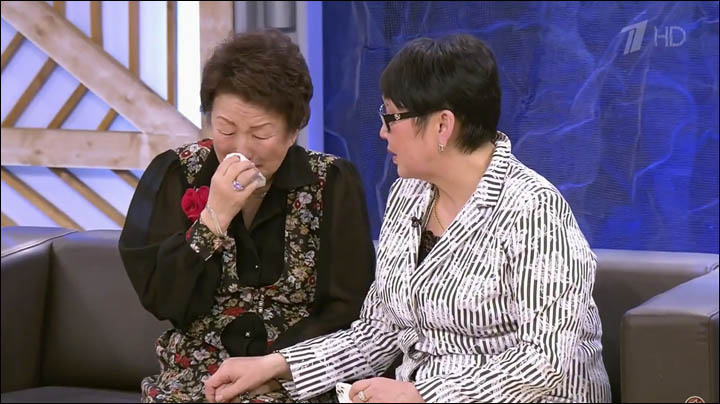 Tatiana and Alisa reunited after 56 years. Pictures: Channel 1
Tatiana admitted: 'There really was talk that me and my sister Butydma seemed completely different. She is very calm and I am energetic. We really have completely different characters. After all this, were were asked to do a DNA test here.
'I thought - why do we need to stir up the past? Probably there are a lot of such families... But we went for it.'
Again, the family members around her had realised something was amiss, but there was no way, at the time, to established the truth. 'My aunt Dulma once told me: 'Tanechka (Tatiana), you know, you and Butydma are not sisters...'.
'I replied: 'So what? Does it have any significance - sisters or not, anyway we will never be strangers. I could not say this to Butydma... She is a loving sister, she cares for me and I care for her...'
Dulma Turlakova, the aunt of Tatiana and Alisa: 'I heard about this from my cousin. That Butydma was not native to our family.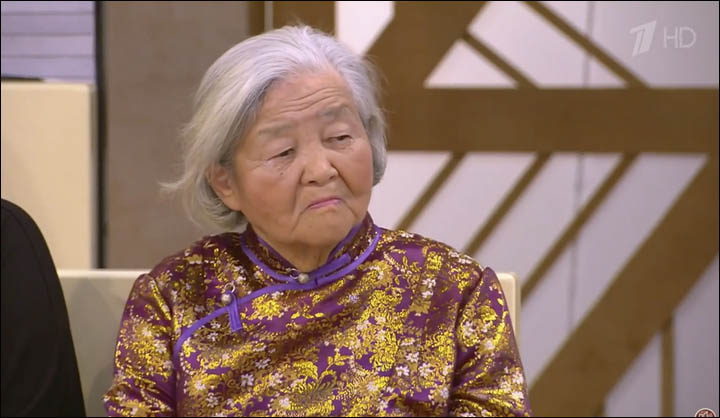 Dulma Turlakova, the aunt of Tatiana and Alisa. Picture: Channel 1
'I warned her then - not to tell this to other relatives. To keep this a secret. We could not understand how to broach this with others. Because we're talking about people's lives. And our kin is a shaman kin, so it is very important for us to keep all our family connections. We cannot lose our kin.'
But she said it was good to know. There might otherwise be a risk of accidental incest from grandchildren in the families marrying and having children.
Tsytsyg said: 'Alisa will always be my sister... But now, after we know the results of the test... I see that Alisa has so much in common with her real sister Tatiana and I have much similar to Butydma.... It is so sad that out parents never learned, that they died unaware...'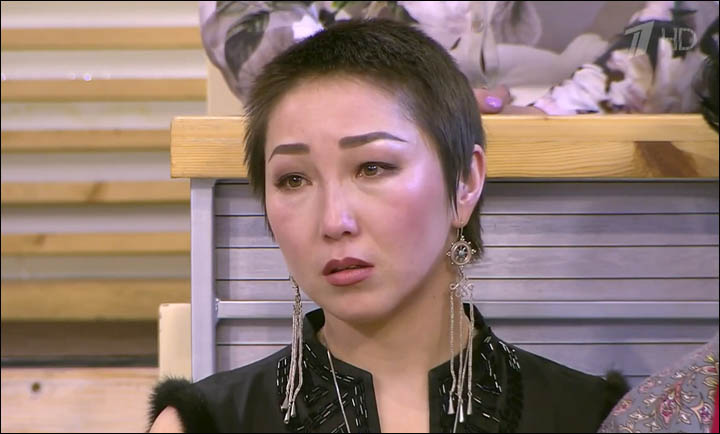 ---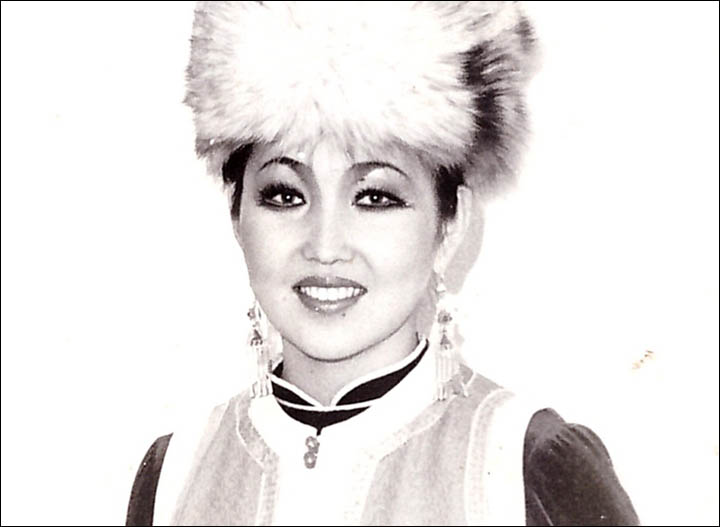 Dugarma speaking about her feelings on TV. Alisa Tsyrenova in 1986. Pictures: Channel 1, Inform.Polis
Alisa's blood daughter Dugarma, a well known local artist in Buryatia, who is now getting to know her real mother for the first time, is also coming to terms with her mother being swaped.
'Yes, we say now that our families became bigger, that we have become richer,' she said. 'But I remember all those nightmares which were haunting me since I was a teenager (with all the gossip).
'It seems that it is easy, but there is a great deal of work inside us. It is difficult, it will take months, years... But we are strong, we will cope with this.'