Roman Ushakov, 33, flew on foreign jaunts to Britain, Finland, Spain and Turkey to meet his CIA handlers. He began spying for the Americans after posting messages on US Central Intelligence Agency website cia.gov and 'starting a game' with agents.
Ushakov was sentenced to 15 years in jail after a top secret investigation and trial behind closed doors. The sentencing hearing lasted just seven minutes in Moscow City Court.
From the Siberian city of Krasnoyarsk, the police major - evidently frustrated at failing to secure a post with the FSB counter-intelligence agency - had passed classified documents and information to the CIA. The traitor was caught receiving new orders and 37,000 euro in cash which was hidden in a fake rock left in a district of Moscow.
Once caught, he divulged to the Russian authorities full details of his dealings with the Americans, it was reported.
'Roman Ushakov's spy story began in 2009 when the young detective from Krasnoyarsk decided to get a job in the local FSB,' reported Kommersant newspaper on Friday. 'Despite of the fact that he was a prominent detective, and had won several rewards, he did not get the job for some reason. Ambitious Ushakov felt offended, his colleagues confirmed later, and decided to prove to the FSB how good he was.
'Later it was found out that he went to CIA website cia.gov and started a game with CIA agents. Two agents got in touch with him and soon they began to trust each other. Starting from 2010, Roman Ushakov was telling his overseas partners basic information about FSB officers from Krasnoyarsk region, from majors to colonels,' reported Kommersant newspaper.
'Among those there were officers of the FSB's main office and also those who worked at the secret administrative-territorial authorities.'
This is believed to mean 'closed' towns where sensitive nuclear or military work is conducted. He passed to the CIA details or a dozen or so FSB officers, obeying instructions from his handlers.
From 2013 he started his foreign travels, and met CIA agents. In June 2013, he was invited to Krasnoyarsk FSB office and warned of a criminal investigation against him. Next day, he flew to Moscow, and went to the Lubyanka - headquarters of the FSB - confessing his co-operation with the CIA, and offering to be a double-agent.
'But this game did not last long. On the night of 24 August 2013, Roman Ushakov went to Biryulyovo, in Moscow district, to an area where homeless people put their tents, and found there a container in a shape of a rock.'
This contained the cash and new instructions from the Americans.
'He was caught red-handed in 2013 when he was trying to open the cache and pleaded guilty,' reported TASS.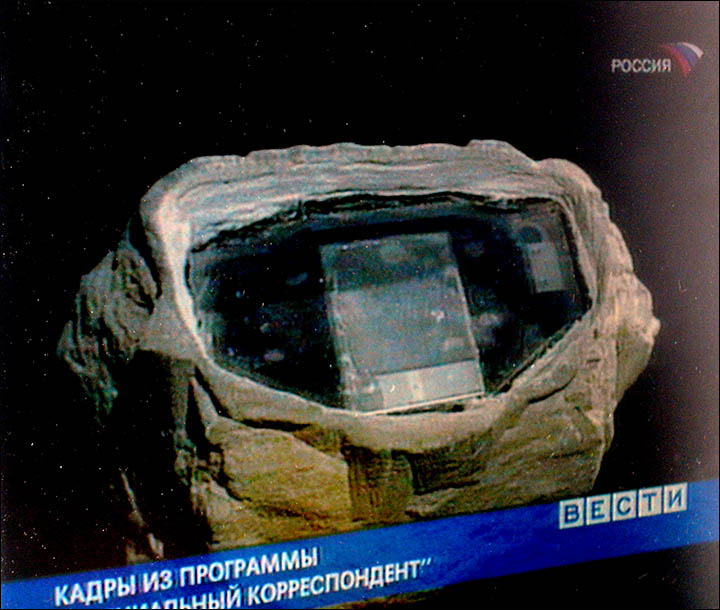 In 2006, Britain used a 'spy rock' to receive classified information from Russian citizens.Picture: VESTI TV Russia
---
Roman Ushakov was arrested by Russian secret services and taken to Lefortovo, where two days later he was accused of treason.
His sentence was a year longer than sought by Russian prosecutors. His lawyer Andrei Kucherov had asked for 12 years punishment, but he was sentenced to 15 years and stripped of his police major rank.
Kucherov said the verdict 'does not fit the crime, taking into consideration all the circumstances of this case', saying that his client had co-operated fully with the Russian authorities. He indicated he planned to appeal to the Supreme Court.
'The crime was resolved thanks to the professional work of Federal Security Service officials,' said Viktor Antipov, an official with the Prosecutor General's Office.
The use of fake rocks seems a favourite of Western intelligence services. In 2006, Britain used a 'spy rock' to receive classified information from Russian citizens.
One the outside, it appeared an ordinary stone but inside was bristling with hi-tech electronics.
Britain at first laughed off the Russian claims about the rock but a senior ex-official in Tony Blair's office in 2012 admitted the truth.
Jonathan Powell, former chief of staff to Blair, called the spy rock 'embarrassing', adding that the FSB 'had us bang to rights'.