River Ambarnaya, north of Krasnoyarsk region, pictured days after the diesel spill. Picture: Vasily Ryabinin
Moscow hydrogeologist Georgy Kavanosyan has just returned from Norilsk, where he took a long boat trip to measure contamination of River Pyasina flowing into the Arctic Ocean.
Kavanosyan, 33, shows in the video that maximum permitted concentration of oil products in the river exceeds the norm by 2.5 times, and says that urgent steps are now needed to check the river delta where it flows into the Kara Sea.
This follows a spill of around 21,000 tons of diesel released into an Arctic river and surrounding land, described as an 'ecological catastrophe caused by thawing permafrost'.
A giant fuel storage tank was damaged by collapsing soil with some experts suggesting it could have been caused by polar warming.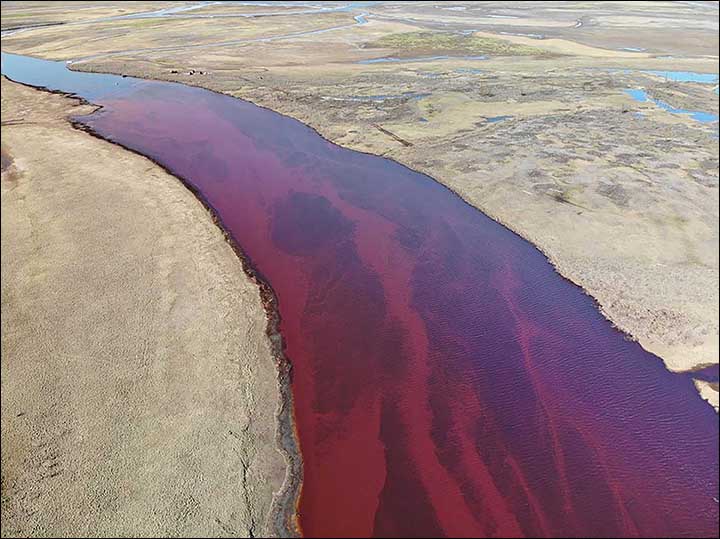 ---
---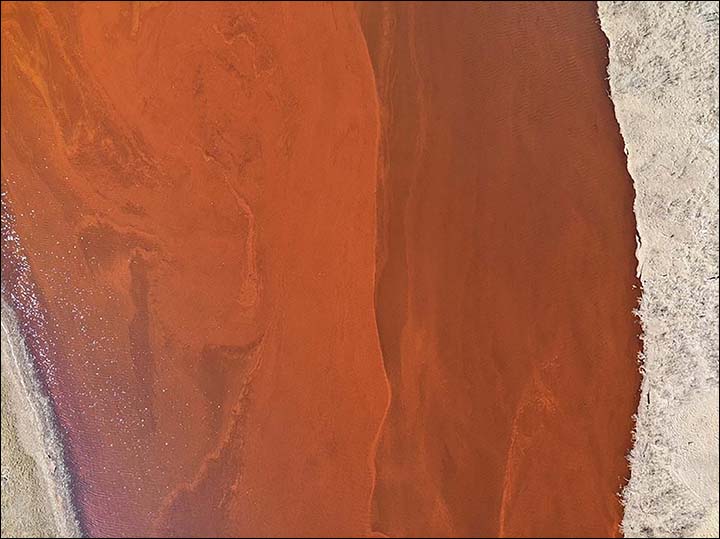 ---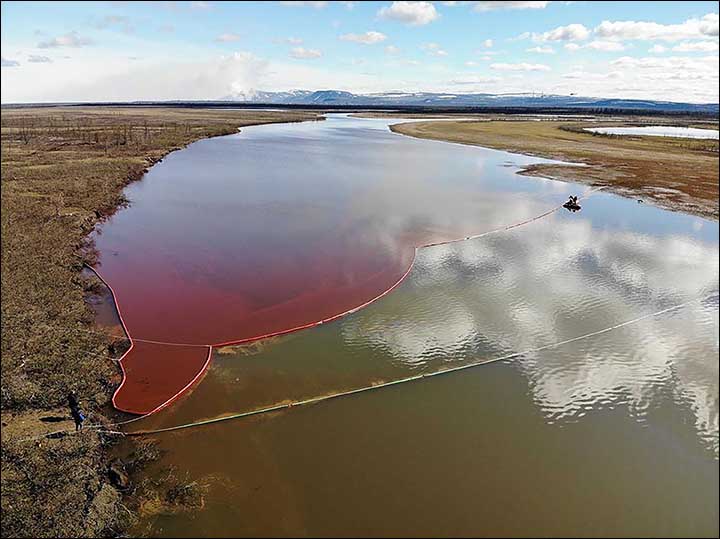 ---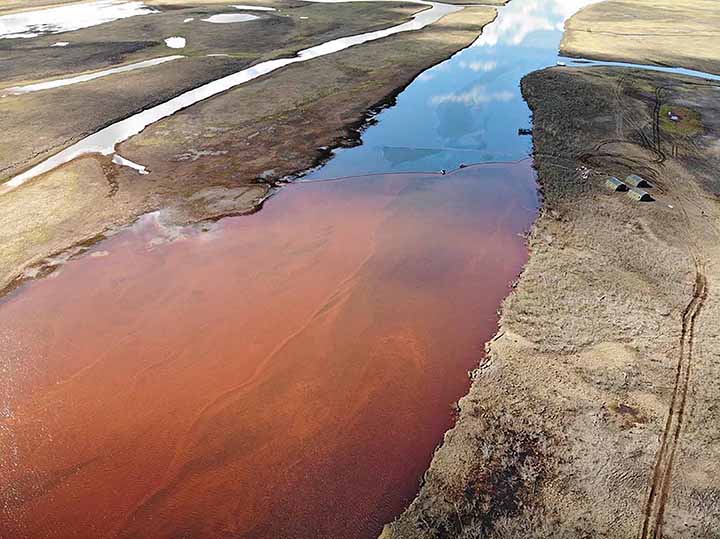 ---

Rivers outside Norilsk pictured and seen from a satellite days after the diesel spill. Pictures: Vasily Ryabinin, Norilsk Nickel
---
Pictures initially showed 'pollution' in the Ambarnaya River near Norilsk in the Russian Arctic.
The river was covered in a toxic layer of diesel which could be set on fire.
Booms were placed in the river to stop the diesel seeping towards Lake Pyasino, which outflows as the Pyasina River into the Kara Sea, part of the Arctic Ocean.
Norilsk Nickel company - the ultimate owner of the diesel storage - has insisted it was successful in stemming the pollution, but Kavanosyan questions this as he releases the video of him measuring contamination of Pyasina River which flows into the Arctic Ocean.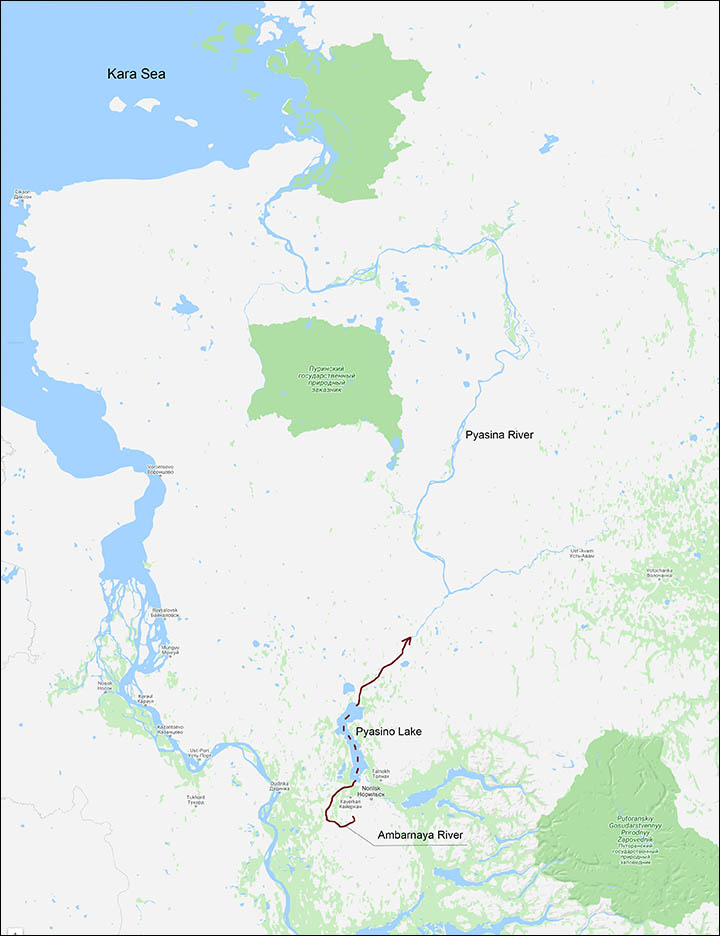 Hydrogeologist Georgy Kavanosyan measures contamination of Pyasina River which flows into the Arctic Ocean. Video: Georgy Kavanosyan, map The Siberian Times
---
'Maximum permitted concentration for fishery waters is 50 micrograms per liter (ug/L)', he says in the video released on his YouTube channel on 19 June 2020.
'Let's lower the sensor and see what we have here. Here is the result, can you see?
'Right now it shows 128 ug/L, which means that the MPC is exceeded 2.5 times.
'In other words there are oil products here. They reached here and we do not know how far north they reached.
'It means that not only the Daldykan and Ambarnaya rivers and Lake Pyasino are polluted, but Pyasina River, too, which means that a large-scale environmental disaster was not avoided.'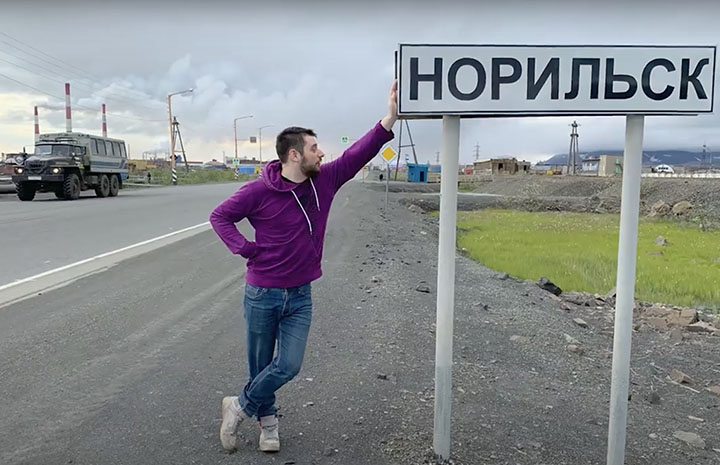 Georgy Kavanosyan in Norilsk. Picture: Georgy Kavanosyan
---
Kavanosyan had not agreed his trip with Norilsk Nickel, and took a side route to Pyasino to avoid being stopped by company's security.
On return to Moscow he was interviewed by well-known TV journalist Alexey Pivovarov and explained why he felt he needed to be extra cautious.
'I was very worried indeed because there was information about Novaya Gazeta journalists detained in Norilsk,' he said.
'Next I had acquaintances, experts on construction in the permafrost zone who were detained, too.
'Memory cards from their camera were taken away, and they were driven to the airport', he said on Pivovarov's YouTube show, which has 1.2 million subscribers.
As Kavanosyan's interview went on air, news came that Vasiliy Ryabinin, Norilsk-based inspector of state ecological watchdog Rosprirodnadzor was quitting his job in the wake of the environmental catastrophe.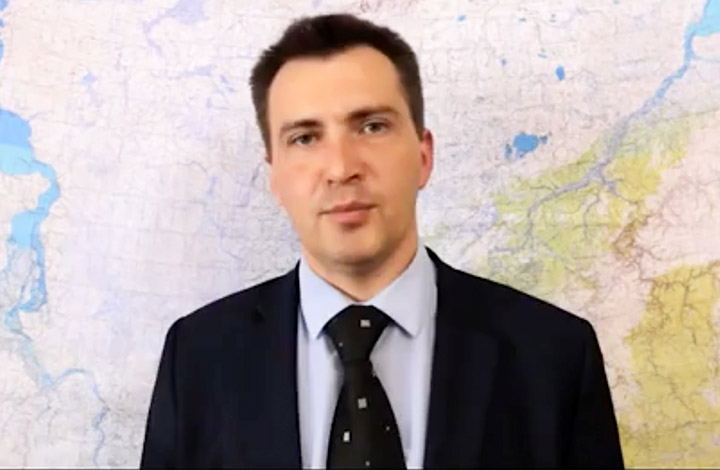 ---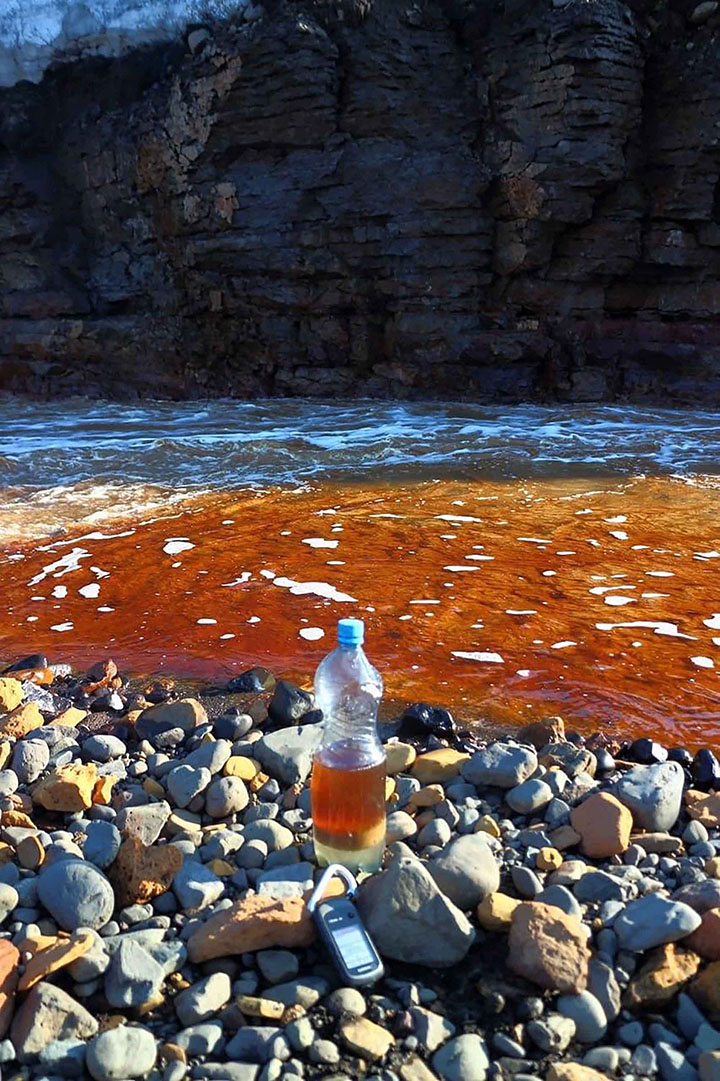 ---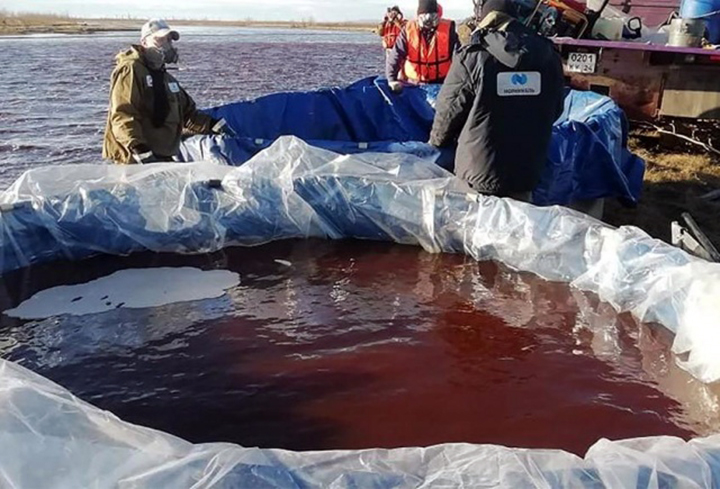 Vasily Ryabinin, pictured top, is selling his belongings in the home city of Norilsk and is relocating elsewhere with his family in the fake of the enviromental disaster. Pictures: Vasily Ryabinin, Ministry of Emergency Situations
---
Twice an employee of Norilsk Nickel, he has just started working for RosPrirodnadzor days before the diesel leak. Ryabinin was one of the key people who flagged the scale of the environmental disaster by recording a video where he detailed the first minutes of inspecting the leak site.
Describing his feeling of being almost knocked down by the toxic smell of diesel and feeling drunk from inhaling it, he said in the video:
'You must be there to understand what it looks like, to see this river of diesel.
'We also managed to secretly check the accident scene from afar.
'It was a clear feeling of catastrophe.
'This sounds incredible but it was true: the state's own local ecological watchdog officials were not permitted to visit the scene of an environmental emergency of huge proportions.'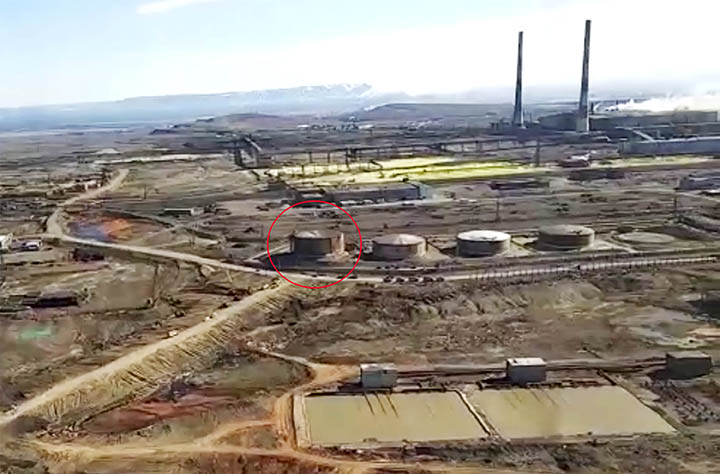 ---

Fuel storage tank at Norilsk-Taimyr Energy's Thermal Power Plant No. 3, with the tank that failed on 29 May 2020 marked. Pictures: Ministry of Emergency Situations
---
Now Ryabinin is leaving the home city for good, selling his belongings and moving elsewhere with his wife and children, he told The Open Media website.
Georgy Kavanosyan said he was aware of Vasily Ryabinin's 'disappearance' when he was interviewed by Pivovarov, and admitted that he was quite nervous himself after revealing the results of his trip.
He alleges that the leadership of Norilsk Nickel is seeking to hide the size of the calamity that some have likened to a Chernobyl in the Arctic.
'The main problem is that the accident causer Mr (Vladimir) Potanin is trying to hide the true scale of the tragedy,' he was quoted as saying.
'The responsible authorities under his control deliberately hush up the fact that the contaminant is moving to the north.
'The media is trying to downplay the magnitude of the disaster.
'I personally had to visit the oil spill and to make some analyses confirming the catastrophic state of Arctic rivers and lakes.
'I published the results on my YouTube channel.
'I'm taking a big risk proclaiming these problems since it isn't known how Mr Potanin and his security service will react.'
He wrote these words in an 'online appeal' to environmentalist Greta Tunberg.
---
---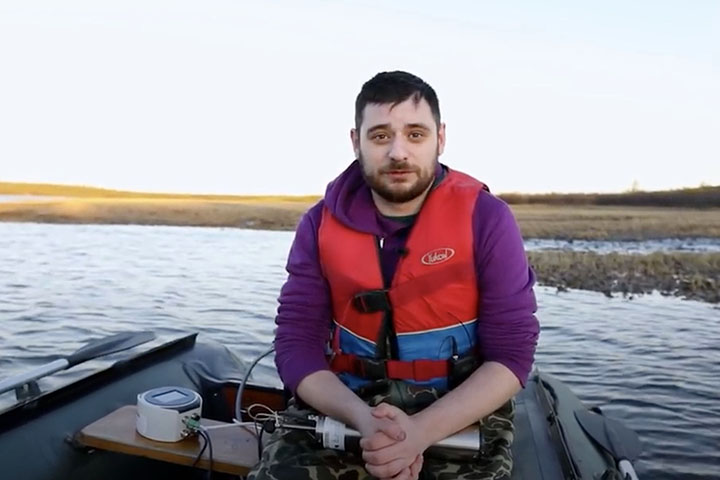 ---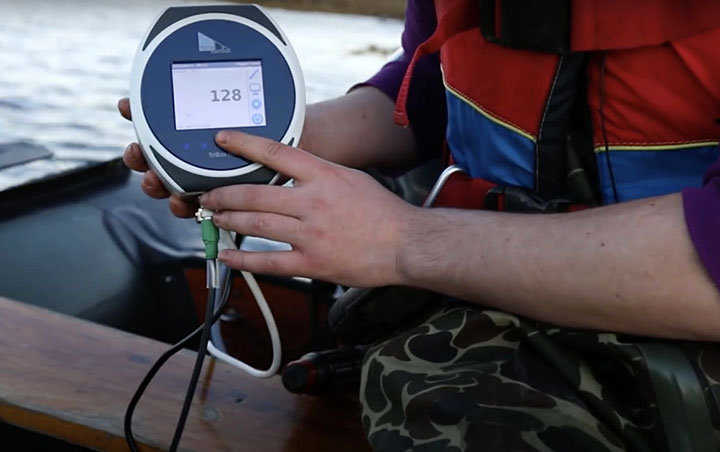 Georgy Kavanosyan pictured taking measurements in river Pyasina. Pictures: Georgy Kavanosyan
---
The ecologist stressed that deploying booms to stop the visible diesel stain that coloured Arctic rivers red in pictures and videos that went around the world was only a small part of the work that had to be done.
Invisible to a naked eye, but highly toxic, are the so-called heavy fractions of the diesel that got mixed with water several hours after reaching the rivers.
'Booms stopped the so-called thick layer of diesel. The thin layer which can't be seen from satellites or with a naked eye can only be detected by special equipment. Polycyclic Aromatic Hydrocarbon (PAH) is highly toxic and take years to disintegrate.
'They get into silts and organic. This is indeed an enormous problem', he told Pivovarov.
Kavanosyan has also recorded a video appeal to billionaire Potanin, urging him to concentrate clean and rescue efforts much further north from Norilsk.
VIDEO APPEAL TO VLADIMIR POTANIN, video by Georgy Kavanosyan
Norilsk Nickel company has steadfastly insisted that there is no major ecological problem, and denied that pollution is reaching the Kara Sea.
The latest update from the company states:
23 June 2020
As at 23 June, 32,896 cu m of water and fuel mixture has been collected (including 66 cu m in the past 24 hours). Of this amount, 25,368 cu m has been collected from the Ambarnaya River (including 30 cu m in the past 24 hours).
A total of 133,630 t of contaminated soil has been removed and hauled to disposal sites at HPP-3 (including 5,000 t in the past 24 hours).
95.8 km of bank line and 85,000 sq m of contaminated area have been treated with sorbents (including 9.8 km and 7,600 sq m, respectively, in the past 24 hours).
495 people and 248 units of equipment are working on the site to clean up the spill.
Further updates on the clean up operation are available on Norilsk Nickel's website in English and Russian.