Missing fisherman Andrei Kurochkin with his wife Olga (L) and daughter Alyona. Picture: The Siberian Times
Alexander Abdullaev, 37, will be quizzed on whether he and Alexei Gorulenko, 35, murdered Andrei Kurochkin, 44, on a trip to a remote area of eastern Siberia. He has previously denied murder, claiming that he died of the cold after they got lost in the taiga.
An investigation into the case is awaiting DNA and forensic tests on some 20 bones believed to be Kurochkin's. The results are not expected before the end of March.
'Abdullaev should be travelling today to Yakutsk where our colleagues will perform a lie-detector test on him,' said investigator Dmitry Murashko from Neryungri in the Sakha Republic, also known as Yakutia.
'Alexei Gorulanko from Saratov region has been interrogated by our colleagues'.
The case attracted worldwide attention after close friends Gorulenko and Kurochkin went on a fishing expedition with two other men who they met in Amur region.
Suspicions were raised whether the trip - which went on for many weeks longer than intended - was really for fishing, or was a gold-hunting expedition that went wrong. The fourth man Viktor Komarov, 47, remains missing and is presumed dead. Relatives of both Kurochkin and Komarov have given DNA samples to seek to identify the bones.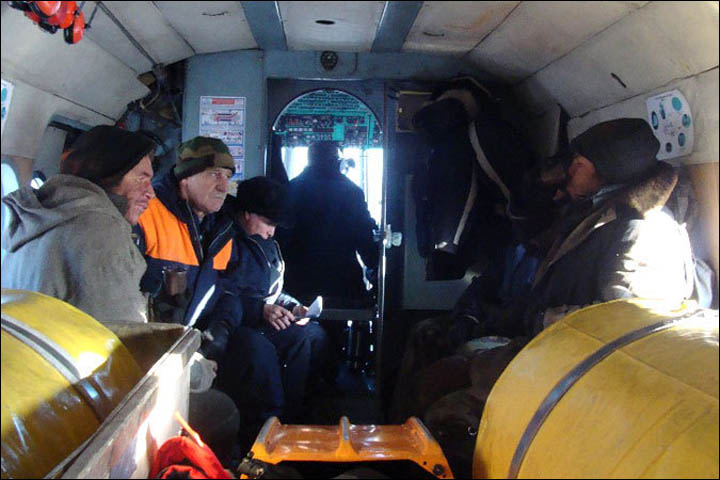 ---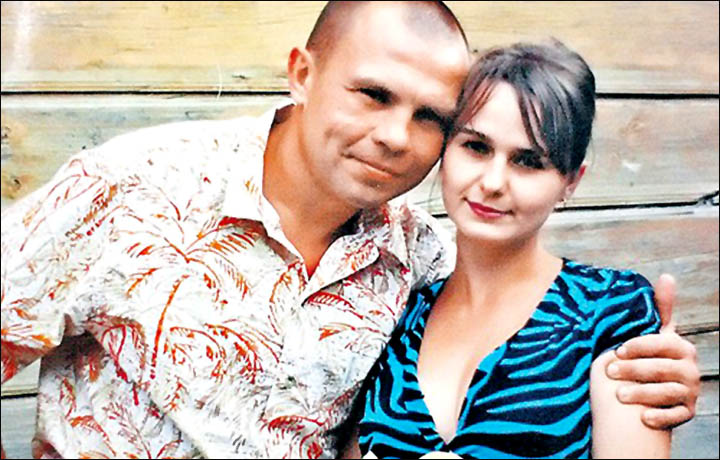 Rescued Alexander Abdullaev (L) and Alexei Gorulenko are taken to safety by the Emergency Ministry helicopter; below Alexei Gorulenko, who now lives a life of a recluse with his wife Irina. Pictures: The Siberian Times
A report in Yakutia said that investigators are seeking to explain inconsistencies in accounts given by the two survivors to rescuers and later to police.
'He died from the cold after getting a leg injury. He was frostbitten and froze to death. Only after that did we start eating him, to survive,' Abdullaev was quoted telling investigators earlier.
'We needed protein. We cut his flesh from the bones and ate it and it helped us to survive for ten days'.
His confession to cannibalism - which is not directly ranked as a crime in the Russian criminal code - came when he was taken back to a lonely house where the fishermen took refuge after they lost their UAZ vehicle in a flood.
Gorulenko has become a recluse since returning to his home in southern Russia. Exactly what he has told police remains shrouded in mystery.
Soon after being rescued he was asked if he had eaten his friend. He replied: 'How can you say such a thing?'
Neither of the survivors have been accused of any crime so far but it is hoped this week's polygraph test will start to unlock what actually happened between the four fishermen. Gorulenko's 22 year old wife Irina has told reporters that she and her traumatised husband have split since he returned, yet she was seen at the family home.
'We broke up, and I live in a different place,' she told reporters. The couple have two young children.
Gorulenko's mother Tamara Frolova said: 'Alexei did not tell anyone about what happened in the forest. He is silent most of the time and sighs all the time.'
She added: 'He is still very weak, he needs to restore health, both physical and emotional'.
Reports say he has exercised his right to remain silent. Korochkin's widow Olga said: 'I am in contact with his wife but not him.
'Her Alexei is alive - but, believe me, she is suffering no less than me.
'I can't bring myself to speak to Alexei yet. I'm not ready to hear what he can tell me and he can't open up to me. I find it too painful to even think what I feel about him now.
'Andrei and Alexei were close friends for almost 20 years. They were passionate fishermen and often went away together.
'This time they were with two others who I didn't know and this worried me. But I knew Andrei was with his best friend so I thought everything would be all right, that they would look after each other. We could never imagine it would end like this'.