Ivan Vostrikov speaks on the meeting organised by grieving relatives
President Vladimir Putin came to Kemerovo today to pay his respects to those who died - and criticise the 'criminal negligence' and 'slovenliness' that led to fire alarms not working, fire doors being locked preventing escape, and a lack of extinguishers.
He laid flowers beside the blitzed Winter Cherry shopping complex which included cinemas where many victims were stuck.
The authorities deny repeated local claims that the toll is significantly higher than officially acknowledged.
So far 25 bodies have been identified, but others will need DNA matching.
Relatives of 21 have been allowed to take the bodies of their loved-ones to prepare for funerals.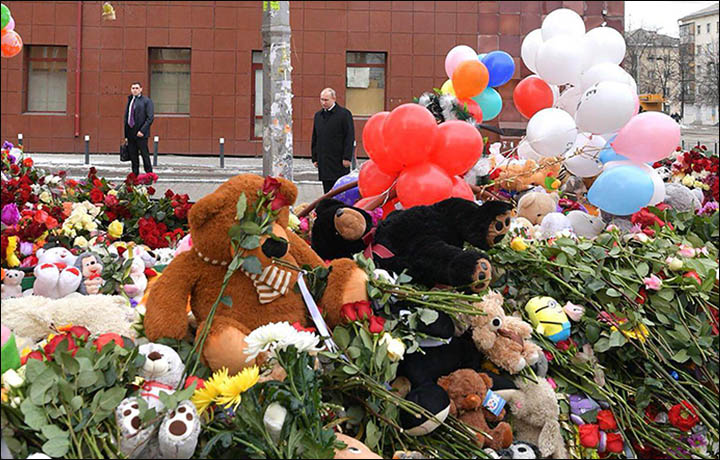 ---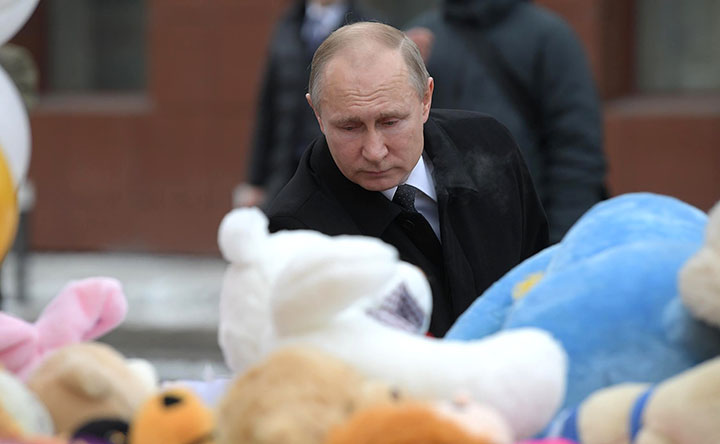 President Vladimir Putin came to Kemerovo today to pay his respects to those who died
A plainly distraught Putin said: 'What's happening here? This isn't war, it's not a spontaneous methane outburst.
'People came to relax, children.
'We're talking about demography - but losing so many people…
'Why? Because of some criminal negligence, because of slovenliness. How could this ever happen?'
The head of Russia's Investigative Committee, which handles major crimes, said the fire alarm system in the mall had been out of order since 19 March 19 - and nobody had done an thing to fix it.
A security guard had not turned on the public address system to warn people to evacuate the building.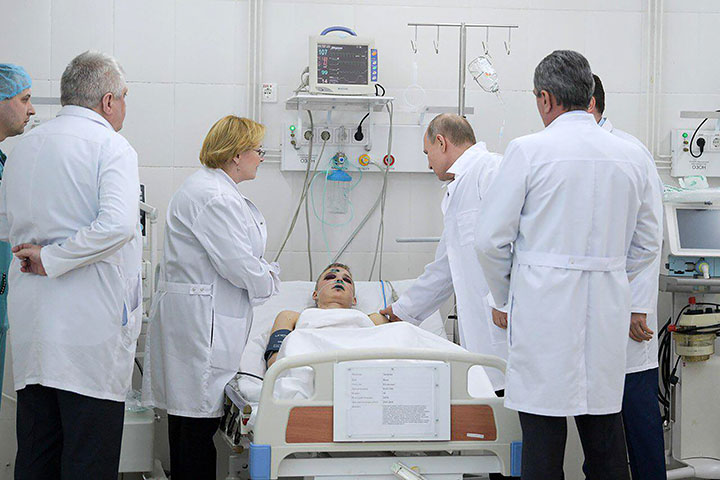 President visits one of the injured, a guy, who jumped from the window escaping from the fire
Meanwhile, one grieving father spoke of how his entire family had been wiped out by the horror - and was adamant that official corruption was behind the shoddy safety standards.
Igor Vostrikov, 31, lost his wife, sister and three children Anna, 7, Artem, 5, Roman, 2 in the appalling blaze.
The devastated man told how his wife and sister had time to make phone calls to 'say goodbye' to their loved ones - but no-one unbolted the doors to let them out.
In a painful video, the grieving businessman said: 'My name is Igor Vostrikov, in this fire I have lost my sister Alyona Sabadash, my wife Elena Vostrikova, and my three children, aged seven, five and two years old.
'They died because they were locked in the cinema - and nobody is telling this.
Igor Vostrikov replies to the official blaming him in makin PR on the tragedy: 'I lost 5 people in that fire, three of them - kids'
'They called from inside, they asked for help, saying that they were locked in there, 'We can't breathe…'
'Nobody helped because when fire broke out, all people managed to run away and escape, and those remained inside cinema halls just could not do it. This is the fact.'
In tears he said his daughter, two sons, wife and sister 'did not have a chance to survive…..
'They were left there to die… this is what I want to say.'
He was out of the city when his wife Elena, 30, and sister Alyona, 23, took his children to the cinema on what should have been a fun family Sunday.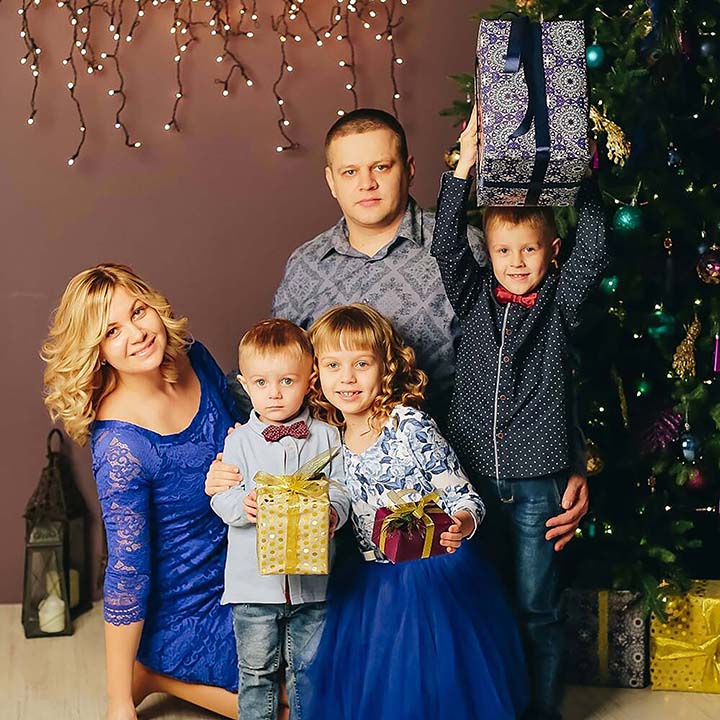 ---
---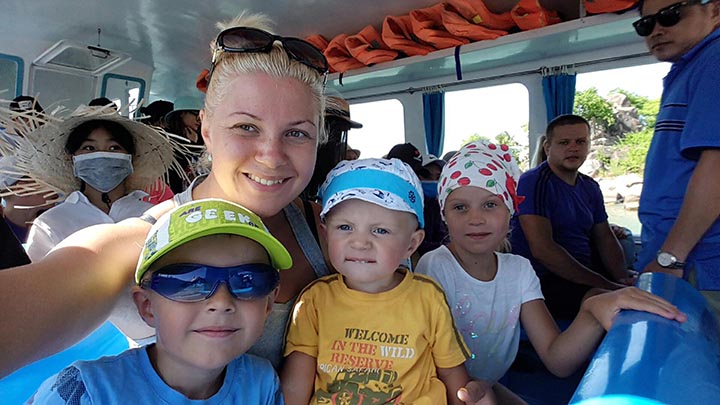 ---
Igor Vostrikov and his family: wife Elena, daughter Anna, sons Artem and Roman and sister Alyona
'There were three cinemas there, one was open, people escaped from there, and two others were locked,' he said
'They kept calling… until the last moment.'
He said: 'My wife called me from there and said good-bye…
'My sister called my parents from there and said good-bye… my wife's last words were – 'Igoryusha, we are locked inside the cinema, we can't breath, we are dying, I love you…
'I stayed connected to her for two more minutes but she was not replying…
'I told her to lie down on the floor, something about clothes… but smoke came within some moments… it all happened in a moment…
Ivan Vostrikov tells his story
'All of them were calling from there, this is the 21st century, all with mobile phones…'
The bereft man said: 'I thought it was an act of terror… because when they were calling they said – 'We are locked here, we can't breathe, save us!'
In fact it was incompetence: the fire alarm had been broken almost a week - and no-one bothered to fix it.
At these cinemas it was routine to lock the doors to stop gatecrashers getting inside.
He alleged that the number of victims was far higher than the authorities have admitted.
'They are lying you, here we are counting from 200 to 350, maybe more,' he said.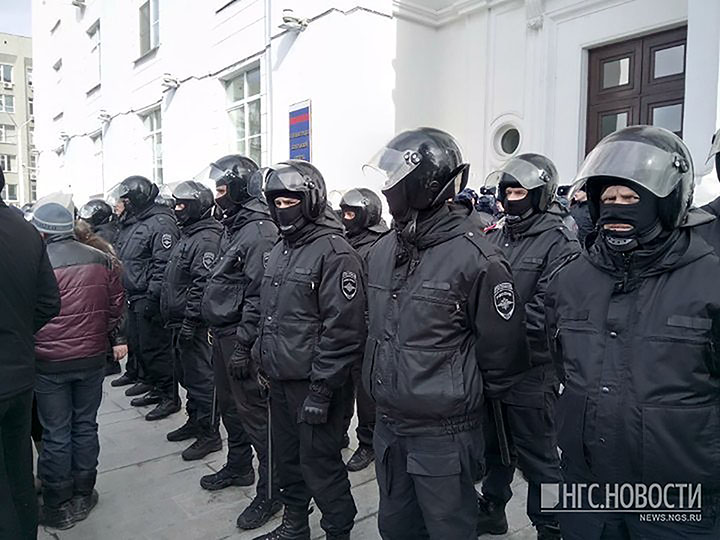 Rosgvardia at the Kemerovo administration
'When you are watching the news – 64 victims and nine children out of them – it is a lie! It is just a lie!'
He attacked 'corrupt bribe-takers' who he blamed for the scale of the horror.
Vostrikov said he had refused to sign a paper - as demanded by police - promising not to disclose certain information about the tragedy.
'I was at the headquarters yesterday, there was a hall full of people there, and all of them lost their relatives not in the play zone as it is said in all the (Russian) news, but in these damn cinema halls, just all of them."
He insisted: Surely there are more than 64 victims… it was a day off… according to some information there were 350 victims, they had been bringing bodies here all night long."
Victim's relatives have arranged the meeting at the main square
In a social media post he went further.
'My family is not here any more' he wrote. 'The ruling regime in my country is to blame.
'Every official dreams to steal like Putin.
'Every government official treats people like dirt - and his bosses treat him in the same way as all those who are beneath them."
After the fire, he said: "They will appoint a scapegoat and close down the case and the threats will remain – negligence, total corruption, drinking and general degradation of the whole population.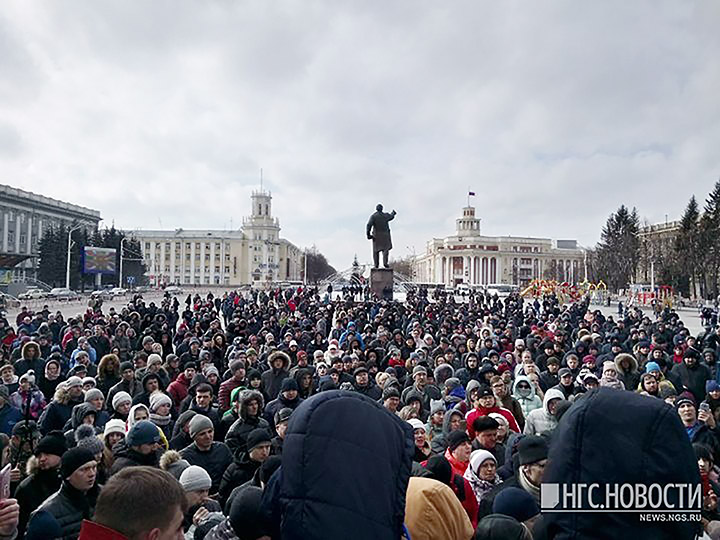 ---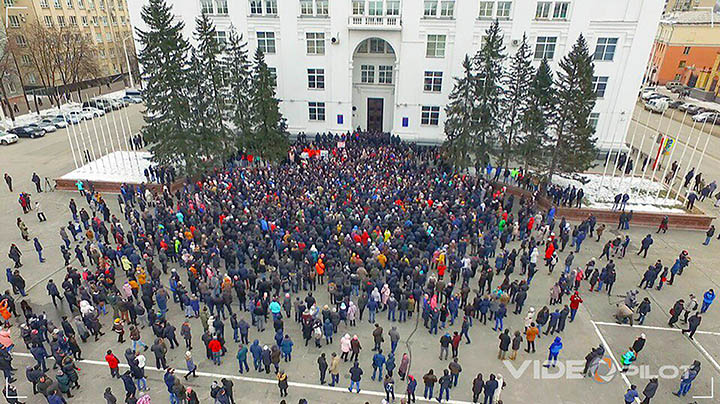 ---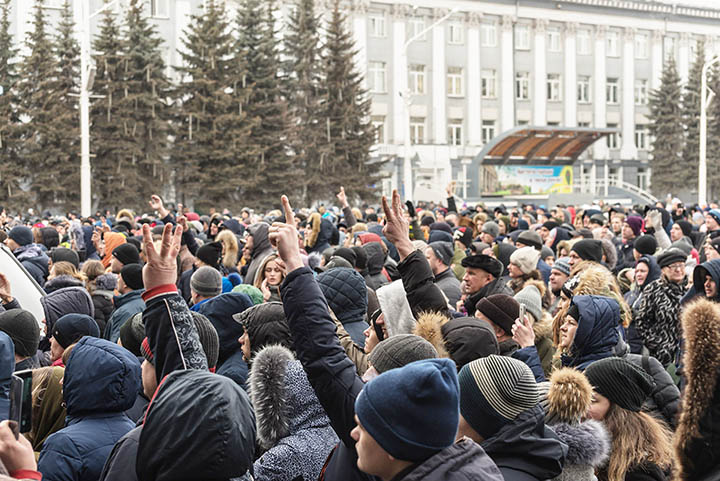 'How many relatives have you lost in the fire?'
'Putin will keep punishing personally this or that person.
'The order is to check all shopping malls and we have many other building, just old houses, hospitals – a tragedy may happen anywhere.'
He laid flowers beside the blitzed Winter Cherry shopping complex which included cinemas where many victims were stuck, and visited survivors in hospital.
Putin spoke to officials and local activists seeking answers over the tragedy.