Vladimir Putin fishing in Tuva Republic. Picture: RT
Vladimir Putin was 'chasing' a giant pike for two hours before finally managing to catch it and bring it ashore in a lake in Tuva Republic, said his spokesman Dmitry Peskov.
'The president had a nice spear fishing trip. He was chasing a pike for two hours, could not shoot it, but at the end he made it,' he said.
The fishing 'on a cascade of mountain lakes' was 'more exciting' than a 2013 trip in the same region, he said.
Putin donned a wet suit and a mask for the adventure, but was also seen bare-chested as he sun bathed and line fished in the boreal forests of southern Siberia.
He also took the opportunity to 'sunbathe, hike, and go quadricycling in the mountains', he said.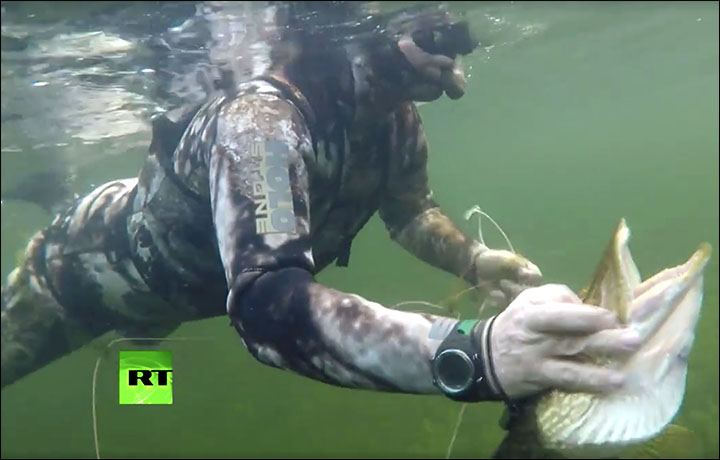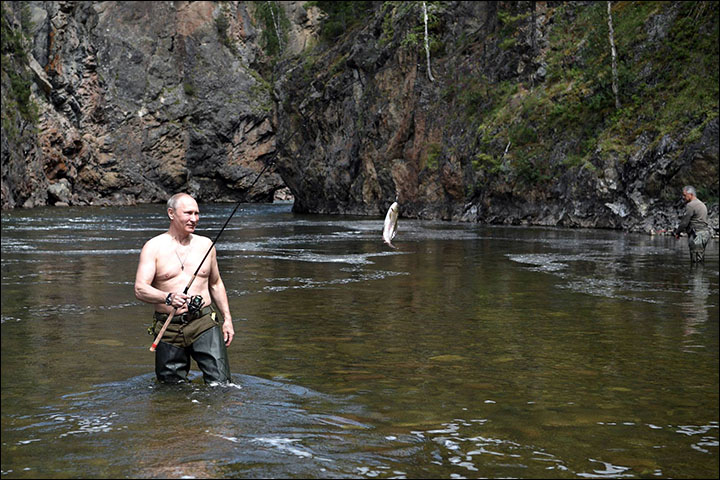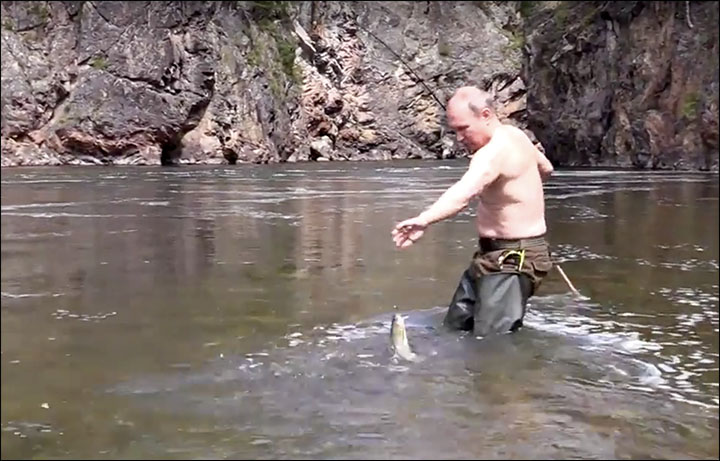 ---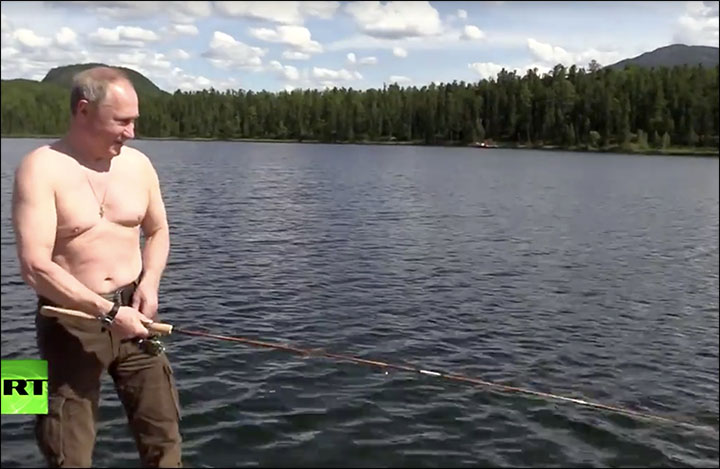 Vladimir Putin on his 2017 trip to Siberia. Pictures: RT, VESTI
---
Vladimir Putin He was accompanied by Defence Minister Sergei Shoigu, who hails from Tuva, along with regional head Sholban Kara-ool and the leader of neighbouring republic Khakassia, Viktor Zimin.
Peskov said: 'This is not the first time Putin has visited this part of the country for rest and recreation, but he always has his eye on new places to visit, just like this time'.
'The climate there is harsh, strongly continental. In sunny weather, the air warms up quickly and becomes hot enough to take sun baths.
'Towards the evening it promptly gets cold. Air temperatures may drop to just five degrees above freezing, so warm clothes have to be kept handy.'
The temperature in the lakes seldom rises above 17C, but 'it did not hold back the president from taking a swim'.
As Putin trailed the pike, he had a GoPro camera planted on his mask and 'filmed some unique footage while hunting a pike', his spokesman added.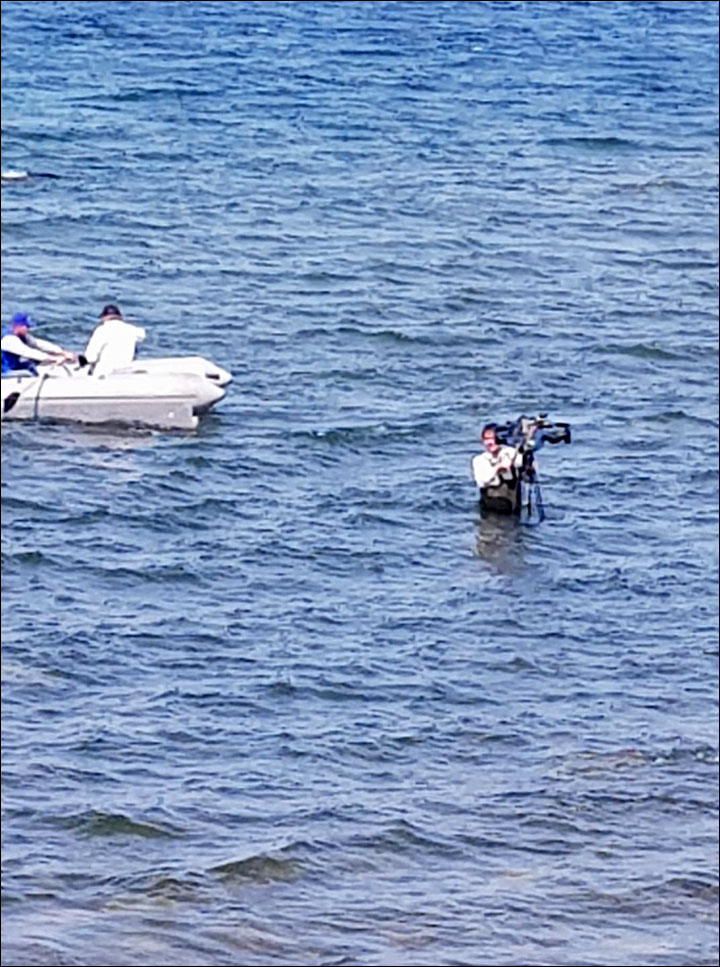 A cameraman awaits Vladimir Putin's arrival to lake Baikal. Picture: Andrey Kolesnikov
---
Earlier on his swing across the country, and back, Putin had checked progress on gas and hydro power projects in eastern Russia.
During a visit to Lake Baikal he took part in the ceremony of releasing tens of thousands of young omul fry to restore and maintain the bio diversity of the world's largest lake, a UNESCO World Heritage site. The fish is seen as in jeopardy in the lake.
He berated local officials over lack of progress on a number of issues.
Putin complained that 'significant areas around Baikal have suffered extremely high pollution'.
Baikal - which holds 20% of the world's unfrozen freshwater - 'belongs to the entire planet', he said. It was crucial to preserve it for future generations.
Officials must pay 'special attention' to clean up the pollution caused by 'irrational and often irresponsible economic activity' around Baikal.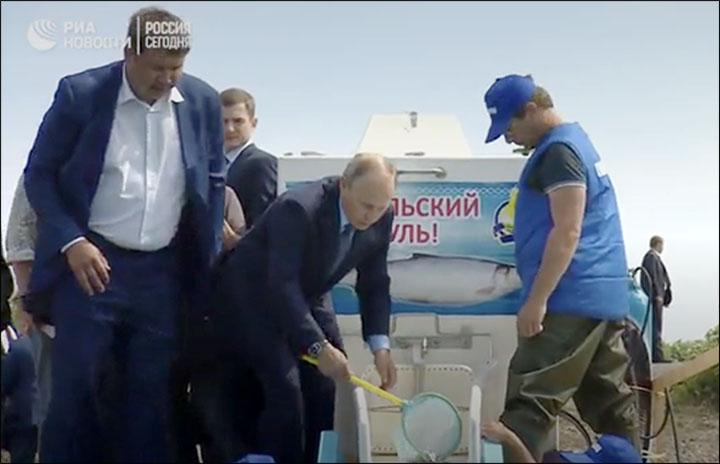 During a visit to Lake Baikal he took part in the ceremony of releasing tens of thousands of young omul fry to restore and maintain the bio diversity of the world's largest lake. Picture: RIA NOVOSTI
---
Putin also demanded a road on Olkhon Island between a ferry terminal and the island's central for use by tourists who flock here in summer.
It was a request from the village of Khuzhir that the president received during June's Direct Line, a televised question-and-answer session with the public.
Putin instructed Irkutsk Region governor Sergei Levchenko to calculate the cost of the highway construction, noting that the road could have already been finished in the past months.
The governor promised to do the sums by Monday.
Absence of a road has a bad impact on local wildlife.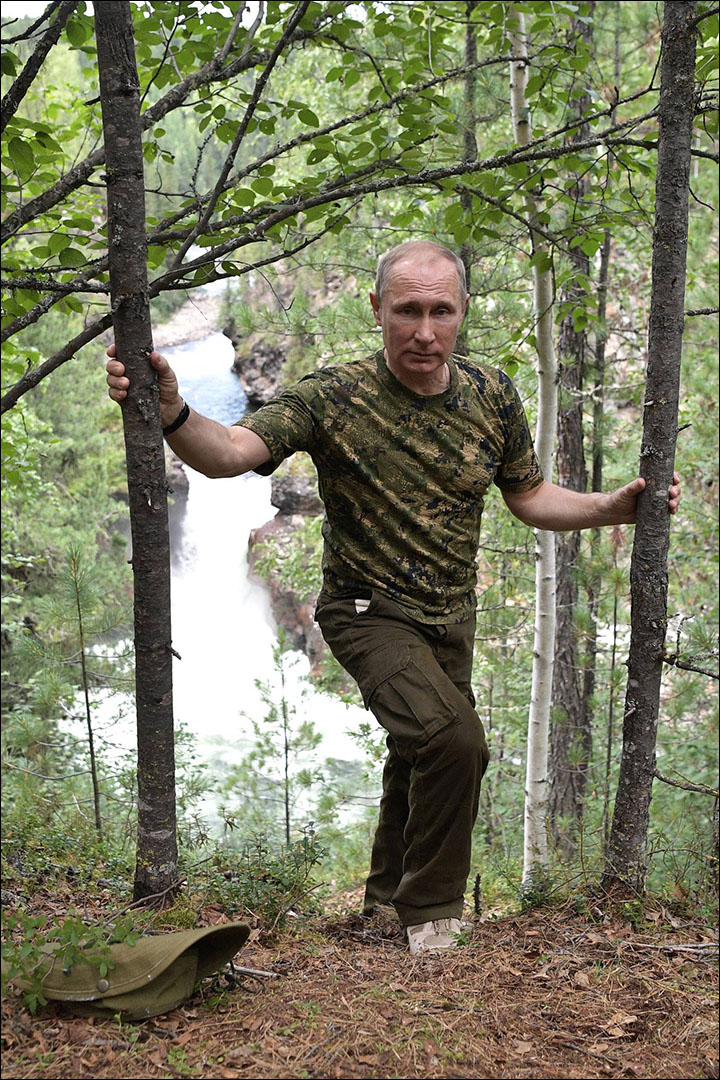 ---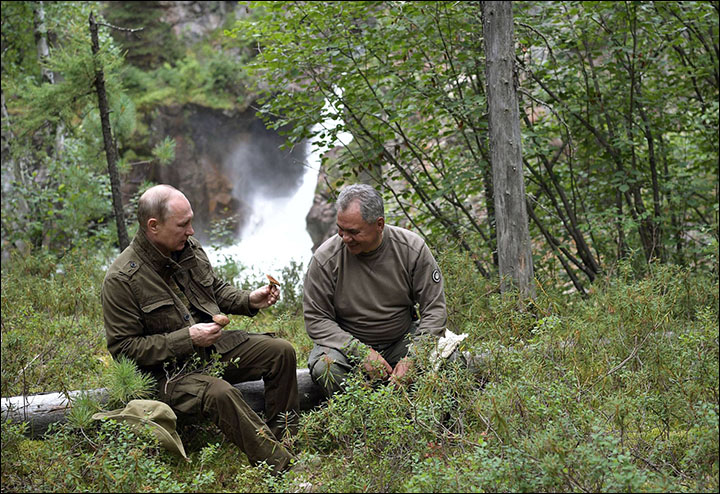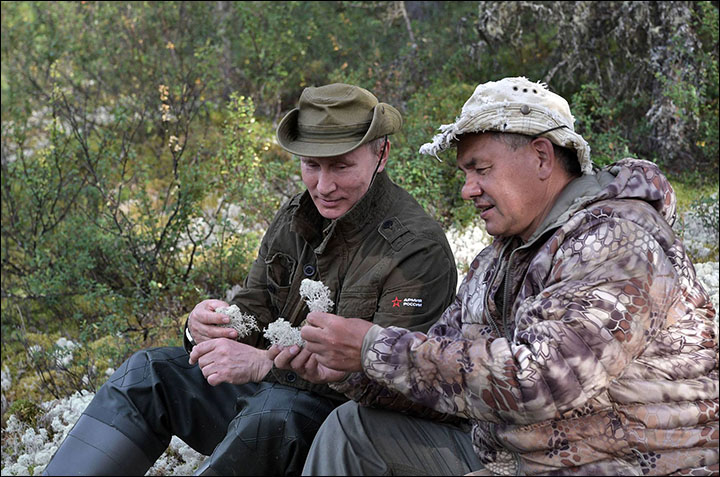 Vladimir Putin, Russian Minister of Defense Sergey Shoigu in Tuva. Picture: VESTI
---
According to the Zapovednoye Pribaikalye agency of Russia's Natural Resources Ministry, Olkhon island is visited by some 300,000 tourists every season who drive cars across the steppe and the shoreline.
Putin instructed Buryatia region's acting chief Alexei Tsydenov to look into complaints about the Emergencies Ministry's response services, as well as the issue of illegal foreign workers.
The president has not announced whether he will run for a new six year term in March 2018.
At one Siberian meeting he was told by a resident whose house was damaged by fire: 'We want to ask you to run for president again at the next election'
Putin promised 'to think about it'.