'We want the BAM to be comfortable, easy and profitable to use not only for Russia, but for our partners'. Picture: uritsk.livejournal.com
A major boost to the line's capacity and a modernisation of its infrastructure was pledged by Russian president Vladimir Putin on Tueday.
'Life proved convincingly that this strategic railway is needed for Siberia and Far East, and for the whole country,' he said, addressing participants of festive events to mark the line's anniversary. 'Therefore, further development of the Baikal Amur Mainline, making its throughput capacity higher and complex modernisation of its infrastructure are on the agenda.'
The railway's construction through some of Siberia's most challenging terrain, running to the north of the Trans Siberian line, is seen proudly as one of the Soviet Union's greatest transport achievements.
'I see some veterans there, among them both outstanding personalities in the history of the railway, and also young people, who will carry on your traditions - and are already doing this, I am sure,' he said by video link.
'The BAM was not only a colossal construction project, but also a huge challenge for the country.
'It had great strategic military and economic significance. People had to work in very harsh climatic and geological conditions; this was a strain for the entire nation, and especially for those people who actually worked there. What they did was undoubtedly a heroic feat.
'Unfortunately, in the 1990s the country faced certain difficulties, primarily those of an economic nature. The question arose whether the railway was worth the effort. However, by the beginning of the century these sentiments gave way to the recognition that the BAM has great value for the country'.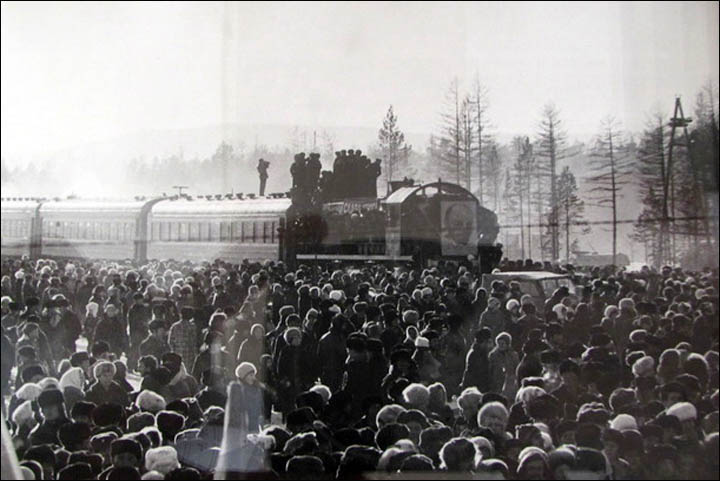 ---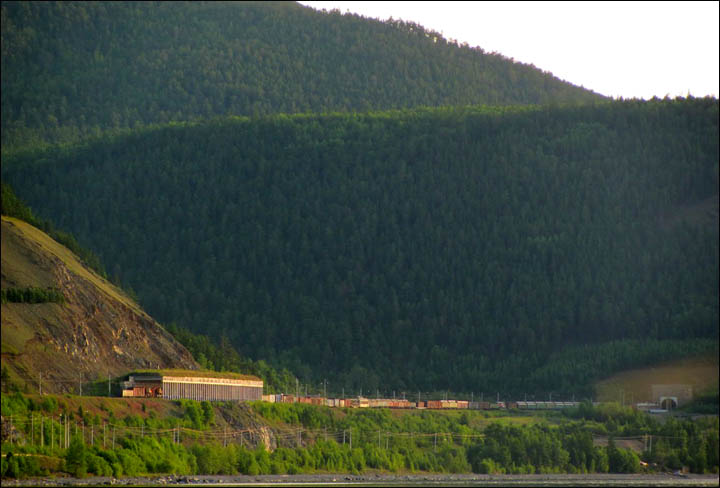 ---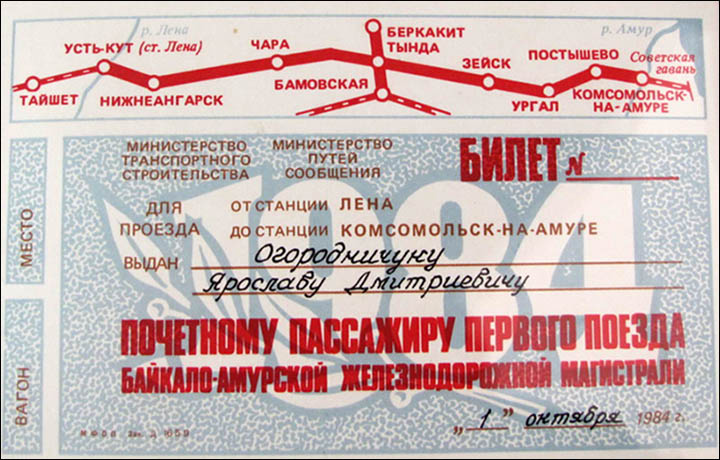 Meeting of the first train, cargo train going west to east on Baikal Amur Mainline rail link, and the very first ticket issued for one of the railway's workers. Pictures: uritsk.livejournal.com
It is now seen as a key cargo link as Russia bids for a bigger share of the transit market between Asia and Europe.
'Today, as you may know, we are working to expand the mainline and to establish this country as a powerful transportation nation.
'We want the BAM to be comfortable, easy and profitable to use not only for Russia, but for our partners as well.
'We intend to invest in the mainline's expansion and, in my view, this should inspire our veterans, should demonstrate that their efforts were not wasted, that they have implemented a project that is of great importance for the country, a project that will be carried on.'
Putin said: 'A legendary Soviet Union construction project attracted hundreds of thousands of young people, opened up new opportunities for professional growth and self-realisation for them, vast Siberian expanse gave rise to courageous people and truly innovative solutions.
'Thanks to enthusiasm and selfless work of builders, specialists and workers several thousand kilometres of railways, several hundred technical facilities, new cities and settlements were built.'
The modern BAM 'makes an important and integral part of a common transport system in the country, a key element in economic development of sweeping territories rich in precious mineral resources, energy and forest resources'.