His French travel company was developing a new route which he was road-testing (or rail testing) to Siberia and Japan. Single and with a Russian-sounding family name, Charles seemed the man for the job. Picture: The Siberian Times
One minute the man called Charles, was on the Vladivostok to Novosibirsk service - the next he was alone and cold at remote Sbega station shivering in minus 25C. Accounts vary as to his clothing - one one version he had a T-shirt and pants, another said there was no shirt. Either way, it was unsuitable for early Spring in the Transbaikal region.
Police doubted he was thrown out after a fight, because he had no wounds. Yet nor did he have documents. The mystery Frenchman could not at first explain where he was travelling to, or why. First things first, a police officer gave him his own jacked to keep him warm. He was checked into the local hotel and given other clothes and warm shoes, too.
'When he came to the police station, he was very touched and thanked us all the time,' explained Oksana Gorkin, a transport police official. 'Probably, our frost scared him.
'He was in a T-shirt and pants.'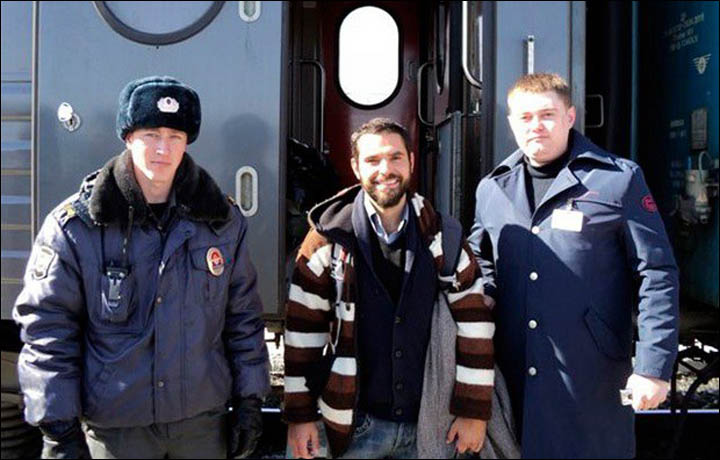 Much better now. All dressed up Charles bids farewell to kind-hearted Siberian police. Picture: The Siberian Times
French speakers are few and far between in this part of Siberia but police managed to reach limited understanding with Charles in English.
Gradually it became clear that he was 32 year old Charles Batolin. His extraordinary story emerged gradually as police pieced together the events that led him to be alone at this remote station 9,100 kilometres from Paris. It turned out his French travel company was developing a new route which he was road-testing (or rail testing) to Siberia and Japan.
Charles, single and with a Russian-sounding family name, seemed the man for the job. The new tourist trail was called 'Chasing the Sun': it should have been 'Chasing the Cold'.After a tour of Tokyo, he flew to Vladivostok and then headed east by train. Charles was to walk on frozen Lake Baikal, then fly to Moscow and back home to Paris.
'At first everything went according to the plan,' said one account.
'But in the train Bartolin made a mistake: on the second day, he agreed to have a drink with four men from the next compartment.
'As it turned out, the men he chose were not the best mates. All of them were in prison before and 3 of them were on Russia's federal wanted list on suspicion of various crimes committed in Magadan.'
He was not to know and was being friendly.
'What language they communicate in is still unknown. However, as the train approached the station the new acquaintances somehow managed to explain to Bartolin that the vodka had run out and he should buy more.
'Whether the Frenchman jumped on his own initiative, or he was pushed out of the car, is not known. But at the end he was left on the platform in just pants, T-shirt and sneakers. And this station wasn't even a stop - the train just slowed down in Sbega.'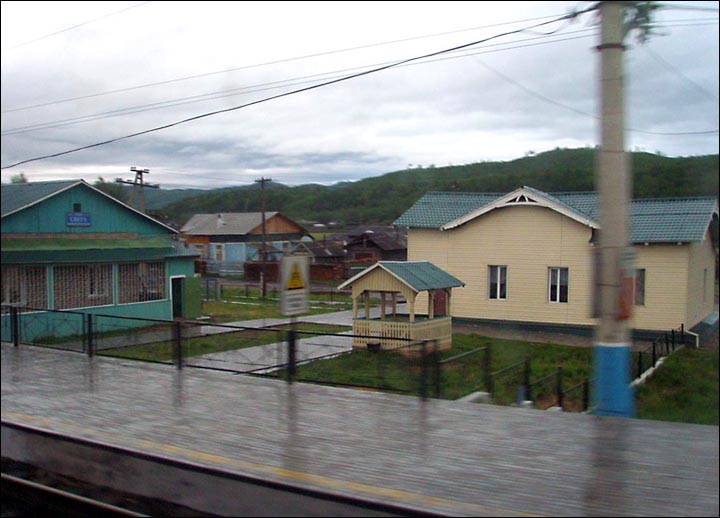 Station of Sbega where the Frenchman either jumped - or was pushed out - by his drunk companions. Picture: The Siberian Times
After Charles disappeared from the train, the convicts took his money from his wallet and flushed it down the toilet. It was found later on the track.
'It is difficult to say what an ordinary half-naked bearded man in a state of severe intoxication on the platform of an unknown station might have expected.
'Perhaps his shelter' would become a cell at the local police station. But probably his French language saved Bartolin.
'The police has realised that it might turn into an international scandal, and tried to welcome their unexpected guest in the best luxury they could offer.
'When the intoxicated Frenchman came to his senses he explained the police what happened - in broken English.'
Soon French diplomats were informed and swung into action. His drinking partners on the train were detained.
His personal belongings were returned to him in the city of Mogocha. Charles meanwhile missed the delights of Lake Baikal and headed by rail for the nearest French diplomatic mission in Yekaterinburg.
This Frenchman will be eternally grateful to the police who cared for him after his unfortunate scrape. He wrote a thank you to them, praising their 'professional actions and sensitivity to people who are in trouble'.
He also promised to come back to Transbaikal region, though not to drink with strangers any more.