Lions and tigers perhorm during reopening of Vladivostok Circus. Picture: Maria Borodina, PrimaMedia
The chunky cats are the star attraction at the reopening of Vladivostok Circus, but pictures of the performing beasts have led to criticisms of their diet and the 'cruelty' of keeping wild creatures in a touring troupe.
The animals - in an 'Empire of Lionesses' show - are trained by celebrated handler Vitaly Smolyants, known as a big cat whisperer.
Pictures highlighting their performance in the Russian Far East brought a swift response on social media, with accusations the big cats are badly treated.
'The lionesses are clearly suffering from obesity. It might be better to show them to a vet, not circus visitors,' was one comment.
'They need the gym,' said another.
'They are making clowns out of wild animals,' warned seryoga_chizh.
There were calls to 'stop torturing animals, - they don't like jumping through fire and sitting on their rear feet'.
davolnaya demanded: 'When will these concentration camps for animals be banned?'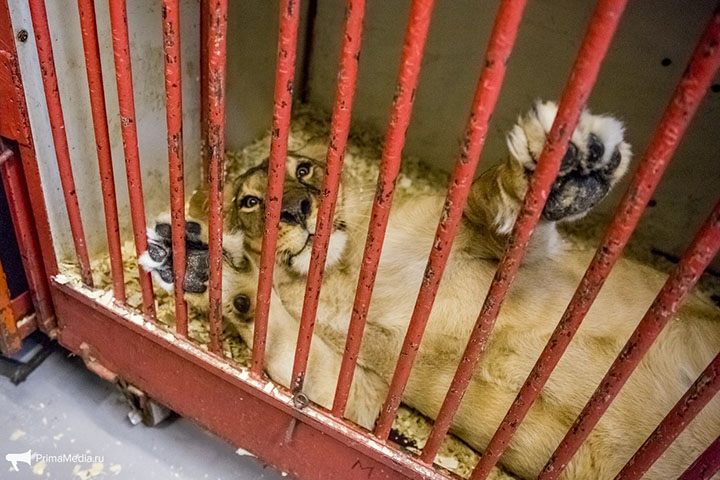 ---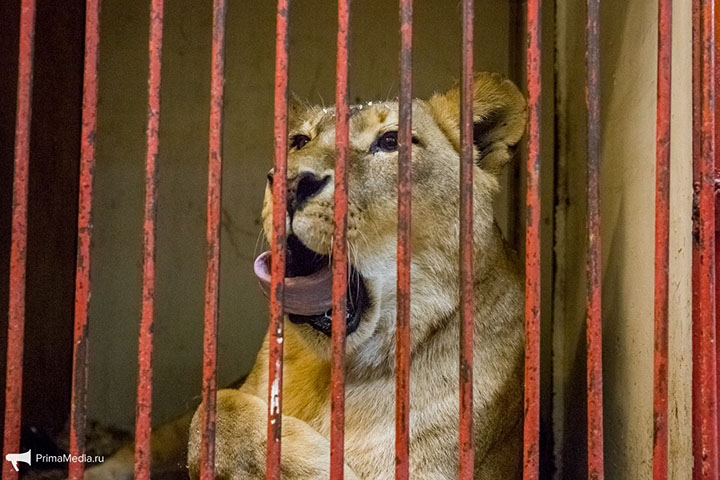 ---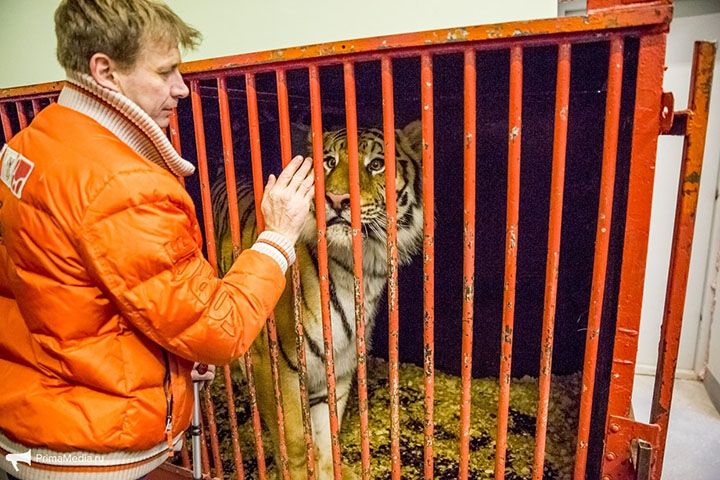 Circus animals during permormance and in their travelling cages. Pictures: Maria Borodina, PrimaMedia
Animal rights' activists called for checks by the prosecutors' office on the health of the captive wild animals.
Sergey Aramilev, director of Amur Tiger Centre, said: 'Wild animals kept in captivity do put on weight.
'It's good that they are not skinny, which is more often the problem with zoos and circuses.
'Animals are (often) not fed properly and they starve. It's the same as with people who don't do sports.
'But it's is too early to talk about danger [for their health]. Of course, if they were fed with wild meat, they would have looked different.
'This is like comparing healthy and junk food; however, so far I don't see obesity that could affect the cardiovascular system.'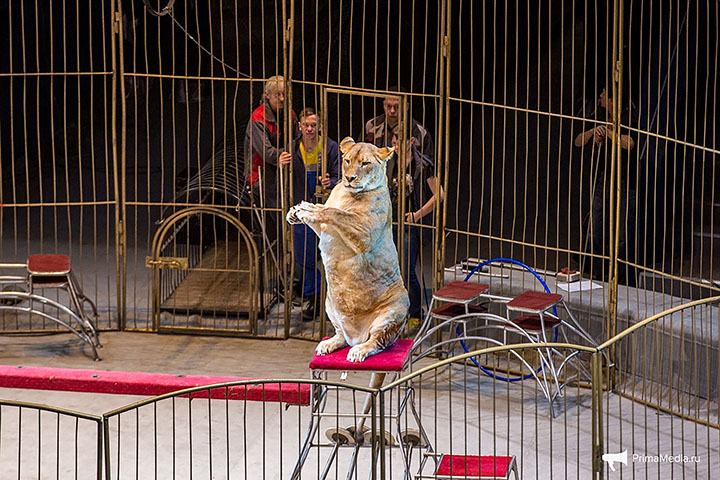 ---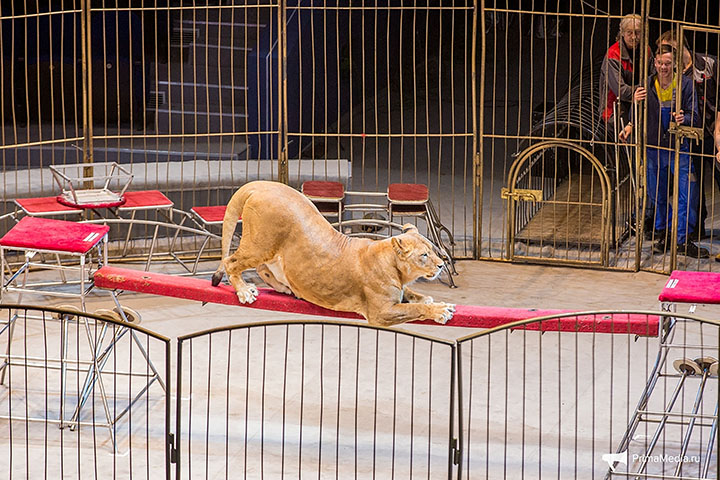 ---

Circus trainer insits lions and tigers are not fat. Pictures: Maria Borodina, PrimaMedia
---
Vitaly Smolyanets, 44, a highly respected circus trainer who two years ago lost both legs after rushing to help an injured man after a highway crash, insisted: 'Our animals are old.
'People put on weight as they get old, the same with animals.
'They gave birth, and afterwards they put on weight [too].
'We look after their health. They feel excellent, I don't see obesity.'
He said: 'No-one is giving them too much food - they eat once a day in the evening.
'If they have a performance in the afternoon, they are also given a snack.
'Each animal gets 6 kg of meat per day, this is considered a full daily intake.'
His big cats - including tigers - are famous for shows all over Russia.