World's smallest manicure set from Siberia was made by Anatoly Konenko, 59, with a help of his son Stanislav, 30. Pictures: Anatoly Konenko
The world's smallest manicure set fits into the two halves of a poppy seed. All seven items are less than one millimetre in length - and all are made of gold.
Anatoly, 59, who is assisted by his son Stanislav, 30, is from Siberia - the biggest region in the world, but for him the accent is on small, and their creation is expected to be nominated for inclusion in the Guinness World Records, where he was credited with the smallest book in 1996, an edition of Chameleon by Anton Chekhov.
'We have prepared this manicure for all women,' said Anatoly, from Omsk, who uses a microscope for his work.
'I hope it makes them happy. It was interesting to create something that all females see everyday but never imagined that it could be so small.
'You know that the International Women's Day is coming soon and this is why we created this 'gift'.
'The minuscule manicure set is not for one particular woman but for women in general.
'It took a month to create this set and all items inside are made of gold'.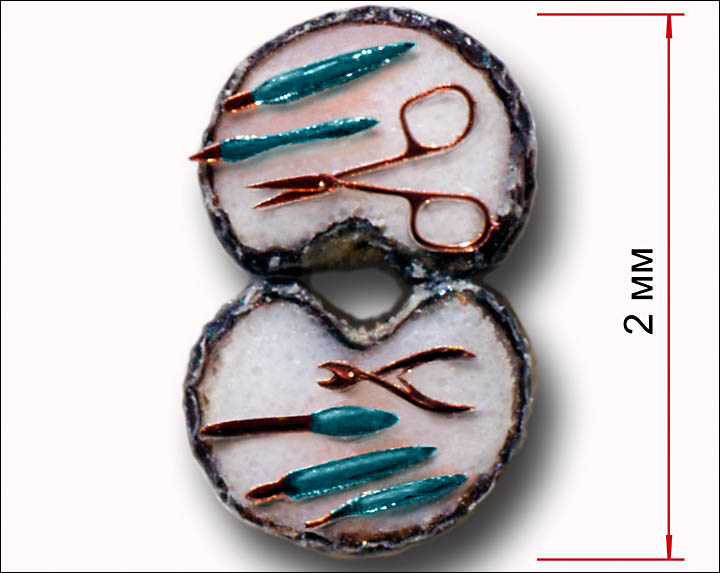 'It took a month to create this set and all items inside are made of gold'. Pictures: Anatoly Konenko
'There is no price of the item yet. We didn't make it for sale. But if somebody will be interested in buying the piece, we could always discuss the price'.
The set includes a cuticle cutter 0.7 millimetres in length, scraper 0.75 millimetres, nail file 0.8 millimetres, cuticle trimmer 0.6 millimetres, precision scissors 0.9 millimetres, a manicure instrument 0.75 millimetres and tweezers 0.7 millimetres.
Anatoly has also made the world's smallest working aquarium, which holds a mere two tea spoons of water, and measures 30x24x14mm.
Another miniature creation was a dozen camels inside the eye of a needle measuring a mere 0.25mm.