A polar bear pictured by a rubbish container outside a living settlement in Russian Arcric in winter 2019. Picture: Irina Eliseeva
There was an outcry when the polar bear was seen branded by 'graffiti' with the name of the iconic T-34 Soviet tank.
But scientists said the wild animal was marked in a good cause, and say T-34 was a grid reference relating to this area of the Arctic archipelago.
The polar bear visited a village rubbish dump worrying residents, said Andrey Umnikov, director of the Russian Centre for Arctic Exploration.
A team of specialists from Severtsov Institute of Ecology and Evolution was sent to the site to assess the potential threat posed to villagers.
The bear was sedated and examined, said senior researcher Ilya Mordvintsev. The check showed that the male predator was well-fed which meant that he would likely not attack.
---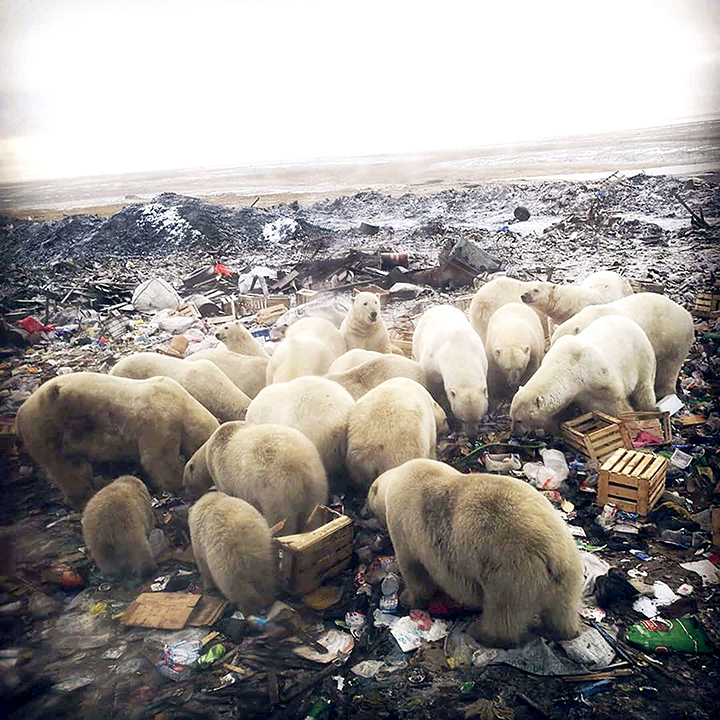 ---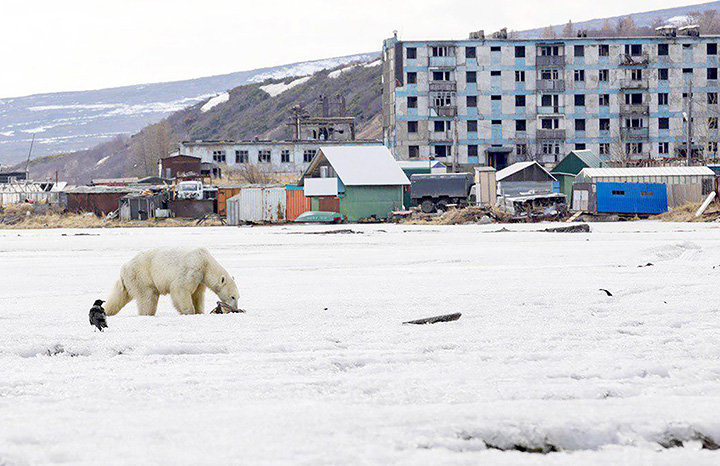 ---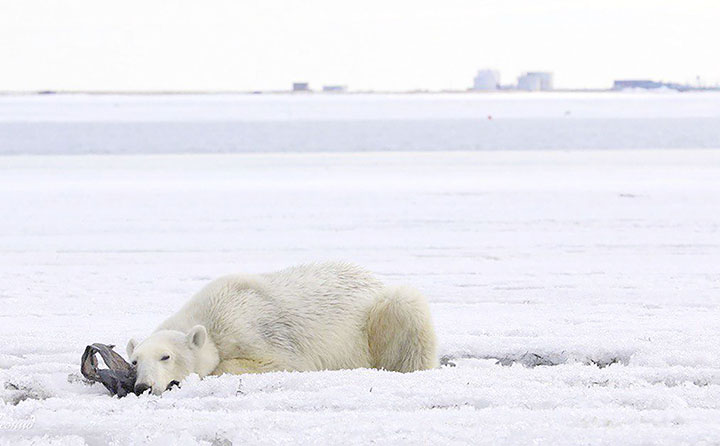 T-34 polar bear marked by scientists in the Arctic end of November 2019, polar bears feeding at rubbish dumps outside living settlements in Russian Arctic in winter 2019, and a young emaciated polar bear with a rubbish bag pictured in the north of Kamchatka peninsula in spring 2019
---
The animal was marked with 'safe paint' which wears off over two weeks, and moved away to discourage him from coming back.
The mark was made to allow both the locals and experts recognise the beast in case he returned, and to distinguish it from any other polar bear scavenging at the site.
Andrey Umnikov denied T-34 referred to the tank.
The video was filmed approximately a week ago, he specified.
T-34 POLAR BEAR VIDEO EXPLAINED. VIDEO: SERGEY KAVRY
'Polar bears checking on rubbish containers are not rarity. It happened at Beliy island and Vilkitskiy island,' Andrey Umnikov explained.
'If a group of people comes across a polar bear, there is advice to get together and raise either several pieces of clothing, or a stick in the air.
'This would make the group look visually bigger and might scare the animal who is quite shortsighted.
'Polar bears also dislike loud noises', Umnikov added.
Pictures below show streets of Norilsk and an emaciated polar bear walking across a busy area in summer 2019, and a polar bear checking inside a rubbish containeer outside a living settlement in Russian Arctic in winter 2019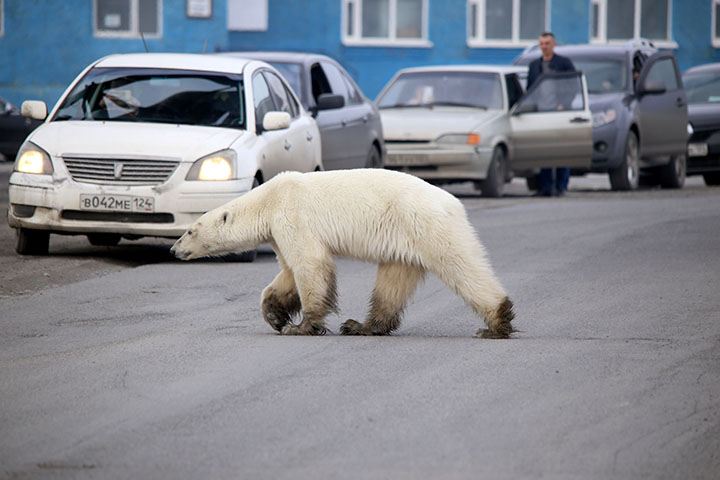 ---