Did you think the weather was bad today? Well, have another think. Picture: The Siberian Times
The victims all died after their cars became trapped on roads, with some of the vehicles entirely covered in snow. Novosibirsk police alone freed more than 100 cars and trucks stuck on the Novosibirsk-Leninsk-Kuznetsky highway.
'Traffic was fully paralysed at a 50-kilometre-long section of the highway in both directions. Now the road has been cleared, and more than 100 vehicles that got stuck in a traffic jam have been freed,' a police source told Itar-Tass.
In one case, snow clearance workers found a buried car with three bodies inside, those of a man born in 1971, and two women work in 1975 and 1976.
Investigators are checking if they died from cold or carbon monoxide poisoning. Another four people suffocated as they sheltered in a vehicle from a snowstorm in Kuibyshev, in Novosibirsk region. Three more died in vehicles in Altai region.
In some places, temporary shelters were set up.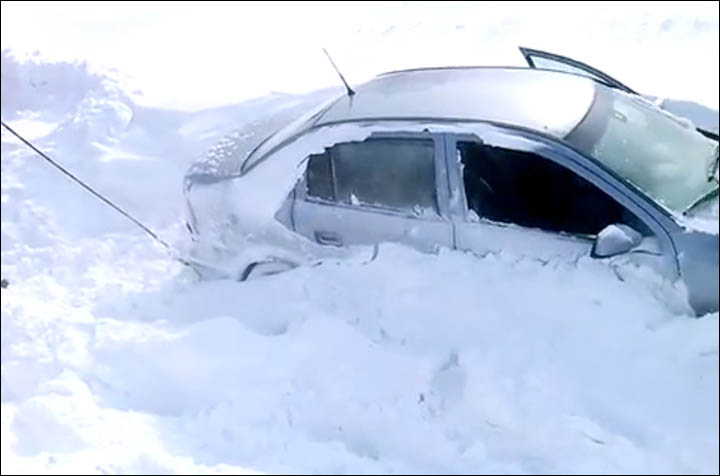 ---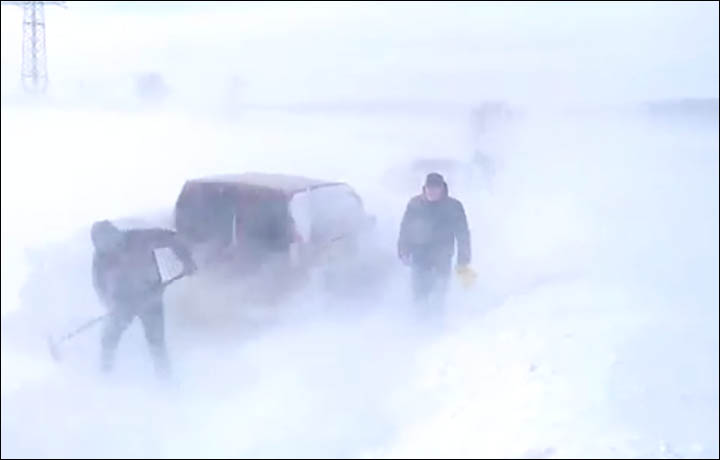 'Some drivers spent up to ten hours trying to get out of these gridlocks'. Pictures: The Siberian Times
A blackspot was the highway linking Novosibirsk and Kemerovo, and elsewhere in western Siberia.
'Traffic inspectors had to literally stop cars and to beg drivers to go back,' said Alexei Tolochniy, of Novosibirsk region's traffic police.
'The traffic jams were horrendous - the worst situation was on the way from Novosibirsk to Kemerovo. Even the snow ploughs could not get through because of heavy snow, very low visibility and hundreds of cars stuck in the storm.
'I'd say it was the worst day for a traffic in the region in years. The only route that is open now federal M-52 that connects Novosibirsk and Barnaul. There was a car crash involving 20 cars on the road from Novosibirsk to Kolyvan.
'The situation is slowly getting better now. I know that some drivers spent up to ten hours trying to get out of these gridlocks'.
Fire fighters were deployed to aid motorists on the K-19P highway in the Toguchin district of Novosibirsk Region.
'Several dozen cars were caught in the snow. Fire-fighters left to supply fuel to motorists and take out automobiles,' said regional emergency department official, Andrei Kovalenko.
Traffic was also halted between Novosibirsk and Tomsk. Drivers couldn't move on some roads - but could reach forums to tell of their experiences.
'We are in Kargata. All is full of snow! Roads are invisible! There is no light!' said one stranded motorist.
'The Novosibirsk-Karasuk is awful. Road engineers clear the snow. But there is no sense. All is covered,' said another.
There were other serious incidents.
Some 80,000 people in Abakan, capital of Khakassia were left without electricity after three days of heavy winds brought down supply cables.
Cold water supplies were lost for 10,000 people in Khabarovsk after a pipeline failure.

Snow maze - video shows walls of snow one Siberian family had to dig through to make a path to the house



Giving a hand: a Kamaz truck driver pulls an Opel car out of the snow