One of the bears pictured in the back yard of Lyubov Leschenko's house in Dubovy Kliuch, Far East of Russia. Picture: Yuri Smityuk
The Himalayan (or Asian) bears were cared for previously by pensioner Lubov Leschchenko, living in cages in her backyard in the village of Dubovy Kliuch in the Far East of Russia. She took them in after they were orphaned as cubs when hunters shot their mothers.
Most pensioners of her age settle for a dog or cat, but Lubov - now 80 - saw it as her mission in life to save these poor creatures. But it all got too much for her, as she was also caring for her ailing husband Ivan.
A local campaign began to find new homes for the bears and they were moved to the care of the Ussuri society of hunters and fishermen. Some were released into the wild - and now they have all graduated from her orphanage. The most exotic journey involved Misha and Masha being flown from Vladivostock to Moscow, and then by truck to the Russian Wildlife Rehabilitation Centre 'Veles' near St Petersburg.
They travelled through seven time zones to reach their new 120 square metres home, the whole operation costing 1,2 million roubles, or $33,000.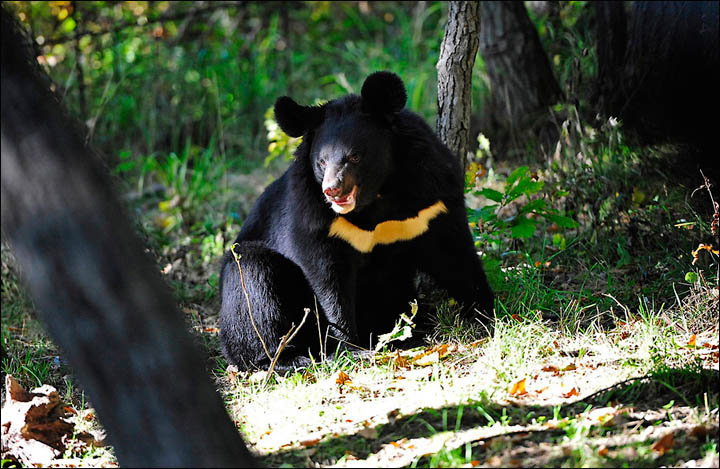 ---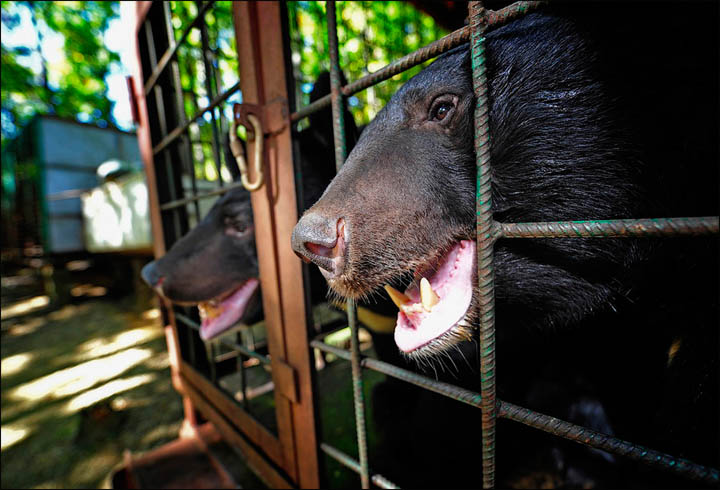 ---
---
---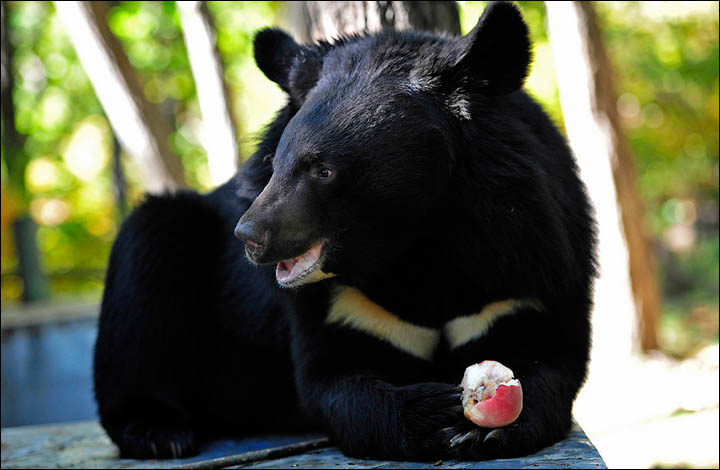 Tte bears pictured with their previous owner Lubov Leschenko. Pictures: Yuri Smityuk
Misha endured the flight well, but Masha reacted to the change of scene very sharply and negatively, trying to break out of the cage.
'We want to understand what caused her misbehaviour,' said a rehab centre worker, speculating it could have been 'pregnancy or claustrophobia'.
On arrival at the new den, Masha was much more ready to adapt to her new surroundings. She 'willingly moved into a new house, while a timid Misha huddled in the corner of his (travelling) cage and neither persuasion, no treats could relocate him.'
Masha took the initiative to coax him out, running up to him and even offering him an apple like a true daughter of Eve, but this failed too. Eventually she just pushed him out into his new home.
'The bears are lovely in their gorgeous black fur coats. Masha is stunning with a classic white Himalayan 'swallow' on her chest. Misha is almost completely black. Now the bears keep sharing one cage, as Masha is quite jealous and does not let Misha a single step without her.
'Her hypothetical pregnancy continues to be a mystery to us, but we'll keep a close eye on her and make sure both animals are fine'.