Plosky Tolbachik volcano: the spewing ash can be seen from 40km away at the nearest settlement Kozyrevsk. Picture: risk.ru
Online pictures show visitors edging close to molten lava for once in a lifetime pictures. Officials have warned tourists of the threat of hot lava, toxic gases and ash though the eruption poses no danger to local residents. Warnings have been issued to aviation, too.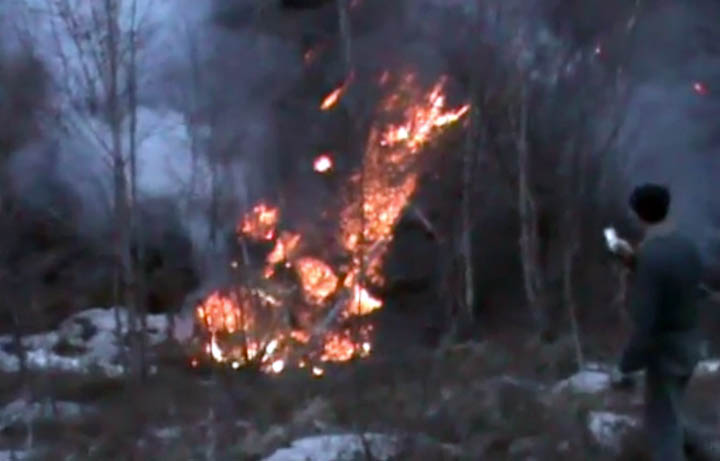 Man is seen taking pictures of moving lava stream standing some meters away from it. Picture: Anna Butenko video
After a peaceful 36 years, Plosky Tolbachik - which rises some 3,085 metres above sea level - suddenly became active on November 27.
A five kilometre long fissure formed on Tolbachinsky Dol south of Plosky Tolbachik at a height of about 1.7 km above sea level with two active centres that spew lava, reported Itar-Tass. Lavas fields cover some 13 square km in area, at the edges of which are five metre high 'fire walls' heated to 1,000 degrees centigrade.
Reports said Leningradskaya Volcanic Base and Tolbachinskaya Tourist Base were destroyed by the lava. They were both empty at the time.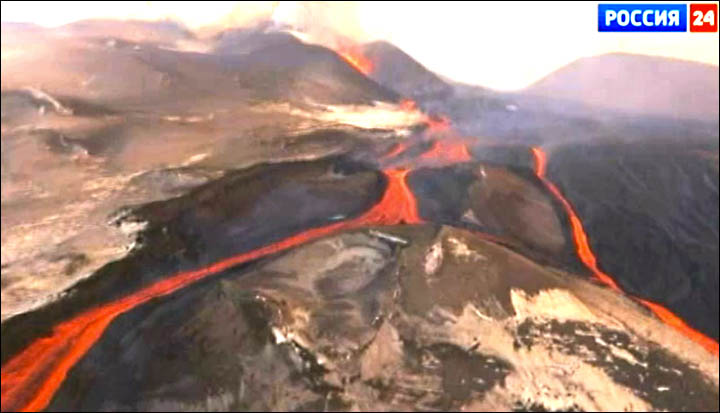 ---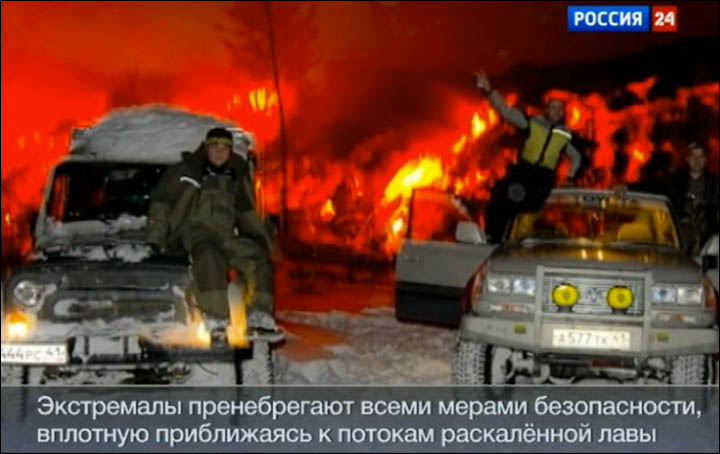 Spectacular: Plosky Tolbachik eruption attracted dozens of tourists, rushing to get as close as possible to the site. Picture: Rossiya 24 report
The spewing ash can be seen from 40km away at the nearest settlement Kozyrevsk.
'We received information that this weekend a lot of tourists and adrenalin junkies are gathering to watch the volcanic eruption,' said head of Kamchatka region rescue unit, Alexander Putyatin, reported Moscow News.
'This is why we made the decision to go to Plosky Tolbachik and provide for people's safety.'
Officials have warned of the danger of ash showers, allergic reactions and damage to cars.
The Russian Emergencies Ministry sent rescue teams to the region on Friday in response to reports that tourists were planning to visit the volcano.
The volcano is some 343km from regional capital Petropavlovsk-Kamchatsky. Eruptions at the volcano are being closely monitored by the Kamchatka group of the Volcanology and Seismology Institute of the Far Eastern branch of the RAS.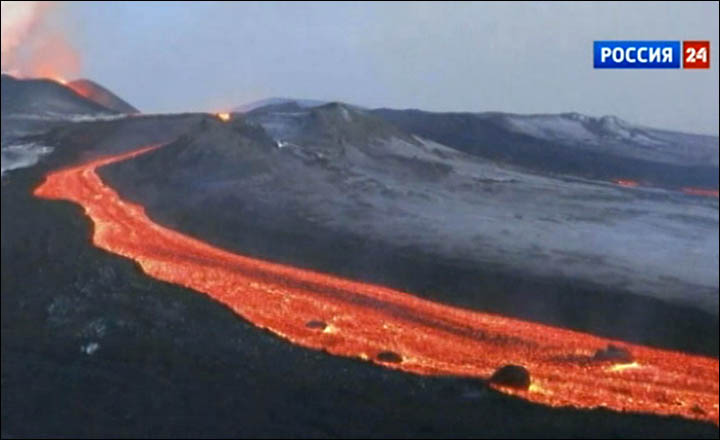 ---