Diamond giant Alrosa supplied an Mi-8 helicopter although the geologists were working for Granit company.
Geologists Dmitry Okoneshnikov and Mikhail Nikiforov died after their all terrain vehicle (ATV) sank during a river crossing in the Bulunsky district of northern Yakutia.
The group had been on a lengthy expedition examining potential sites for diamond mining, it is understood.
A student geologist Yan Okoneshnikov and the group's driver Alexey Seleznev survived.
It was not immediately clear how the Okoneshnikovs were related.
The survivors were found in the remote taiga populated by brown bears some 40 kilometres from the sunken ATV.
Rescuers had gathered in Tiksi on 27 September, and diamond giant Alrosa supplied an Mi-8 helicopter although the geologists were working for Granit company.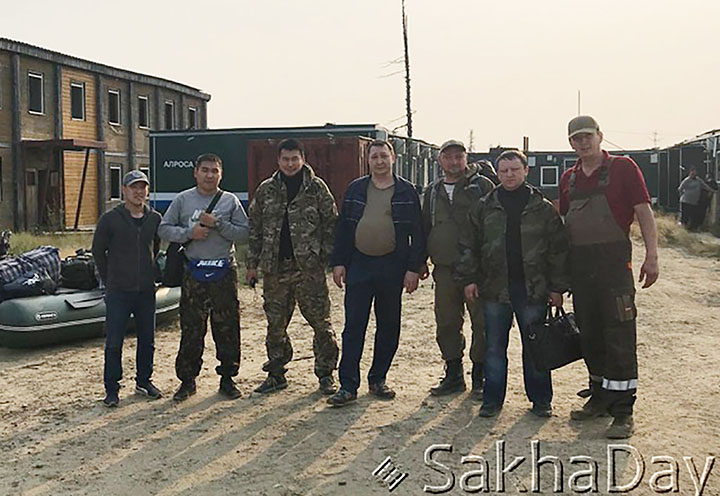 team of geologists pose with the fellows at Prilensk base before the expedition.
Relatives of the men had been concerned for several weeks over the fate of the men.
They had been expected to be out of communication in the remote taiga for an uncertain period - but their failure to reappear led to alarm.
The wife of Dmitry Okoneshnikov, head of the expedition, Alena, said he had been in touch the last time on 22 August.
He told her that he planned to head home on a dry cargo vessel on the Lena River on 8 September.
She alerted police and the emergencies ministry after becoming concerned at a lack of action from Granit, it was reported.
Mikhail Nikiforov's wife Olga said the group had left for Tiksi in 1 August - and her last contact with him was on 29 August, one week after Dmitry and Alena Okoneshnikov had spoken.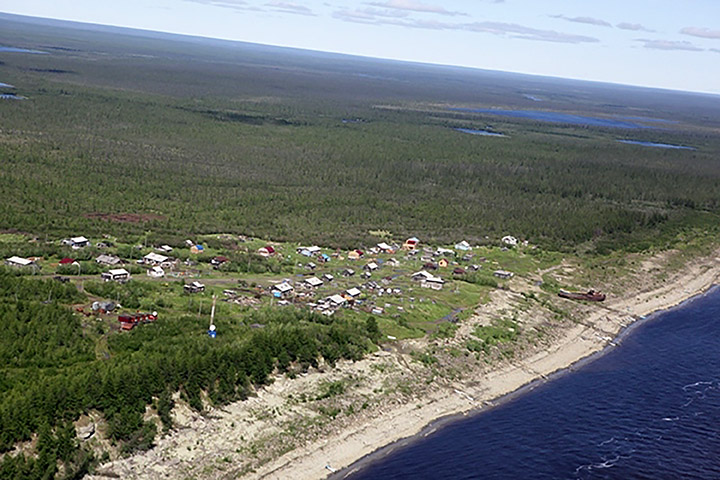 The area of Molodo where the survivors and the bodies were delievered.
She said: 'I wanted to contact the police last week.'
She was 'calmed down' by an expert at the North Eastern Federal University who said the group were in an area of no communications and not to panic.
'But now I decided that it was necessary to act,' she said.
Survivor Yan was in touch for the last time on 21 August said his mother Sargylana.
But Granit said the last contact t from the group had been 12 September.
As recently as 23 September the general director of Granit told journalists: 'In fact, there is no reason for panic.'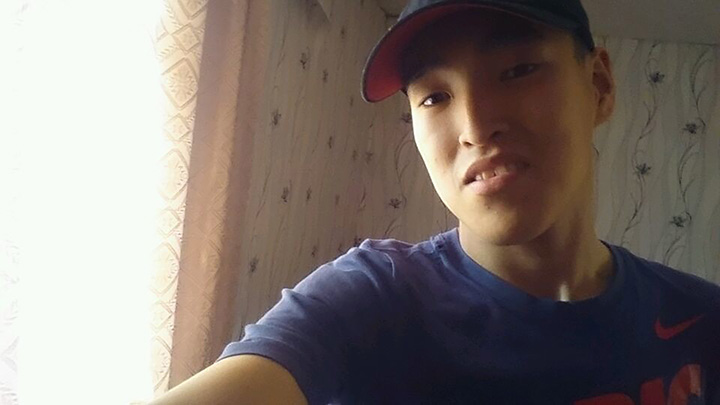 Student Yan Okoneshnikov - one of two survivors.
It was reported the emergencies ministry at the time did not consider the situation to be 'extreme'.
The search began only on 27 September, it was reported.
A tent was spotted some 60 km from Prilensk base - some 400 km south of the Arctic coastline.
400 metres away was found the sunken ATV with the bodies of the older Okoneshnikov and Nikiforov.
Yan Okoneshnikov and Alexey Seleznev had managed to walk 40 km further on.
Tent was spotted 60 km from Prilensk base.