Svetlana Shvetsova, 29, disappeared in August 2012. Picture: Svetlana Shvetsova page
She only met the 29 year old man several days before and left her phone number with her parents. That night - in August - she didn't return home.
Ever since, the man, a traffic police officer, insisted that after eating he escorted her home and made sure she came safely inside her apartment block.
Three months later, in early November, the woman's body was found at a remote lake in Irkutsk region.
When her body was found, the man changed his story and confessed that he killed Svetlana, who worked at major bank VTB24.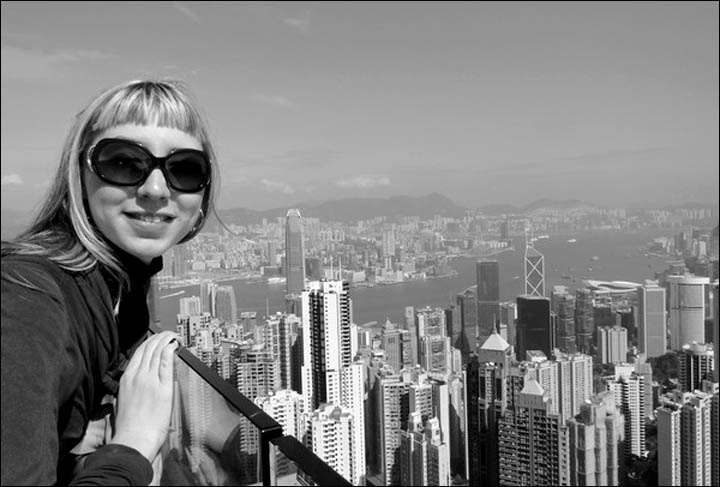 Svetlana Shvetsova, pictured on her trip to Hong Kong. Soon after her body was discovered several police chief were reportedly fired, and Police Day celebrations in the city were cancelled. Picture: Svetlana Shvetsova page
He also claimed that another friend, an ex-traffic policeman, aged 31, also took part in the murder.
'Criminal police along with the police's own security service, and Irkutsk Branch of Russian Investigative Committee, have detected two people who might be linked to Shvetsova's disappearance,' said a spokesman.
'One of them is a member of Irkutsk Region Traffic Police, another is a former member of traffic police. The court issued an arrest order for both of them.'
It is also claimed that several senior officers were fired when the story broke. The Police Day celebration was cancelled in Irkutsk region.
'Some reports suggest that local police tried to stop the story about the murder spreading any further.'
Svetlana's friends described her as a 'fantastic person'.
'She was from a very good family, she lives with parents in the new area of Irkutsk. I knew her well - I am so shocked', said one.