Four Amur tiger cubs filmed playing at the Land of the Leopard Nature Reserve. Picture: Land of the Leopard
The video was received by automatic camera trap in the central part of the Land of the Leopard National Park.
The adult female tiger brought her kittens to the top on one of the hills.
Having rested a bit and fed them with milk, the tigress went down into the valley, probably for hunting.
The kids from early morning until late evening were left to themselves, frolicking and relaxing in front of the camera.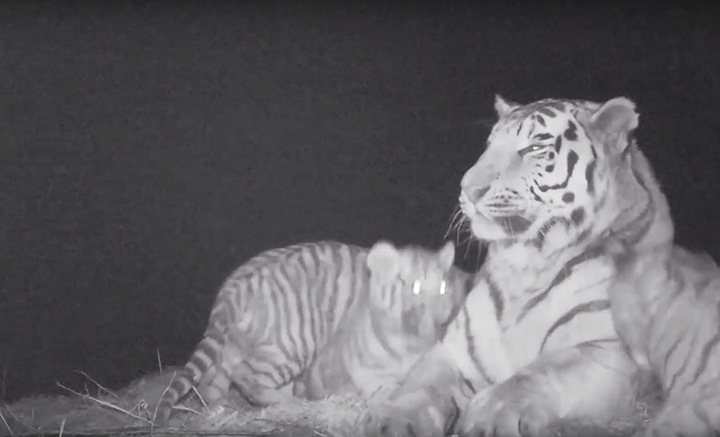 ---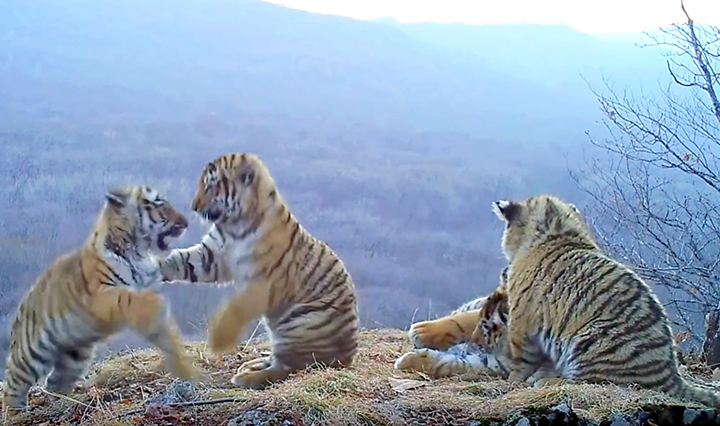 ---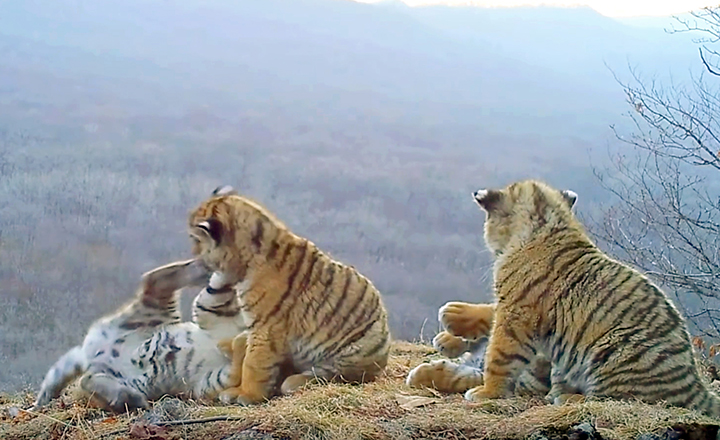 ---
---

Park researchers say this is the first video capturing a brood this big in such a young age. Pictures, and video below: Land of the Leopard Nature Reserve
---
During simple games, the kittens figured out which one was the main one, training their wrestling skills and periodically changing roles.
Particularly bright moments of fights were dragging each other by ears and tails, and embrace. As scientists explain, such kind of games when cubs learn to communicate with each other are extrmelely important for their' development.
Young predators obviously did not suspect that someone was watching them.
During the day, they fell asleep several times, huddling closely together.
Obediently waiting for the mother, the kittens stayed 'under control' of the camera all day long, after which they left the shooting site, probably, having responded to the mother's call for dinner.
FOUR AMUR TIGER CUBS
Dina Matyukhina, senior researcher at the Land of the Leopard Nature Reserve: 'The kittens are about 3-4 months old.
'It is a great success for us to get such shots: as a rule, kittens are caught by camera traps at a later age when they begin to follow the mother.
'This video gives us a lot of information about the behavioral characteristics of tigers, as well as important data on brood sizes.'
Previously the traps of the Land of Leopard only twice recorded tiger families with four tiger cubs, and the video was filmed for the first time.
Much more often cameras in the south-west of Primorye film broods of tigers, consisting of 1-3 cubs.