'The tiger cub proposal initially sounded a bit surprising, but we looked carefully at this idea and realized it was a bingo!'
The Russian president, with his passion for wildlife and saving the endangered Amur giant cats in eastern Siberia, gave the idea for the new quick-tempered and 'naughty' character in the world's oldest children's television show.
Mur - also said to be 'crazy sweet' - will join Khryusha, a piglet (introduced in 1970), Stepashka, a hare (introduced the same year), Philya, a dog, introduced in 1968, Karkusha, a crow, introduced in 1982, and Mishutka, a bear, introduced in 2002.
Mur will be a 3D character and not a toy, say the makers.
'There was a wide choice of animal pets - a wolf cub, a monkey, a giraffe and others that the show producers had been considering to star in the popular TV project,' TRC CLASS" television chairman Alexander Mitroshenkov.
'The ideas were discussed with children and their parents, and the opinion of psychologists was asked. It is important that the little TV viewers should take a fancy to the new personage because it is coming to the TV show for good.'
He explained: 'The idea to take an Amur tiger cub 'on the staff' came into our mind after an interview with President Putin, who told of his active support of several ecological programmes to protect rare animal species on the verge of extinction.
'He specified that these animals are our national treasure and that they need protection.
'Therefore, we came to the conclusion that the new character should be an animal facing a threat of extinction and which should tell children about ecology and explain to them how important it was to protect the rich nature of our planet'.
He admitted that the tiger cub proposal initially 'sounded a bit surprising' but 'we looked carefully at this idea, we realized it was a bingo!'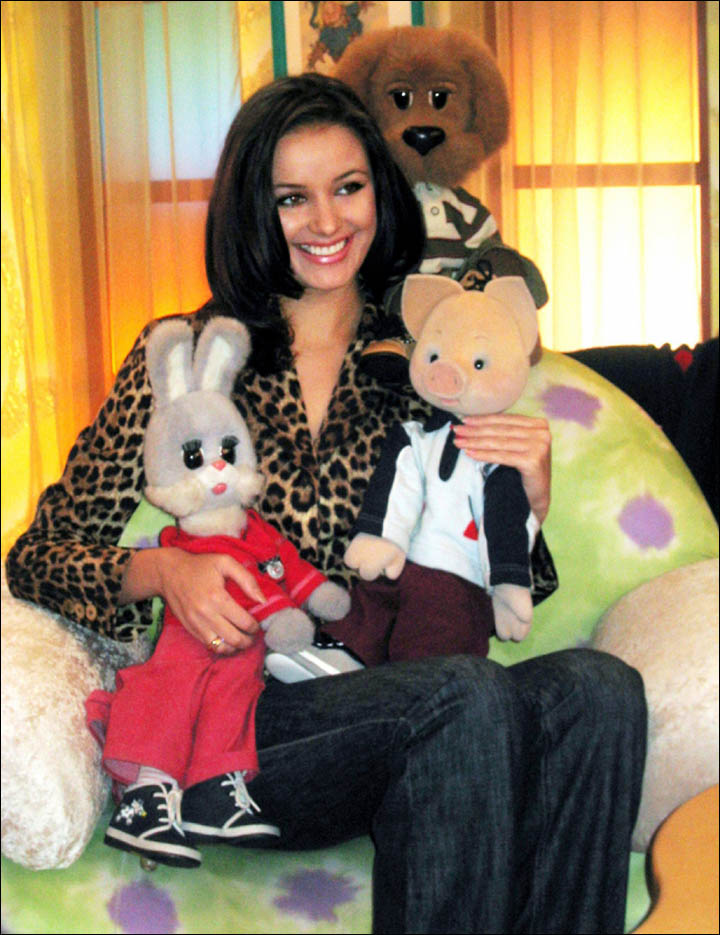 Presenter Oksana Fedorova with the program's three other characters. Picture: woman.ru
The show has run for 50 years - an anniversary it marked on 1 September.
When it began entertaining three generations of Russian children it did so without puppets.
Its anchors are Oksana Fedorova - winner of one of Miss Universe beauty contest, popular singer, composer Dmitry Malikov and actress Anna Mikhalkova, daughter of celebrated film director Nikita Mikhalkov.