Mikhail Kulikov, born in 1912, hero of WWII. Picture: Tyumen-Time TV
Mikhail Kulikov was aged five when during the 1917 Russian Revolution, but he showed his is still looking to the future by wanting to take part in the latest elections for new governors in Russia.
'The veteran came to the polling station accompanied by his son," explained a member of the local election commission. 'He joked and was full of energy and vigour. We thought that the old man was no more than 80 years old.
'However, we were shocked, when we saw his birth date in his passport - he was born in 1912.'
Evidently, he was offered assistance in completing his vote but insisted on doing it himself.
'We felt a kind of a shock. In front of us, we saw an old man who was born in pre-revolutionary Russia, fought during the Great Patriotic War (World War II) and has kept his vigour,' the official told Itar-Tass.
Kulikov comes from the village of Fedotovskoye in the Kirov Region in the Urals. He was born into a peasant family with eight children. After leaving school, he enrolled at the math department of the pedagogical institute in the Siberian city of Tomsk.
He was sent to a military school when the 1941-1945 war broke out against Nazi Germany. Then he was dispatched and was sent to the front serving with the air defence artillery troops.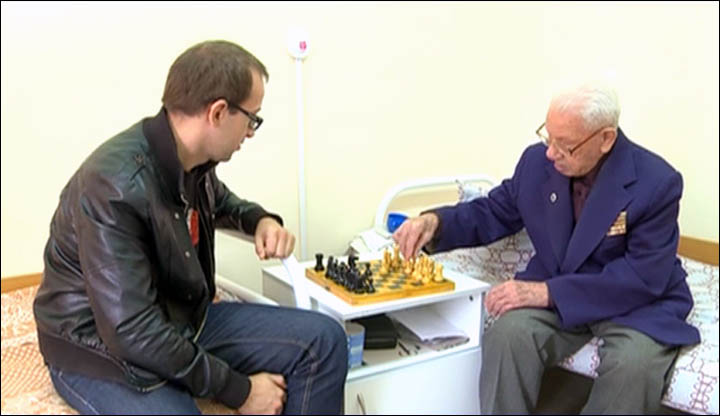 Mikhail Kulikov still plays chess as a hobby. Picture: Tyumen-Time TV
As a paratrooper, his first battle against fascists took place near Staraya Russa in north-west Russia. Encircled by Nazi forces but managed to break through the encirclement, carrying heavy machine guns with them.
During the Great Patriotic War, Kulikov also fought in Romania, Czechoslovakia, Austria and Germany. He was awarded with the 2nd degree Order of the Patriotic War and the Medal for the Victory over Germany.
After the war, he worked as a mathematics teacher, and later headed a school in Tyumen. He still plays chess as a hobby.
As for the elections, they produced no upsets across Siberia. The results will be seen as a vote of confidence in United Russia party and President Vladimir Putin.