Walking Siberia again? Sculptures of wolly mammoths in Khanty Mansiysk, Siberia. Picture: The Siberian Times
So says Hendrik Poinar, an associate professor at McMaster University in Canada, who claims that the creatures will be genetically similar if not identical to the extinct species. Harvard University geneticist George Church agreed, rejecting theories that the mammoth died out too long ago to extract useable DNA from remains found in the permafrost.
It should be possible to build up an exact picture of the mammoth genome by analysing the DNA in Siberian burial grounds, which can then be used as a template to edit and rewrite the genome of the closely-related Asian elephant until it matches the mammoth, he said.
'A mammoth in the permafrost will have something like half its DNA intact', said Poinar forecasting a wait of as little as decade or two to see the re-birth of a species that became extinct some 4,000 years ago on Wrangel Island, between the East Siberian and Chukchi seas.
Elsewhere the creatures died out earlier.
'In fact, the mammoth genome is almost fully complete', said Poinar.
'We can actually pull out and rejig all these small mammoth fragments and match them against the genome of an Asian or African elephant chromosome and find all the little points of difference.
'So that means we can take Asian elephant chromosomes, modify them to match that of a mammoth and then create an embryo by inseminating an Asian elephant egg. It would be long and arduous but eventually we would have something that looked like a mammoth. It would not be an exact replica but it would look and feel much like a woolly mammoth did'.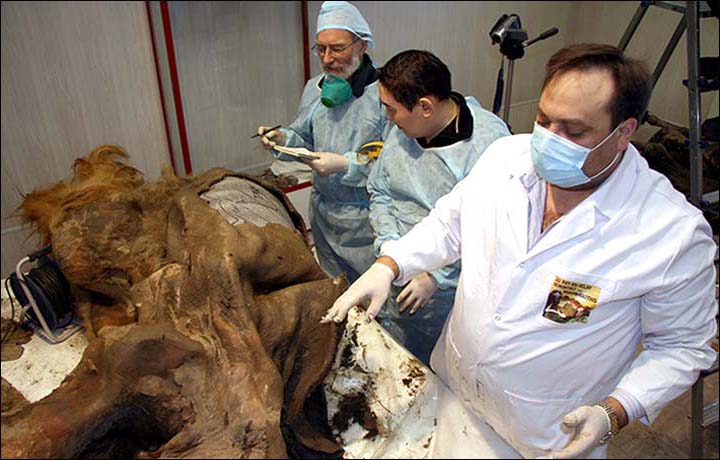 Scientists working with the remains of Yuka, woolly mammoth, found in Yakutian permafrost in 2012. Picture: Gennady Boeskorov
He predicted the most likely habitats for the re-born mammoths would be in north-eastern Russia and northern Canada.
'There are swathes of habitat in Siberia and the Yukon that could actually house a mammoth', he told the Sunday Times in the UK.
But he also raised a questions that scientists - and governments - must face as laboratories gains the knowledge to bring extinct species back to life: should we?
'There is a part of the boy in me which would love to see these majestic creatures walk across the permafrost in the north once again, but I do have to admit that part of the adult in me does wonder whether or not we should,' he said.
Currently, South Korean scientists working with Russian partners are believed to be in the lead in bringing assisting the woolly mammoth back to life.