Agafya Lykova, 76, pictured in her new house with Metropolitan Cornelius. Picture: Oleg Deripaska media team
Last night was the first time for 76-year-old Agafya to leave her father's house, built 80 years ago when her parents fled Soviet repression and arrived in the Siberian taiga after fleeing religious persecution of the Stalin era.
For most of her life Afafya has has lived much as a peasant from the 18th century, with hardly any modern comforts, guided by an ancient Bible, and little contact with the outside world.
Construction of Agafya's new home - a simple one-storey hut, as she had requested - started in December 2020, days after she asked businessman Oleg Deripaska for help.
The new house was completed several days ago, and offers more comfort and warmth than the tumbledown shack built by her father.
Yesterday it was blessed by Russian Orthodox Old Believer church priests, who flew specially to see Agafya from Moscow.
---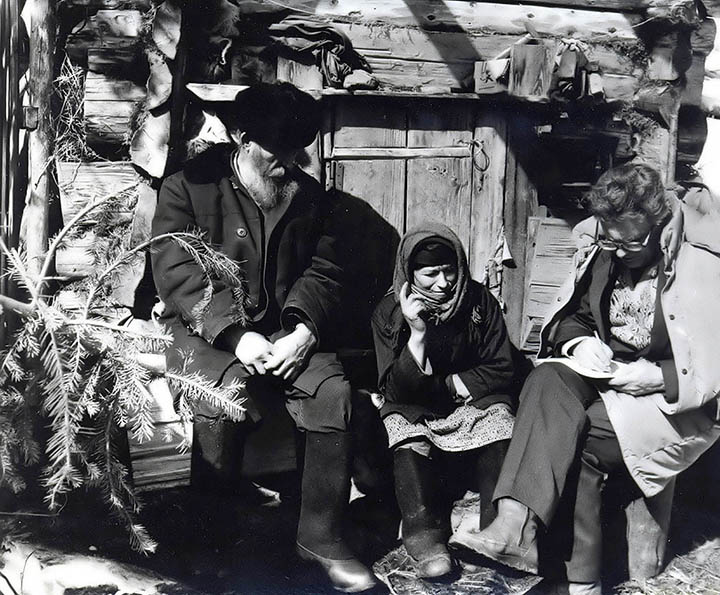 ---
Agafya pictured in early 1980s, with her father Karp (left) and Krasnoyarsk professor Igor Nazarov (right), and aged 72. Pictures: Igor Nazarov, Nikolay Proletsky
---
'The new house is solid, with a warm veranda and lots of natural light coming through its four windows.
'Agafya was presented with an icon by Metropolitan of Moscow and All Russia, Korniliy, and was grateful for a chance to have a one-to-one chat with him. She liked the new house, and to thank everyone who helped build it she baked some bread and served it with home made drinks', said director of Khakassky Nature Reserve, Viktor Nepomnyashchiy.
The house had to be assembled in the city of Abakan, Khakassia, with logs numbered and then dismantled to shorten the building time.
The recluse's area is in A remote, hardly-accessible part of the Sayan mountains, so it was easier to bring the house part by part rather than to deliver building material. At least 18 air-boat shipments were made to deliver the new house.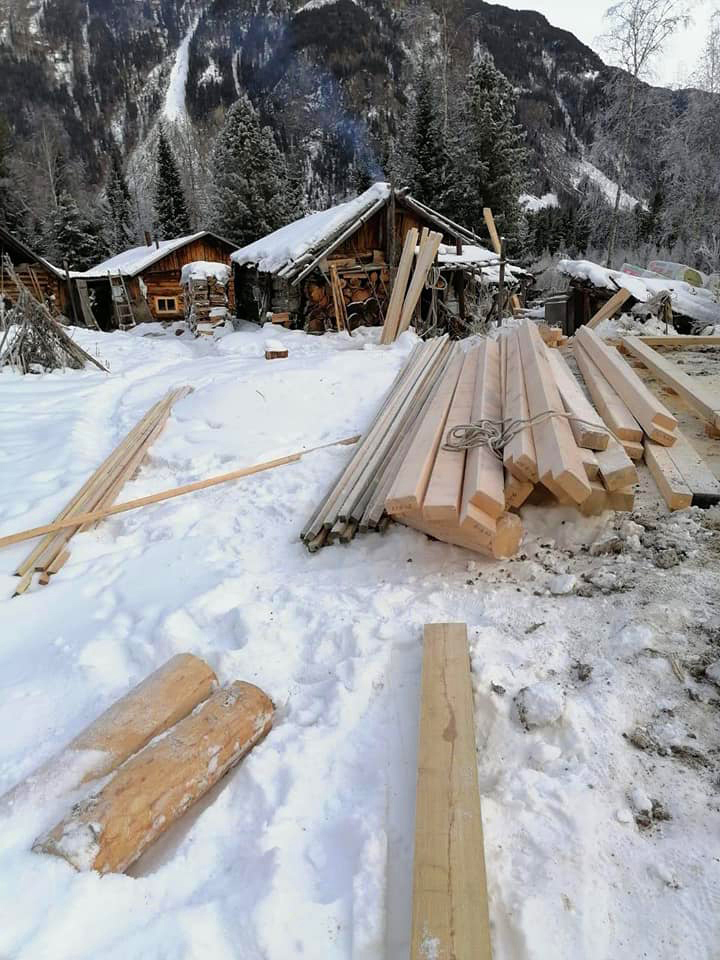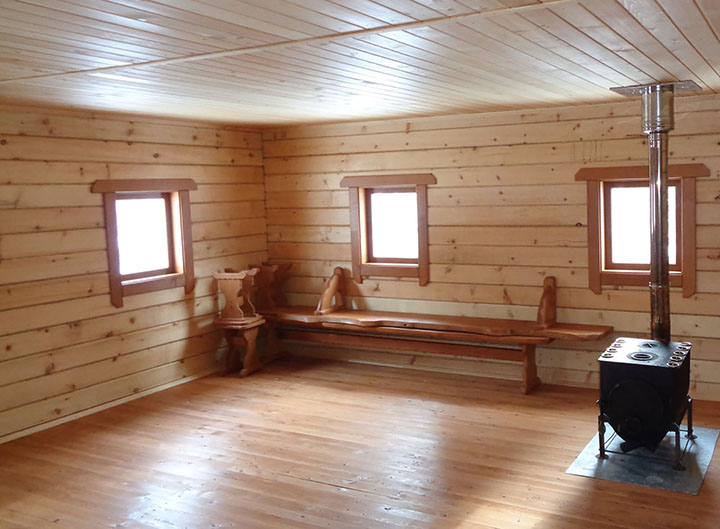 ---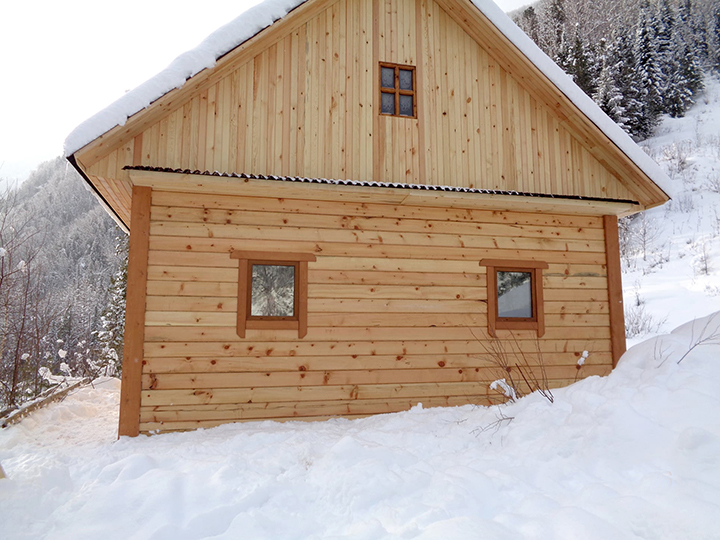 ---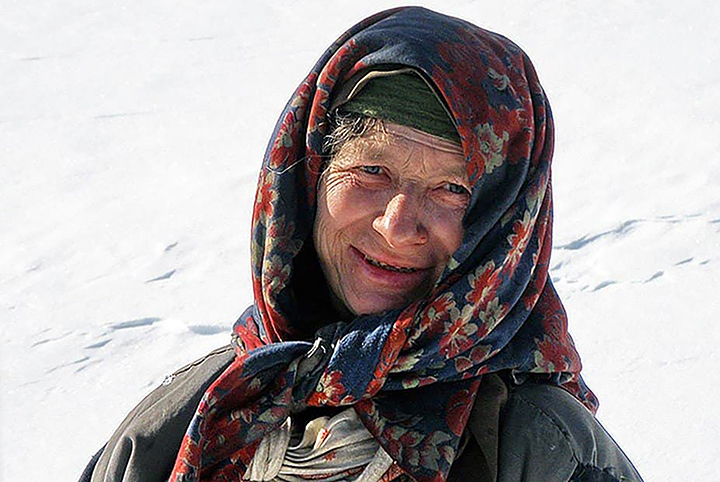 ---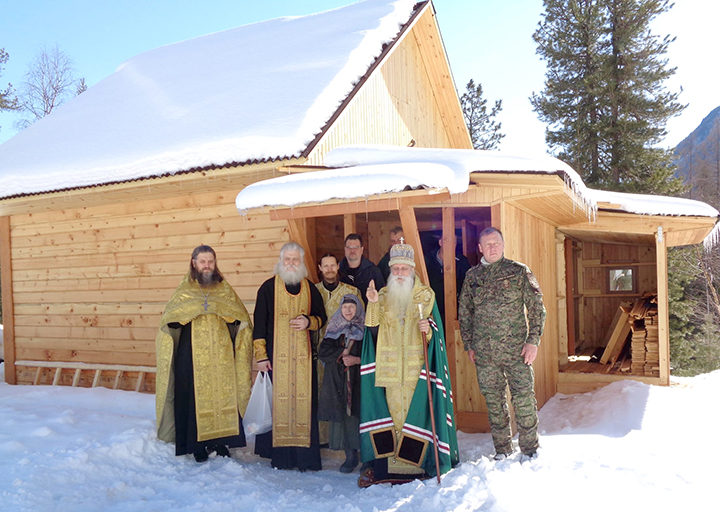 Hermit Agafya Lykova inside and in front of her new house with Russian Orthodox Old Believers priests. Pictures: Viktor Nepomnyashchiy
---
Agafya Lykova is the last survivor of a family of Orthodox Old Believers who in 1936 fled into the forest to escape religious persecution of Stalin's Russia.
They were discovered dozens of years later in 1978 after being spotted from the air by a group of geologists on a remote mountain side close to Erinat river in the Abakan range, south-western Siberia.
When they were found, they had no idea World War Two had started - or ended.
Agafya was the fourth child of Karp and Akulina Lykov, and for the first 35 years of her life she had no contact at all with anyone outside her family.
Her mother died in 1961, her father passed away in 1988.