Pad' Kalashnikova dog from pit #2 under excavation. Stone and bone implements are present near and under the cranium, and a round pebble is visible within the mouth. Picture: plosone.org
Dog burials - including the animals being buried with their owners - reached a peak among foraging people in Siberia between 6,000 and 8,000 years ago.
And the dogs were given 'near human status' by foraging people, it is claimed.
'Dogs were accorded a near human spiritual status as evinced by the burial of dogs with artifacts the dog would have used regularly during its life and the burial of dogs with people,' according to one report.
While foraging people buried dogs, farming people did not, according to research by paleontologists from Russian, Europe and the United States. They examined 17 human and dog burial sites on the southern and western shores of giant Lake Baikal, which contains around 20% of the globe's freshwater, and also the upper reaches of the Angara and Lena rivers.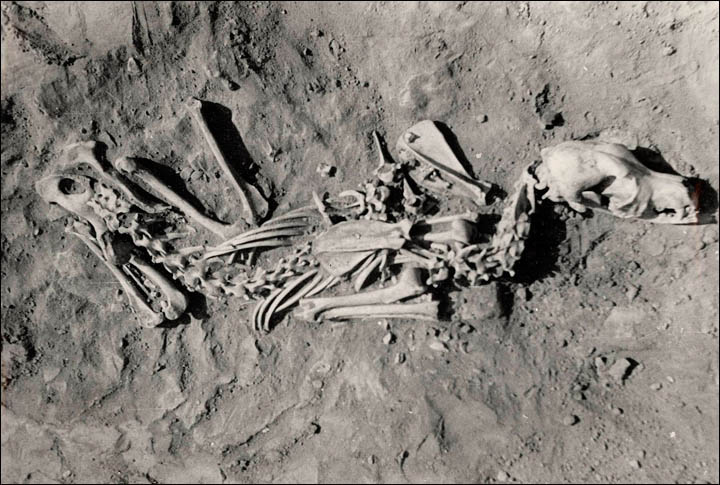 ---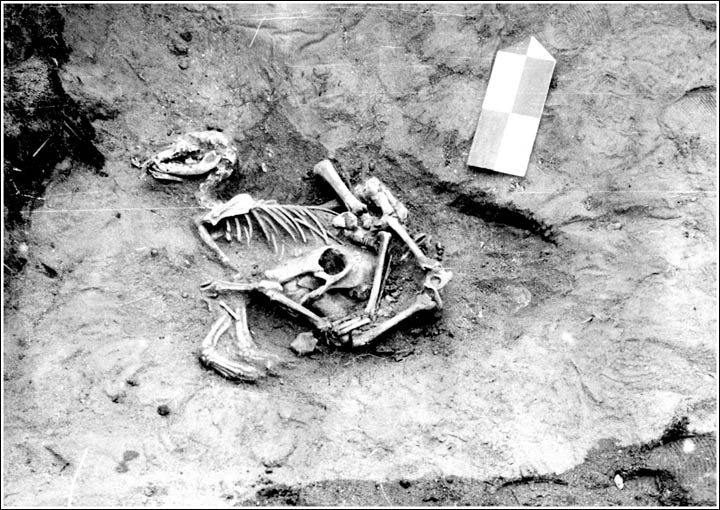 Dog buried in a crouched or sitting position and below, the cranium, mandible and lower leg bones of a calf. These calf remains may have been left attached to the hide and used to wrap the dog, which appears to have been a sacrificed animal. Pictures: plosone.org
The experts think that foragers depended on the dogs more than early farmers.
The foragers' graves show dog skeletons buried to the left and right of the human. The research is highlighted in Burying Dogs in Ancient Cis-Baikal, Siberia: Temporal Trends and Relationships with Human Diet and Subsistence Practices Robert J. Losey et al.