Warm greeting from the black belts! Left to right: Svetlana Tyukova, 73, Nina Zimina, 65, Nina Melnikova, 76, Antonina Kulikova, 76. Picture: Vera Salnitskaya
More than a dozen elderly ladies are members of the Siberian Federation Yoshinkan Aikido group in Novosibirsk, and gather to spar and throw one another about. Formed in 2005 as a way to get the older generation thinking about their health, it is thought this is still the only group of its kind in the world.
Dubbed the 'aiki-babushkas', the women who take part say they feel as if they have turned back the clock and are fitter and more confident than previously in their lives.
'We train with pleasure,' said 77-year-old Svetlana Tyukova, who has already survived a heart attack. 'We've already devoted 10 years to it. I can't just give it up. When we were told we would get a black belt one day, we were laughing and didn't really believe it.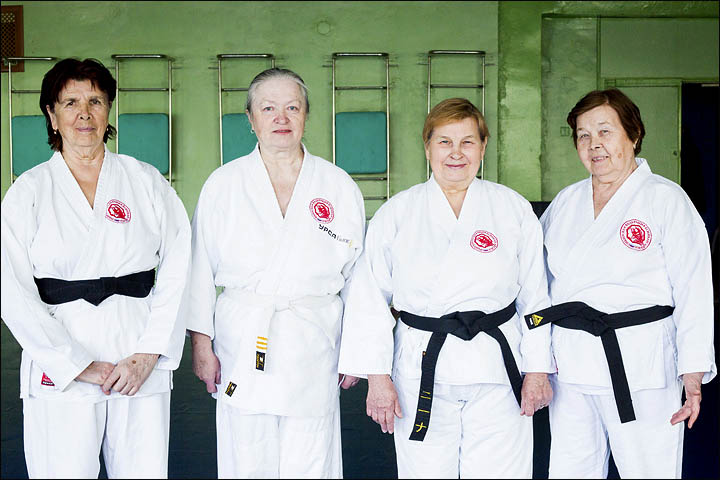 ---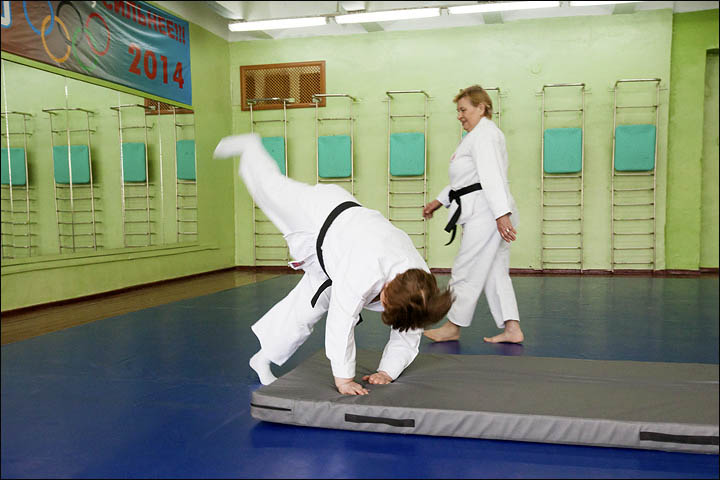 ---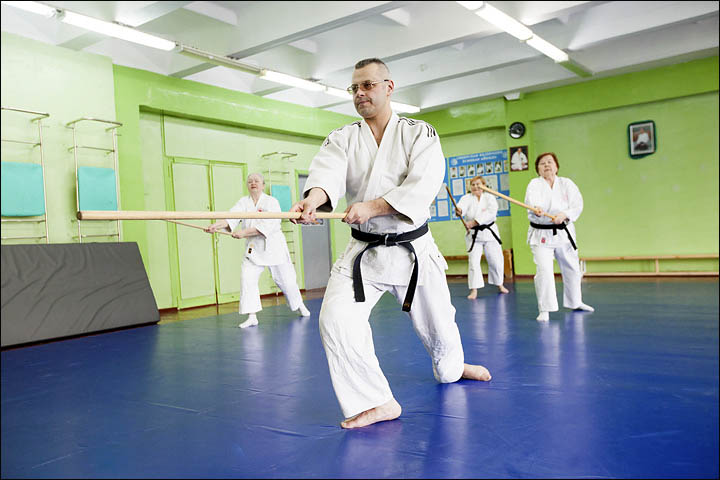 ---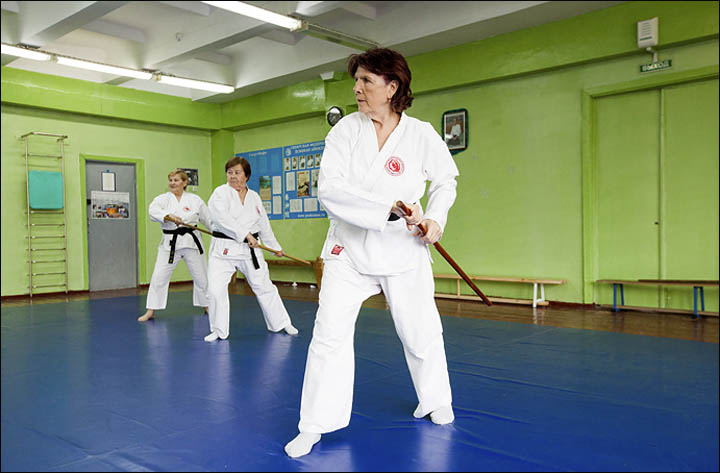 ---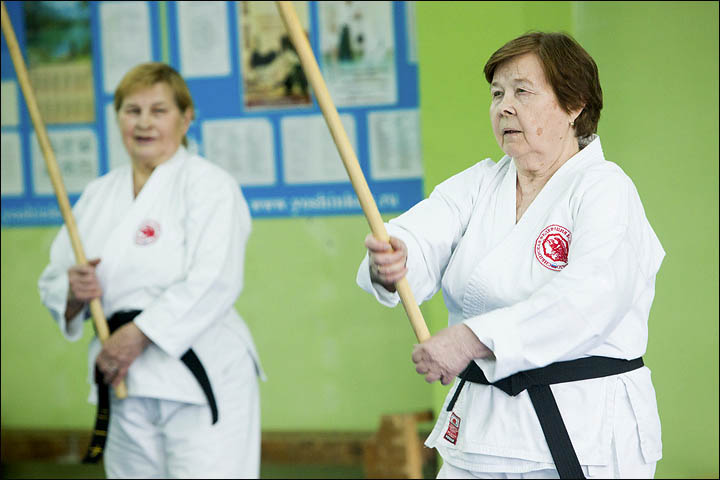 'There are no such aikido group for the elderly, especially women, in the world'. Pictures: Vera Salnitskaya
'At the very beginning we trained until we were exhausted and even the warm-up was very intensive and we were sweating. But as time went by, we got used to it.
'The classes are interesting because they keep your brain alert. You need to know Japanese commands, you need to understand your sparring partner, and you need to feel the timing of the hit. It's very important to be well-coordinated.'
She added: 'The brain is constantly working during classes. You come here, leave everything outside, and you're totally in aikido.'
The idea for a group was initially conceived by SibAkademBank, which was rolling out a financial awareness programme amongst the elderly. At the time, in 2004, the older generation embraced trying to learn about new technologies so the bank president suggested: 'Let's also try to teach them aikido too.'
On February 8, 2005, a number of older ladies turned up at the Victoria fencing club to try their hand at the sport of Japanese aikido. A decade on and half of the original 30 women still practice the skill.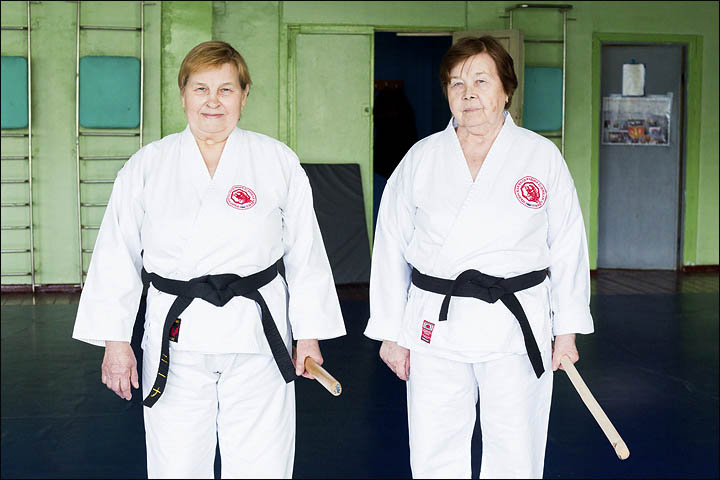 ---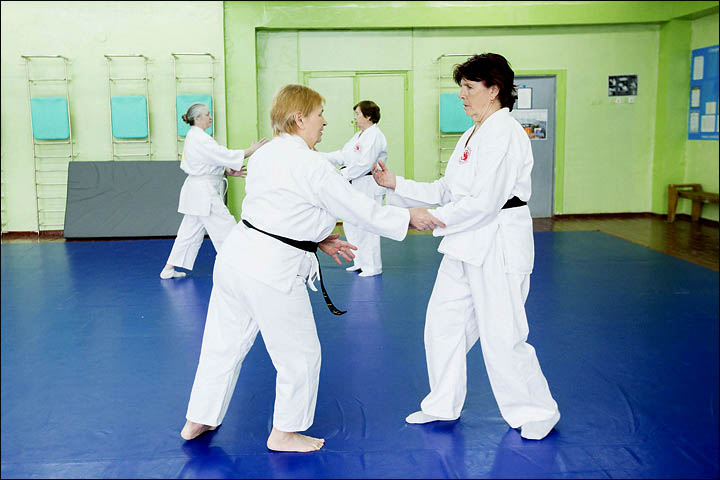 ---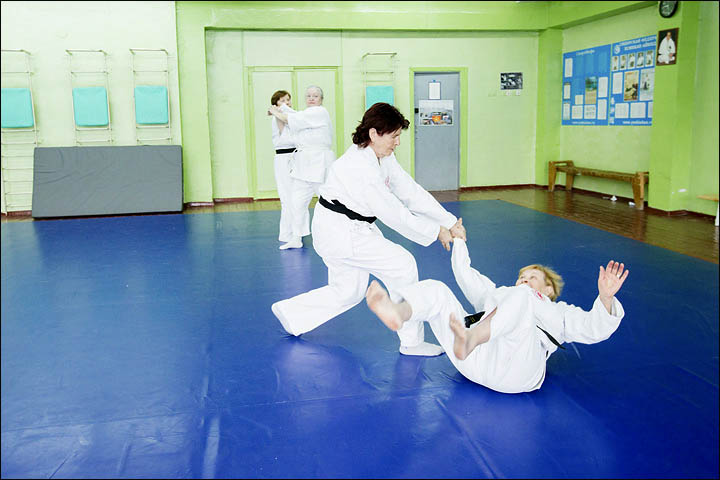 ---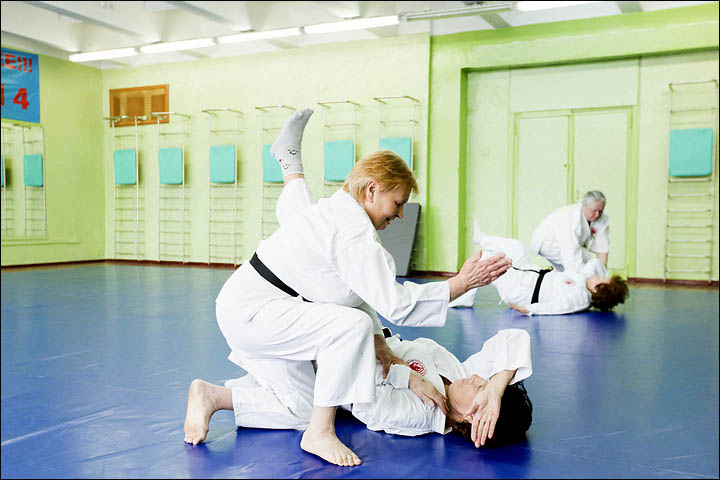 ---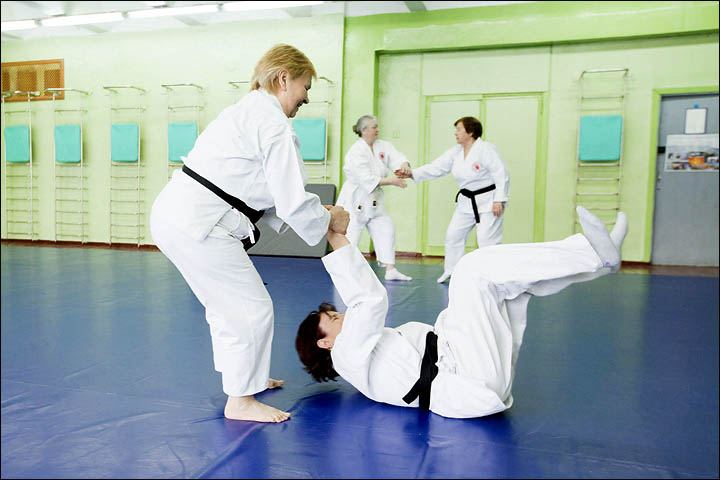 'Thanks to aikido, we are socially active and are not afraid to go out, the whole quality of our lives improved'. Pictures: Vera Salnitskaya
Their teacher, president of Siberian Federation Yoshinkan Aikido, 5 dan Youshinkan Aikido, Andrei Podoinikov, 37, said: 'I can't say it was hard to start working with our ladies. There is no single difference in teaching to kids or to elderly women. It all comes down to professionalism of the trainers. The main feature is our age difference as their grandsons are my age.
'It turns out that here I'm their teacher, but its them who share their life experience with me'.
He added: 'There is nothing like it either in Russia or in Japan. Obviously, the share of the elderly doing aikido is higher in Japan, but there are no such aikido groups for the elderly, especially women, in the world. We're the first one.
'The main practical use of aikido is the confidence in everyday life. In the first instance, it's physical confidence. Any fall for an elderly woman can result in serious consequences such as osteoporosis, hip fractures, surgery, or even death. But if our aiki-grannies fall down, they are only slightly scared.
'We have improved their quality of life. Thanks to aikido, they're socially active and are not afraid to go outside. There is no fear of falling down'.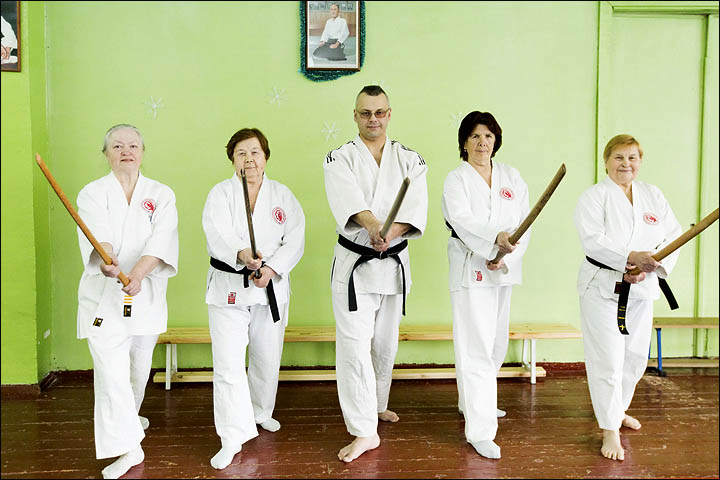 ---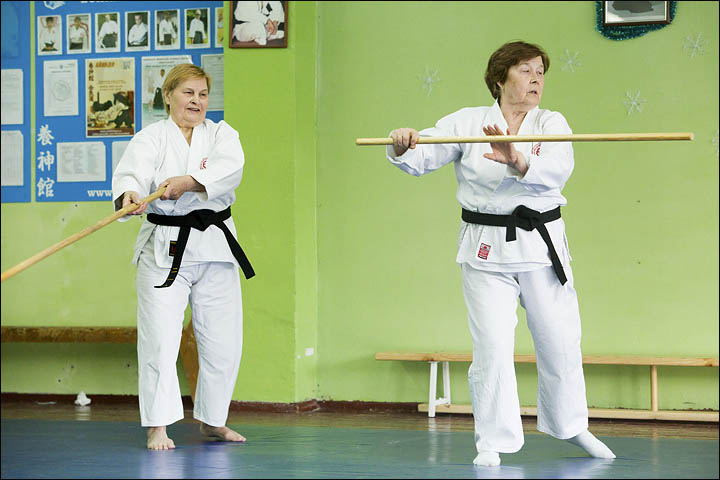 ---
---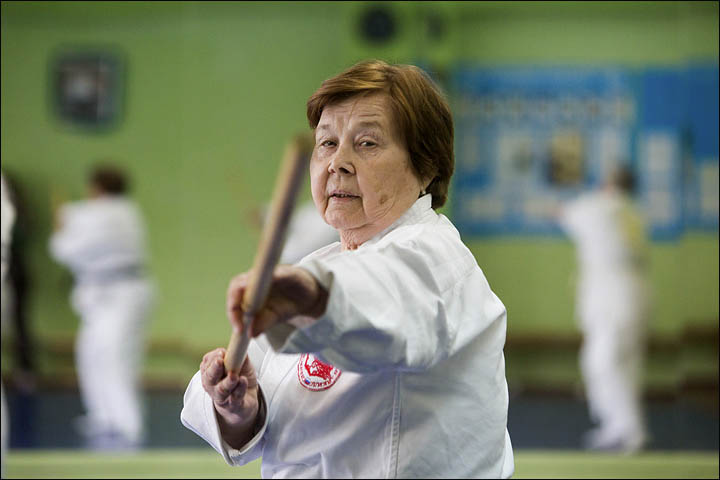 ---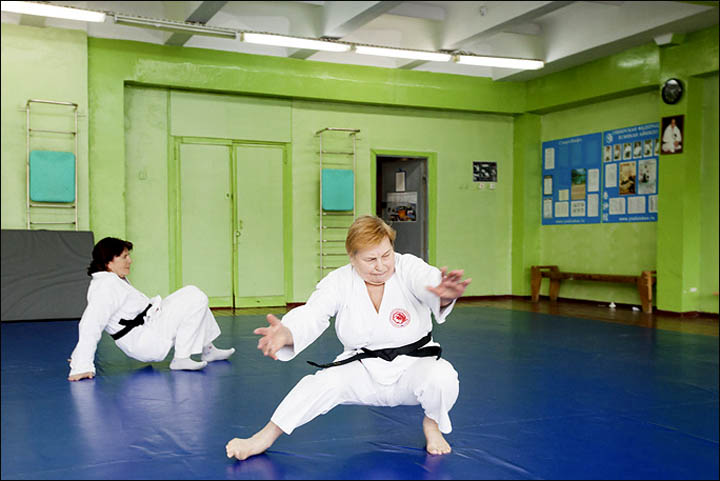 'The brain is constantly working during classes. You come here, leave everything outside, and you're totally in aikido.' Pictures: Vera Salnitskaya
'Aiki-grannies show us that age is not something to be afraid of, that we all be old one day. They prove that one shouldn't give up and can live an active life in any age.'
The project has benefited both the community and the ladies themselves, and the women say they feel more secure and promote aikido in their hometown of Novosibirsk.
Nina Zimina, 65, said: 'I started training in September 2008. I liked it so much that I tried hard not to miss a class and not to be sick. My first exam was at the beginning of that December. It was very hard. You're listening to all these commands in Japanese and there is no one to look at [and copy].
'But the exam went well, we were given the certificates before the New Year. I brought it home and my husband was amazed. My grandchildren are very positive but they don't train themselves. I have two granddaughters, both aged 19, and I had to pick them up when it was dark. Sometimes they were worried about me and say, 'Granny, how will you be going home on your own?'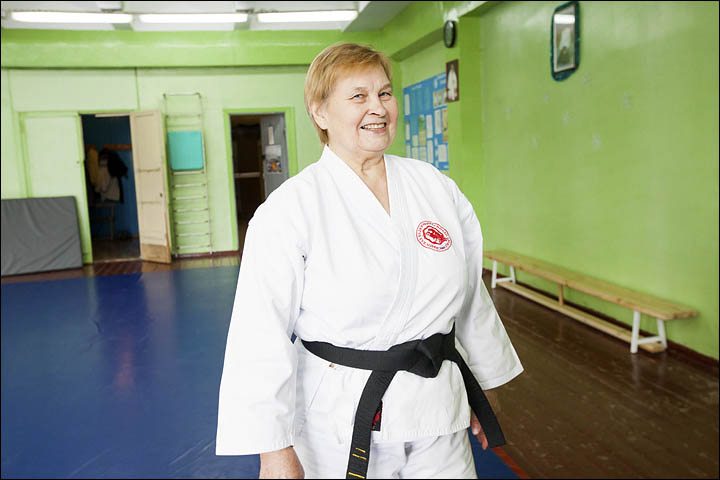 ---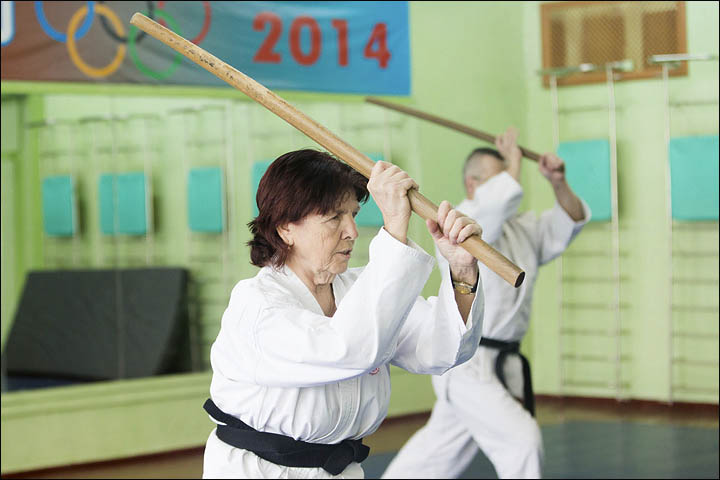 ---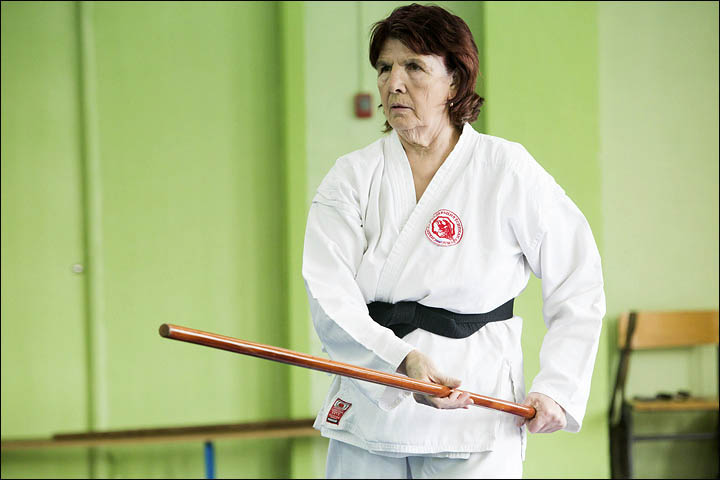 ---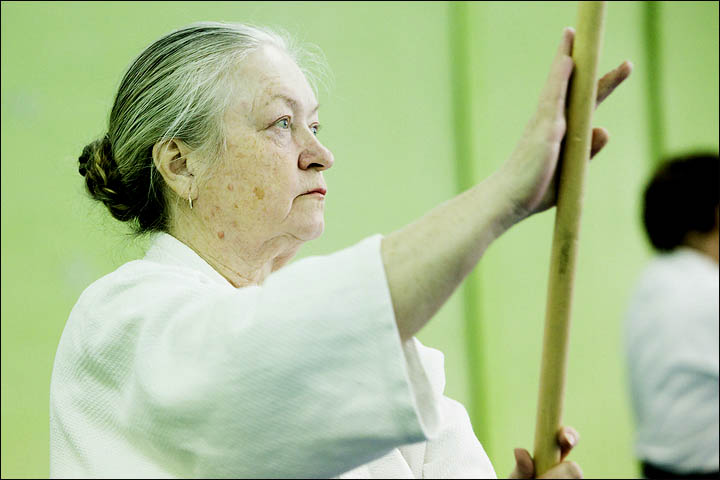 ---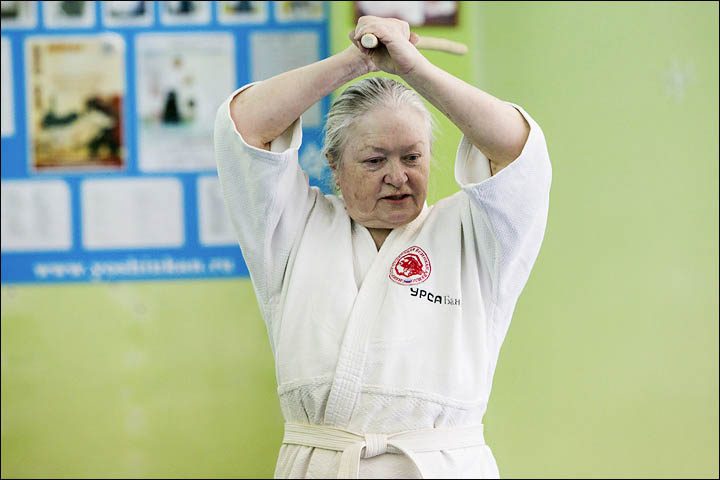 ---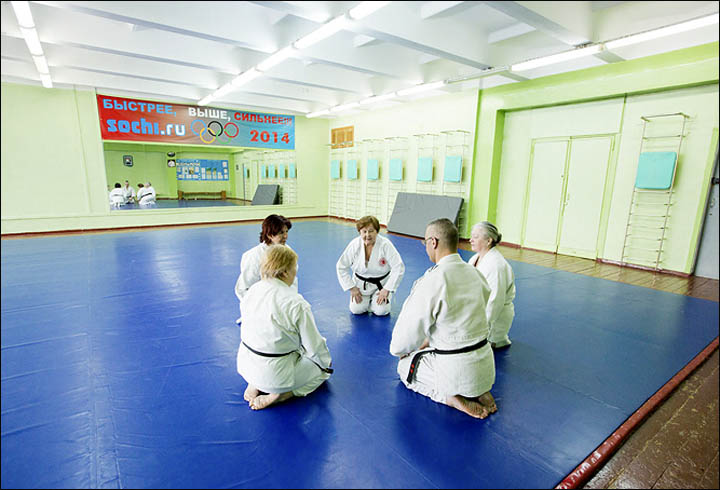 Aren't they stunning? Pictures: Vera Salnitskaya
'But granny's fine - I'm not afraid because I feel confident. And even if some situation happens, someone won't be bothering me because they see I'm walking confidently.'
All the women say their husbands, and other older men, have shown no interest in becoming aikido fighters.
'There were moments with men our our age or slightly younger joined us, but they couldn't bear it,' said Nina. 'I even asked my husband to help me practise how to grip arms properly but he's afraid to.'
Her friend, Antonina Kulikova, 76, said: 'My husband is afraid of me since I started training. He's even scared to hold my hand. And if I start an argument, he'd be wailing'.