---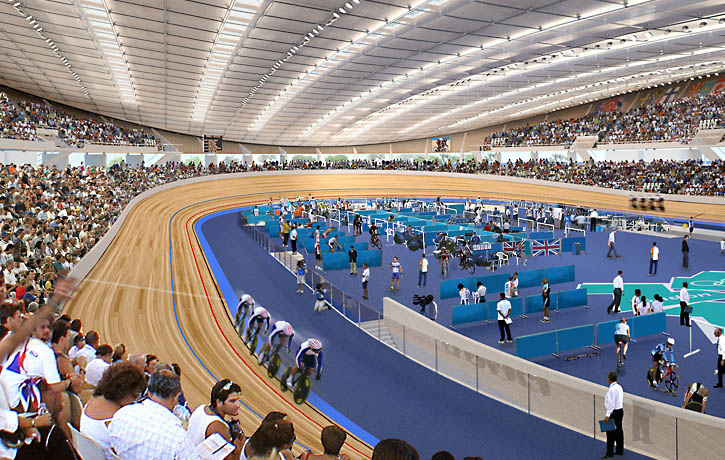 The Siberian Larch, used for the ultra-speedy track in the United Kingdom's VeloPark is winning warm plaudits from around the globe
There maybe is no shortage of this timber across a few time zones of permafrost in Russia, but now it is winning the kind of salutes that could see it become fashionable for other iconic buildings all over the world, giving a boost to Siberian industry.
'It may well be the fastest track in the world. It's gorgeous', declared German team sprint gold medallist Kristina Vogel.
'It's just such a great track. It's easy to ride fast', gushed Danish rider Michael Morkov, after hurtling around the Thunderdome in a way Mad Max would have been proud of.
'It's beautiful, just perfect for Team Pursuit. Just right," said flying Dutchman Jenning Huizenga.
The track's designer is Australian Ron Webb, a fan of Siberian pine preferring it over a Western timber, who also made the Seoul, Sydney and Athens Olympic tracks plus some 30 more around the world.
As the Australian Associated Press explained: 'Made of Siberian pine, the track's short straights and long bankings make it faster than most.'
The UK's Daily Mail - which christened a 'pleasuredome' the building with the Pringle Crisp-shaped roof explained: 'There are 56 kilometres of Siberian pine, 350,000 nails and £105million of government money in London's Velodrome. It is a cathedral, a material hymn of praise, of faith in British cycling.'
'Six metre lengths of Siberian larch, which are 40mm square in section, are simply nailed down to the wooden trusses just like laying a wooden floor,' said Building magazine.
'Western hemlock was also tested as a track material and performed as well as the Siberian larch.'
'Both are very stable timbers and don't move much with temperature,' said Davendra Dabasia, project manager on the velodrome. 'We've gone with the larch as it was easier to bend around the corners and Ron has used it on other tracks.'
It took 26 carpenters some eight weeks to nail the track in place.
'The track is made of Siberian pine because the trees are known for being straight and tall, making them suitable for the lengths of timber required to shape the track,' said the London Evening Standard.
Strangely, Olympic officials have not been able to pinpoint precisely where the now-famous timber is from except to say it is from the 'north of Siberia'.
The timber is not the only Russian connection.
Before the races, famous Oscar-winning British actress Helen Mirren - whose grandfather was a Tsarist officer who crossed Siberia to fight in the 1904-05 Russian-Japanese War - pops up on the screen to silence the crowd saying 'Shush - for one minute'.
Then the race starts and the noise erupts.