Academpark is a $500 million project transforming Russian technological innovation in the prestigious scientific satellite linked to Siberia's largest city, Novosibirsk.
The centre is located in a futuristic hub in Akademgorodok, clustering young and ambitious professionals in four fields - information technology; instrumentation; nanotechnology and new materials; and biotechnology and biomedicine.
Within this innovative complex, nicknamed Russian Silicon Forest, is Academpark Business Incubator, a unit founded in 2013 aimed at turning hi-tech dreams into commercial realities. Inside the business incubator, hidden away amidst scented forest 30km south of Novosibirsk city, we meet several Siberian success stories from this venture.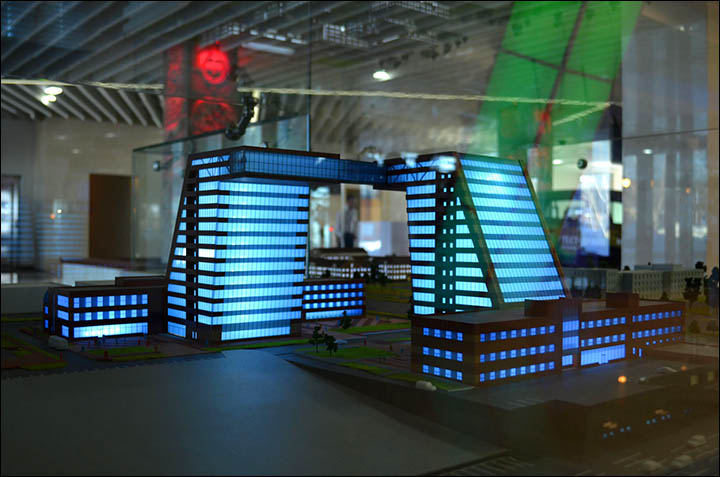 ---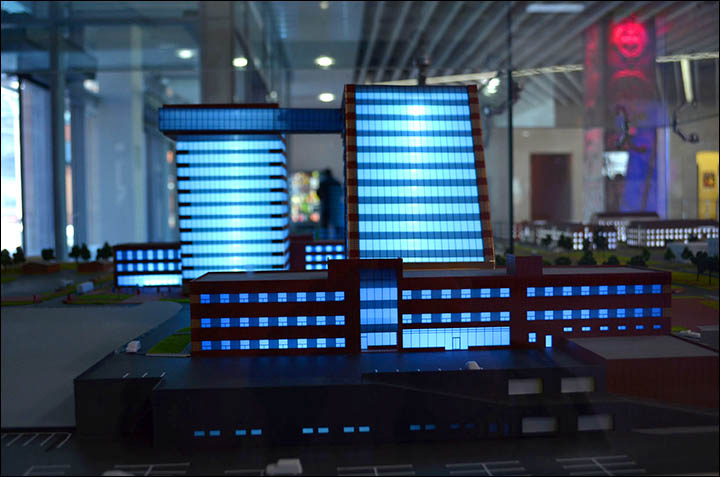 Dmitry Kustov, the owner and CEO of InvestIdea, one of the 66 companies resident in the business incubator, is typically young for those attracted here; in his case, aged 25 years old. After one year, his company offers businesses a service which is called the 'Prize Centre'.
'It's very innovative, though simple, and I'm not sure why no-one else came up with it before,' he says. He though of it when he was figuring out a novel way to sell his car. 'We allow businesses to create social network activities that are at least ten times more engaging then any others out there - which helps them to grow and find new clients.
'More and more people globally go online and business follows them since they are the potential clients.
'To me, only lazy or stupid businessman nowadays do not present their business on the different social platforms.' He gives an example. 'You probably have seen activities in social media when a company offers people to get a prize for some actions. For example: like our post and share it with your friends, and we'll give you a MacBook Air. There are enough people who would like to get the prize for free and are willing to do whatever they are asked for, but the mechanism of choosing the winner is not clear and people lose interest.
'We offer to conduct the same activities but using a clear ranking system, where every participant can see what are his and his opponents chances to get the prize. And the winner is the person who makes the most activities that the business asked for. If the businessman asked users to spread a post through your friends, you can track down how many of your friends and friends of friends made the necessary activity.
'The more of your friends who share the post, the higher is your chance to get the prize. The ranking is visible to everyone, it's shown on a special landing page where anyone can enter and see the data. Moreover on this landing page, you can choose other events that you would like to participate in and win the prize.'
Such a clear system of participation does stimulate people to engage more, and Dmitry proved it on several projects with different businesses.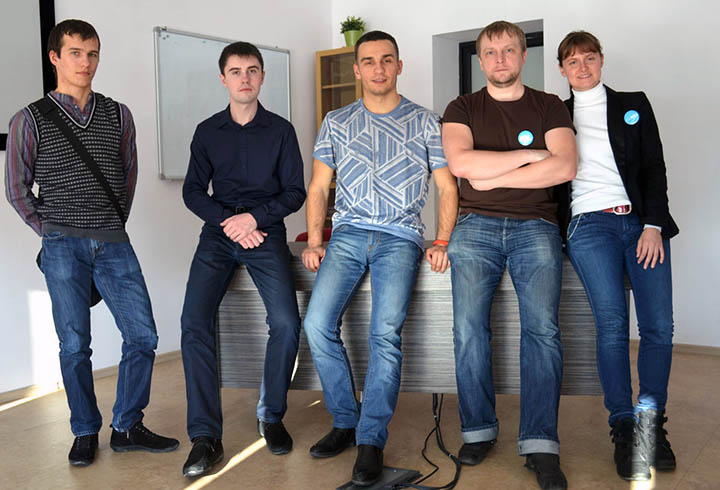 ---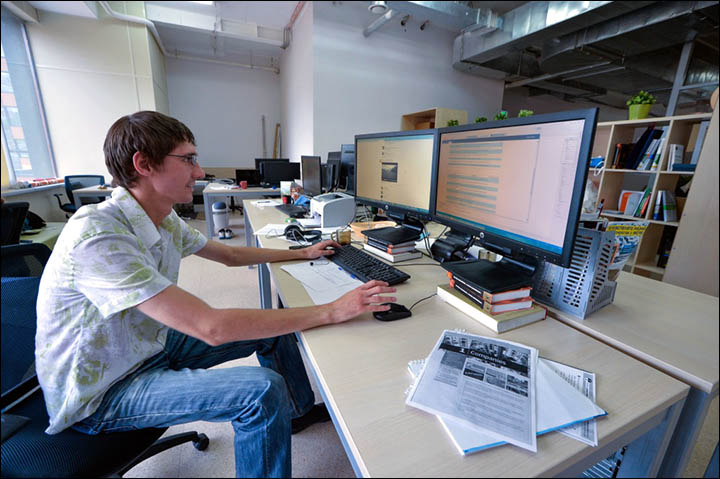 Another Business Incubator project is called 'You Will', an online training platform with the best sport coaches around the world. This was a finalist in the Academpark winter school.
The brains behind this project, Dmitry Yuzzhalin, says that their platform will allow anyone, anywhere in the world, the chance 'to find the best coach fitting your particular needs'.
'For example, a person can measure his height, weight and set the goal - like gain 20 kg of muscle in three months. The training platform advises the person on a coach from our data base who has already achieved such a goal with another client. It's very useful as when you choose a sport coach to know if he fits your needs and can help you achieve this or that goal.
'The second very important point is that the platform allows you to keep track of your results.
'Everyone knows that if you want to achieve a certain goal in the gym, you have to keep track of your progress, but sometimes you forget to write it down. Or you write it down in the way your coach can't read it. Here we offer an easy and balanced way of keeping track of your record, and even if your coach is on holiday in the Maldives, you can still send him your results and he can advise you.
'The long term plan is to create biometric sensors that give the coach, who can be on the other side of the globe, not just subjective information about your training but also very precise measurements of you blood pressure, heart rhythm, and even motion control sensors so that the coach can see how you do push ups and squats and can guide you through the tiniest details of the process, like even controlling the speed of your training.'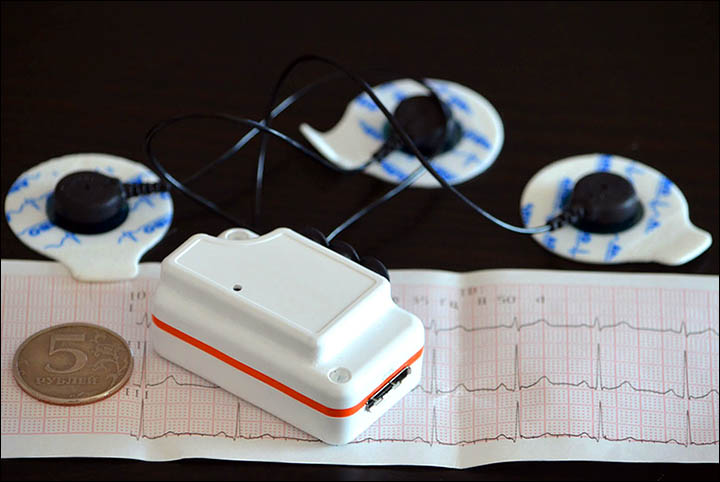 ---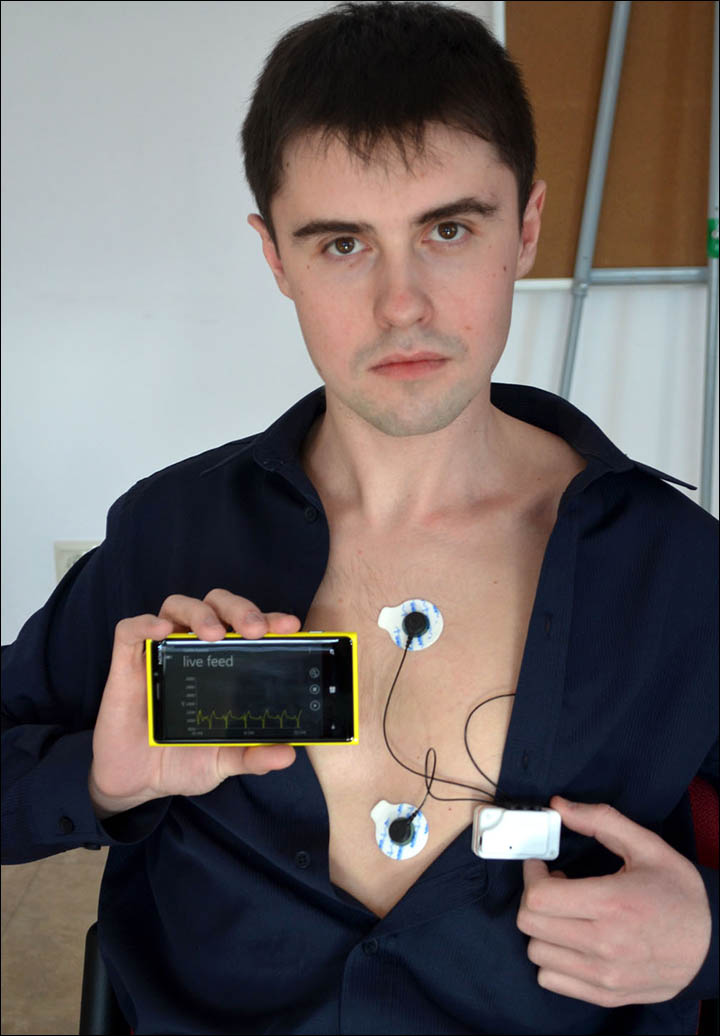 Andrey Denisov, inventor of 'Living Heart', a system that speeds up the process of decoding a cardiogram, is another finalist of the AcademPark winter school.
It's not a secret that heart diseases are among the most widespread in Russia. And if you can measure blood pressure at home, and react to body changes immediately before the ambulance comes, still you need to go to hospital to have your heart checked. So creation of a portable cardiograph can be of a great help to people with heart problems.
'The main problem with creating such portable cardiograph is reading the cardiogram which can be done only by the doctor. But living in the digital era, we thought that we can just send the results to the doctor directly, instead of physically going to the hospital.
'So first we managed to create a small cardiograph, as big as a match box that takes the same precise measurement as you would get in hospital. You fix the electrodes on your chest, wait for 20 seconds and the results of your cardiogram are sent the your doctor who gets a message like an sms. It takes a doctor usually a couple of seconds, just a brief glimpse, to see if your heart is now functioning properly and you need to get to the hospital as soon as possible, or it's not a heart problem but something else.
'When you get to the hospital the first two things that are done is cardiogram and the blood test. They allow the doctor to see the whole picture of the patient's health state. So our invention help to speed up this process many times.'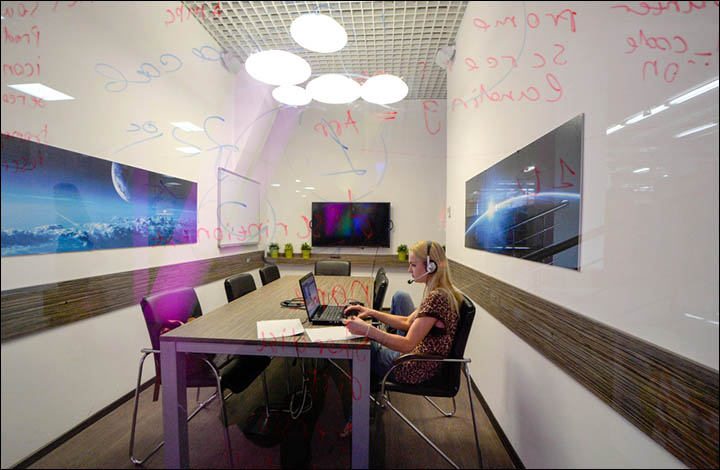 ---
Business Incubator provides organised workplaces, shared equipment, software, and office services for its residents, and promotion of their projects. Entrepreneurs here are offered project consulting and access to partnership networks, information support and training programmes.
Stanislav Triers, head of the IT group of the Business Incubator, said: 'We have some promising projects, some are already tested business model with their first client like the Prize Centre, which start making money.
'Projects like Alive Heart and YouWill are harder to implement, and the level of capitalisation of the projects will be ten times higher.'
Focusing on supporting innovation projects at the 'valley of death' stage, when the project plan and the team's core are in place, but the project needs support to deal with a lack of intellectual, financial, and technological resources, Business Incubator can make all the difference.
The incubator continues a long tradition in Akademgorodok, founded in 1957 and a major Soviet academic and especially scientific centre, and known even in Cold War times for its innovation. It became a pioneer of research in such fields as nuclear physics, genetics and virology, and it was in Akademgorodok that the technology boom started in Russia after the Soviet Union collapse, despite the economic turmoil of the 1990s.
By 2006, it generated about $150 million in revenue with companies like IBM Intel and Shlumberger and others coming to this area.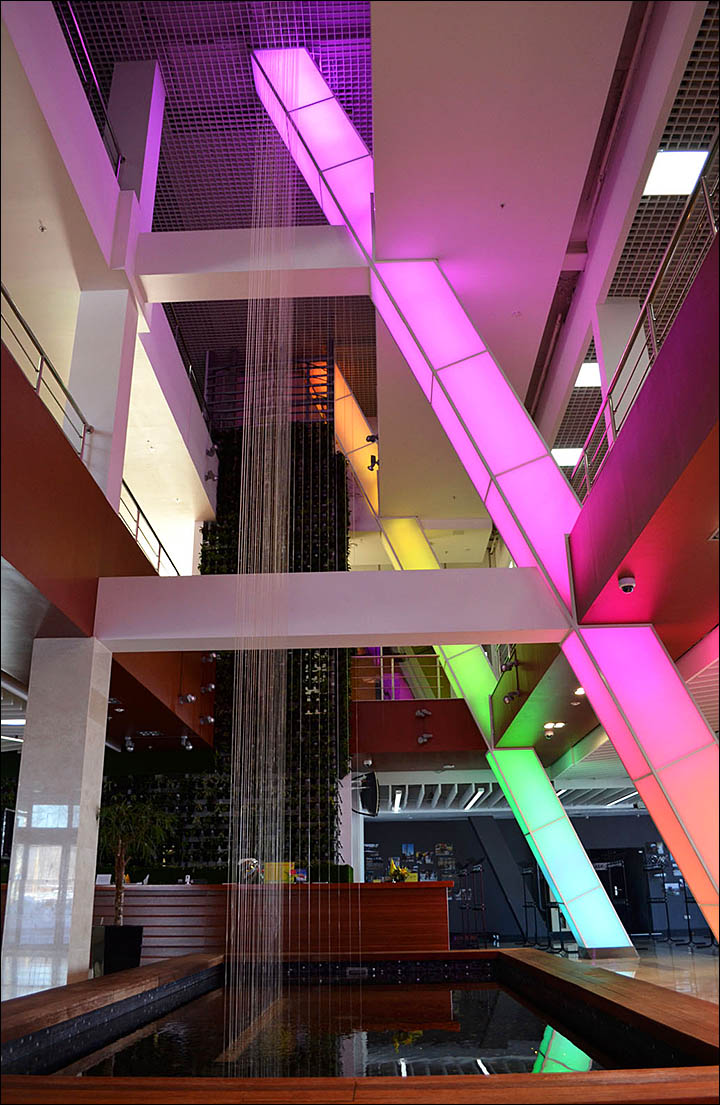 Academpark has already made revenues of $385 million in the past year, with 272 tenant companies employing 7,724 people. The revenue per employee was $50,000.