Zhupanova trophy rainbow by Val Atkinson. Picture: The Fly Shop
The Russian carrier is making it easier than ever for Americans to escape to Siberia's colourful and diamond-rich Republic of Sakha, and to the Kamchatka Peninsula, known as the Land of Fire and Ice for its stunning volcanoes and glaciers, along with other enticing destinations.
The services offer unique opportunities for all kinds of tourists, from daring adventurers, to hunters and fishermen, to those who want to see nature in all its unspoiled glory, whether watching bears in their natural habitat or climbing mountains or witnessing another Russia - far from the image on TV screens and in newspapers - and experiencing the famous Siberian welcome and hospitality.
Marking the fifth year of its Alaska-Russian Far East Air Service, it is providing summer season flights between Anchorage and Yakutsk, the capital of Sakha - the largest region in Russia, an area known to many as Yakutia which is only slightly smaller than India and boasts as many lakes as people.
The new air route to Yakutsk will operate via established destination Petropavlovsk-Kamchatsky on the Kamchatka peninsula on Russia's Pacific coast. The flight schedule permits travelers from North America to make same-day connections at Kamchatka and Yakutsk to Moscow, Khabarovsk, Vladivostok and a host of other Russian cities.
Tickets are now on sale through the InterPacific Aviation and Marketing website, AirRussia.US, most professional travel agents, and ticketing outlets across Russia. The flights will operate on Mondays, July 11 to August 29, 2016 utilizing Boeing 737-700 and 737-800 aircraft.
The flight schedule permits travellers from North America to make same-day connections at Kamchatka and Yakutsk to Moscow, Khabarovsk, Vladivostok and a host of other Russian cities.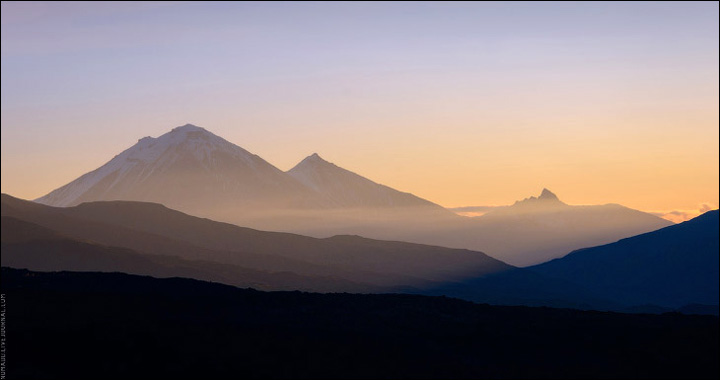 ---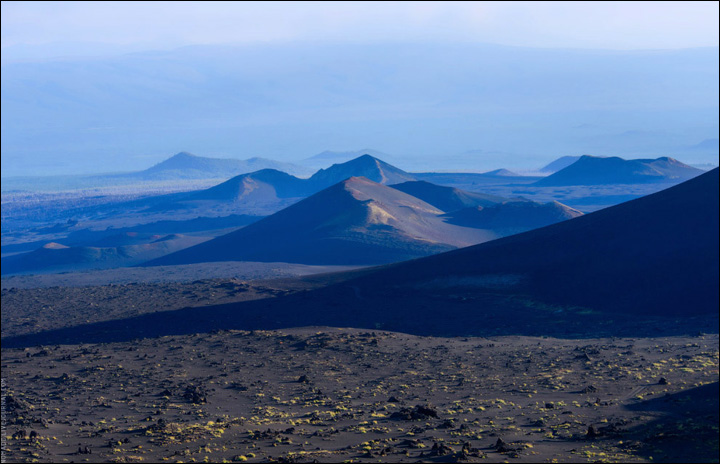 ---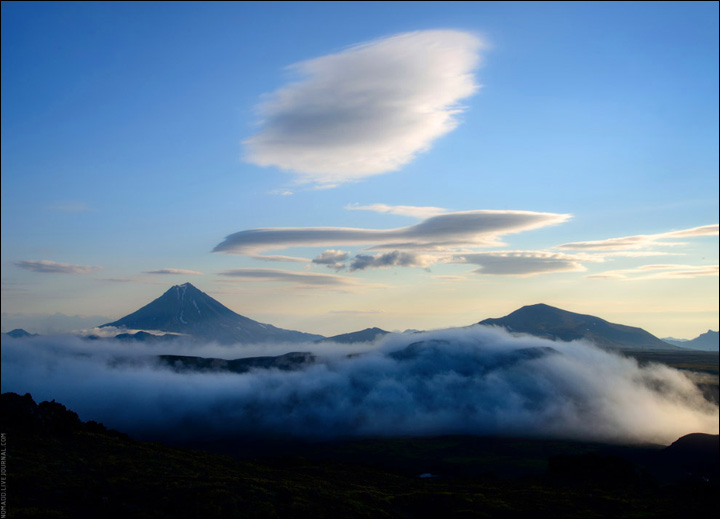 Sunrise over Kamchatka volcanoes. Pictures: Rostislav Mashin
Yakutia Airlines also offers a seasonal Japan-Kamchatka service, enabling travel from Alaska to Japan via a stopover at Petropavlovsk-Kamchatsky.
As Mark Dudley, Regional Director of Interpacific Aviation and Marketing/AirRussia.US, said: 'The seasonal air service on the Anchorage - Petropavlovsk - Yakutsk routing has been embraced by sportsmen, families, and an ever-growing number of adventure travellers. For most North Americans, though, Eastern Russia remains a vast blank spot their mental map of the world.
'The region's natural wonders, history, or native peoples remain to be discovered by the intrepid traveller. There are many interesting people to talk to and befriend while climbing a volcano, taking a cruise to the Arctic on the Lena River, or in a cabin on the Trans-Siberian railway.'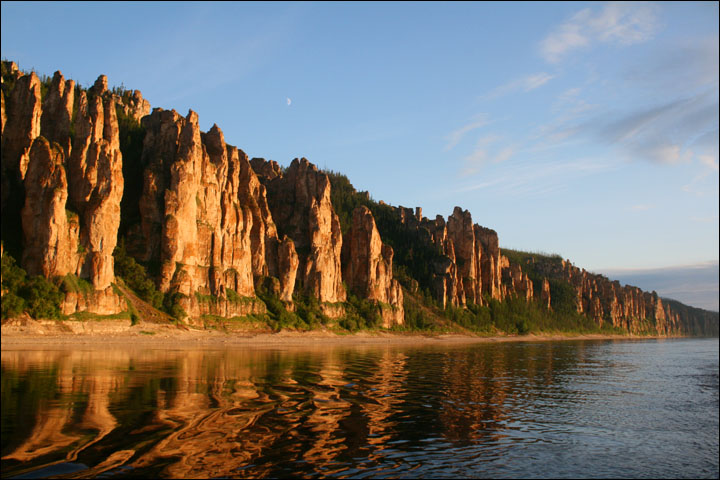 ---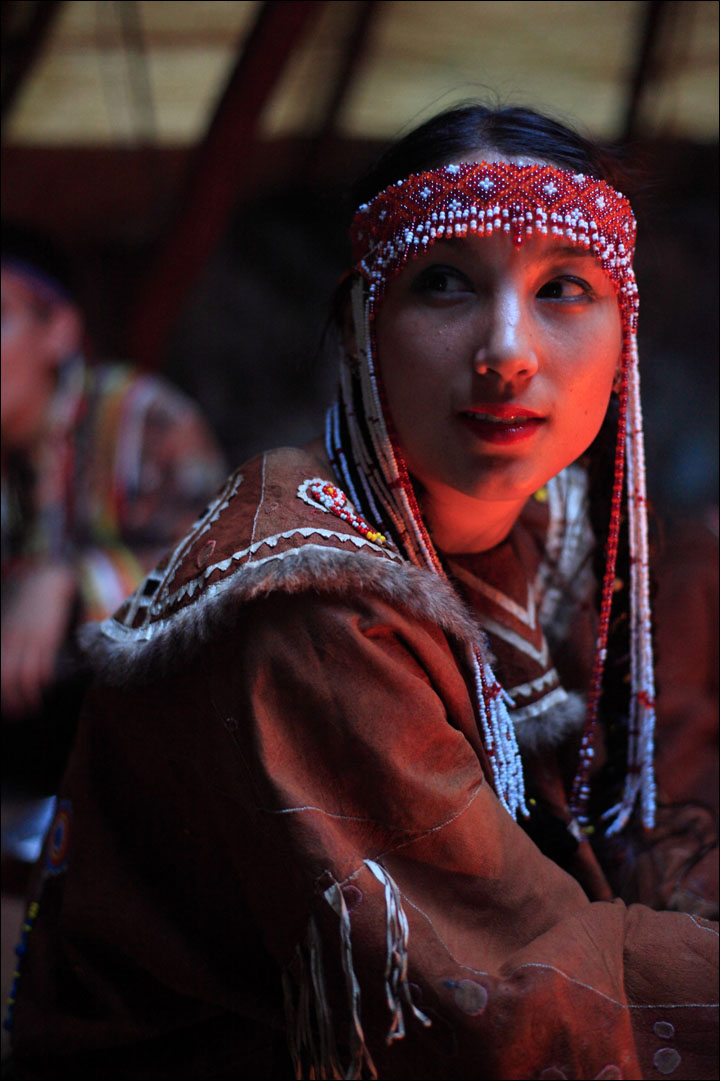 Lena Pillars Nature Park, and Indigenous people of Kamchatka. Pictures: Yakutia Airlines, JATM
---
Yakutsk is the world's largest city built on permafrost and, with an average winter temperature of minus 30F (minus 34C), it is the coldest major city in the world.
Visitors to the city will enjoy visiting the Mammoth Museum, its outdoor 'living' shamanism museum, and the underground Permafrost Museum featuring ice sculptures year-round. A day-cruise up the Lena River from Yakutsk takes you to the breathtaking Lena Pillars, a UNESCO World Heritage Site, picturesque cliffs which reach up to 900 feet high (275 metres) and extend for miles along the river.
Sakha is almost five times the size of France, and is rich in natural resources. Most notably, it produces more than 25% of the world's supply of diamonds. Yakutsk is sister city to Fairbanks, Alaska.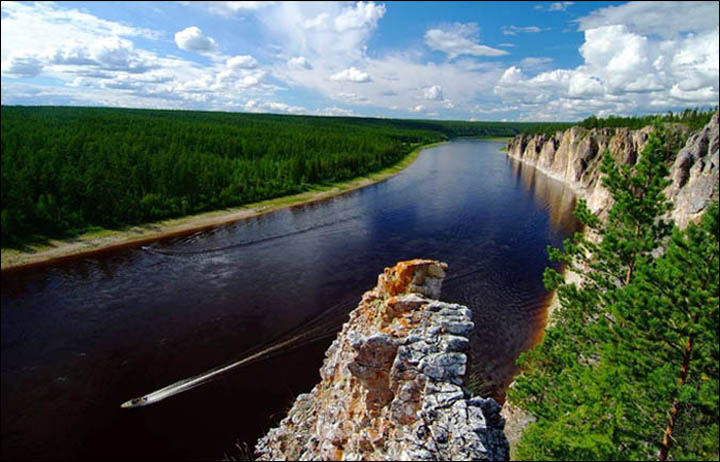 ---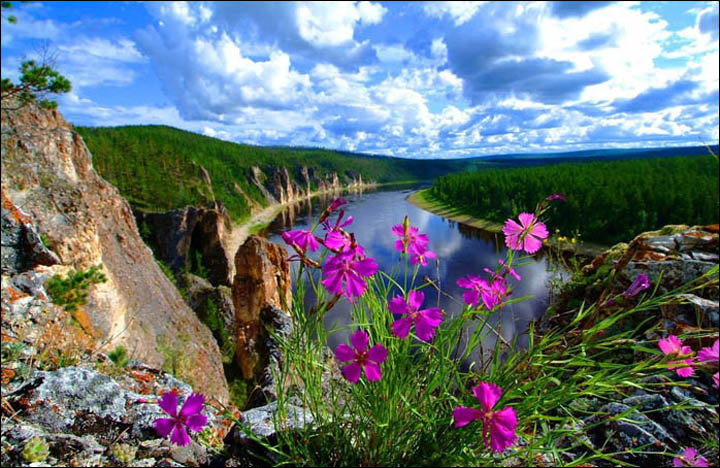 Lena river, Yakutia. Picture: Vladimir Kokovin
---
The Kamchatka Peninsula is a popular destination for outdoorsmen and adventure travellers, and with good reason. Thousands of miles of pristine rivers and streams flow from the scimitar-shaped peninsula's volcanic mountain ridges to the sea, forming ideal habitat for rainbow trout, salmon and other fish species.
For anglers worldwide, an expedition to Kamchatka is - quite simply - the trip of a lifetime. The region's active volcanoes, Uzon caldera and Geyser Valley are must-see sites for visitors. Trekkers will appreciate the breathtaking landscapes, wildlife viewing, and a soak in one of the area's countless hot springs.
Many travellers return from their first trip to Kamchatka saying they feel they have seen another world: yet, the flight from Anchorage to Kamchatka is a mere 4 hours.
Kamchatka's indigenous Koryak, Even and Itelmen peoples welcome travellers to experience their rich culture first-hand at such events as the lively thanksgiving festival Alkhalalalai. Eastern Russia boasts no less than five UNESCO World Heritage Sites, and it is increasingly recognised for its importance as a travel destination with almost endless possibilities.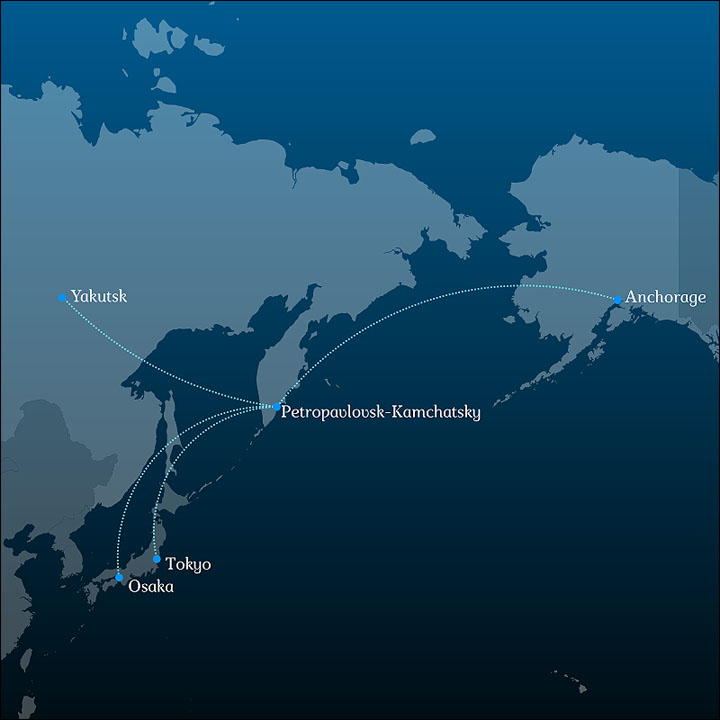 Air routes to dream vacations
---
A new branding initiative by Rosturizm, the country's federal tourism agency, is known as Russia's Eastern Ring, promoting itineraries that unite such unique features as Lake Baikal, the Lena Pillars, the Trans-Siberian Railroad and Kamchatka.
Tour operators and outfitters experienced in travel to Kamchatka offer trips to accommodate a wide range of interests and budgets, ranging from bear-viewing and volcano climbing to fishing and scientific expeditions. Fly-fishing outfitters include The Best of Kamchatka, The Fly Shop and Ouzel Expeditions.
Treks and cultural tours are available through such experienced operators as Kamchatintour, MIR Corporation, Explore Kamchatka, 50 Degrees North, Betchart Expeditions, Diligans Kamchatka, and 56th Parallel. Most operators are pleased to arrange custom trips upon request. Links to operator sites may be found at AirRussia.US.
Expeditionary cruise ship operators, including Zegrahm Expeditions and Heritage Expeditions, explore Russia's wildest coastlines, from Japan to the Arctic.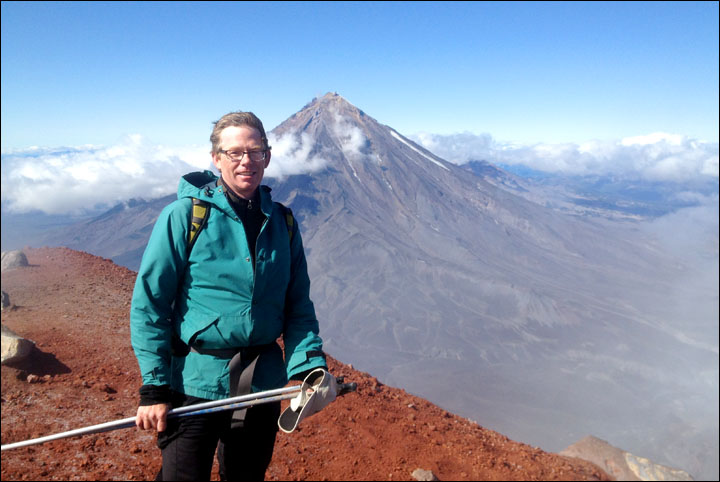 ---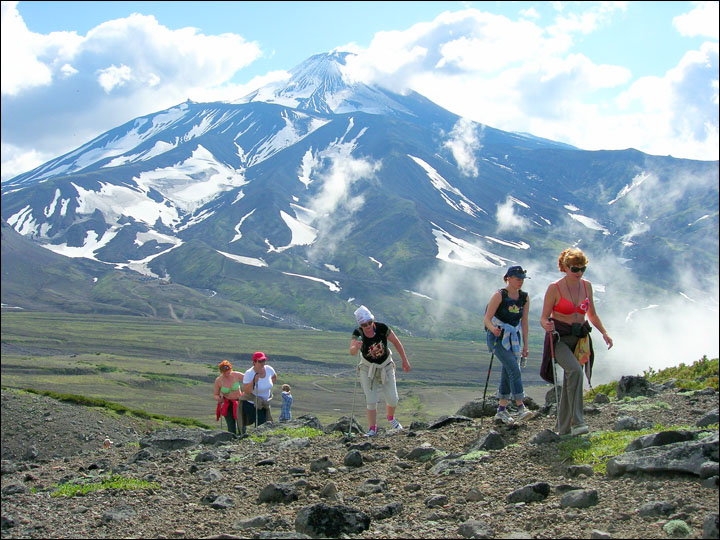 Mark Dudley, Regional Director of Interpacific Aviation and Marketing/AirRussia.US behind the volcano, and trekkers on 'The Camel' between Avacha and Koyak volcanoes. Pictures: Kamchatintour
---
Travel works in two ways, of course, and Yakutia Airlines' seasonal service has also transformed Anchorage into a preferred gateway to Alaska, and the US West Coast, for Russian tourists. Same-day connections at Petropavlovsk-Kamchatsky from Russian domestic flights make this the most convenient route to Alaska for travellers, whether they are originating their trips in Moscow, Khabarovsk, or Vladivostok.
In the summer of 2014, the Anchorage Convention and Visitors Bureau, Visit Anchorage, and AirRussia.US invited travel agents from across Russia to explore Alaska and build the partnerships necessary to promote it as a travel destination. The group traversed Alaska's heartland by train, explored Denali by small plane, rode dogsleds on a glacier, and viewed wildlife from a cruise ship.
US-based Klondike Travel specializes in trip packages for Russian travelling to Alaska, Hawaii, Seattle, and other US travel destinations.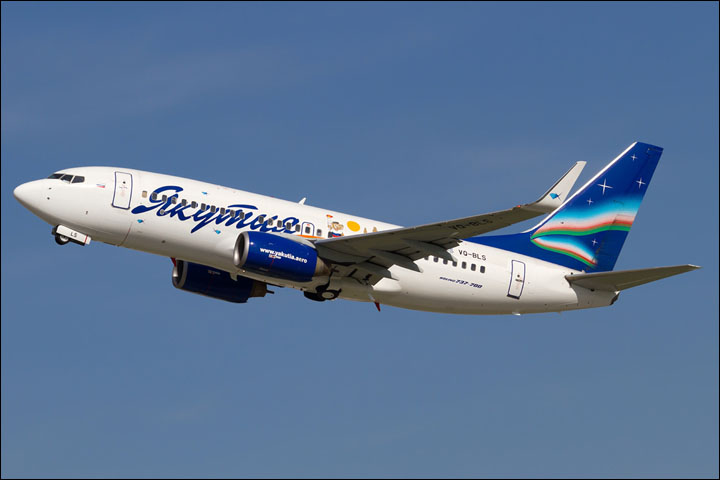 Yakutia Airlines boosts flights from Alaska to some of the world's greatest destinations. Pictures: Yakutia Airlines
---
Yakutia Airlines is a regional Russian airline headquartered in the Yakutsk, with hubs here and in Moscow. The airline operates scheduled passenger service throughout Russia, Europe and Central Asia, and carried more than 1,000,000 passengers in 2014.
The airline won the prestigious 'Wings of Russia' prize as the country's best regional air carrier in 2013. It operates a modern fleet, including Boeing 737-700/800, 757, Bombardier Dash-8 Q-300/400, and Sukhoi Superjet aircraft. The airline's maintenance facility at Yakutsk is specially designed to repair, maintain and test aircraft in the extreme cold winter conditions for which the region is known.
In May 2012, Yakutia Airlines received authorization from United States authorities to serve Alaska, and successfully provided passenger and cargo service on the Anchorage - Petropavlovsk route for ten weeks that year.
InterPacific Aviation and Marketing, Inc. (Seattle, USA) finances and manages the Alaska - Kamchatka air service. It represents Russian air carriers in North America, and provides travel, air cargo, operational and promotional services.
"Go for the 3 year (Russian) visa - you'll be wanting to go back!"
Alaskan Janet Read visited Kamchatka for the first time in summer 2015, having won a roundtrip for herself and a friend.
For her it was a revelation 'realising how close and easy it is to get to Kamchatka from Anchorage, Alaska'.
A highlight was seeing nesting Steller's Sea Eagles, another was visiting Lake Kuril for Brown Bear viewing, as was a day at Kronotsky Nature Reserve, with its Valley of Geysers and Uzon Volcano Caldera. To people thinking of following in her footsteps, she says: 'Go for the 3 year (Russian) visa - you'll be wanting to go back!'
She urges: 'Plan ahead one year if possible, be patient, get in good physical shape and go for as long as possible. Have few expectations and be ready to be surprised and delighted!'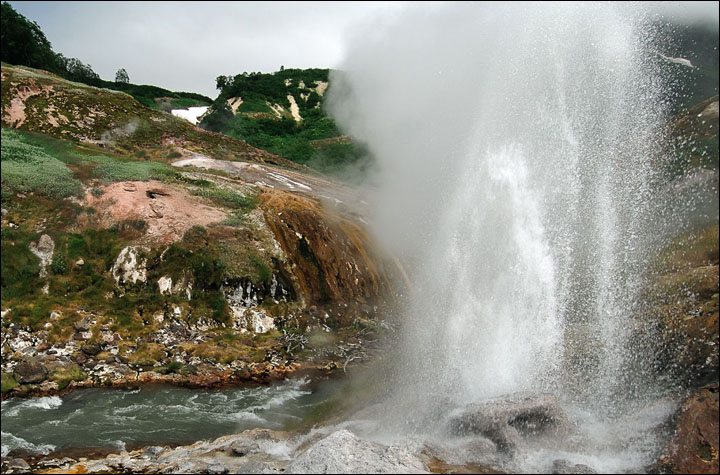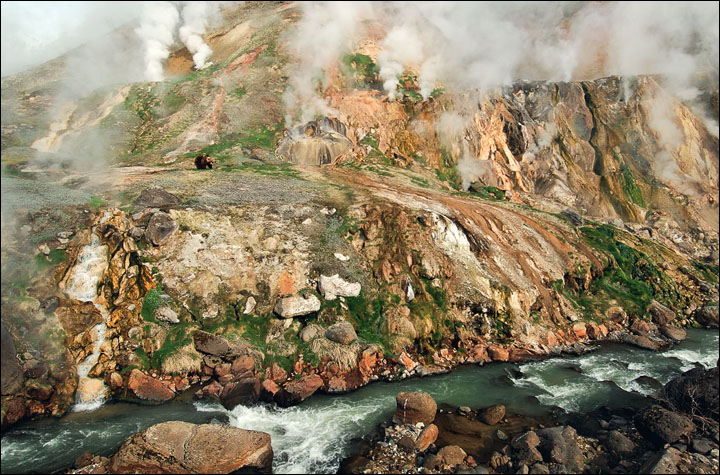 ---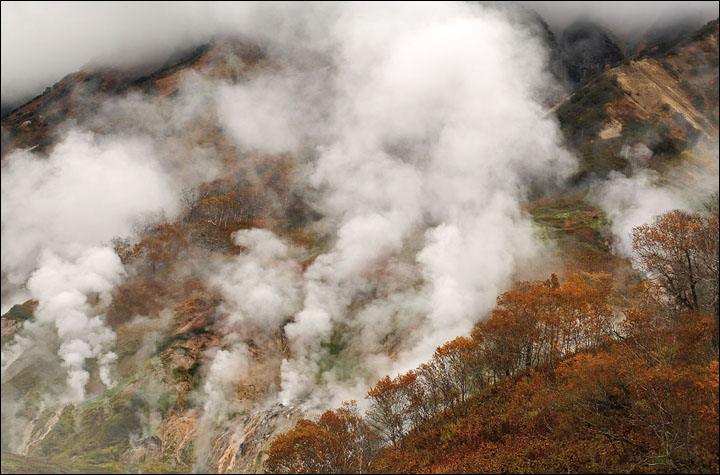 Kamchatka's hot springs. Pictures: Igor Shpilenok
---
On her next trip, she'd like to venture to Lake Baikal - the oldest and deepest lake on the planet, containing 20% of all unfrozen freshwater - accessible on the Trans-Siberian Railroad, or via flight connections.
American Martha Madsen - from Homer, Alaska - owns the Explore Kamchatka Guest House, and has lived on the peninsula for 21 years.
In 2000, she opened an Alaskan business, Explore Kamchatka. 'We like to help make amazing ideas possible,' she said.
'We particularly enjoy providing logistical support for unusual and demanding routes that have been accomplished by some of the world's foremost adventurers and groups that have a particular abiding interest.
'Kamchatka is a haven for nature documentary film makers, authors, researchers, and photographers, and we have assisted over 3 dozen projects to explore and expose Kamchatka's nature and culture. Of course we rely on and love our perennial partners who send groups of people with an interest and the abilities to ski, hike, climb, and ride to Kamchatka's most remote corners.'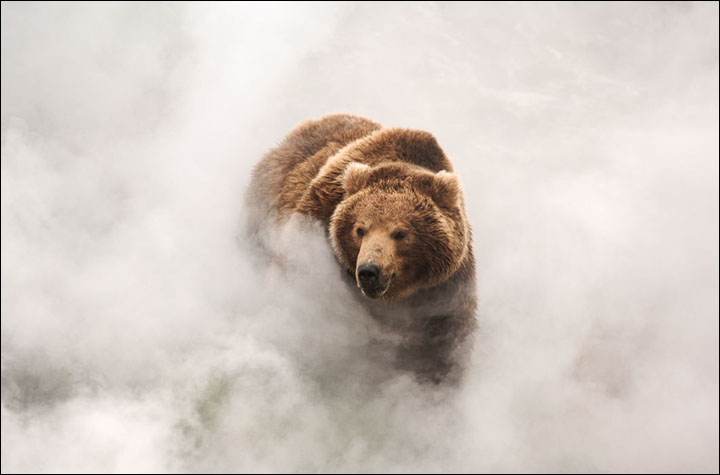 'Kamchatka is a haven for nature documentary film makers, authors, researchers, photographers'. Picture: Igor Shpilenok
---
She enjoys tailoring tours to meet the needs of clients. 'We (myself and my local Kamchatka outfitters) try to understand what the customers want to do, and what they are ready for,' she said. 'Then we try to fit the tour with their budget and Kamchatka's amazing nature and culture. Given Kamchatka's limited road access, many tour firms offer the same experiences to the most accessible locations.
'So we try to find unique places and elements to add to an itinerary so that our trips are even better than the many other available options.'
She advised Americans coming to Kamchatka: 'If they don't speak Russian, work with a Kamchatka tour company to provide logistical help for the trip. Look at the Kamchatka Explorer , an informational site and publication online to get up to date information and fine photographs of real people enjoying the peninsula year round.'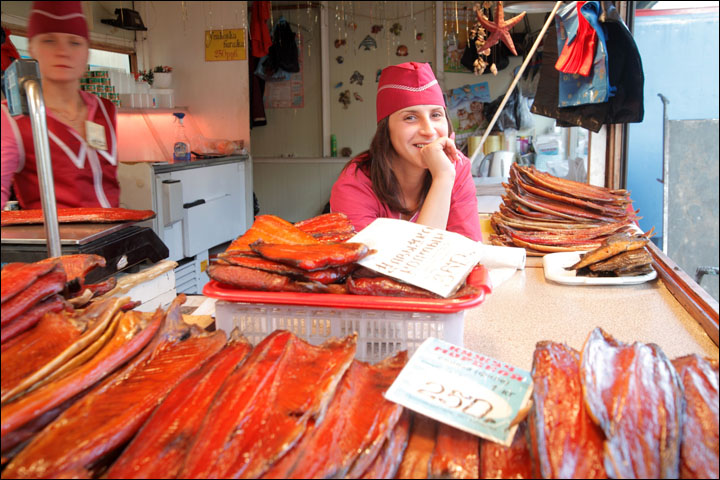 Fish market in Petropavlovsk-Kamchatsky. Picture: JATM
---
"I love Kamchatka for its uniqueness, natural rawness, wildlife and the feeling that you are in a place like no other"
Michael Schneider is a Founding Director of 56th Parallel, an Australia-based premium adventure travel company, focusing on Siberia and the Far East of Russia.
An earlier job brought him to Russia, and he began vacationing in Siberia, loving it so much that when he got the chance to set up a business, he did so offering adventure tours here.
'I must admit that for me, a single man at that time, the beauty of the Russian women was a huge factor for wanting to go back to Siberia every chance I had,' he said. 'I am now very happily married to my soul mate, who is naturally Russian.'
Where is the best place to visit? The problem is, there are too many. 'It is very hard for me to pick one area of Russia, I experience various positive emotions in regards to every region I visited they are all extremely special and diverse,' he said. 'Russia is huge, every region in Siberia had its landscape, weather, wildlife, culture, while still having a Russian soul that connects them all.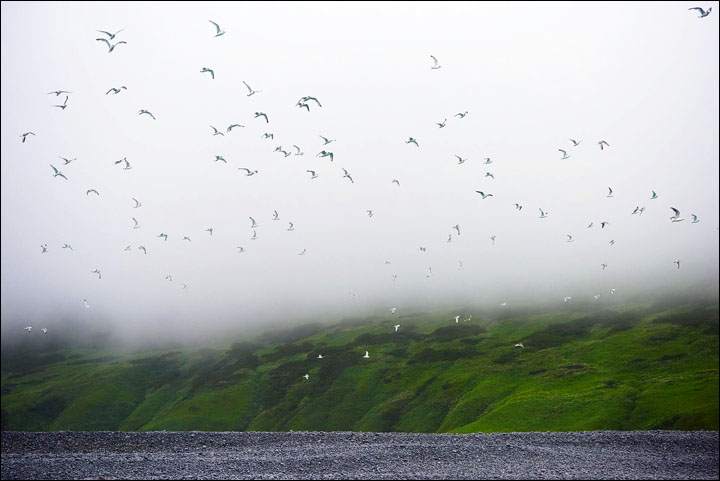 ---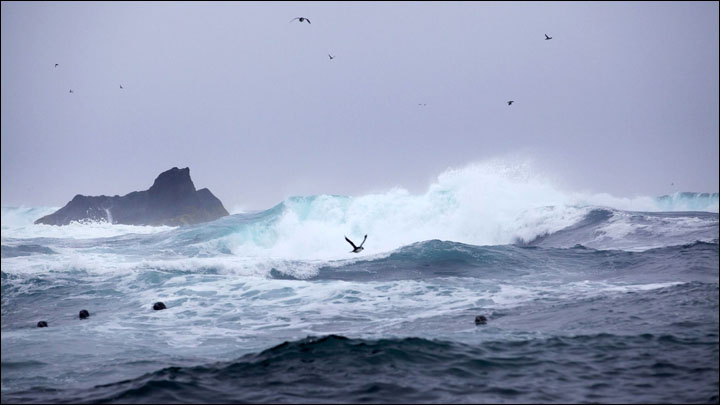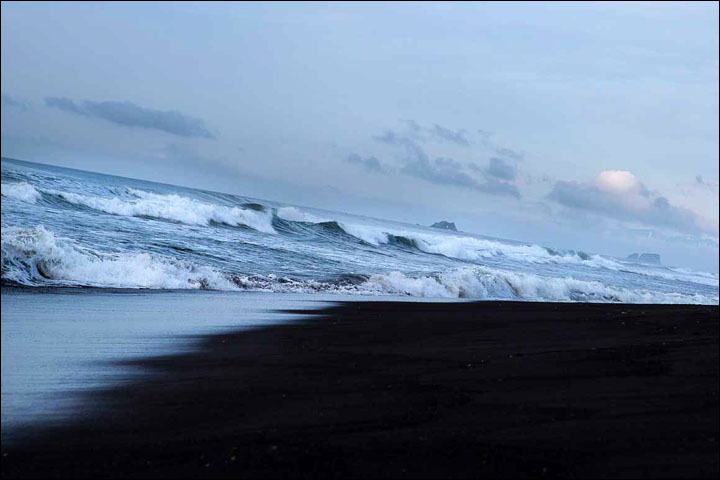 Black sands of Kamchatka beaches. Pictures: Alexander Semenov, Nigina Beroyeva
---
'I love Kamchatka for its uniqueness, natural rawness, wildlife and the feeling that you are in a place like no other, it always feels like you are the only one there, like you are discovering something for the first time for all humanity, peace. I love Lake Baikal, it is one of the most spiritually beautiful places I have been.
'I love Altai Region, for its mountains, rivers, rich culture. I love the people of Siberia for the warmest hospitality every time without fail, the sincerity I found there and the beautiful ladies of course.'
Who are his clients, and what do they enjoy in Siberia?
'The kind of people that are interested in our tours are mostly well travelled, 30+ years old, man and women 51% and 49% respectively: Australian, American and Europeans. They are looking for a different experience, they want something that was not done before one that has bragging rights. They are looking for experiences that are well aligned with their hobbies, like fishing, kayaking, hiking, photography etc.
'And they are looking to do them in new exciting destinations, they are after that pioneering feeling. Now is the best time to see Siberia, before the early adopters told everyone about it.'
Michael said: 'Siberia, eastern Russia, brings the feeling of being closer to the feeling of 'I am alive' - it brings everything into perspective. Experiencing the unbound and limitless raw nature, seeing the contrast of the new and old world, created a sense of humbleness, fragility and an appreciation for what we have.
'Well at least this is how my friends tell me they feel after a trip with me.'
*In co-operation with Yakutia Airlines