Katya Gushchina, 19, grew up travelling on the railways, from her home city of Nizhny Novgorod, a city on one branch of the Trans-Siberian. Often it was to dancing competitions in Izhevsk, other times to Kazan, on the other western branch of the great railway.
'Once in about two months I'd be packing my suitcase to go somewhere,' she recalls.
It stirred a love of travel which would inspire her long after she quit dancing.
'We'd always go by train, which for me was the most remarkable part of the whole trip. Packing up, booking tickets, choosing seats in such a way that all the members of the dance team are not too far from each other, taking passports, the junk food, plastic mugs,' Katya said.
'These are the small things which I still remember. The trains were old, the decor dark, and it all seemed to be a part of some fairy tale where you fall asleep in Nizhny Novgorod and wake up hundreds of kilometres away'.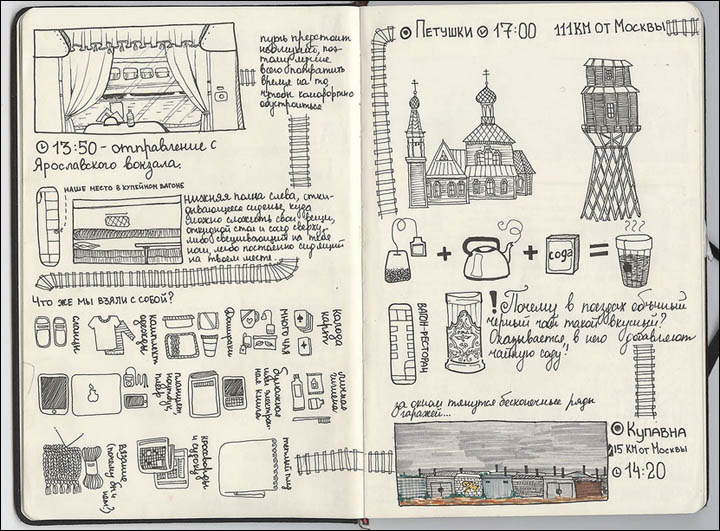 ---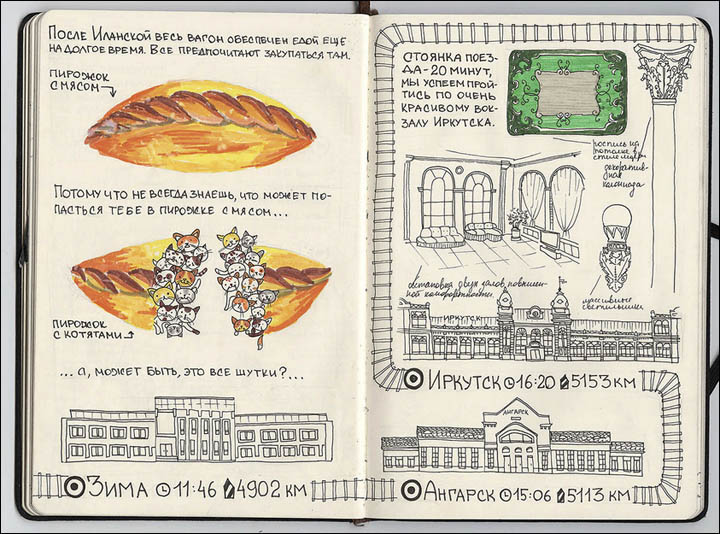 ---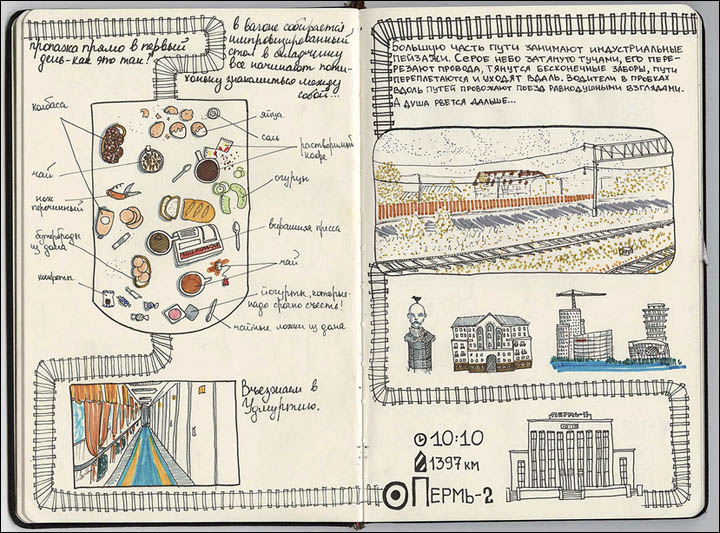 ---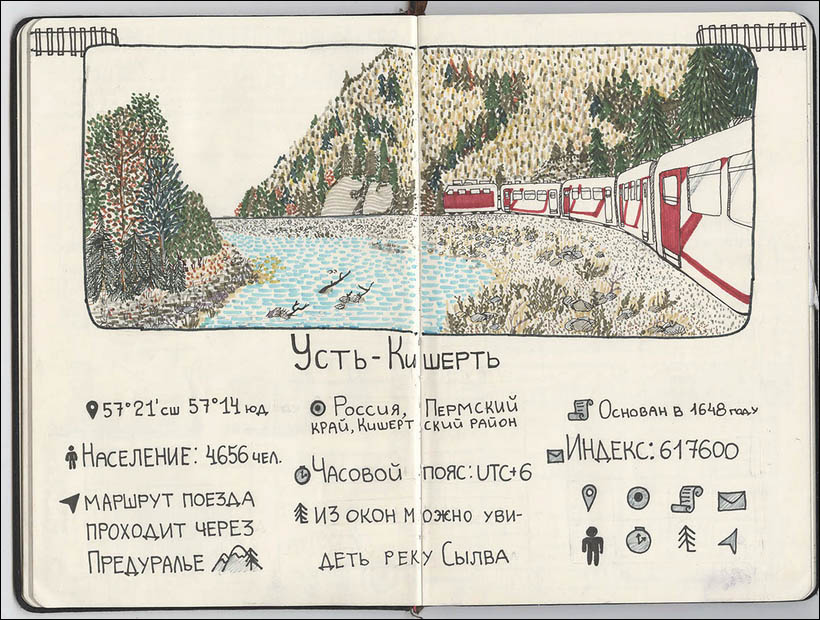 'If you wake at night, you'd hear the breathing of people sleeping around you, the train would pass small stations, and you can't fall asleep again and just try to figure out what's the time and how soon will you'll need to drag your heavy bag stuffed with make-up, costumes and high-heels.
'A new city, fresh impressions and thoughts that you'd like to share with others. At the time, I was too lazy to jot them down, but the idea to do that got stuck in my head. After a few years, it was clear that my dancing career wouldn't work out, so I had to make a choice about my further education.
'After getting my school diploma, I entered the department of design at a Moscow university, and left my hometown. One of the major projects I had to do was running a sketchbook on one subject for a year.
'I didn't really think twice about the subject, as I can discuss travelling for hours and hours. My tutor suggested a particular route - Moscow to Vladivostok.'
And so Katya's series of sketches of the world's greatest railway line was born. It is all the more remarkable because she has not actually been on the trip right across the country - even though it is her dream to do so.
Combining pictures with useful information, though not yet in English, she gives a novel and intriguing look at this amazing journey.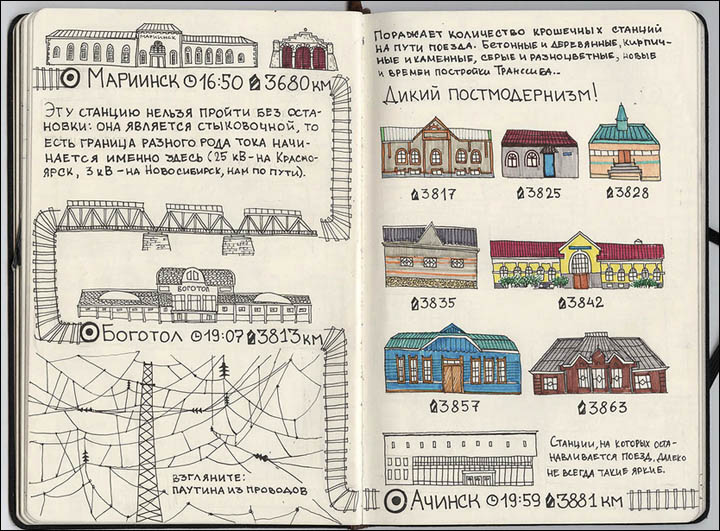 ---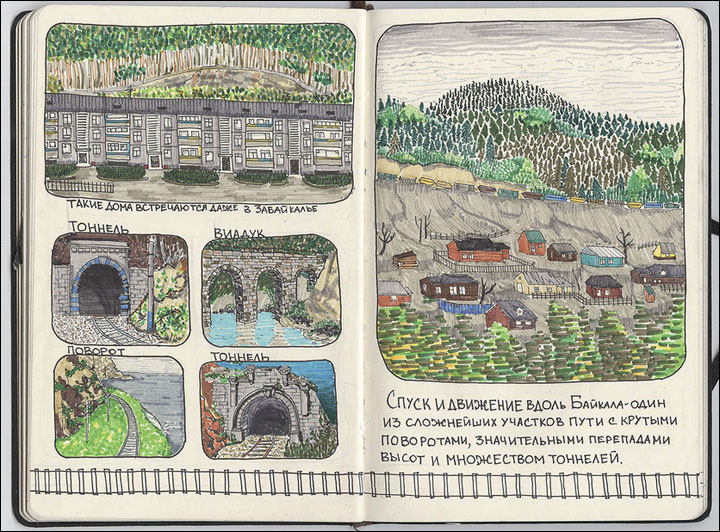 ---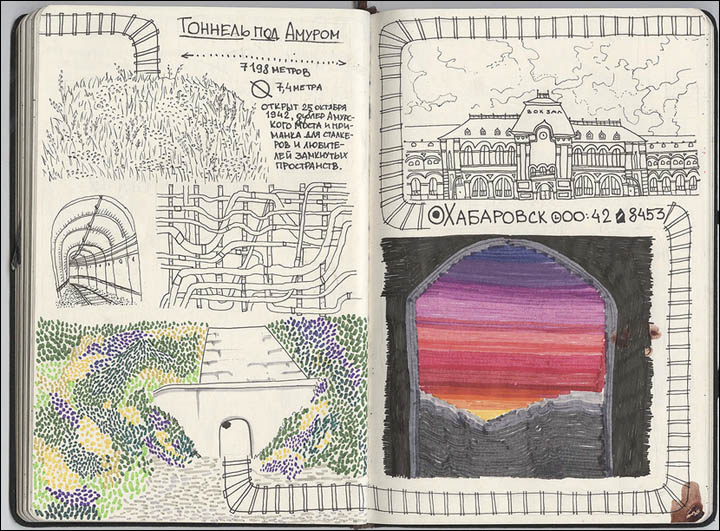 ---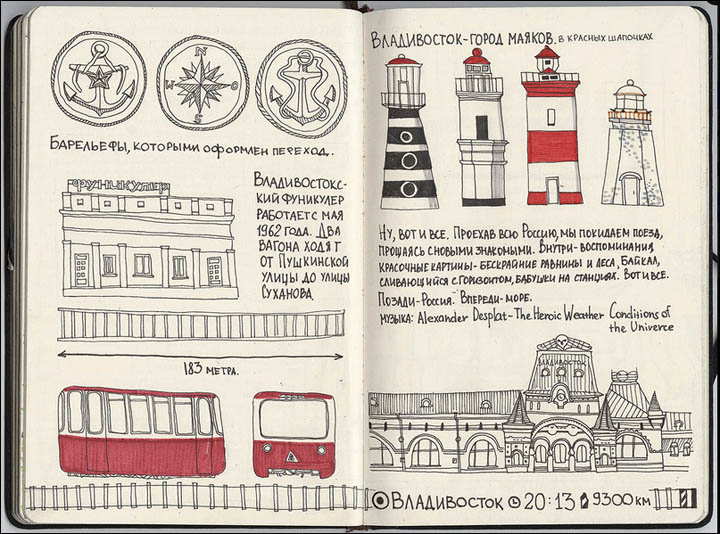 'I've never run such a big project before,' she said. 'I had to go through tons of information, choose a particular style and visual solution. The first six months went smoothly and easily, as I had a lot of resources, and there were big and well-known cities on the way.
'I used RZhD's (Russian Railways) website, a 'Periscop' blog, and a website on Trans-Siberian railway. Right in the middle of the project, a great collaboration of RZhD and Google was shut down. I was also inspired by an amazing photo project 'Russia from the train window'. I managed to meet the author, Anton Lange, in person and he's awesome.
'The rarest towns on the way would come up in blog of Artemiy Lebedev. If I couldn't find a place, I'd search for residents in social media and they would kindly answer my questions. I was very pleased about their pride and knowledge of their motherland. It took me entire academic year to complete my project.'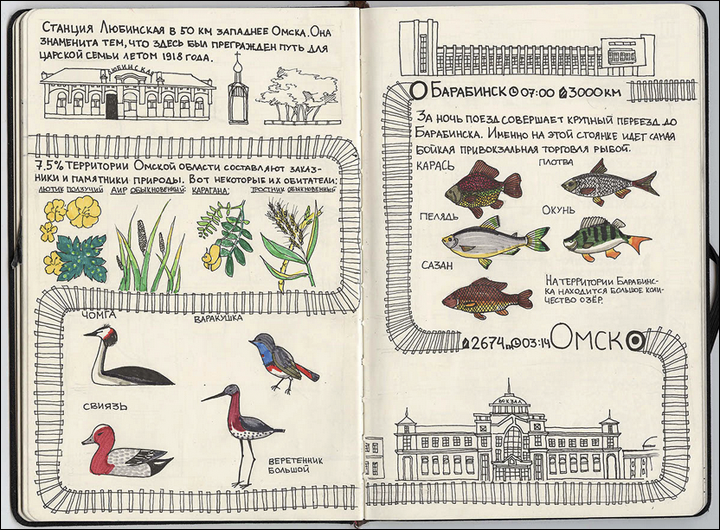 ---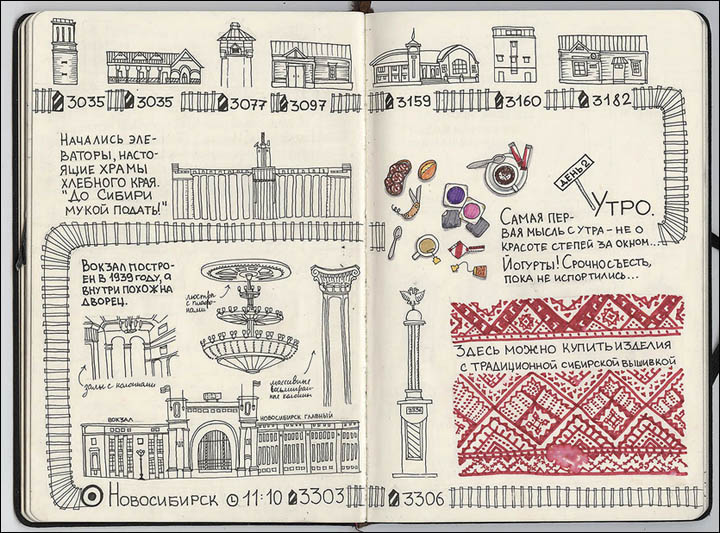 ---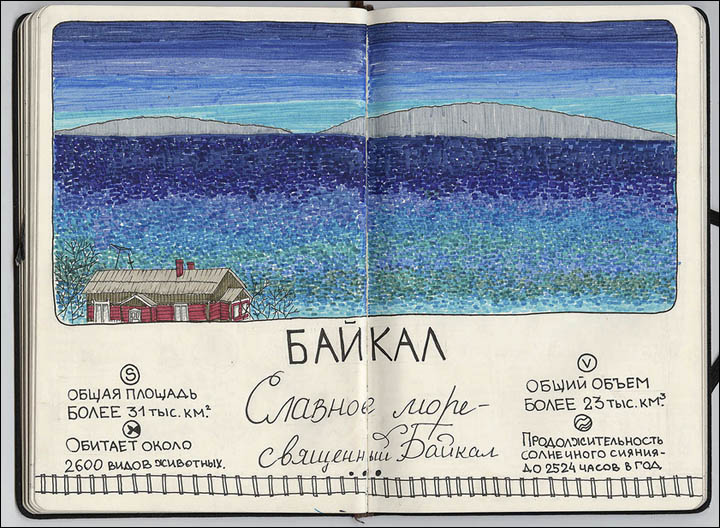 ---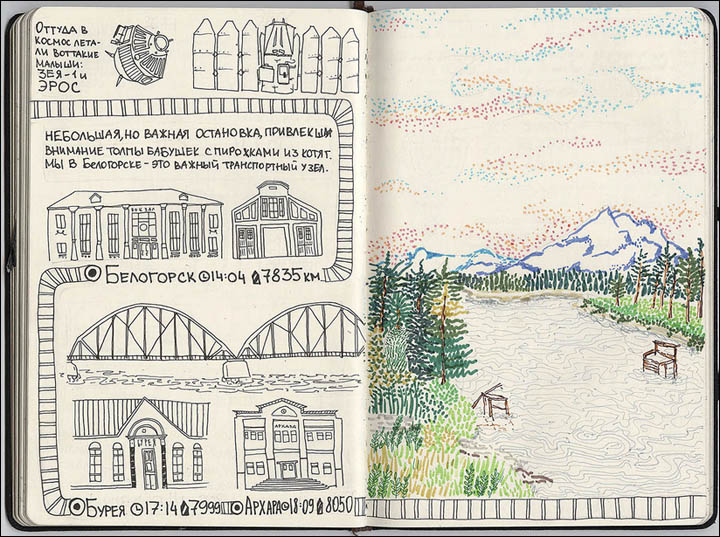 Katya said she got 'very positive feedback when the project was first displayed' with 'lots of people happy to see their special places depicted'. But there were some more pedantic comments about how 'the Lenin monument should be on the other side of the street'.
'Obviously, I'd like to make this trip, and I've decided to do so, once I find someone to fund it, or I save enough money to make it happen. Most probably, that will happen in spring because my sketchbook is about a summer trip. I'd love to publish a book but I haven't yet found a publishing house that would offer me the conditions I am completely happy with. I hope to make some contacts at Russian Railways to have the opportunity to travel - and draw for those who are truly interested.'
Her artistic journey through Russia by train defied certain stereotypes, not least for herself.
'I love saying that I bought a set of grey, brownish and black felt-pens and called it 'Colours of Russia', but eventually, I didn't use them too much. Baikal was deep blue, forests greenish-blue, yellow branches of pine trees, colourful train stations. I discovered a totally new Russia'.
Please see Katya Gushchina's page on Behance