Coburg, April 1884, Queen Victoria, her grandson Kaiser Wilhelm II to her left, and next to them Tsesarevich (Heir) Nikolai Alexandrovich with his bride Alisa (future Tsarina Alexandra Fyodorovna)
Recently, The Siberian Times got a remarkable response to a stash of pictures of the royal family found in a vault in the Urals (see 'Private pictures of the Russian royal family found in a remote Urals museum'). Now we continue the theme with Keith Waldegrave's recollections of handling the diary of Alexandra who, with the rest of her family, was moved from Siberia back to Yekaterinburg on their final journey.
It was a small dusty lilac pink book thinner and smaller than a paperback novel. The cover bore a Buddhist swastika symbol and on its plain pages were the inner-most thoughts of a woman deemed to be an evil foreign influence on the Russian ruler Tsar Nicholas II.
It was the personal diary of the Tsarina.
The diary's musing were mostly mundane and domestic, emphasising that she was a loving wife and mother. It described the Tsarina as a normal human being and not the manipulative woman asserting political influence over the Tsar and the Russian government of the early 20th century as she was portrayed to be. During the post Cold War period of 'glasnost and perestroika' in the Soviet Union in the late 1980s, the openness advocated by Mikhail Gorbachev took an extreme turn.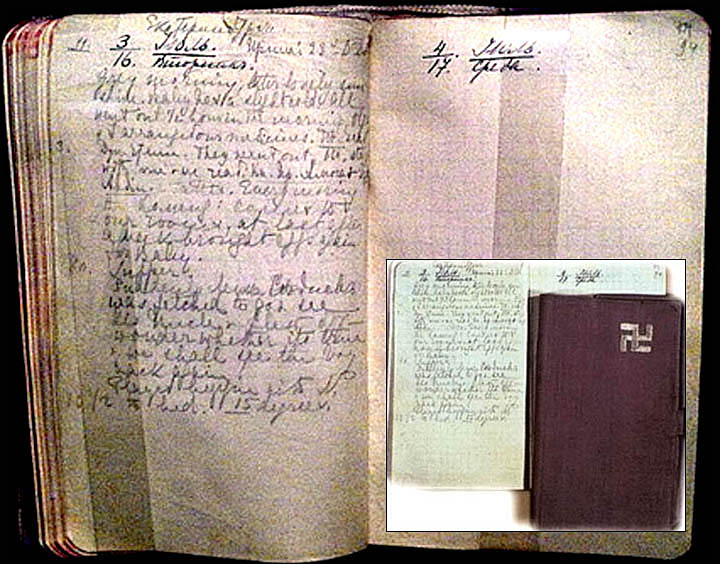 The most moving and poignant aspect of all this has stayed with me ever since. Her very last entry was written on the left hand page and simply read: 'Nicholas and I played bezique after dinner. Went to bed at half past ten'. The next page remained blank.
It was possible to buy almost anything in the Arbat in Moscow, especially military paraphernalia. Anything from a complete admiral's dress uniform including an impressive collection of medals to a 'G' suit for a Sukhoi 27 'Flanker' jet fighter was up for sale.
And you could even fly in one too - a snip at £88 per minute! Having greased the palm of a Russian naval officer, a British television channel was able to film on board a nuclear submarine, something that was inconceivable just a few years earlier.
It was during this period that the Museum of the October Revolution in Moscow agreed to allow myself, and reporter colleague Harry Edgington, access to the Tsarina's diary which had remained under lock and key in a store room since soon after the execution of the Romanov family in July 1918.
During research for a book he was writing about Tsar Nicholas II, playwright and author Edvard Radzinsky had been shown the diary in pre-glasnost days and he was sworn to secrecy.
The existence of a diary written by the Tsarina had previously been denied by the authorities. However, Radzinsky's enquiries bore fruit when the somewhat insignificant little book was suddenly produced and less than a decade later his efforts paved the way for us to be able to see the diary for ourselves.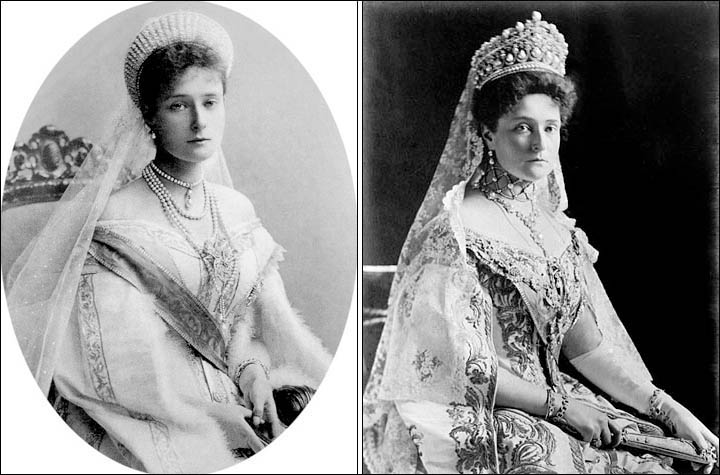 Alix of Hesse, born a granddaughter of Queen Victoria of the United Kingdom, was given the name Alexandra Feodorovna upon being received into the Russian Orthodox Church
A gift from her daughter Tatiana, it bore the poignant inscription: 'To my sweet darling Mama dear, with my best wishes for a Happy New Year. May God's blessing be upon you and guard you forever. From your loving girl, Tatiana. 1918'.
I somehow expected a little more ceremony or at least to be asked to wear cotton gloves when handling such an extraordinary piece of history. The diary was by no means in poor physical condition but the colour, the femininity and what it represented quietly appealed to me to show respect.
The entries on squared pages were written in soft pencil which served to enhance the sensitivity and intimacy of what I was dealing with. I felt privileged, moved and a little intrusive. I was at first surprised to find she had written in English. But I later learned that although her father was German and she was born in Germany, she in fact had been educated in England and had spent much of her time at the court of her grandmother, Queen Victoria.
I was allowed to photograph certain selected entries but not so many that would be enough to reproduce a replica diary. Her entry on the night of 16 July, just hours before the family died described how she and her husband, the Tsar, had played bezique before going to bed.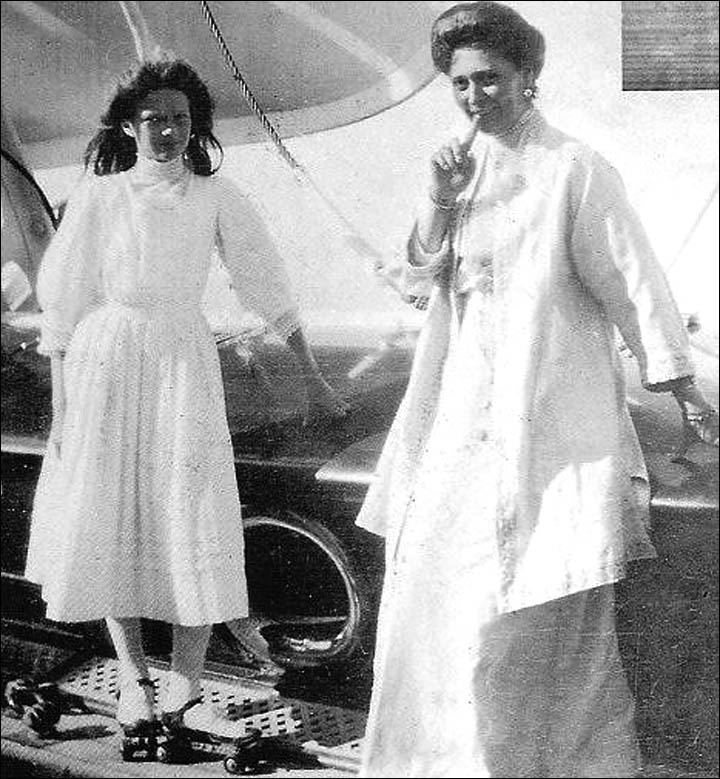 Skating with Mum: Tsarina Alexandra Fyodorovna with daughter Tatiana
Coincidentally, my wife and I had become avid enthusiasts of bezique around the time of my visit to Moscow to cover this story. We became addicted to the card game and would wager on the outcome with the loser buying a Friday night fish and chip supper - usually me! There was a personal connection but our comfortable London lifestyle with few cares or responsibilities was far removed from the apprehension and fear of their imminent danger.
The most moving and poignant aspect of all this has stayed with me ever since. Her very last entry was written on the left hand page and simply read: 'Nicholas and I played bezique after dinner. Went to bed at half past ten.'
The next page remained blank.
Tatiana had prepared the right hand page with the day and date: Wednesday 17th July 1918, the date of the family's early morning execution by the Bolsheviks in Yekaterinburg.
I think of her and her family nearly every night when I write my own diary. On many occasions I have been tempted to prepare the next day's page with the day and date but simultaneously check myself and refrain from doing so not because I think I'm going to suffer the same fate but out of recognition, I suppose, of what she and her family suffered.
That blank page speaks louder than any words written about their execution. For me it still haunts me 25 years on from when I held that diary, and approaching 100 years from when they died.