Siberia is not short of important figures to liven up the long and cold winter. The Siberian Times
The expressions are serious, and the cold daunting, but tasks ahead are to bring joy and happiness to us all, and especially children.
Can you guess who they are?
One clue is that our exclusive picture is from the Sakha Republic - also known as Yakutia - an area of eastern Russia so vast it is only slightly smaller than India. For two of these these figures, this is their home territory. But first the most familiar face.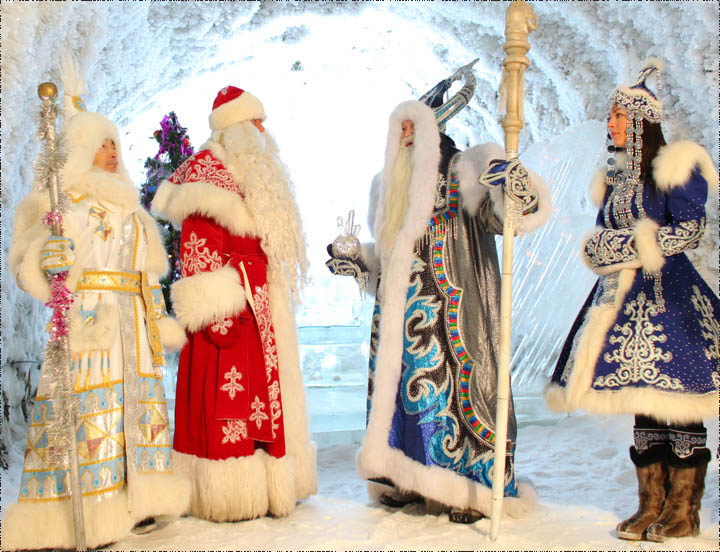 The Santa summit: the meeting of Grandfather Frost (Ded Moroz), Ehee Dyl, Kharchana and Chyshaa. Picture: The Siberian Times
Second from the left is Grandfather Frost - aka Russian Santa - who will be busiest this year on New Year's Eve, a week or so after his Western cousin, who delivers presents in time for children waking on Christmas Day, or 25 December, with the assistance of reindeer.
Grandfather Frost, known to millions of children across Russia's nine time zones as 'Ded Moroz', often carries a magical staff and is frequently accompanied by his Snow Maiden assistant, or Snegurochka, sadly absent from our main picture.
He often visits excited children in their homes or at parties on or before New Year's Eve, and sometimes now hangs around until Orthodox Christmas Eve and Christmas Day on January 6 and 7.
His traditional mode of transport is a sleigh pulled by white horses, though over the years he has also used the metro and Ladas in extremes.
Climbing down chimneys, though, is not for him.
While usually dressed in red, it is rare but not unknown for him to appear in blue, an innovation that some say was the work of Stalin who deep in the Soviet era felt he needed the winter tradition of Santa but wanted to distinguish it from the bourgeois Western variant, who was unkindly branded 'an ally of the priest and the kulak'.
While Ded Moroz is nowadays usually red, the main time for presents remains New Year, having become detached during the Soviet period from Orthodox Christmas in European Russia.
Deep in Siberia, though, old - indeed ancient - traditions not only survived through the Communist era but now thrive in its absence.
On the left in our ice cave is Ehee Dyl, a famous figure in these regions who offers congratulations at New Year but who is also present all year round. He has been called a Grandfather of the Year, or a Time Lord, or a Yakutian Santa. On the right of the picture is his assistant, Kharchana - his Snow Maiden, by legend his granddaughter. The third figure is Chyshaan, the King of the Cold.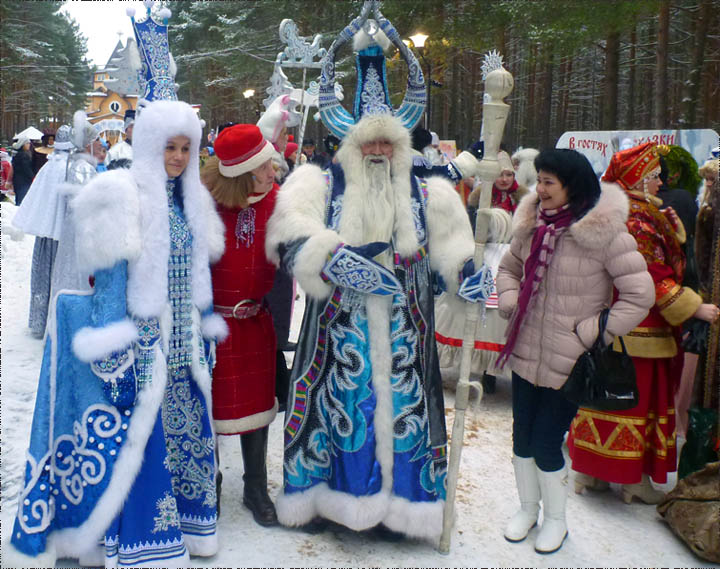 Grandfather of the Year, or a Time Lord, or a Yakutian Santa, with his snow Maiden Kharchana. Picture: The Siberian Times
Every year, in late September and early October, he makes his way from the Arctic Ocean to Yakutia.
'And with his every step comes cold,' tells native Yakutian, Olga Stepanova. He has two horns, by legend one from a bull, the other from a woolly mammoth.
'Then at the end January his first horn falls off, and in middle February his second horn,' she explained.
'A wind starts blowing and his head falls off. His body falls in the Lena River and he floats downstream to back to Arctic Ocean.'
Gradually the weather warms for the summer.
Siberia is not short of important figures to liven up the long and cold winter. For example, in the Yamalo-Nenets Autonomous District there is the good magician Yamal Erie who comes to visit. He has a staff and magic drum to drive away the evil spirits.
Earlier in November, we noticed Ehee Dyl accompanied by Kyhyn Khotun, his wife (Yakutian Winter) a few thousand kilometres to the west in Veliky Ustyug, marking the birthday of Grandfather Frost in what is now universally acknowledged in Russia as his hometown.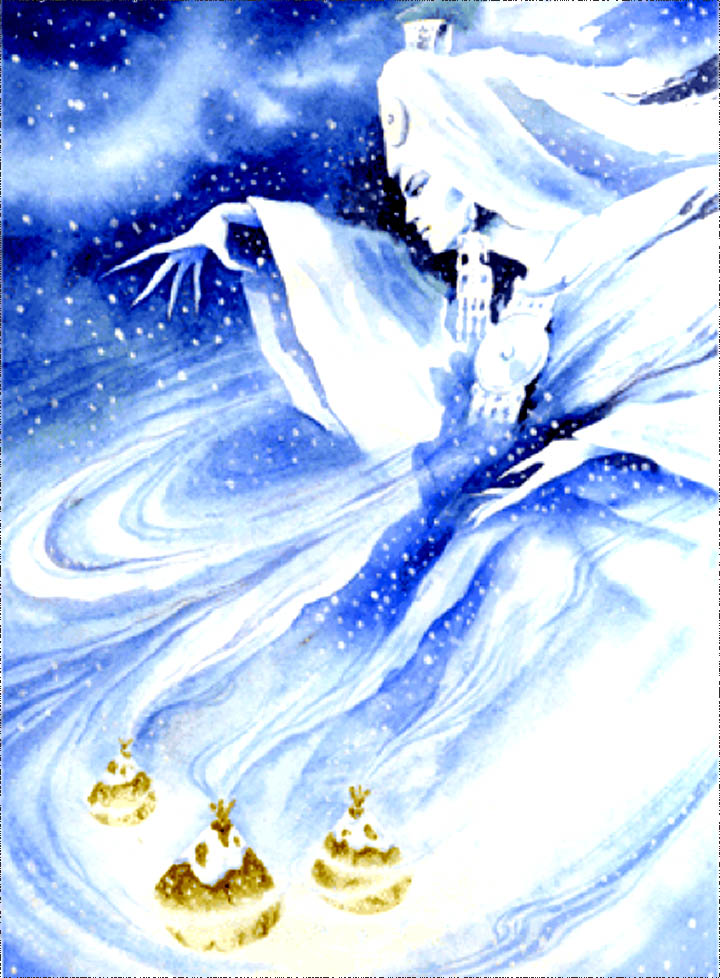 The Santa summit: drawing of Kyhyn Khotun, the Yakutian Winter. Picture: The Siberian Times
From Siberia in the east of Russia, may we wish you all a Merry Christmas and holiday period, whenever you celebrate it - and wherever you are, and happiness and prosperity for the New Year!