The stunning nature of Kolyma. Picture: Alexander Lesnyanskiy
---
Going through 'a door to another planet' is how photographer Alexander Lesnyanskiy describes his rafting trip to Kolyma on the route of notorious Road of Bones.
Its macabre reputation is well-known from the Stalin era, but, in contrast, he found here, in one of the remotest and untouched parts of the world, emerald waters and stunning beauty, as his pictures show. A seasoned traveller, he says: 'I have never seen such harmonious landscapes.'
ROUTE OF TRIP: Magadan-Susuman-Omulyovka-Zyryanka-Seimchan-Magadan
Moscow and Red Square, Kolyma and barbed wire - how strong indeed are the stereotypes. This was my thought while preparing my camera and packing my rucksack before leaving my home in Chita (Eastern Siberia).
I had been invited to join a photo expedition rafting on one of Russia's most stunning rivers, the Omulyovka, flowing down the Great Cherskiy Mountains into the Kolyma River, in the far north-east of Russia.
Kolyma' itself is a large territory spanning both Magadan region and neighbouring Yakutia.


River Kolyma, picture: Alexander Lesnyanskiy
---
We started our journey from Susuman, the second biggest settlement in the region, and the heart of the old gold-mining industry. The infamous Road of Bones leads here from the city of Magadan, built at the cost of dozens of thousands of lives. Along the river beds, and across the mountain passes, the road gets to Kolyma's gold deposits, with the haunting remains of the Gulag camps adding to region's stern landscapes.
There are actually only a couple of labour camps left in Kolyma - less perhaps than anywhere else in Russia. But there is also a rather sad statistic of the number of people leaving this part of the world and moving elsewhere, reducing the figure of half a million inhabitants to some two hundred thousand people. Several of the richest gold mines, which were at the very beginning of their development, lie abandoned.
Coming back to our journey: from Susuman we planned to take a 300 km off-road journey up north to the Omulyovka River. We spent several days, waiting for the off roader vehicle to come, and looking for the right man to show us the way. We knew for sure that the road exists: it goes around the most dangerous rift, and takes you to a hunting base called Margaritto, built ages ago by gold miners.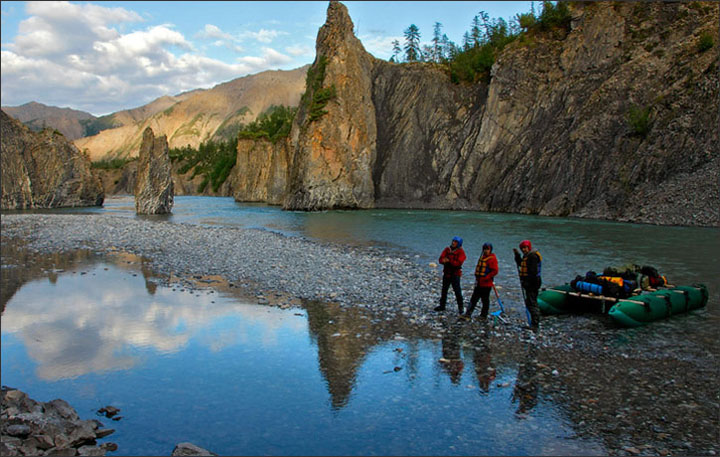 The team. Picture: Alexander Lesnyanskiy
---
In the end we managed to get there, and the road after we left behind the gold mines was like a door to another planet: we were surrounded by pure streams and huge blue-watered lakes ringed by wild rocks, without a man in sight.
We saw wild deer, and when we stopped by the left inflow of the River Omulyovka, the Momontai stream, there were 40 cm long grayling behind each of the million rocks in its waters.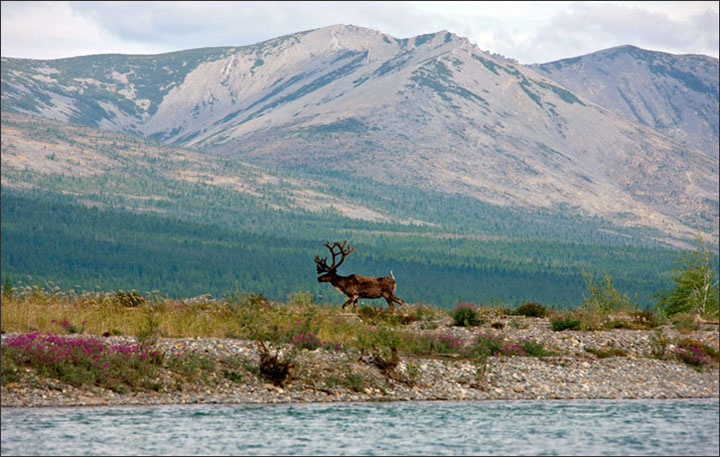 ---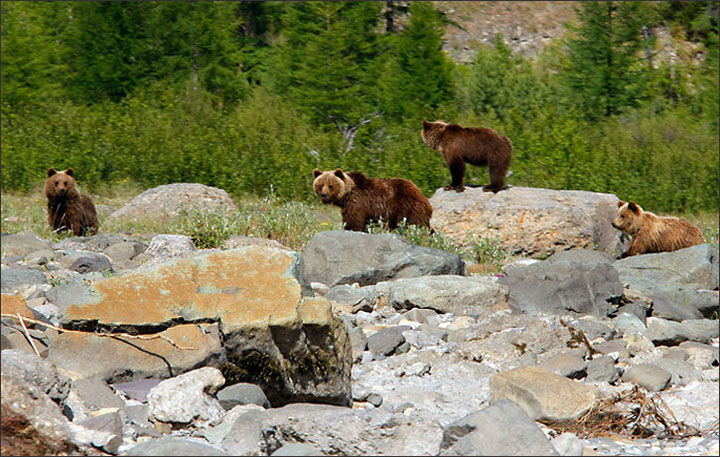 Wild nature of Kolyma, pictures: Alexander Lesnyanskiy
---
We lost part of our team on the way: one got ill; another, the professional photographer and traveller Sergei Karpukhin, decided to keep going on his own route. There were four of us left - Yaroslav and Roman from Novokuznetsk, Yevgeniy from Magadan, and myself, from Chita.
At this point we still had some 450 km of our water journey left. I remember the moment when we entered the mountains. I have travelled a lot over the years, but I have never seen such harmonious landscapes as here. Stunningly beautiful.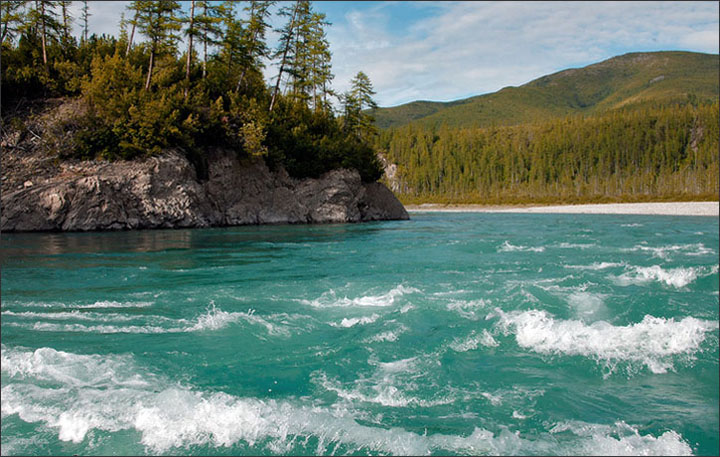 ---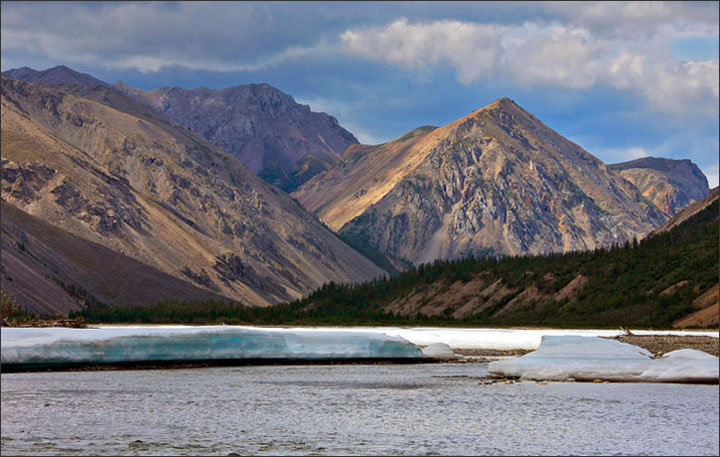 Kolyma, pictures: Alexander Lesnyanskiy
---
There were about 40 kilometres of the route with the Omulyovka squeezing itself through tight hugs of the ancient rocks, making for unforgettable memories of the emerald-coloured water, paving its way through this narrow corridor.
We were fishing - wrong as it was to call it so, with one and two kilogram graylings competing to be caught. We were boiling the catch, frying it, smoking it, and even eating it raw with salt and pepper. Quite often we were just letting the fish go - there was no way we could have eaten such vast quantities of it.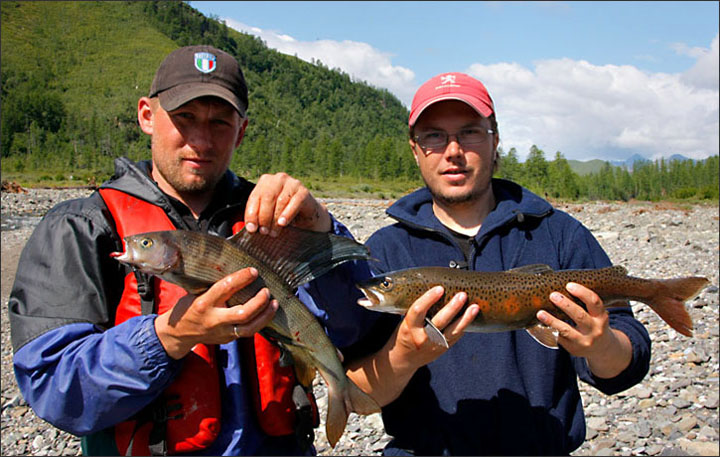 Left to right, Alexander's friends Vyacheslav and Roman. Pictures: Alexander Lesnyanskiy
---
Omulyovka is not an easy destination to reach, and it remains one of the truly untouched places on earth.
On our journey, we have seen quite a number of bears, first a mother with three cubs, and several hours later - another one, standing with its back to us and digging something in the bushes.
'Lets get a bit closer, I'd like to take a good picture of it', I asked my team.
'No-o-o, thank you' - they replied in one voice. 'Look how huge it is. What if its hungry.'
I persuaded them in the end to get to the bank, but to be on standby to retreat.
The bear didn't notice us at first, so we screamed and whistled. It turned around, and started to walk towards us, making for fantastic shots with the camera. The distance between us was getting shorter and shorter. Suddenly the bear jumped into the water, into a fast stream, and it rushed it towards us.
'Aah!!' - my mates shouted, promptly jumping back to their seats on the raft, and trying to get back into the current.
I felt my hair rising - but I just could not stop taking pictures. Just that moment, finally, a sudden change of wind got our scent to the bear. It stopped, stood up, and quickly got out of the river.
After that, we followed Omulyovka on its way to a little Cherbynyinskiy Mountains, and then out into the valley. The river got wider and calmer, with lots of little islands appearing on our way. The Omulyovka then joined the Yasachnaya River, and then flowed into a mighty Kolyma River.
River Kolyma, picture: Alexander Lesnyanskiy
---
There after our adventures, we got a little bored, as it was too quiet, and too slow to follow it, so we decided to stop and arrange our way back to the city of Magadan. We spent three fantastic days in the Svetlaya Bay on the Sea of Okhotsk.
And, as with a wave going through my mind, this last part of our journey completely washed out the remains of the stereotypes about this stunningly beautiful region.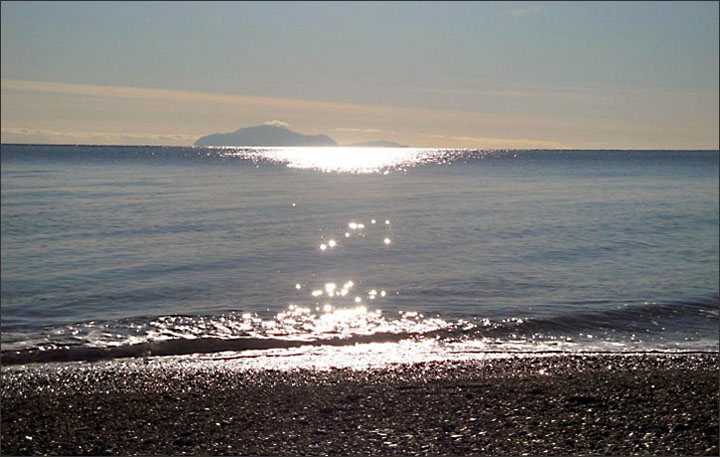 ---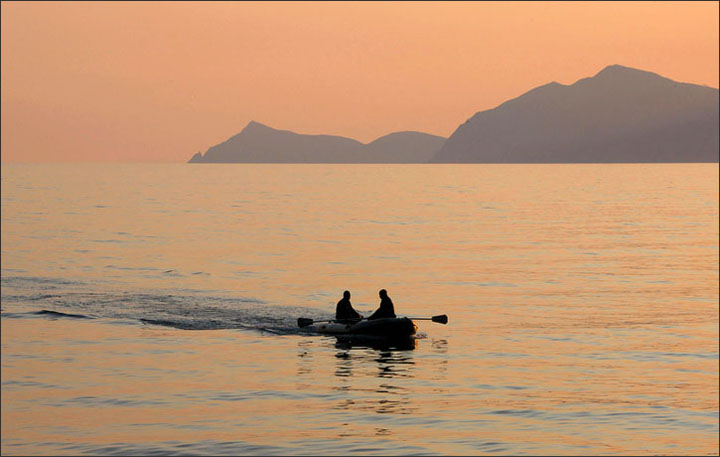 Sea of Okhotsk, above, and Kolyma river. Pictures: Alexander Lesnyanskiy
---
Alexander Lesnyanskiy, 54
'I moved to live in Chita, Trans Baikal region, in 1980, right after my graduation from Dnepropetrovsk Mining Institute in Ukraine.
'My first profession is as a geologist; in 1990 I changed to become an entrepreneur, and gradually my love of photography transformed into a third job (or rather an extra one, as it hasn't become my main source of income).
'I felt a lack of the romance of expeditions since leaving geology, and wanted to get it back by joining free-tourism trips.
'Some of them happened to be on an extremely complicated level; some less, but in the end I have never been seeking the extreme.
'The main reason for them has always been photography. After two of the most serious expeditions, I felt I wanted to find a way to sum them up, this is how my blog appeared'.