Alexander Kaptarenko, the oldest participant in Olympics torch relay. Picture: Moskovsky Komsomolets
With his love of life, Alexander was used to defying expectations: in 2012 at the age of 100, he was the only 100 year old to compete in the World Table Tennis Championships in Stockholm.
The country's Table Tennis Federation awarded him a medal acknowledging 'For merits in the development of table tennis in Russia', a sport he took up in Novosibirsk 61 years ago.
At the age of 90, he began to write books, and had five to his name by the time he died, still writing. Most recently, he was working on a book about the October Revolution, which he lived through five years after he was born. The book, sadly, remained unfinished.
Earlier he had been a design engineer at the Leningrad Aviation Plant and in 1941 he was evacuated to Novosibirsk. His father, a teacher, did not survive the Siege of Leningrad.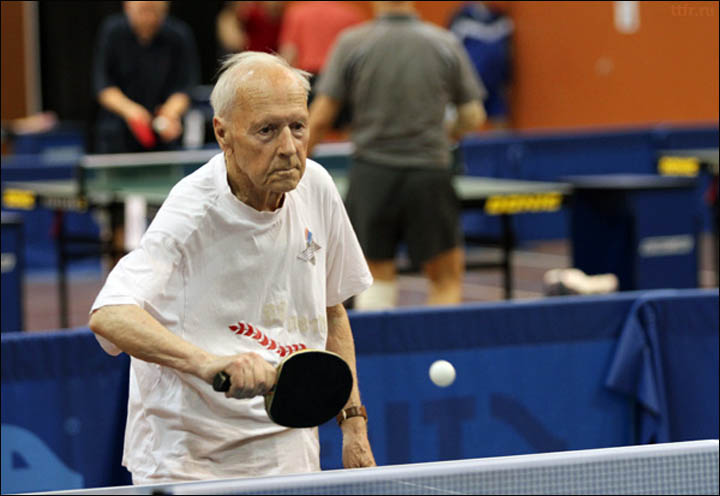 Alexander Kaptarenko is playing table tennis in his 98. Picture: Russian Table Tennis Federation
Last year he told Sib.fm - 'Death is always near man. Earlier I was not afraid of it. While you are young, you do not think life will ever end, it seems as if there is no death.
'And now I understand life is not endless. And I know why death is necessary. It gives meaning to life. I would like to live a little more, to complete all my deeds.
'And I do not need anything more. My body got decrepit, but I became more savvy. Maybe it is not wisdom, but some rationality. It is nice to live, I can tell you.'
He had two daughters, six granddaughters, one grandson and 10 great-grandchildren. He outlived his son.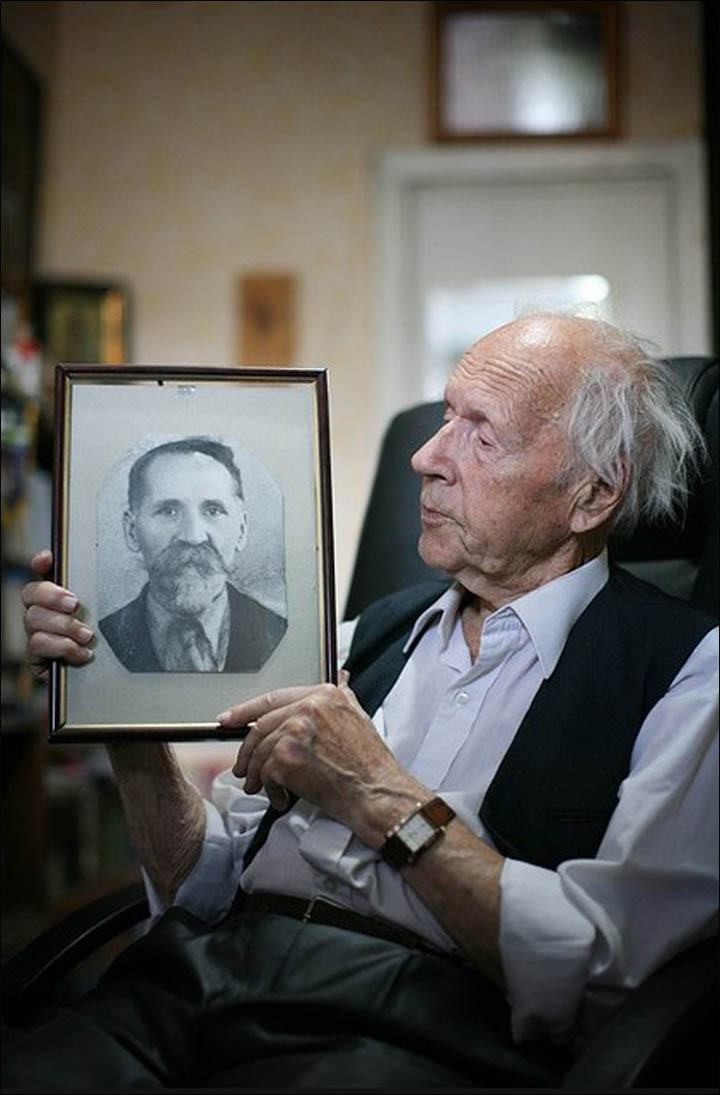 His father, a teacher, did not survive the Siege of Leningrad. Picture: FREAKR/Maya Shelkovnikova
His zest for the next challenge saw him participate in the relay for February's Sochi Olympics, the oldest in history. He was aged 101 years and 11 months. He readied himself for the 200 metres run by practicing with a frozen salmon.
'Of course, I am very fit for my age but running for 200 metres will be hard. I have already studied my part of the route on Karl Marx Square,' he explained.
'Nobody gave me a torch to train with, they didn't even promise one, and you need train. But how do you train? he said. He was given dumbbells but 'they're hard to hold' while a humpback salmon 'big and all, can be held by its tail, thank God'.
The lit torch 'is like a wife - you have to carry it gently and carefully'.
'This fish has the shape of a torch but it is heavier that the torch. I take a fish by its tail, raise my arms and walk around my apartment with the fish in my hand,' he said.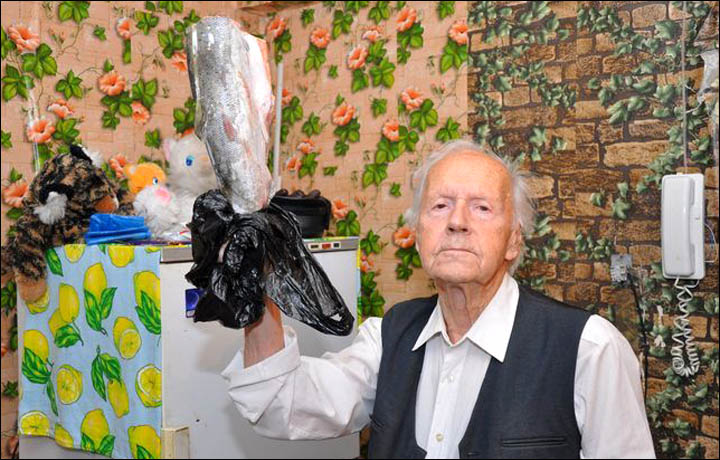 'The lit torch is like a wife - you have to carry it gently and carefully'. Picture: Komsomolskaya Pravda Novosibirsk
He began his practice session around his home, then graduated to a heavier salmon more akin in weight and shape to the 2.9 kilogram torch, taking his training regime outdoors into sub-zero temperatures to be fully in trim for his big day on 6 December last year.
'This is a serious matter, a matter of state importance, so to speak,' he emphasised.
He kept training until he has a stroke which led to him being hospitalised.