Alexander Bork (right) and Artem Belokobylsky (left) in a rare joint appearance for our camera at the central statue of Lenin near the Opera House in Novosibirsk. Picture: Alexander Bork
Alexander Bork is a 23-year-old graduate of Novosibirsk State University of Architecture and Construction, a young man with heaps of unusual hobbies such as hitch-hiking, roofing and geocaching.
Yet the activity he is most enthusiastic about is recent and self-invented. Lenining is a competition that began between two participants: Alexander and his childhood friend Artem Belokobylsky, a 22-year-old accountant. It is based around Lenin statues, of which Siberia - like most other areas of the old Soviet Union - is awash.
Despite all the giants who shaped our destiny, explorers like Yermak Timofeyevich or perhaps the Stroganov dynasty, emperors whose reigns altered history such as Peter the Great, acclaimed scientists Mikhail Lomonosov or Dmitry Mendeleev, or famous Siberian-born achievers such as cosmonaut Alexey Leonov or tennis star Anna Sharapova, or even rogues like Grigory Rasputin, it is Soviet founder Vladimir Lenin who wins the monument count by a mile.
The friends compete in searching and photographing statues of Lenin, for which they travel to the remotest Siberian villages as well as the most secluded corners of big cities. In fact, they are not restricted to Siberia.
The winner - the one who has more pictures - is awarded annually. There are no geographical limits, but many other restrictions: the friends have already published the second edition of the sport's complicated rules, evidence that they take the game with the utmost seriousness and are ready to make any sacrifice for the sake of victory.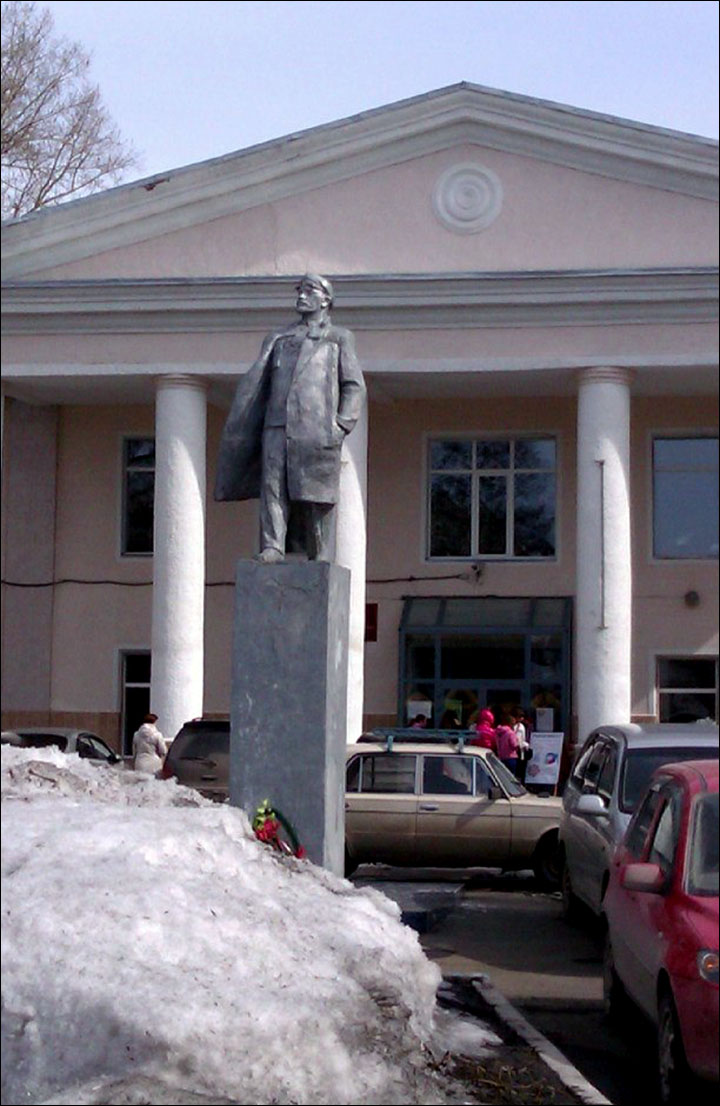 'We were strolling about the streets of Toguchin and wondering what pictures to take when we suddenly saw a statue of Lenin.' Picture: Alexander Bork
The birth of Lenining came two years ago in Toguchin, a small town in Novosibirsk region originating from the 17th century. Alexander said: 'One spring weekend Artem and I were horribly bored, so we decided to go to Toguchin just because we had never been there. The weather was cold, so our visit was shortened to a half an hour: to take a couple of pictures and board the train back.
'We were strolling about the streets of Toguchin and wondering what pictures to take when we suddenly saw a statue of Lenin. We simultaneously took our cameras and photographed it. After we did so, I was suddenly struck with the idea that even in such a remote place there is a Lenin statue, and that they are everywhere in Russia, wherever you go.
'So I thought, why not go everywhere and take pictures of Lenin just to have a noble reason for travelling? There are so many faraway and generally not so interesting places we would never visit with no particular aim.' Artem obviously agreed and the game started.
Q: Are there only two of you who play Lenining?
Alexander: Actually yes, so far, but others are showing an interest. We don't search for Lenins together, though there is no restriction on taking friends as helpers with you on a journey. As I prefer hitch-hiking, I usually invite my female friends with me, because drivers are more likely to stop when they see a girl waving down a car. We are two players but Artem and I call ourselves 'teams': mine is called 'Explosives' and the Artem's is 'Sporty', thanks to our bygone common passion for the video game 'Worms-2'.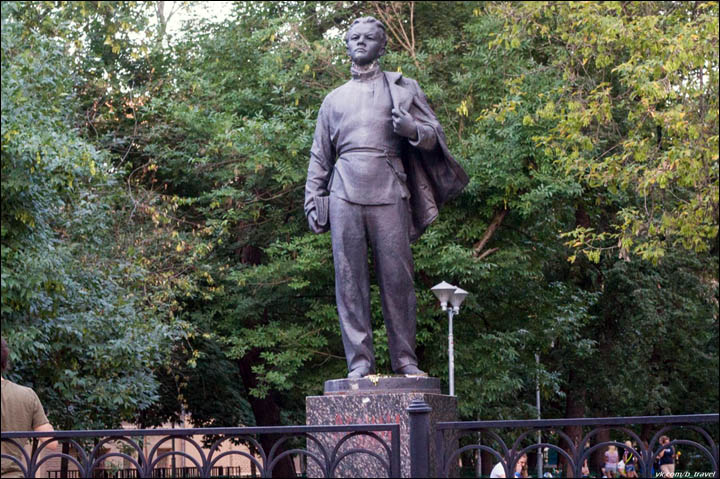 ---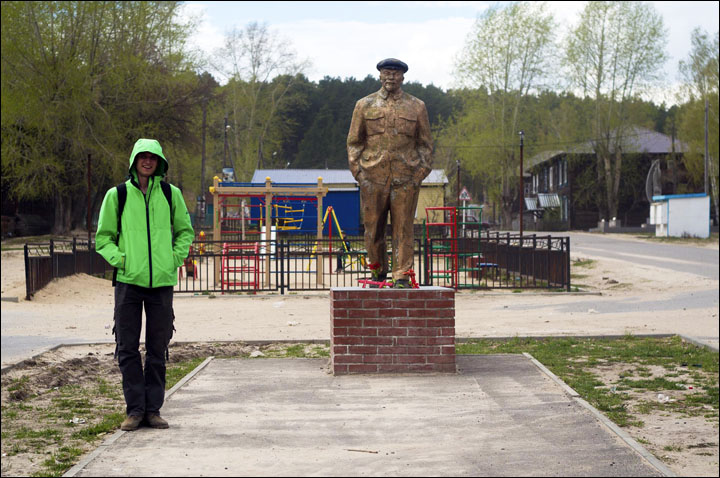 ---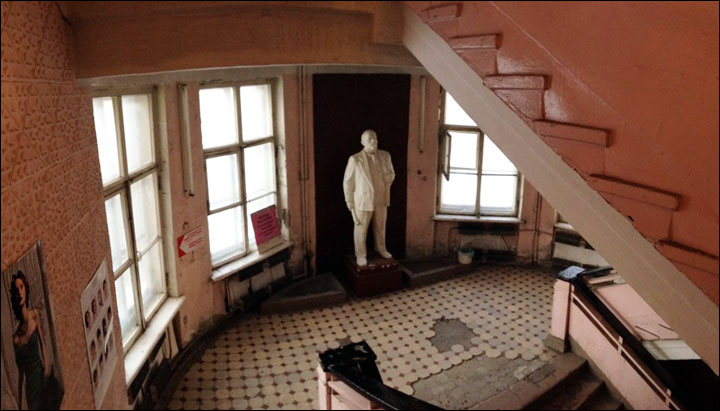 ---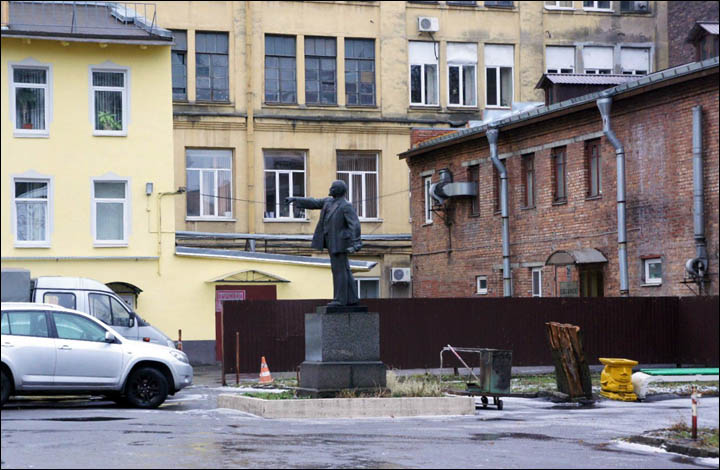 According to the rules: 'The statue of Lenin is a sculptural composition made of solid materials depicting full body (upright or sitting) of Vladimir Ilyich Lenin, created separately from the pedestal.' Pictures: Alexander Bork, Artem Belokobylsky
Q: How do you decide who wins every year?
Alexander: Whoever has more photographs of Lenin statues wins. We don't even need to count pictures because we have two separate albums in a special group on social media, so we just look how much pictures are there in the albums. To make the project more interesting we usually write funny comments under each new Lenin, showing off and teasing each other. What makes the game really difficult is the rule that the results are not reset every year, so if you drop behind, the gap may redouble in the course of time, so you need to make extra efforts to overtake.
Q: What is the annual prize?
Alexander: The loder must buy the winner a litre of whisky Johnnie Walker and a bar of Ritter Sport chocolate not later than ten days after the deadline, when the results are calculated, on 31 December at 23:59:59 Novosibirsk time.
At the very beginning Lenining had no 'official' rules, which is why the friends were constantly arguing not only about details, but also about some basic understandings. One of the most important questions was: 'What is a statue of Lenin in the context of our competition?' In the current 'official' rule book, signed by both teams, the concept of a 'statue of Lenin' is strictly determined:
8.1 The statue of Lenin is a sculptural composition made of solid materials depicting full body (upright or sitting) of Vladimir Ilyich Lenin, created separately from the pedestal. A bust monument does not count.
But the following paragraph stipulates:
8.2 The only bust that could be taken into account is a bust of Lenin in Antarctica.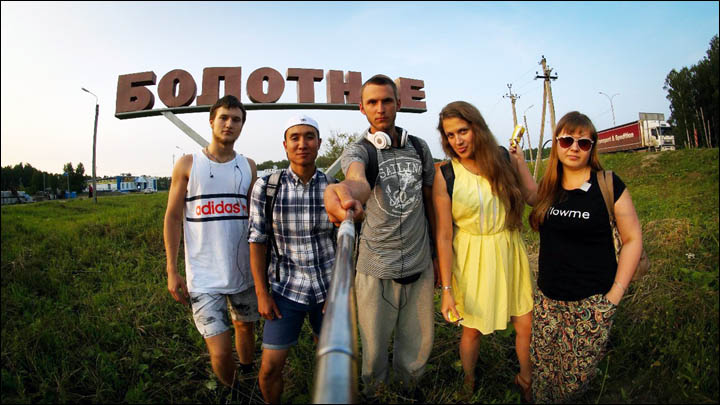 ---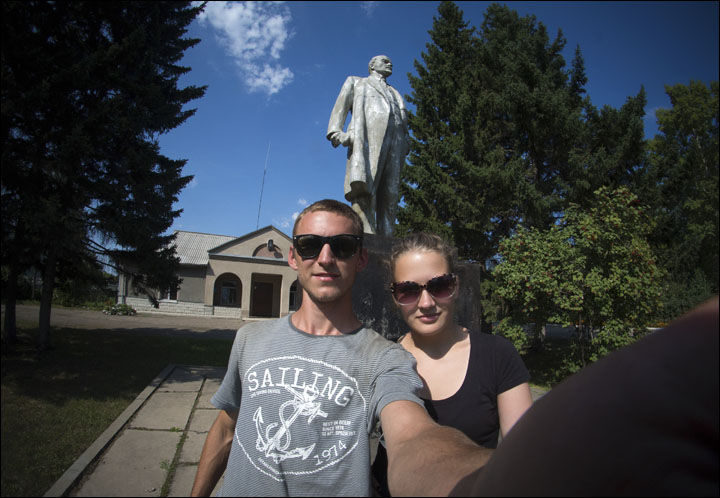 ---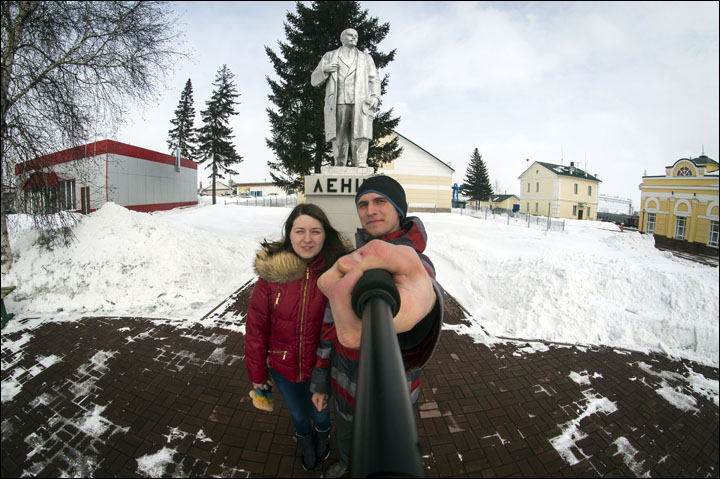 Alexander Bork often travels with his team 'Explosives'. Pictures: Alexander Bork
By the way, the embalmed body of Vladimir Lenin in his Mausoleum on red Square in Moscow is also considered as legitimate, as well as statues depicting him as a child. There is also an unwritten law which says that the central statue of Lenin near the Opera House in Siberia's largest city Novosibirsk - perhaps the most famous depiction of the revolutionary in this part of Russia - is not considered, as it is 'too obvious'.
Still, in a rare joint appearance the two Lenin gladiators posed for our camera at this very monument before continuing their separate hunt for less prominent examples of this genre, enthusiastically erected in Soviet times to a man who became a kind of deity to the godless USSR. They are not always where you expect. For example, there are countless Lenin Streets or Lenin Squares across Russia, but they are often devoid of statues of the controversial historical figure, which are found elsewhere.
'I have seen so few Lenins on Lenin Street or Square, to tell the truth,' said Alexander. 'It seems to me that they were put far away from Lenin Streets on purpose. It is a trap, because the first idea arriving in some remote backwater is to go and check Lenin Street for a statue, especially because such a street can be found in practically every urban locality in Russia. Don't do so: instead, if you don't know where to look for a Lenin statue, just ask the locals.'
In fact, communication with locals is one of the advantages of Lenining. 'You learn far more than if you were travelling around in a tourist group.'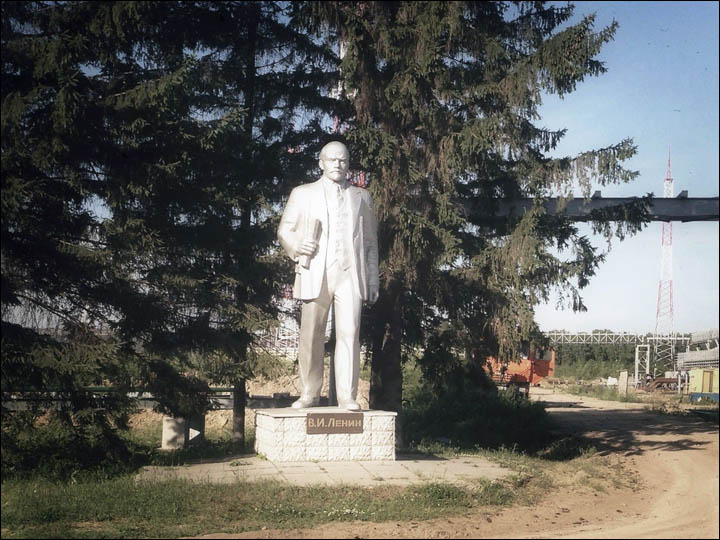 ---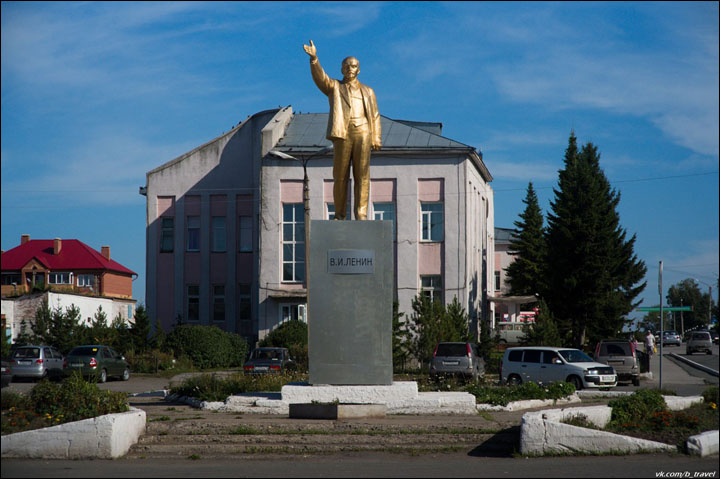 ---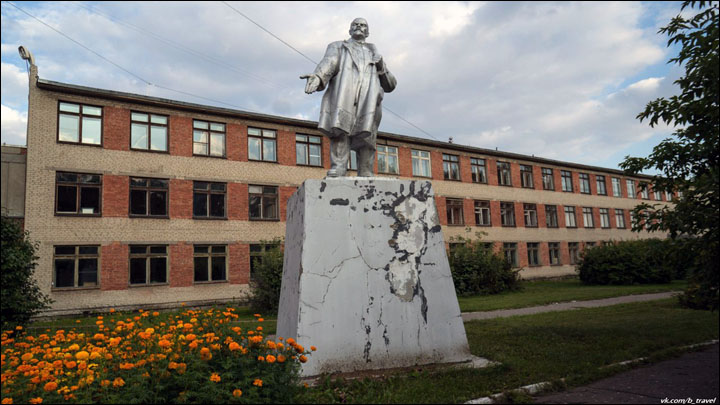 ---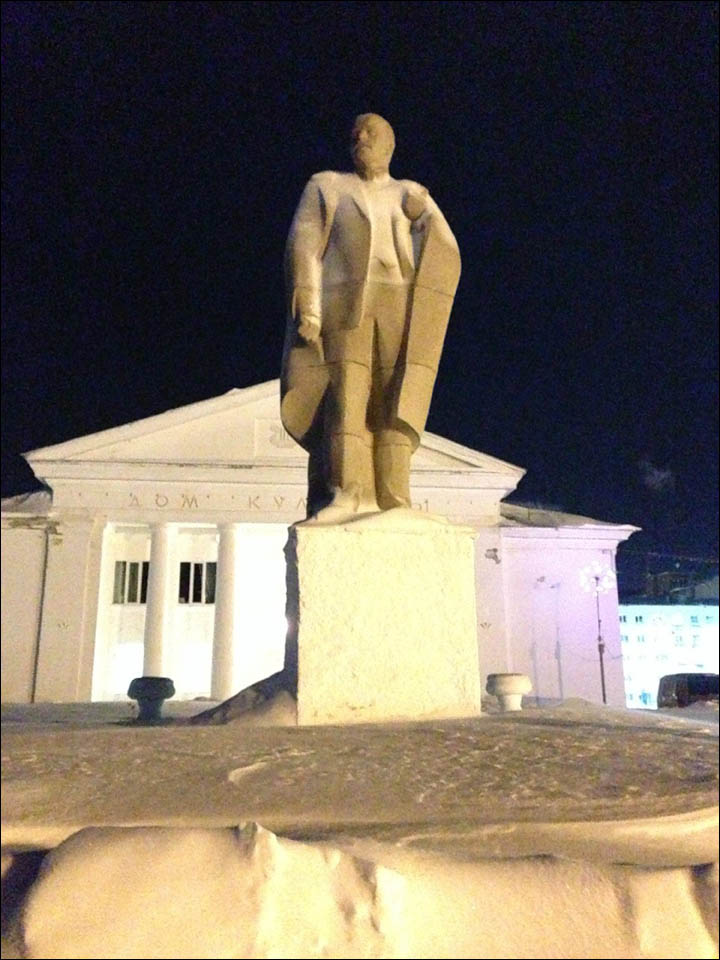 Lenins can be found everywhere: on the territory of the secred factory in Berdsk, in the middle of Cherepanovo settlement, in the university's yard and even in Dudinka. Pictures: Alexander Bork, Artem Belokobylsky
'The most extreme and unforgettable trip for me was a journey to Kemerovo region,' he went on. 'My friend Nadya and I had already planned the trip when, at the end of November, the hard frost burst out. It was about minus 35C. Our departure was difficult to cancel or postpone, tempting as this might have been, so we decided to go nevertheless. But when I saw the clouds of steam which enveloped our bus, I realised how crazy we were. Later my thoughts were confirmed.'
It was a voyage 'from bus to bus, from cafe to cafe' Alexander and Nadya crisscrossed Kemerovo several times in search of the precious statues with their mobile phones connected to portable battery chargers. Otherwise the phones gave up in protest because of the frost.
They spent the first night in Kemerovo with some suspicious people whom they found via couchsurfing, the third night with relatives in Novokuznetsk. The most dangerous night was the second when the friends found themselves on the outskirts of Prokopyevsk, a city with no less than eight statues of Lenin, but no acquaintance or place to stay. They spent a half of the night photographing Lenins, and ended up sleeping in the entrance hall of a random apartment block.
They got up long before the dawn to have time to photograph the last two statues of Lenin in the outskirts of the city and to get to the railway station.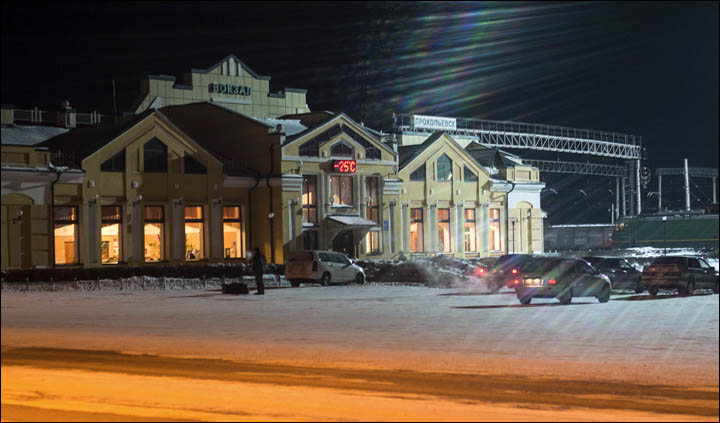 ---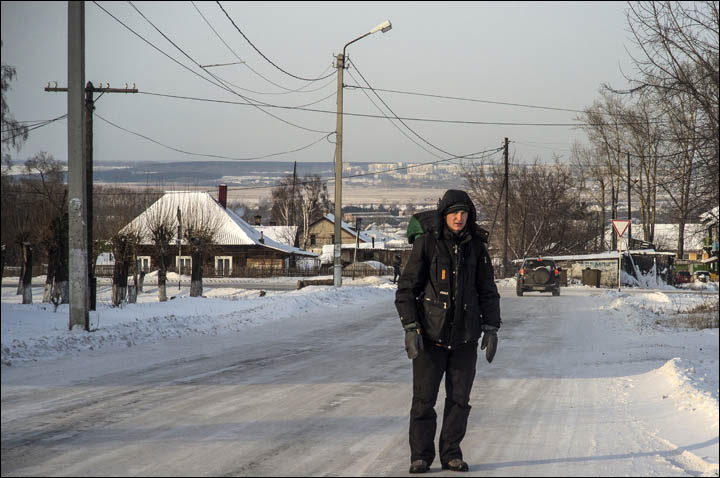 ---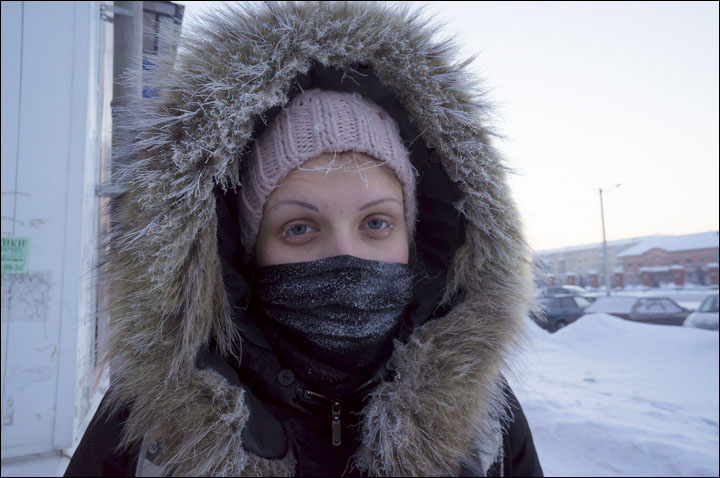 ---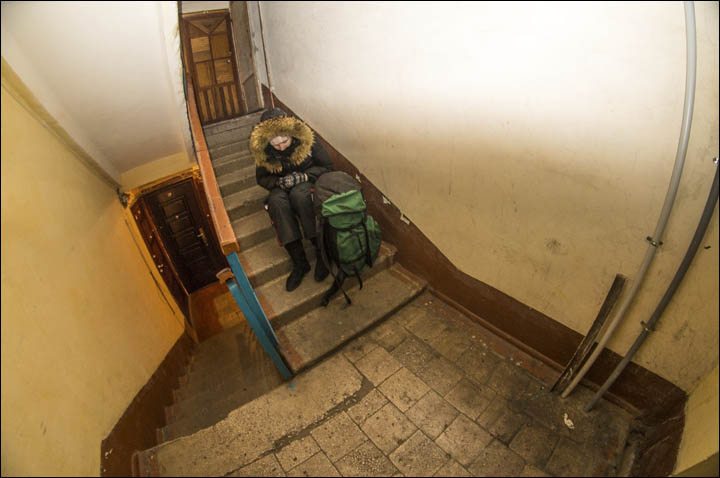 ---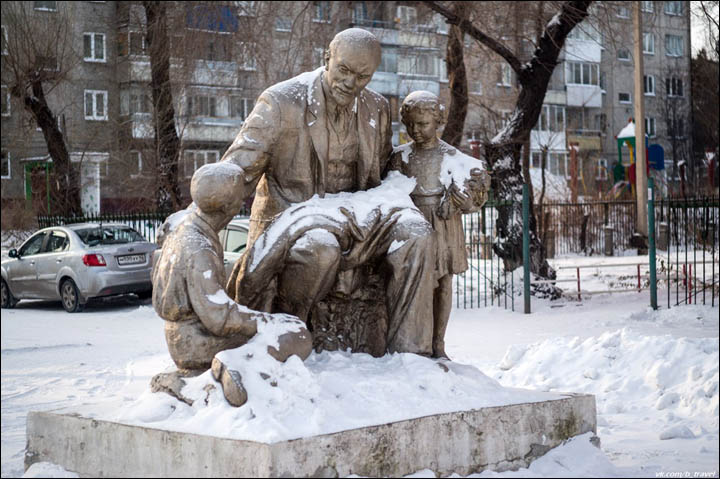 ---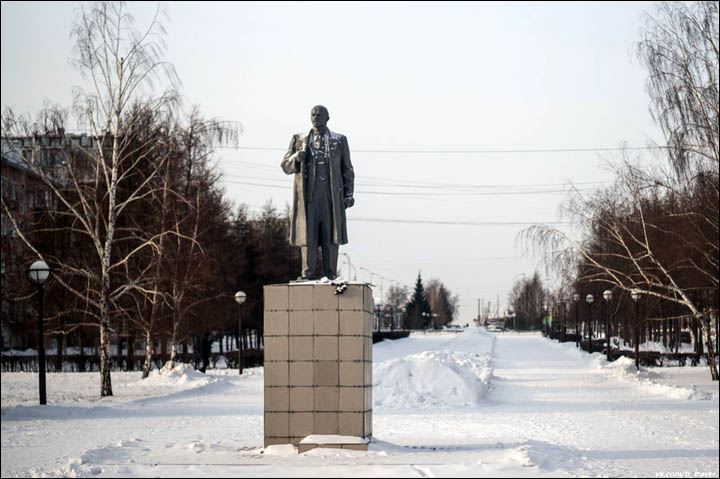 'The most extreme and unforgettable trip for me was a journey to Kemerovo region, when, at the end of November, the hard frost burst out.' Pictures: Alexander Bork
'I remember myself walking in the dark along the tram-lines: there were no lights or pavement, but only cold, darkness and snow. It was the place where the city ended and the forest started. Nadya was trailing far behind, so I felt as if I was the only living being in the Universe. There was a highway on the left where cars were infrequently flashing by. My feet were marching, the saliva in my mouth was freezing, and I was thinking about my life and asking myself many philosophical questions which are to be never answered.
'I thought about polar explorers who trailed the way to Dikson, the port on the Kara Sea, and recalled my favourite Jack London stories about Alaska, discovering El Dorado and so on. As it was very cold, I listened to my body in order to do what it was asking: to stamp more actively to warm the feet, to unwind the scarf in order not to sweat... I realised that at this moment, I had no way except to go forwards. We had been walking like that for two hours and I appreciate this adventure for letting me to be left alone with myself.' We are not quite sure what Nadya made of this Lenining odyssey.
Artem is also capable of performing extreme and spontaneous deeds. In December 2014, he realised that Alexander was about to win that year, because he had 12 statues more, so he had to quickly find a place with at least 13 Lenins to photograph. As he could take a vacation at that moment, he bought air tickets to St Petersburg, a mere 3000 kilometres from Novosibirsk, for two days. The 'official' purpose of his trip was to propose marriage to his girlfriend, Yulia, who loves Russia's tsarist capital.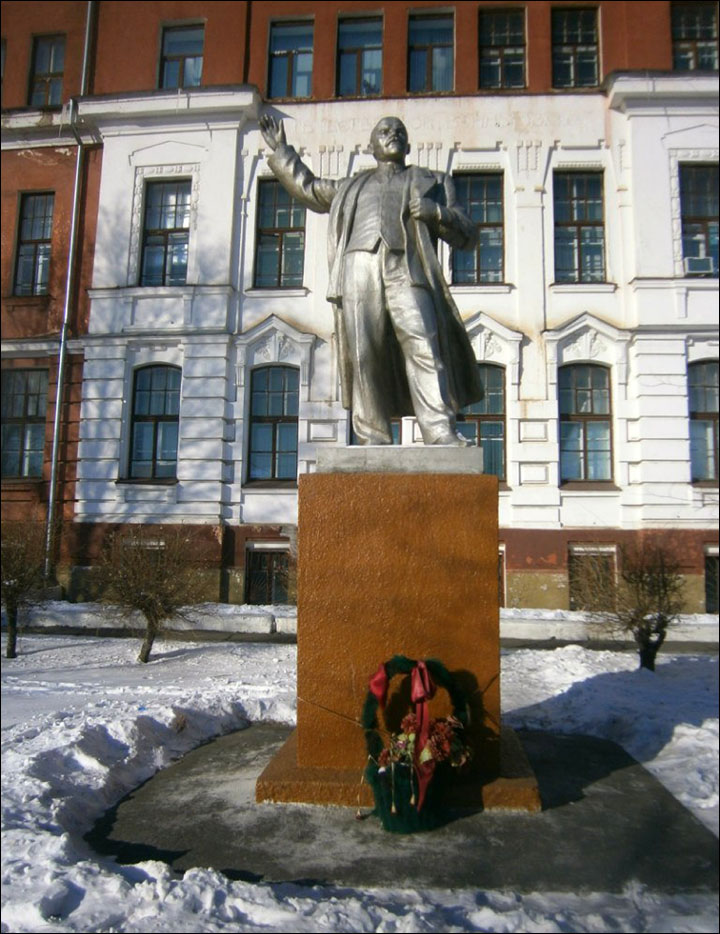 ---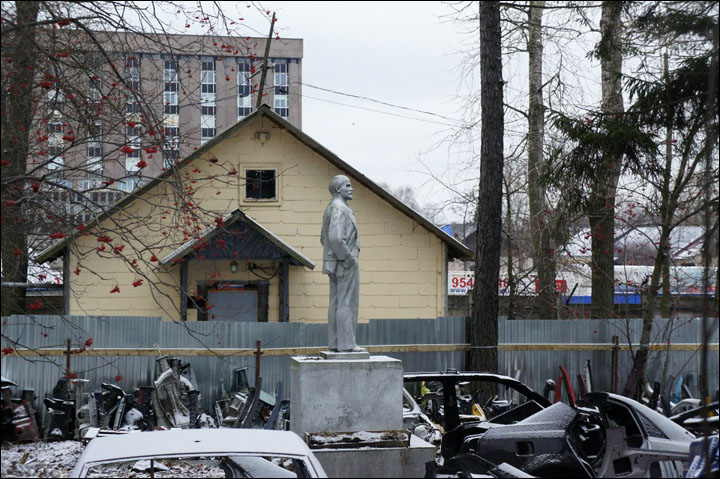 ---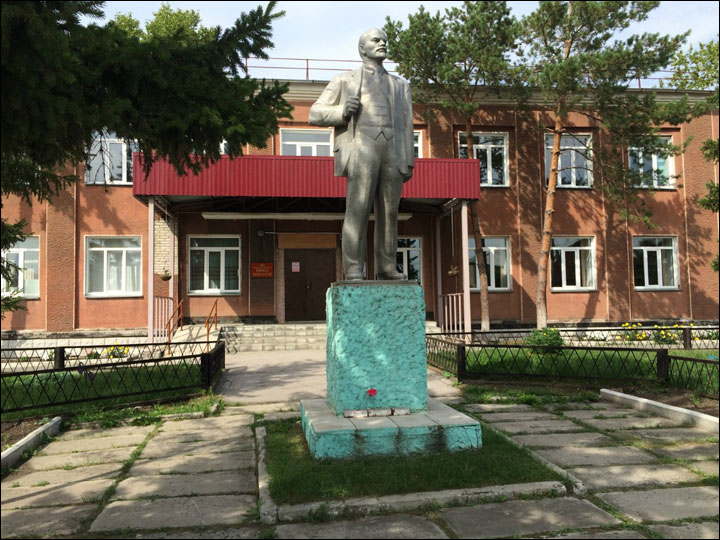 ---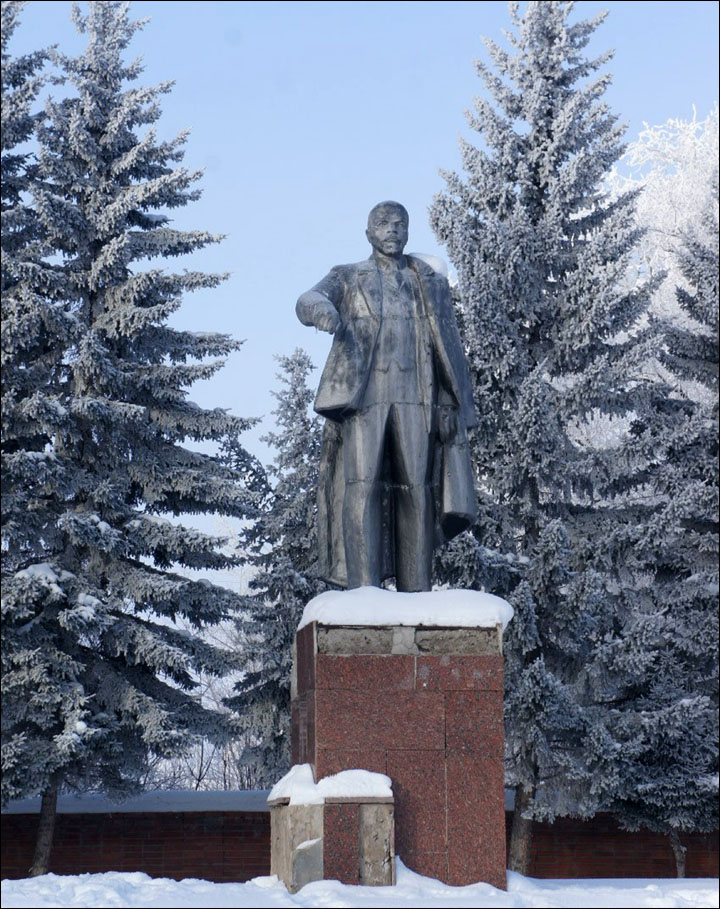 Artem is also capable of performing extreme and spontaneous deeds: just a small collection of pics taken across all of Russia, from Blagoveshchensk to St Pete. Pictures: Artem Belokobylsky
The trip was a double success. He became engaged and found enough time to photograph 26 Lenins in different parts of St Petersburg and its suburbs, so taking the winner's prize that year.
Q: How do you check that your rival doesn't cheat?
Alexander: It is impossible to check, so we just trust each other. Of course, it's easy to cheat: we can use the Internet, where it is forbidden by the rules, or even take someone else's pictures from the place we haven't been to. My friends routinely offer me their photos, but I always say 'No'. For me it is not offensive to lose the game, if only the game is fair.
Q: What do you think about Vladimir Lenin as a person?
Alexander: I don't meditate too much on him as a person or as an historic figure, but I believe he was a great man who made history many years ago. And I don't share the opinion that he was a murderous villain, as he started many good things which were destroyed afterwards. I don't know enough about Lenin to judge him, but I'm going to study more about his life. Still, Artem and I congratulate each other every year on Vladimir Lenin's birthday.
According to the latest count, Alexander has clocked up 103 Lenins, while Artem has a total of 127.