'I am glad that I came. I am not disappointed in anything.' Jessica Long with her siblings and blood parents. Picture: Jessica Long's twitter
'Meet my Russian family. I love them more than words can say. My heart is so full,' said the 21 year old record breaking swimmer.
The extraordinary picture shows Jessica with her blood mother Natalia Valtysheva, who gave birth to her as frightened teenage mother, and also her biological father, Oleg, together for the first time with her siblings.
Jessica, an inspiration for her sporting achievements, travelled half way around the world to meet her family in the village of Tem in the Bratsk district of the Irkutsk region.
She admitted to 'life changing moments' as she came face to face with the parents who gave her up to a grim orphanage, persuaded they could not cope when they realised the extent of her handicap.
'I am glad that I came. I am not disappointed in anything. I met my sister Nastya and saw that I looked very much like her. Nastya is just a year younger than I am. I gave her an elegant bracelet as a gift. It matches her hair perfectly. I also gave a necklace to my mother and a Russian-language Bible to my father.'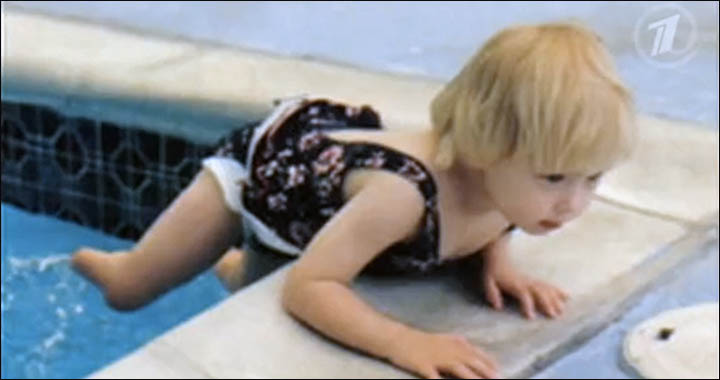 Jessica Long training in America. Picture: Channel 1 Russia
Nastya gave her sister a ring, and mother Natalia gave her daughter a local delicacy, pickled cucumbers, confident that - though a native Siberian - she had not tasted them before.
Her mother Natalia works as a cleaning lady at the village school. Her father Oleg drives a logging truck.
'I started dating Oleg when I was 16,' confessed Natalia, in tears. 'My little girl was born pre-term and I was told that she would be an invalid for life and that she would be unable to walk. Doctors kept saying in one voice that I should give the baby up. They told her: 'You are still young and you will be able to give birth to a normal child.'
Natalia and Oleg did not want to abandon their newly born daughter, who they named Tanya, but his mother did not want to raise an 'invalid' child.
'What a worthless thing am I? I kept thinking of her all the time. I hoped to persuade my mother-in-law to take the girl back. But then I learned that Tanya was adopted by an American couple. A year later, I gave birth to our second daughter, Nastya, who was followed by two twins, a boy and a girl.'
Nastya, like Jessica (Tanya), had health problems and was diagnosed with infantile cerebral paralysis. Natalia did not give Nastya up, and the family remained together to this day, a strong unit, apart from Jessica who was adopted by a remarkable US couple to whom Natalia and Oleg say they are immensely grateful.
'This is my cross and I carry it,' said Natalia.
'I have a feeling that this trip was conceived by God. I do not know how my life would have developed if I had stayed in Russia. I'm very excited about meeting the family. The first time I see my father and mother,' Jessica had said as she travelled to Irkutsk region.
When Natalia and Oleg watched her at the London Paralympics in 2012, winning swimming medals, they did not realise this was their long lost daughter.
'I really for a long time dreamed of this moment. My parents in America always told me that I was adopted,' said the US star. 'It's never been a secret to me. But who is my biological mom and dad, I learned during the competition in London last year.'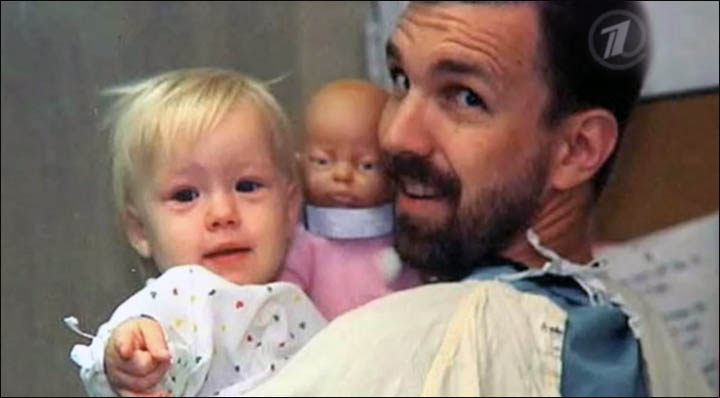 Jessica with her adoptive father Steve Long. Picture: Channel 1 Russia
She had planned to visit Siberia earlier, and now she has come with her sister Hannah, as her emotional support. 'It took me a long time to collect my thoughts and realise it. I and my whole family are very worried about me.'
Hannah said: 'We thought it would be cool to go together. Jessica wanted someone to be with her during the meeting with the family'.
Jessica was adopted aged one by American couple Beth and Steve Long from an orphanage in Bratsk, some 2,350 miles east of Moscow, and she grew up in Baltimore, Maryland.
Her adoptive parents showered her with love and enabled her to reach remarkable heights, overcoming her handicap - she was born without fibulas, ankles, heels, and most of bones in her feet - to become one of the United States' most exceptional sportswomen having won a dozen gold medals in three Paralympics.
Her fame in London led to Russian journalists tracking down her real parents who remained together as a family. Natalia has told how she was faced with an impossible decision after her daughter's birth. Before the meeting, Jessica visited the orphanage that cared for her.
Shortly ahead of the meeting, Natalia said: 'How long I am waiting for Jessica? I do not need such questions. Excuse me please. I feel so sorry,' she said. 'At that time - there was some fear, I got scared. I had to leave her behind. But I did think that I would take her back'.
'Of course I was against leaving her in the hospital but because of the circumstances we had to do so. In my heart I did want to take her home, and thought I would take her back later.'