Hermit Agafya Lykova. Picture: Nikolay Proletsky
Agafya is perhaps the world's most famous and remarkable hermit; recently she celebrated her 75th birthday.
The recluse is the last survivor of a family who successfully opted out of Stalin's Russia to live in the wilderness of Khakassia republic in southern Siberia.
Her family were Orthodox Old Believers who fled into the forest to escape religious persecution in 1936.
For most of her life, she has lived much as a peasant from the 18th century with hardly any modern comforts, and guided by an ancient Bible.
Recently inspectors and officials from Khakassky Nature Reserve and Roskosmos, the Russian space agency, journeyed to her remote home to inform Agafya about the impending space launch from Baikonur cosmodrome in Kazakhstan.
Debris from an imminent rocket launch can fall in her vicinity and the officials offered to evacuate the hermit over the danger period.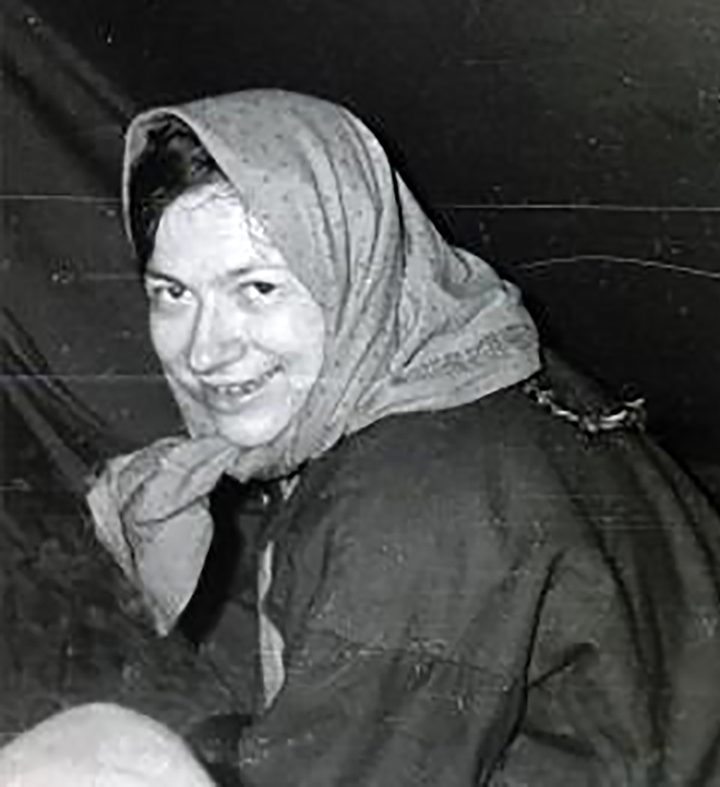 ---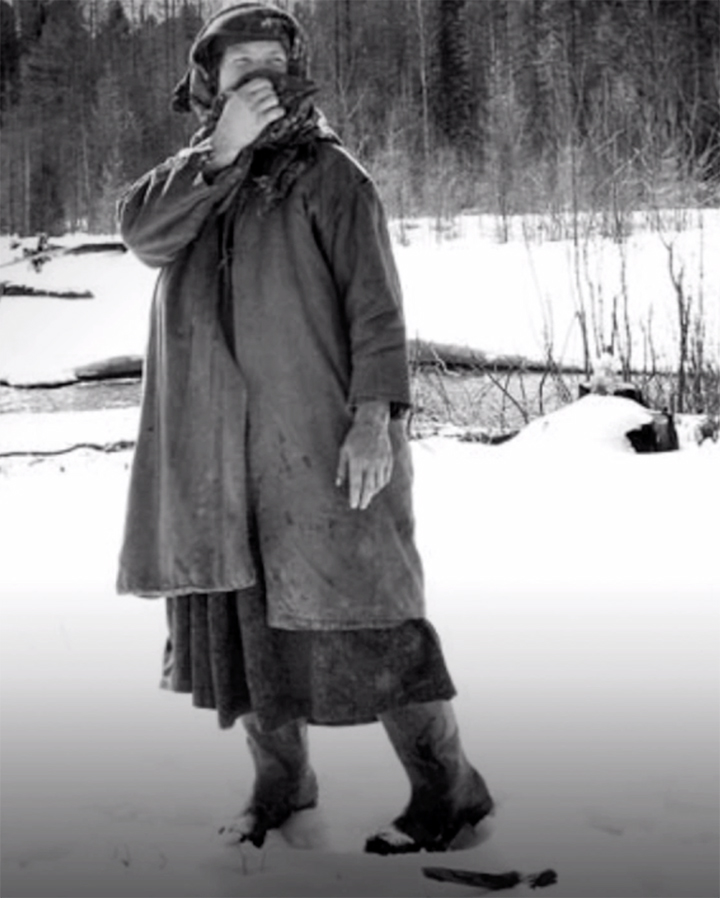 Russia's loneliest woman, hermit Agafya Lykova. Picture: Nikolay Proletsky
---
Agafya gave them short shrift, saying: "The rockets fell down before. So what is different now?"
She refused to budge from the home where she was born and which she has never left but for urgent hospital treatment.
As RIA Novosti put it: 'The inspectors were not surprised to hear that she refused to leave. Everybody knows that Agafya hates leaving her home.
'Is there really anything that would make her go away? Probably not.'
And certainly not the Space Age.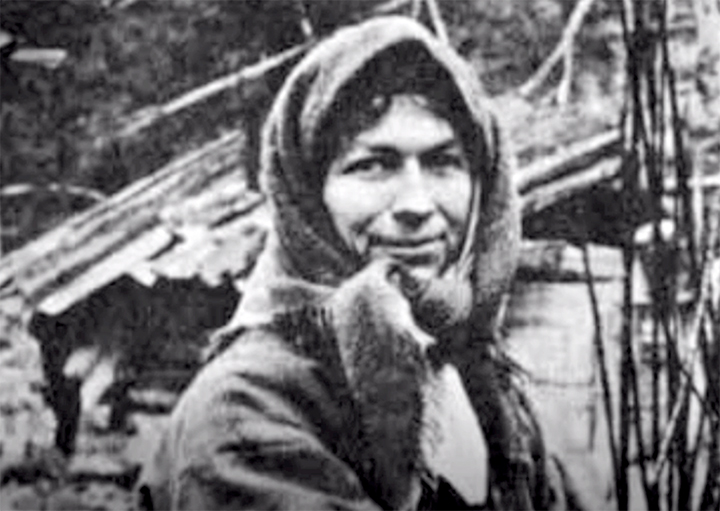 ---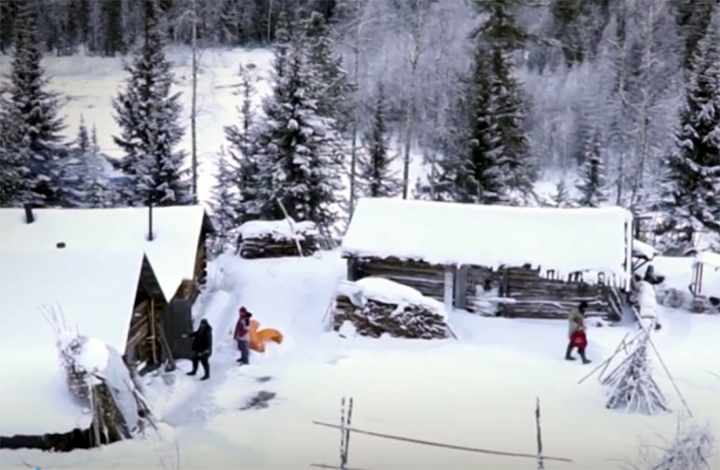 Agafya Lykova and her her house in Siberian taiga. Pictures:Nikolay Proletsky, KP Krasnoyarsk
---
The director of the reserve said that while Agafya feels some pain in her joints - the reason for a brief hospital evacuation three years ago - she appeared in good health after marking her 75th birthday.
Viktor Nepomnyaschiy posted: 'Agafya Karpovna refused to be evacuated.
'Talking about her life in general, she said that she has planted vegetables, has enough food, and sufficient grass for her goats in summer time.
'She complained a bit on her health condition, particularly pain in her legs, but so far she is managing to look after her household.'
The reserve staff pay regular visits to a woman who, in her younger years, had never met anyone outside her close family.
They bring gifts sent from all over the world to this remarkable woman who was 75 in April.
Agafya Lykova by her house in Siberian wilderness. Picture: KP Krasnoyarsk
---
Reserve deputy head Ivan Prokudin said: 'People from all over the world are writing to Agafya and sending her parcels. This time we recevid about 100 kg of presents.
'We are also carrying seeds for her, she grows everything: potatoes, zucchinis, pumpkin, cucumbers, tomatoes and carrots.'
Komsomolskaya Pravda newspaper gave her two new head scarves with flowers, a piece of fabric for a skirt, a dressing gown, several towels, bed linen, needles and thread, as well as dried fruit.
Agafya has weaved a belt for her favourite nature reserve inspector Sergey Khlebnikov.
She wrote on it: 'An honest belt to the servant of God Sergey from Lykova Agafya Karpovna.'
He said: 'She lacks communication. This is her character, she loves talking to people.
'When you get to her, you are so tired and exhausted after the long way, and she sits next to you and talks and talks about everything and does not go away.
'You would like to have a rest, to sleep after the long journey, but you have to patiently listen so that she doesn't get offended.
'A year and a half ago we visited her on snowmobiles in winter.
'She asked to help her kill one goat because she did not have enough hay for him. We helped of course.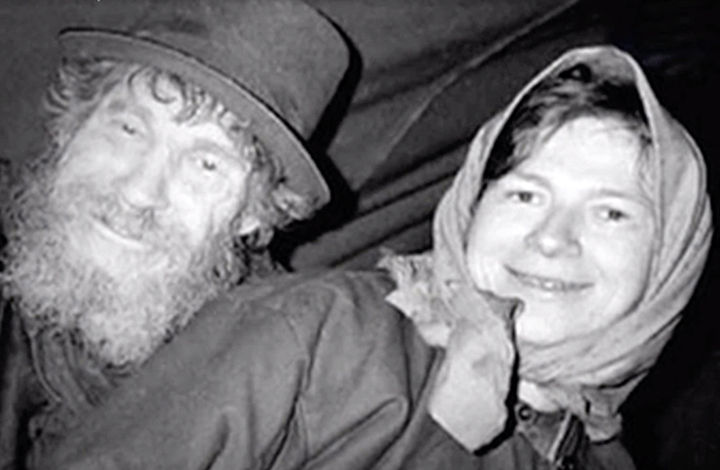 Agafya Lykova with father Karl. Picture: Nikolay Proletsky
---
'She put the meat right near the doorstep of her house and covered it.
'Next time we visited her I asked – did you eat the goat meat? – she said: 'No, my cats finished him. They dug a tunnel to the meat under the snow and finished it bit by bit'.
'She has many cats, once as many as 20, but I'm not sure now.'
During Agafya's stay in 'civilisation' when she went to hospital she was left unimpressed by modern ways, and yearned to get back home.
'There are so many cars. Why do you need so many?' the hermit asked. 'There's so much smoke from them, there's nothing to breathe.'
She has refused many offers to move to a village over recent decades.
When wild bears get too close she protects herself by banging cutlery on a plate to scare away the beast.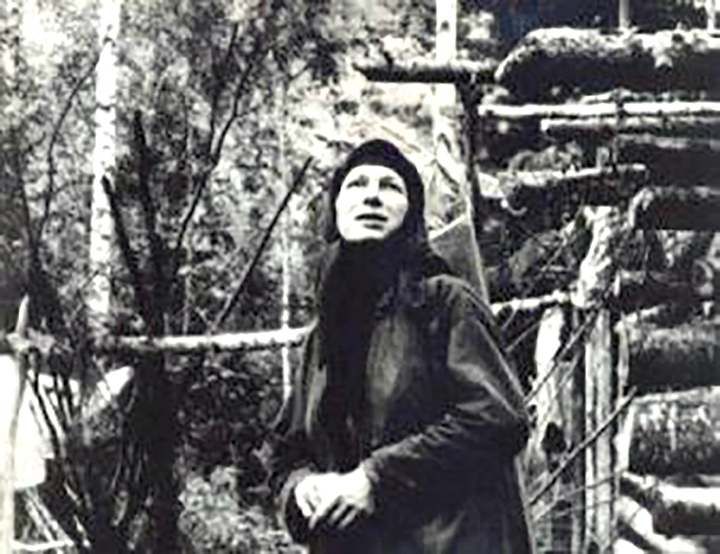 Agafya Lykova, now 75 years old. Picture: Nikolay Proletsky
---
Agafya's family were discovered in 1978 after being spotted from the air by a group of geologists on a remote mountain side close to Erinat river in the Abakan Range, south-western Siberia.
When they were found, they had no idea World War Two had started - or ended.
Agafya was the fourth child of Karp and Akulina Lykov, and for the first 35 years of her life she had no contact at all with anyone outside her family.
The scientists reported that Agafya spoke a strange blurred language 'distorted by a lifetime of isolation'.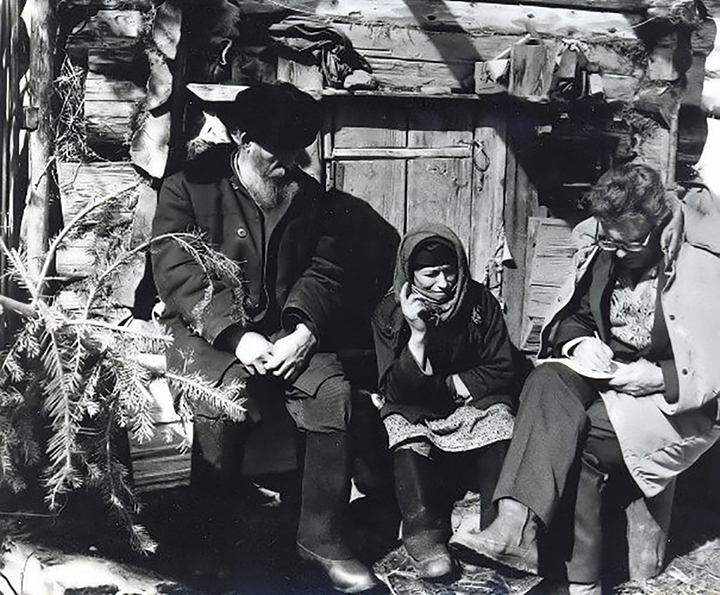 ---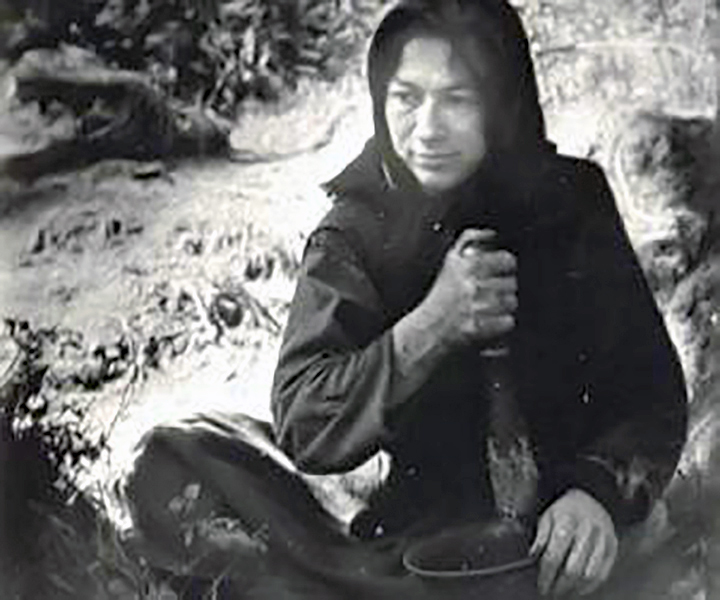 Agafya Lykova with her father Karl (L) and professor Nazarov on first picture, and on by herself. Pictures: Nikolay Proletsky
---
Her father had taken the decision to flee civilisation in 1936 after a communist patrol arrived on the fields where he was working and shot dead his brother.
Gathering a few meagre possessions and some seeds, he took his wife, Akulina, their nine-year-old son, Savin, and two-year-old daughter Natalia, and headed off into the forest.
Over the years they retreated deeper into taiga, building a series of wooden cabins amid the pine trees.
When their metal pots had disintegrated beyond use, they were forced to live on a staple diet of potato patties mixed with ground rye and hemp seeds.
The Lykovs subsisted mainly on trapped wild animals and cultivated potatoes.
They had no firearms, no salt and did not know how to make bread.
However a bad winter in 1961 killed off everything in their garden and they were reduced to eating their own leather shoes.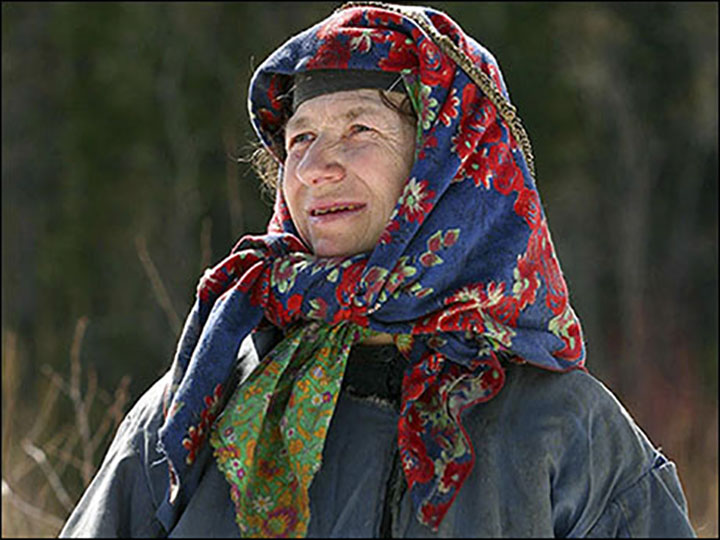 Agafya Lykova is the last of a family that settled on the Bolshoi Abakan River in the 1930s and lived in isolation until a geologist search party stumbled on them in 1978. Picture: Alexander Kuznetsov, Krasnoyarskiy Rabochiy
---
The cold weather and lack of food proved too much for mother Akulina who died.
Once the family was discovered they continued to live in the wilderness and, apart from salt, knives, forks and handles, they opted not to adopt any methods or items from the modern world.
Two years after their discovery, three of the four children also died: Savin and Natalia suffered kidney failure and Dmitryperished perished from pneumonia.
Agafya's father died in his sleep in February 1988, but despite her age and the risks to her health she continues to live permanently in her remote homestead.
Debris from an imminent rocket launch can fall in her vicinity and the officials offered to evacuate the hermit over the danger period.