Pavlik the tiger pictured with sister Elena during their time in Tiger rehabilitation centre in the Far East of Russia. Picture: Centre Tiger
The three year old male Amur tiger called Pavlik was shot by unknown poachers. Some local media reports also suggested its head and paws were severed.
The tiger had a GPS-collar after it was reintroduced back to the wild, its signal was constantly monitored by a group of scientists.
On 8 September the signal went missing, prompting an immediate search by a group of wildlife protection experts.
On 23 September Pavlik's body was found. It was confirmed that the poacher, or the poachers, tried and failed to remove the collar after shooting the rare animal.

Pavlik is pictured carried and driven to the place of his release in May 2019. Pictures: Centre Tiger, Anton Zyablov
---
The Amur tiger is the world's largest big cat. Less than 600 adult animals - 95% of the world population - live in Primorsky Krai, Khabarovsk regions, Amur region and the Jewish Autonomous region in the Far East of Russia.
Pavlik and his sister Yelena had to be removed from the wild together with their mother in February 2018 after their mother started hunting house dogs in the village of Aleksey-Nikolskoye.
A conflict resolving group tried to scare the mother off, but it didn't work, and the family had to be caught. Both cubs were just over six months old.
The rehabilitation centre's experts concluded that the mother was of poor health and could not be returned to the wild.
She was sent to nature park in Krasnoyarsk, Western Siberia.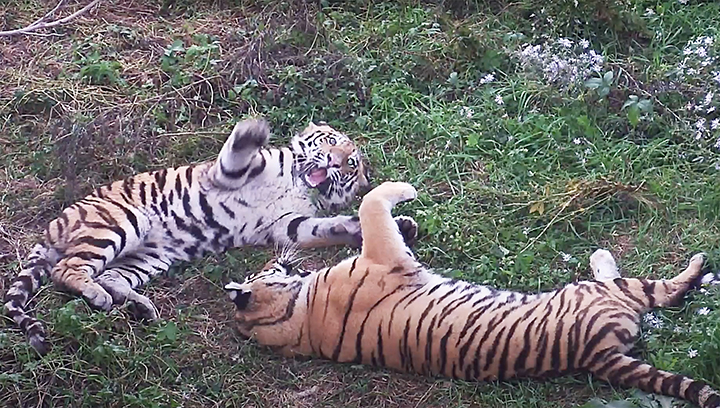 ---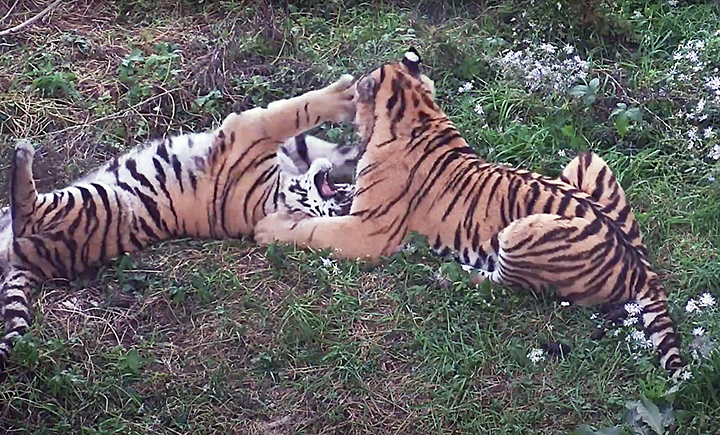 Cubs Pavlik and Elena pictured playing at Centre Tiger's rehabilitation centre in the Far East of Russia. Pictures: Centre Tiger
---
The cubs spent months in the rehabilitation centre, learning to hunt, and were released back to the wild in May 2019 - each with a GPS collar to follow their movements and monitor their well-being. Both tigers proved to be excellent hunters.
Pavlik turned out to be an adventurer: he crossed the Amur River from Russia to China, and swam across the Bureya water reservoir.
'I heard that some monsters killed Amur tiger Pavlik who was released into the wild a year ago. What an awful case… I will seek the most severe punishment for those responsible. They won't get away with it!' Vasily Orlov, governor of Primorsky region wrote on his social media.
Police have started a criminal case under article 258.1 of Russia's Criminal Code, 'The killing of an animal listed in the Red Book.'
The maximum punishment for an offender is an imprisonment for up to four years with a fine of up to one million rubles.
Cubs Pavlik and Elena filmed playing at Centre Tiger's rehabilitation centre in the Far East of Russia. Video: Centre Tiger