Sanda, one of the world's rarest big cats, pictured on the day she was re-introduced back to nature in the Far East of Russia. Picture: Centre TIger
The stunning young predator has started new life today in the freedom of the woods of vast Amur region, nearly 1500km away from the rehabilitation centre outside Vladivostok that saved her life.
Sanda was rescued as an emaciated nine-month-old cub at the end of May 2020.
She was seen wondering around a village of Gornovodnoye in the Far East of Russia, walking along local roads, and lying close to local residents' backyards.
Experts from the regional Hunting Surveillance department hoped that mother tigress would appear, but after lengthy air and land monitoring they concluded that the cub was orphaned, sick and needed help.
'Sanda owes her miraculous rescue to the residents of Gornovodnoye (old name Sandagou, which is why the cub was later named Sanda).
'They noticed her unusual behaviour and immediately alerted experts. Thanks to them Sanda was caught just in time - were we even one, two days left, Sanda would have died from emaciation' - said Sergey Aramilev, head of Amur Tiger Centre.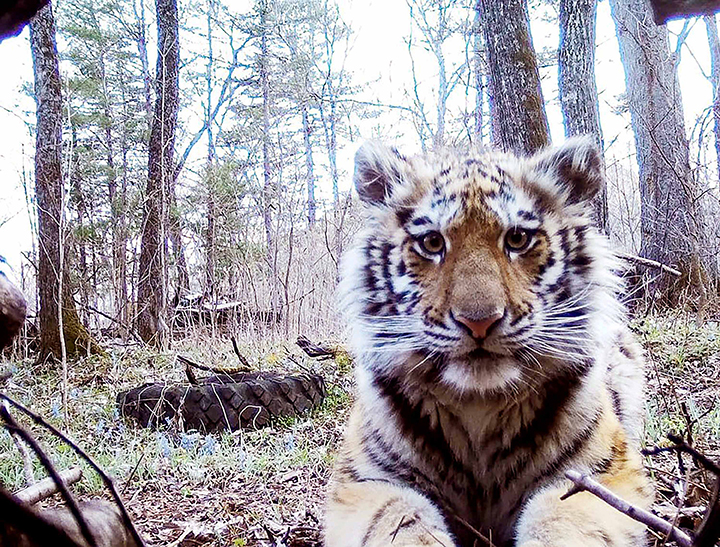 ---
Sanda pictured on the day she was rescued in May 2020 as a nine-month-old cub, and filmed on the day she was released back to nature. Picture, video: Centre Tiger
---
Sanda was lucky to be put into the care of Russia's two leading Amur tiger centres - PRNCO 'Tiger Center' and Amur Tiger Centre - and thanks to their care showed remarkably quick recovery as she started to eat, take water, and later to successfully hunt.
The two teams are Russia's leading, if not only experts on successfully reintroducing the world's big cats back to nature.
Earlier this spring they concluded that Sanda was ready to return. The tigress showed excellent hunting skills, was in good health and - vitally for all wild animals that get to rehabilitation centres - was scared of humans.
At the end of last week Sanda was given her last medical check, and left on a 1500km-long-journey to freedom.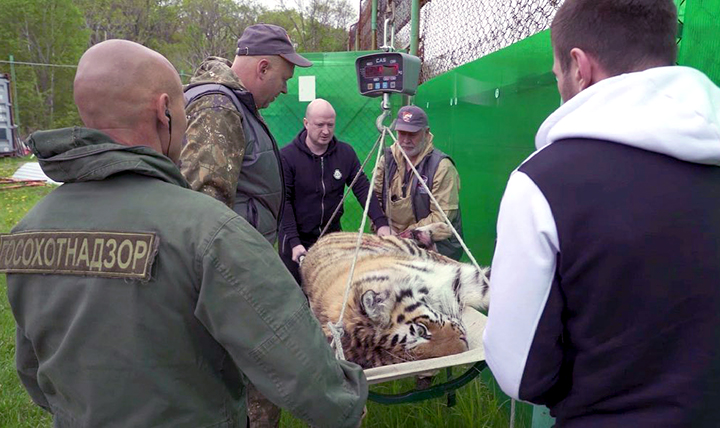 ---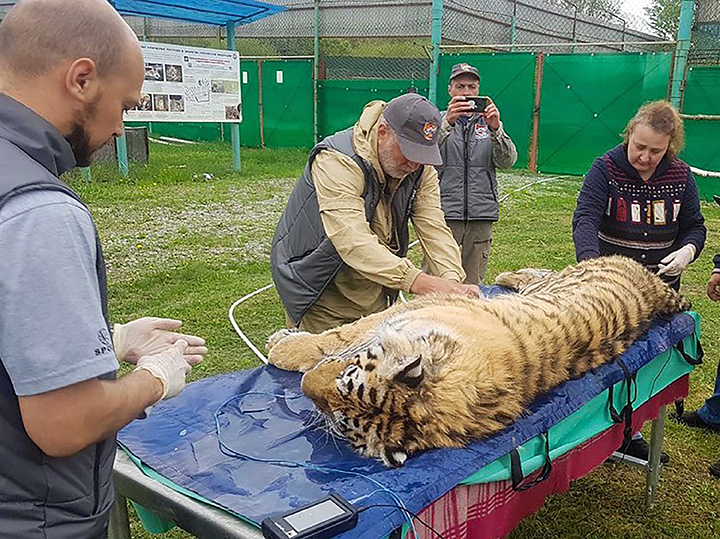 Last check up at the Centre Tiger outside Vladivostok. Pictures: Centre Tiger
---
'It's time to say goodbye to our Sanda. The tigress spent almost a year with us, and it was a special time.
'As we are remembering some of the moments of her life with us, we want to say: 'Wishing you a long life in the woods!' - team of the Centre Tiger said.
Today they released the video of Sanda leaping out of the transport box, and disappearing into the woods.
Sanda's well-being will be monitored by a collar with GPS tracker.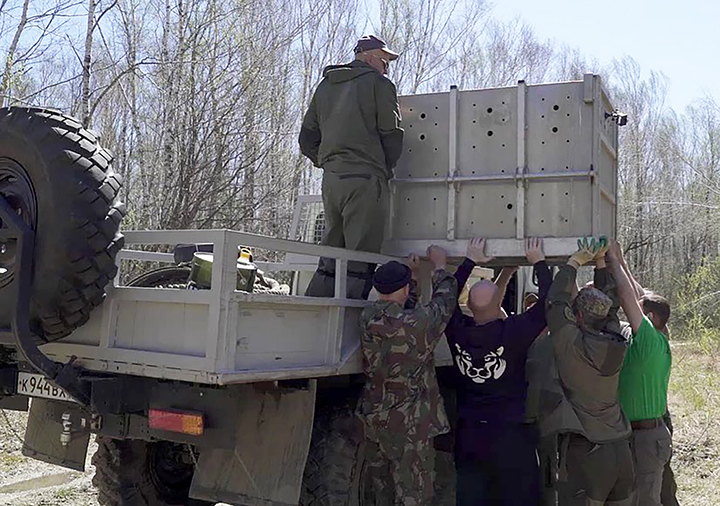 ---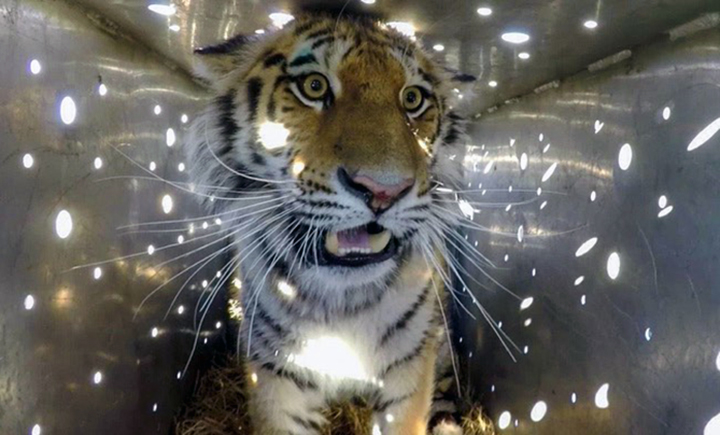 ---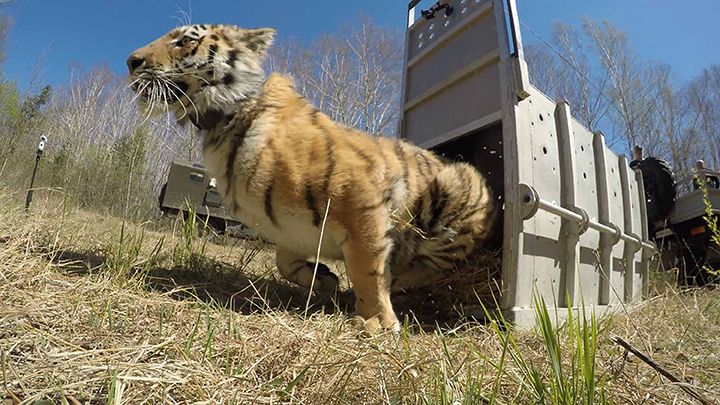 ---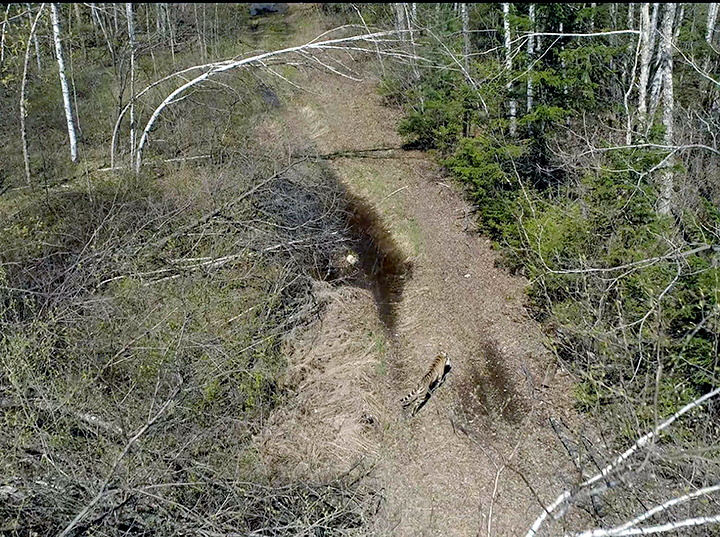 Sanda on way to the site in the Far East of Russia where she was released to the wild. Pictures: Centre Tiger
---
The Amur tiger is the world's largest big cat.
About 600 grown up animals - 95% of the world population - live in Primorsky Krai, Khabarovsk regions, Amur region and the Jewish Autonomous region in the Far East of Russia.
Some Amur tigers live in China and in North Korea.
The next tiger census in Russia will be held in winter 2021-2022.
SUPPORT THE TEAM THAT HELPS ENDANGERED AMUR TIGERS IN RUSSIA AND SUCCESSFULLY REINTRODUCES THEM BACK TO NATURE
The team of PRNCO 'Tiger Center' have rehabilitated 7 tigers and 1 African lion.
Of them, 6 tigers were released into their natural habitat. Five became fully adapted to life in the wild.
The first female Zolushka (Cinderella), which had passed the full course of rehabilitation, was observed with two cubs in December 2015.
The tigers Svetlaya (Bright) and Boris, released in 2014, formed a couple.
The Centre was founded September 19, 2012. ⠀