Semyon Grigoryev pictured at his office in Yakutsk. Picture: The Siberian Times
We were devastated to hear that one of Yakutia's youngest and most promising scientists, head of the Mammoth Museum in Yakutsk and a dear friend Semyon Grigoryev passed away from a heart attack aged 46.
'Semyon Grigoryev's heart stopped beating earlier today. News of his death deeply shocked everyone who knew and worked with him,' said a long-term colleague, head of the Mammoth Fauna studies department of the Yakutian Academy of Sciences Albert Protopopov.
'Semyon grew up in the Arctic village of Kazachye at the Ust-Yana district of Yakutia, the area where a large number of woolly mammoth fauna animals and mammoths were found, along with an endless number of mammoth tusks, so his deep passion to palaeontology was not surprising.
'He grew to become a world famous palaeontologist with finds like the Malolyakhovskiy mammoth in 2013 - the first and currently the only mammoth in the world with a fully preserved trunk and samples of soft tissues - which will be forever linked to his name.'
Semyon Grigoryev was as hard-working with his field researches and expeditions as he was lucky with finds like the world's only preserved foal of a Pleistocene era horse discovered inside the Batagai crater, and projects like Russia's only World Mammoth Centre in Yakutsk.
He spent weeks wandering around the most remote areas of his native Yakutia in search of new samples of the mammoth fauna, and was always happy to share results of his team's work with media in Russia and abroad.
Semyon Grigoryev was indeed one of the most active popularisers of Yakutia - the world's coldest permanently inhabited region, almost the size of India - as a territory of breathtaking scientistic discoveries.
Above all, he forged links with foreign scientists and in particular cloning expert Professor Hwang Woo Suk, from South Korea, in a quest to convert genetic material preserved in the Siberian permafrost into the dream that the mammoth and other extinct species could be restored to this planet.
Dr Hwang Woo Suk said: 'It is utterly difficult for me to believe and accept the information I received.
'My heartfelt thoughts go out to his family in this time of sorrow.
'I also wanted to extend my sympathy and condolences to all his team and his international scientific partners as they will also mourn the loss of a great mind.
'Dr Semyon will forever be the best permafrost scientist I ever had the chance to work with.
'To say he was a larger than life character would be an understatement.
'He will always be remembered as a great scientist– verified by his many achievements.
'My team and I vow to do our best to continue his work and reach our common goal.
'I promise to follow the path we started together and I will keep the memories we shared as precious reminders of why we work everyday.
'I take comfort in the fact that he is no longer in pain, and as I am sure he found his own place in Heaven.
'Thank you D. Semyon, you will be remembered.'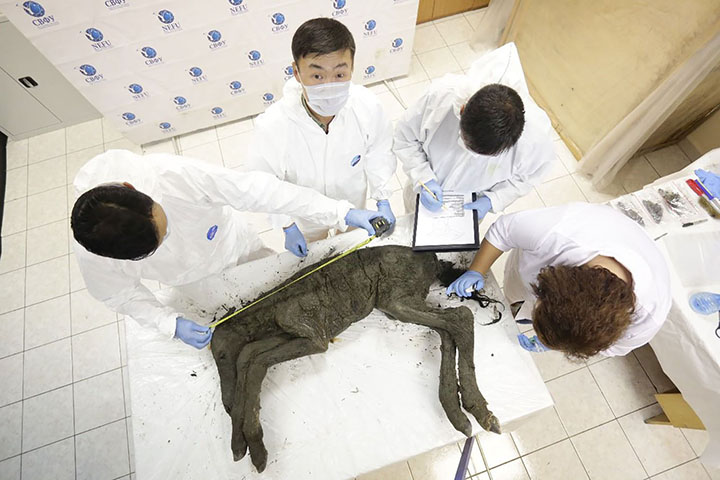 Semyon Grigoryev - second from left - pictured with colleagues working on a 42,000 year old foal
---
Alexei Tikhonov, Director of Zoological Museum at the Saint Petersburg Zoological Institute, Russian Academy of Sciences said: 'Semyon Grigoryev grew up as a scientist before my eyes.
'I went to expeditions and conferences with him. He was not only a colleague of mine, he was a friend.
'He was a zoologist who mastered Quaternary Palaeozoology in a short time.
'He headed the Mammoth Museum in Yakutsk and managed to establish extensive international relations.
'He was a talented scientistic, an organiser and of course a caring, loving father and husband.
'Semyon Grigoryev will stay in my memory as a bright, enthusiastic person who undoubtedly belonged to the forefront of Yakutian intelligentsia.'
Palaeontologist Sergey Leshchinsky, Tomsk State University said: 'Today Yakutia and Russia lost an incredible man and a leading scientist.
'I am still struggling to find words, but I know that Semyon Grigoryev's legacy will live in our hearts, as will his projects and dreams be continued and fulfilled by his friends and colleagues.'
Semyon Grigoryev is survived by his wife, Dr Lena Grigoryeva, leading researcher at International Center for Collective Use Molecular Palaeontology, North-Eastern Federal University, and their two sons.