Russian State Research Centre of Virology and Biotechnology, Vector, in Koltsovo, Novosibirsk region. Picture: Vector
On the face of it Siberia and the Russian Far East has defied the odds and currently only two confirmed cases of Covid-19 according to reports of locations of coronavirus infections.
Russia has registered low numbers with a total on Saturday of 47, a figure which includes those now clear of the virus.
Two of these were in Siberia: a man named Wan Yunbin, 30, in the city of Chita, and a female student called Lesley in Tyumen. Both were certified as having recovered from the illness by 13 February.
Today two separate cases were confirmed in Kemerovo city in western Siberia, with one more suspected in Novokuznetsk.
And in the country's most easterly region Chukotka, a miner who flew back to Russia from an Italian holiday, is suspected to have caught coronavirus.
He has been hospitalised as a precaution but his infection is not yet confirmed.
Even so, some see Siberia the go-to place in the world to avoid coronavirus. The low numbers of infection are exceptional.

---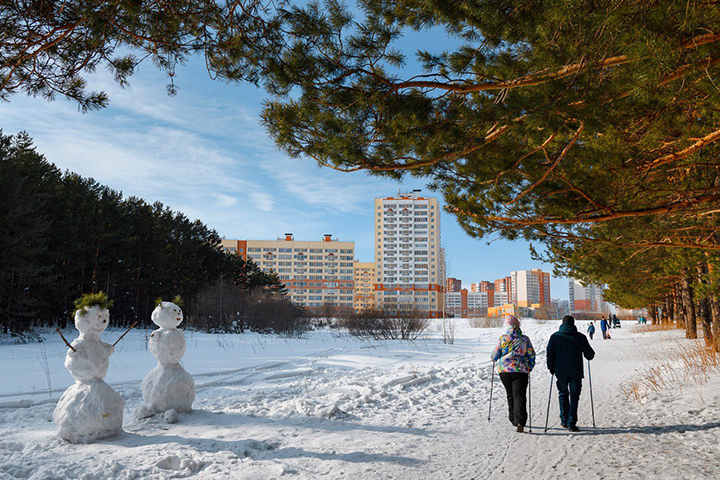 Chukotka's KUPOL gold mine, and a GV of Kemerovo in Western Siberia. Pictures: Evgeny Basov, Tatiana Kachanovskaya
---
We spoke to Dr Alexander Chepurnov, a leading virologist who previously headed research into ebola at the world famous Russian State Research Centre of Virology and Biotechnology, Vector, in Koltsovo, Novosibirsk region.
'I'm not that sure that all is so safe here,' he said.
'I cannot find any explanation [to the fact that a low number of people have been diagnosed with the virus in Russia] and that is why doubts gnaw at me.'
He said: 'What is worrying, in my opinion, is that I do not understand why they do not take samples from all people with pneumonia.
'All these cases are now ascribed to seasonal flu.'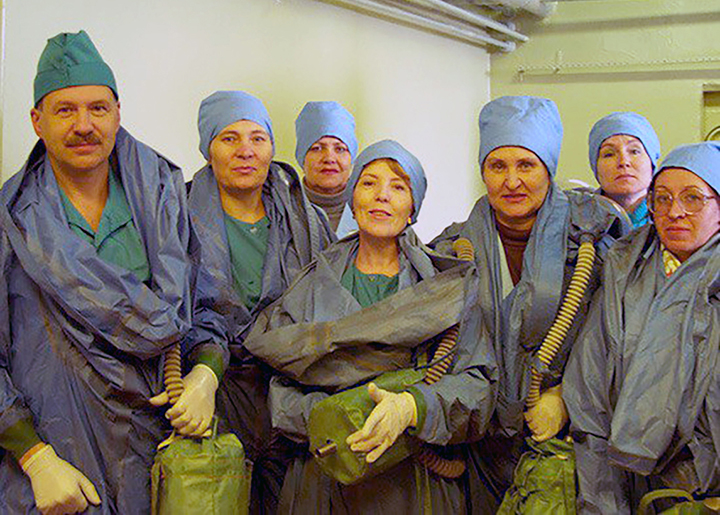 Dr Alexander Chepurnov, a leading virologist pictured with colleagues who headed research into Ebola at the world famous Russian State Research Centre of Virology and Biotechnology, Vector, in Koltsovo, Novosibirsk region. Picture: Alexander Chepurnov
---
Moscow, for example, appears to show a spike in pneumonia cases of 37% in January compared with a year earlier.
'We have a lot of pneumonia cases, and I see that in hospitals they do not take samples,' Chepurnov said, evidently fearing that these patients might suffer from coronavirus.
'That means that maybe the web is not cast very wide.
'I cannot quite understand the situation, and I am not sure that the conclusion about the safety of our region is right.
'In general it looks rather strange: the part of the country that directly borders with China, with a large number of people that cross the border here and there, has such a calm situation in terms of coronavirus. It is quite surprising.'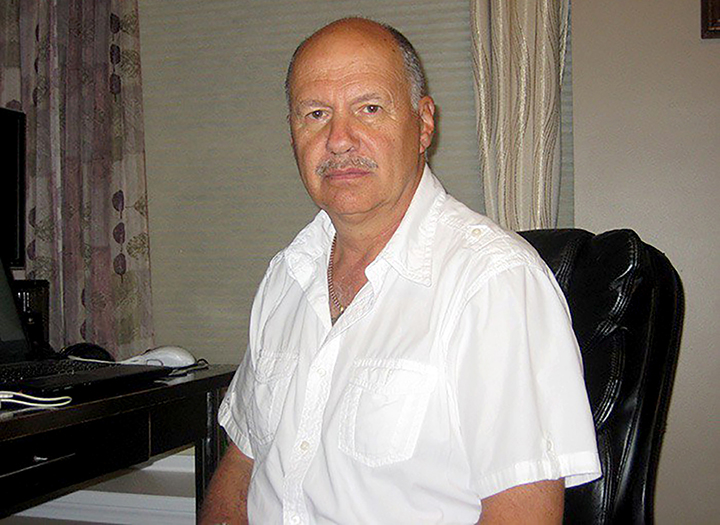 Dr Alexander Chepurnov. Picture: Alexander Chepurnov
---
Another expert Dr Valentin Kovalev, an Infectious disease specialist at Rassvet Clinic, told Medusa publication: 'To distinguish the course of coronavirus infection from the usual seasonal flu is almost impossible without laboratory confirmation.
'This is a cough, runny nose, fever, mucus, and so on, so I think that coronavirus infection has long come to us from China - and many have already been ill with it.
'But we don't know about these cases because mostly the infection flows like a normal acute respiratory infection, and the person recovers.
'In our country, no-one routinely examines those who suffer from a cold at home.'
Evolutionary biologist George Bazykin, of Skoltech, told Medusa: 'I don't have a good answer [why there are so few confirmed cases of coronavirus in Russia].
'Maybe we are just lucky and no-one brought them.
'Perhaps some brought it, but recovered, without infecting anyone.
'Perhaps there are many unregistered cases - according to early data, about two-thirds of all cross-border transfers were unregistered - but I did not see any direct data confirming hidden cases in Russia.'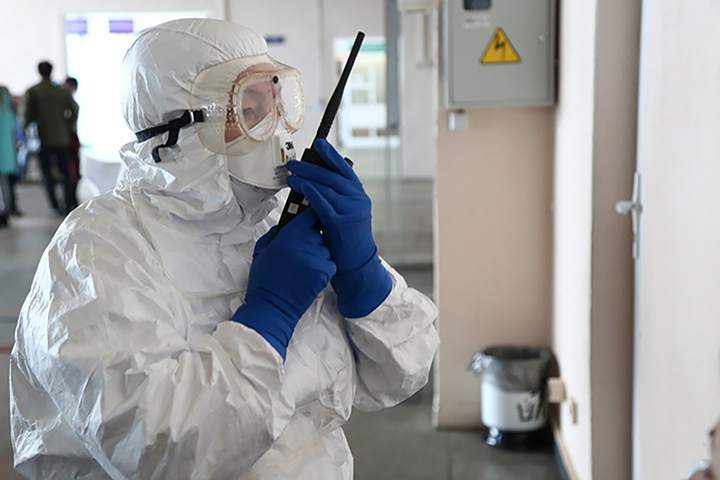 Staff training at the airport of Irkutsk. Picture: Irkutsk airport
---
Against this, Russian hospitals say they are testing appropriately for coronavirus and Vector - where Dr Chepurnov worked - has led the way in producing testing kits.
Russian government officials also claim credit for swift and decisive action, taken earlier than in many Western countries.
For example, most entry points on Russia's border with China is 4,209 km in length (2,615 miles) were closed after the Wuhan outbreak.
Passenger trains from China were halted as early as 2 February and flight restrictions on foreigners arriving from this country were imposed the following day.
The temporary ban on Chinese citizens entering Russia remains in force.
More recently, flights to Europe were limited with Russia closed to Italians and foreigners travelling from Italy.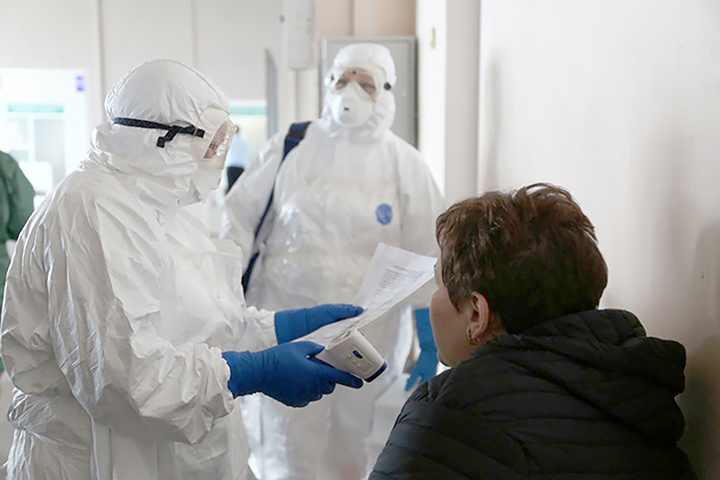 COVID19 staff training at the airport of Irkutsk, Eastern Siberia. Picture: Irkutsk airport
---
Russia has also taken strong action from an early stage in the coronavirus spread to demand quarantine and self-quarantine from those at risk.
The pneumonia statistics do not necessarily hide anything suspicious, either.
RBK received official information from Rosstat that there was a 37% spike in Moscow.
In January 2019, there were 5,058 cases and this year 6,921.
But in Russia overall there were 90,100 people with pneumonia, an increase on January 2019 of only 3%.