One of August 2021 devastating wildfires in Yakutia, Russia's coldest territory
As world leaders and delegations gather in Glasgow for the UN Climate Change Conference, here is our postcard from Siberia, highlighting the way the planet is visibly changing in front of our eyes.
In our time, we see all around troubling events unfamiliar to our parents and grandparents.
Statistics show that in 2020, Russia was 3.2C degrees warmer than the average in the three decades to 1990. Winter temperatures are milder than ever, with air warming up to 5C above the norm.
The number of forest fires have increased four-fold, while storms and hurricanes are ten times more likely.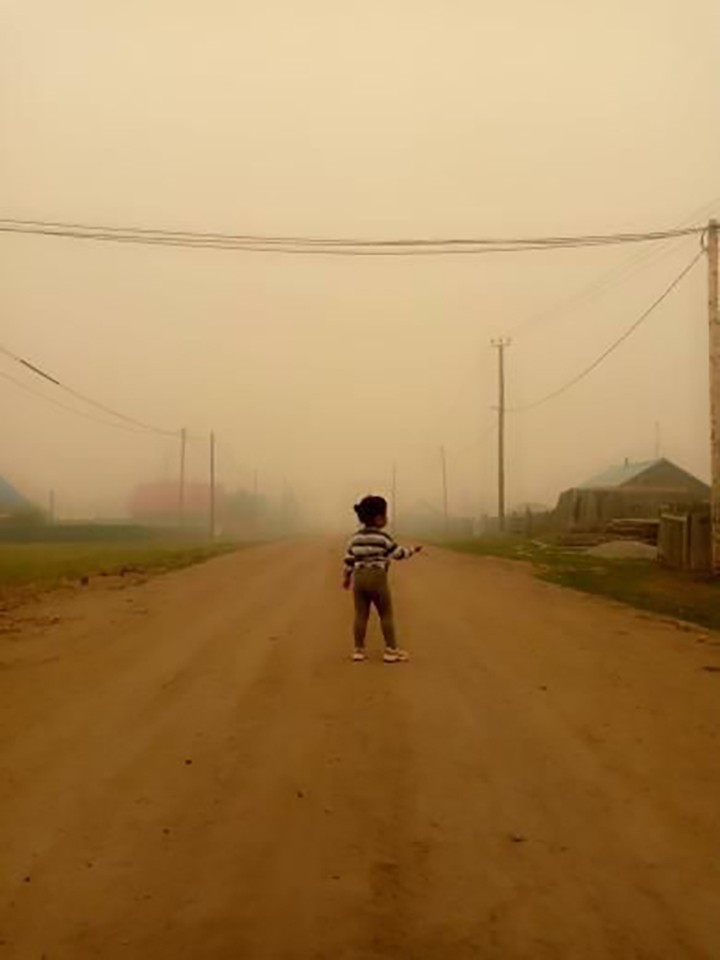 ---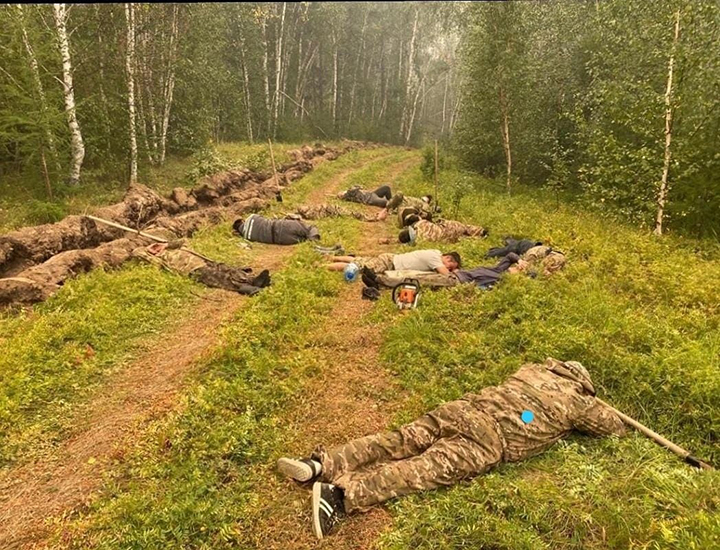 ---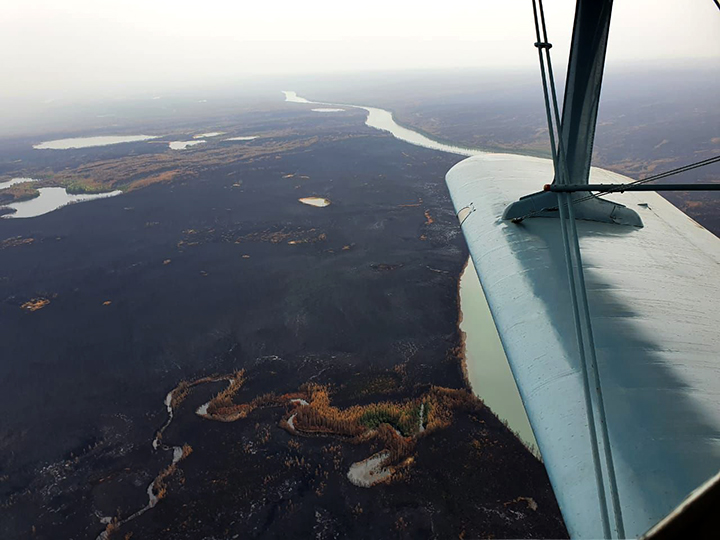 In 2003 President Vladimir Putin quipped that '2 to 3 degrees [of global warming] wouldn't hurt. We'll spend less on fur coats'.
While he will not travel to Glasgow, he said recently: 'Change and environmental degradation are so obvious that even the most careless people can no longer dismiss them.
'One can continue to engage in scientific debates about the mechanisms behind the ongoing processes, but it is impossible to deny that these processes are getting worse, and something needs to be done.
'Natural disasters such as droughts, floods, hurricanes, and tsunamis have almost become the new normal, and we are getting used to them.
'Suffice it to recall the devastating, tragic floods in Europe last summer, the fires in Siberia - there are a lot of examples.'
Here are eight big ways that Siberia is changing
1. BUBBLING METHANE

Our pictures are from two separate locations thousands of kilometres apart: the Arctic Ocean, and the world's oldest and deepest freshwater reservoir, Lake Baikal.
In both cases methane is being released in a way not seen just a generation ago due to the rapid thawing of permafrost, which had sealed the gas for tens of thousands of years - until now.
Discharges in the Laptev and East Siberian seas observed from the Akademik Keldysh research vessel showed high methane concentrations from underwater craters and 'super seep holes' in the thawing ocean floor permafrost.
Bubble clouds are rising from a depth of around 300 metres (985ft) along a large undersea slope, as our view shows.
'They look like holes in the permafrost and, as our studies showed, they were formed by massive methane discharge,' explained Professor Igor Semiletov. 'Two more powerful seeps emitting methane through iceberg furrows were also discovered in the East Siberian Sea.'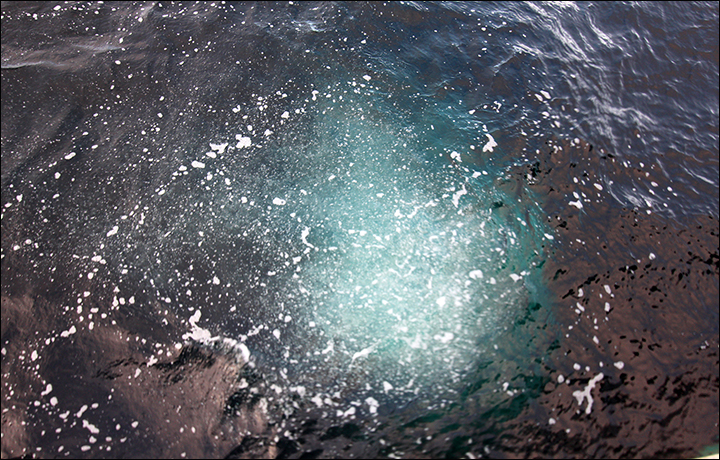 ---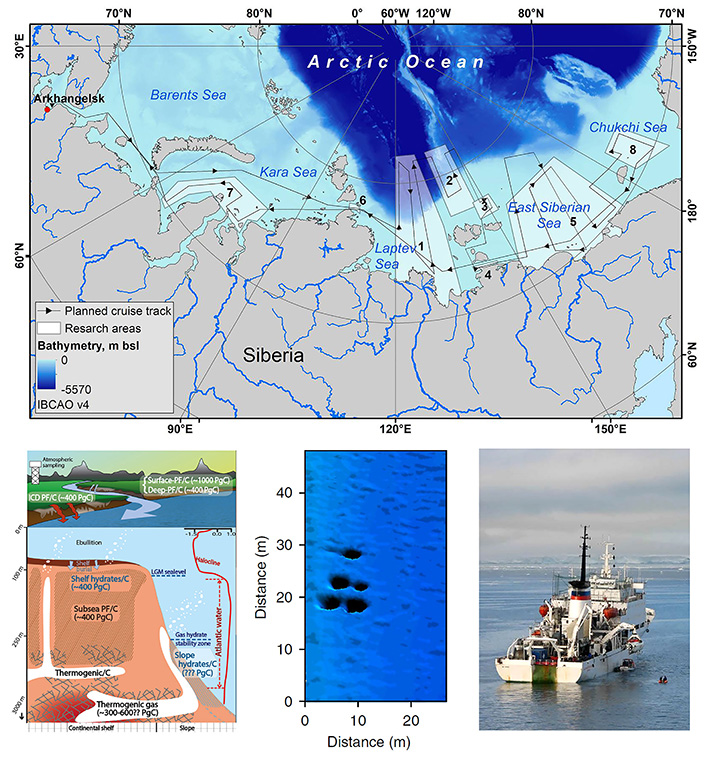 ---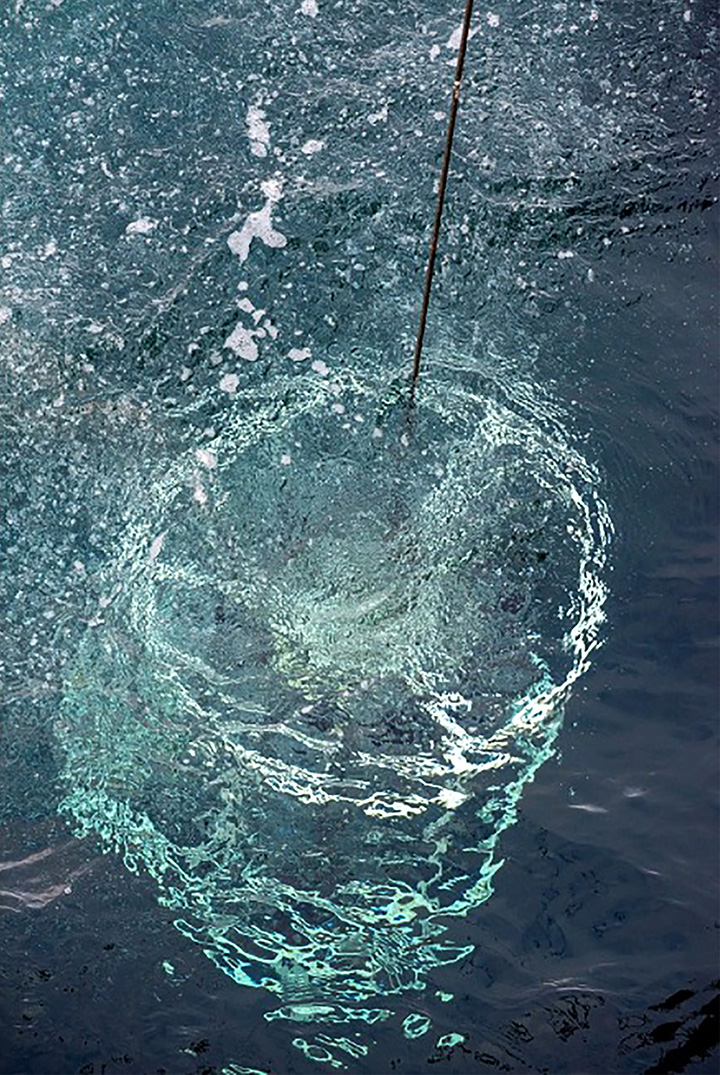 Scientists identified half a dozen "mega seeps" and found concentration of atmospheric methane above these fields reaching 16-32ppm (parts per million). This is up to 15 times the planetary average of 1.85ppm.
We now go south to majestic Baikal where unworldly images are seen beneath the frozen ice on a lake containing 20 per cent - yes, one fifth - of the world's unfrozen freshwater.
These unworldly under-ice shapes are stunningly natural artistry; yet beneath the crystal clear frozen surface they also signal leaking methane.
The lake has some two dozen major deepwater methane seeps - below 380 metres (1,250 ft) - and hundreds of shallower gas fountains.
The quantity of methane hidden in gas hydrates in Baikal is estimated at one trillion cubic metres.
---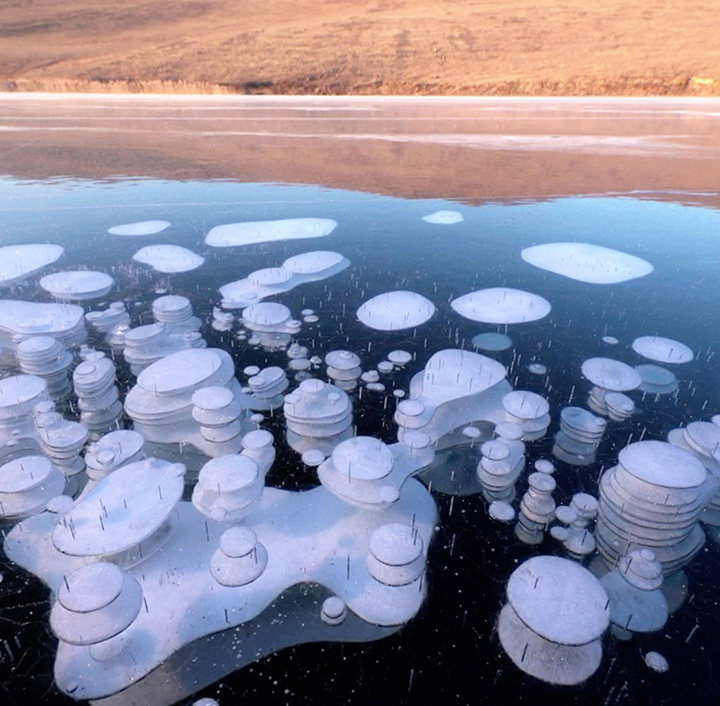 2. THE YAMAL CRATERS
Huge explosions in the past decade or so have caused the formation of at least 20 giant craters in and near the Yamal peninsula in northern Siberia. By summer 2021 scientists have identified some 7,185 bulging Arctic mounds, potentially at risk of erupting.
'Five to six per cent of these 7,185 mounds are really dangerous,' warned Professor Vasily Bogoyavlensky.
Gas fields at Bovanenkovo, Novoportovskoye and South-Tambey are in jeopardy, as is the strategic $27 billion Sabetta LNG hub, he said.
Some of these rapidly-developing potentially explosive bulging hillocks on the Yamal and Gydan peninsulas are close to settlements and gas fields vital for energy supplies in Europe.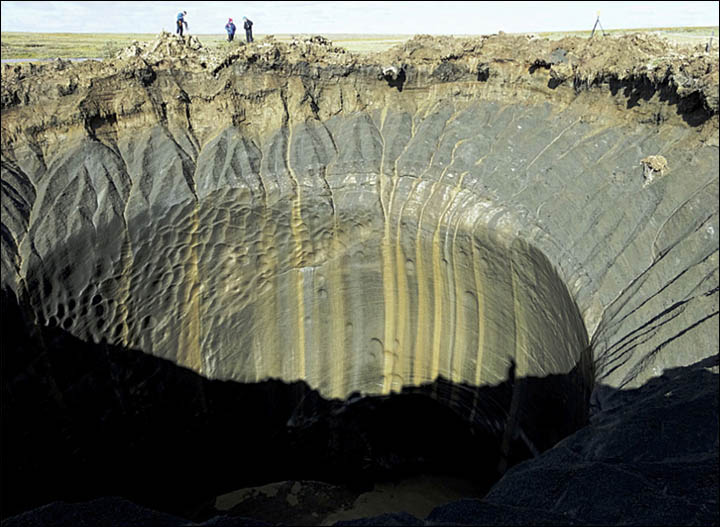 ---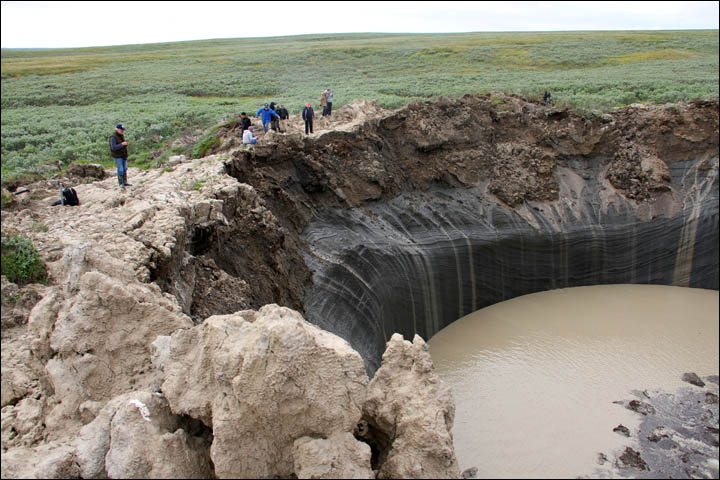 ---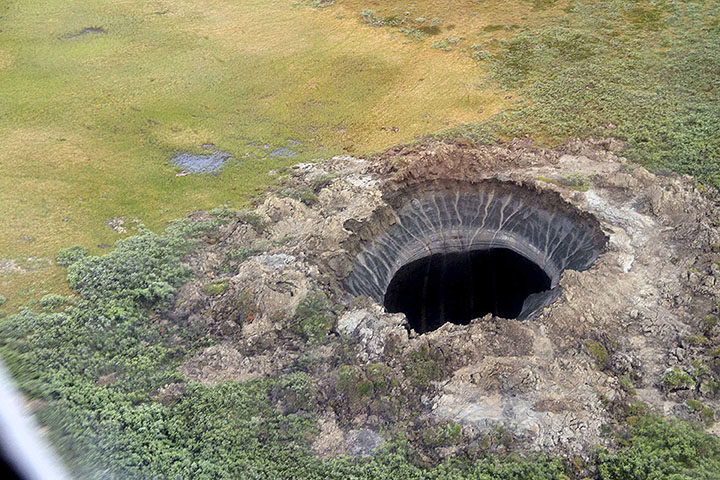 ---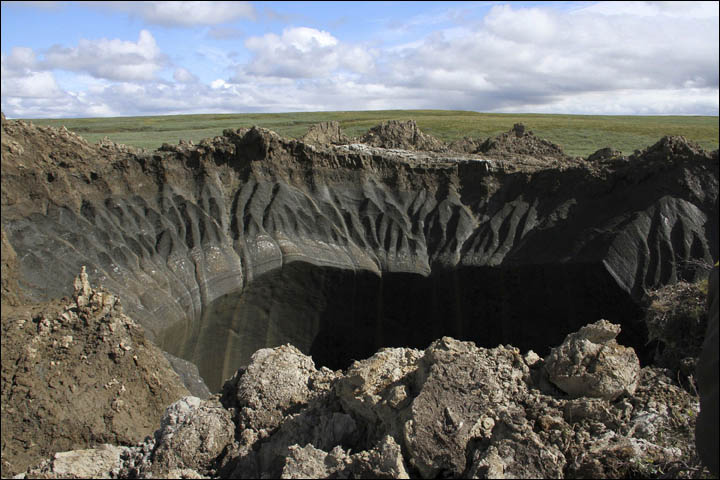 ---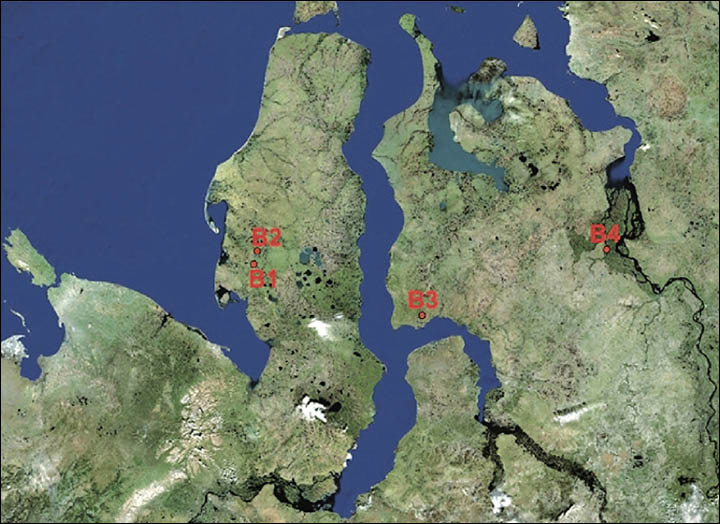 Inside the 'heave mounds' is unstable methane released due to thawing permafrost.
One example was a summer 2020 eruption leaving a 40 metre (131ft) deep crater.
In an explosion in 2018 in Lake Otkrytie, its 1.5 metre (5ft) thick ice cover was smashed with debris scattering some 50 metres (165ft) from the epicentre.
3. WONKY RAILWAYS, TWISTED ROADS, COLLAPSING BUILDINGS
Some 65 per cent of Russia - the world's largest geographical country - is permafrost, and it is thawing fast. Our pictures show some of the dire consequences, and the crisis will worsen in coming years.
Reports have warned of a dramatic weakening of the 'bearing capacity' of the ground inn, for example, Russia's diamond capital Yakutsk and nickel mining hub Norilsk, both built on permafrost.
Once usable railway lines built in the Stalin era in far-flung Siberian locations like TransBaikal are now wonky and twisted due to the ground moving because of permafrost thaw. Bridges, too, have collapsed.
A picture here shows a building collapse by 10 metres (33ft).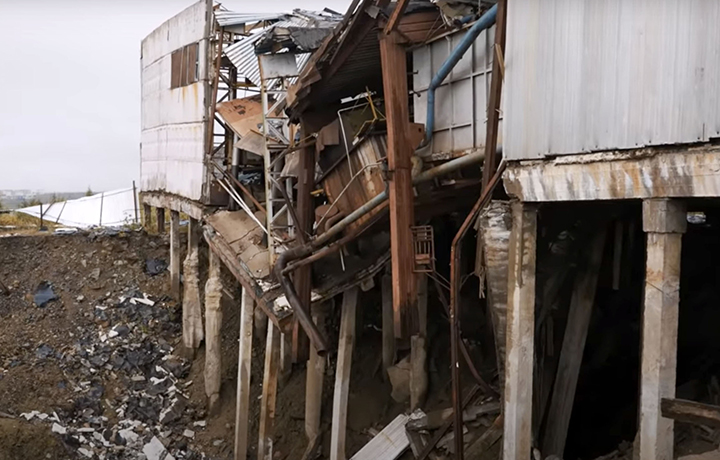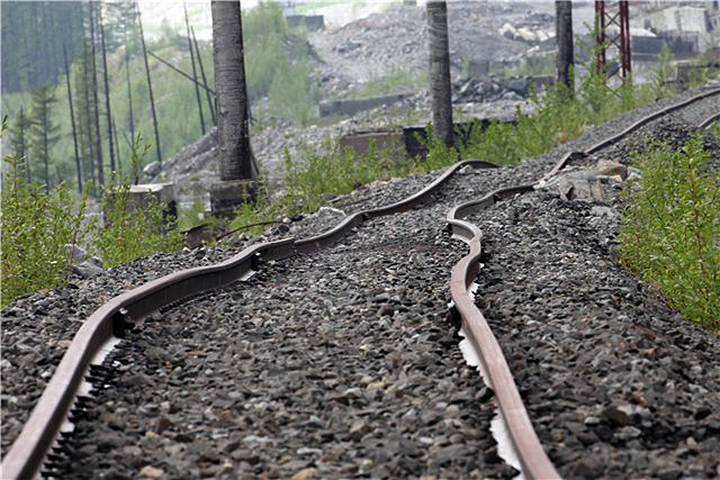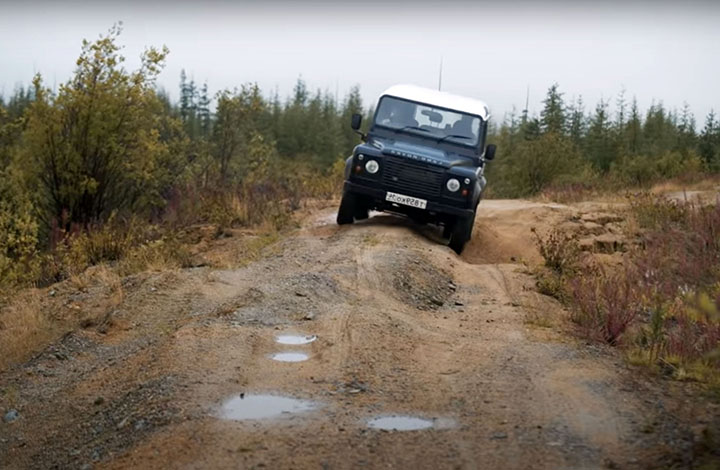 ---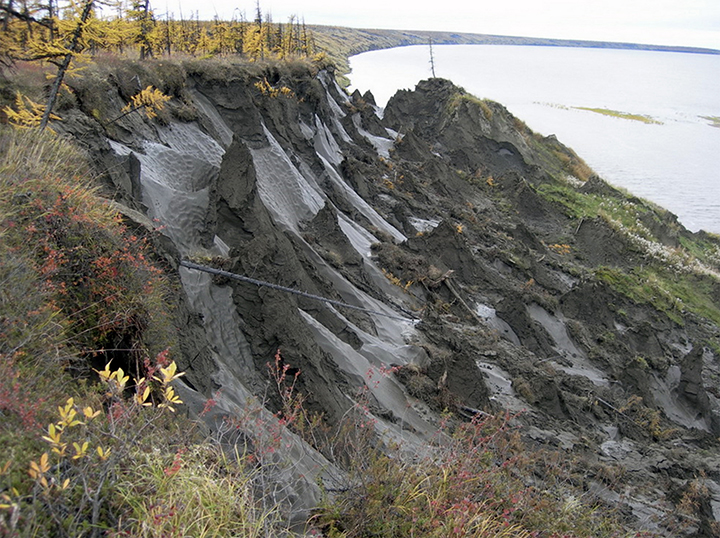 ---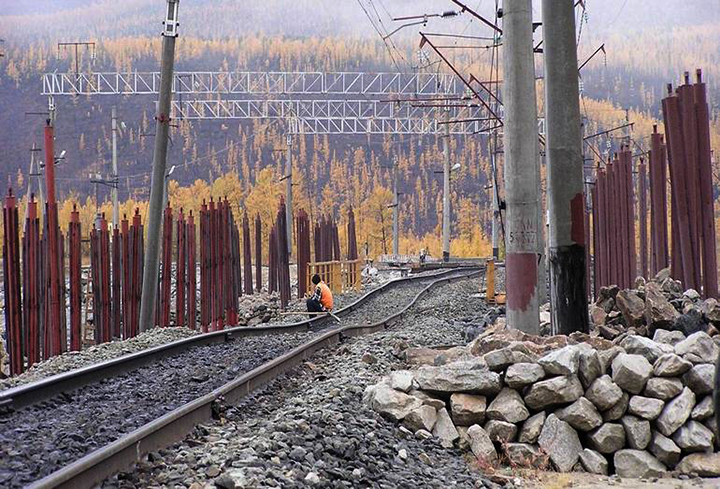 Russia has used a trusted method of building in permafrost regions, driving piles deep into the frozen ground. But if the ground is no longer frozen, the whole reality changes. Swamps and lakes appear, towns and even cities become unviable.
Nikita Zimov, director of the Russian North-Eastern Scientific Station near Chersky has highlighted the destruction within two years of a defunct sewage treatment plant in Yakutia, the world's coldest inhabited region. It 'snapped in the middle' as a portion of the structure subsided, while a concrete road leading to the plant sank into a new ravine, totally vanishing, he said.
He warned: 'The temperature of the permafrost is rising, and we are reaching the point when it will begin to thaw everywhere, and very actively. We are heading towards a vicious circle when climate warming will speed up the thawing of permafrost, which will in turn add to faster climate warming and further accelerate the thawing, until all active carbon is released from permafrost.'
From his vantage point running The Pleistocene Park, which aims to restore fauna of mammoth steppes of the Pleistocene Era, he envisages a terrible toll.
Permafrost is thawing much faster than many expected.
'Once our permafrost starts to thaw we will no longer need to worry about factories or any other sources of emission, because the main emission of methane will be coming from here (in the Arctic). And the process has started.'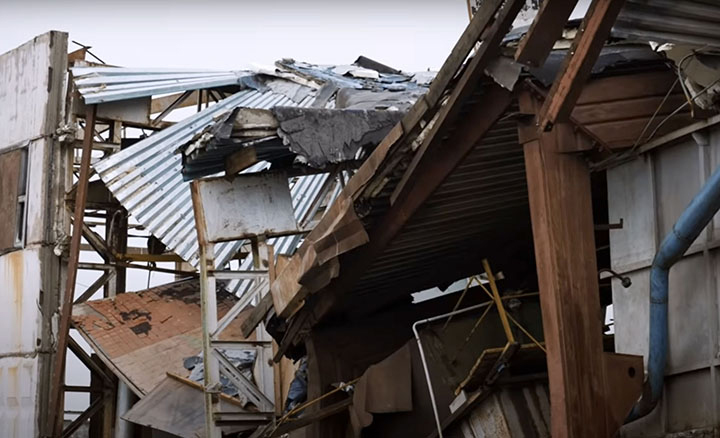 This devastating release will happen in a flash of the evolutionary timescale.
'We believe this process will take from 100 or 200 years,' Nikita Zimov said.
His concern relates to the top 40 metres (130 ft) layer of ground which is thawing 'worryingly fast' in Yakutia.
Permafrost is the hard frozen mix of soil, sand and ice lying under cities, towns and vast unpopulated areas in polar regions. Comprising up to 500 gigaton of organic matter like roots of ancient grass, bushes and trees, plus the remains of animals - this is permafrost in Yakutia alone, and by its estimated weight it is heavier than all currently growing Earth's biomass.
It is the world's biggest reservoir of organic carbon which converts into a greenhouse gas including methane once it thaws.
4. THE MOUTH OF HELL IS OPENING WIDER
A new satellite image shows the widening of the Batagai Depression, a 'megaslump', nicknamed by the local residents as the Mouth of Hell. The tadpole-shaped giant hole was measured several years ago at 100 metres (330ft) deep and around 1,000 metres (3,300ft) in length, with a width of 800 metres (2,650ft).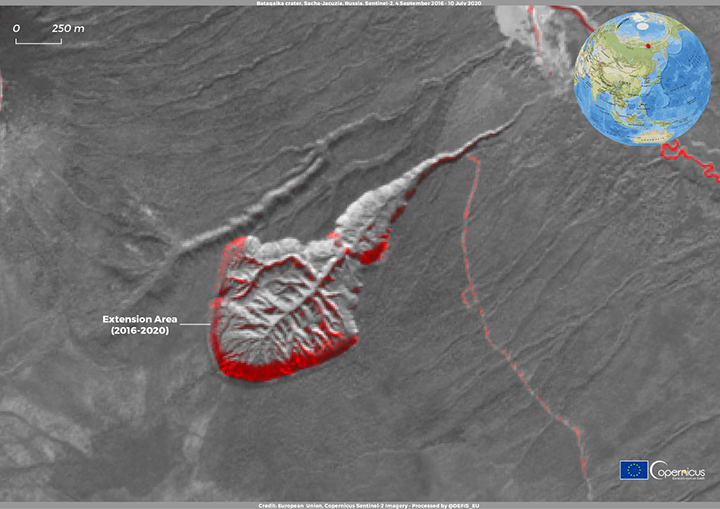 New precise measurements are awaited from this gash in the ground but the snapshot from space shows it broadening. Inside the crater, as our pictures show, water frozen in the soil for tens of thousands of years trickles and gushes away, released from its ancient clasp.
Chunks of thawing permafrost fall off the cliffs.
---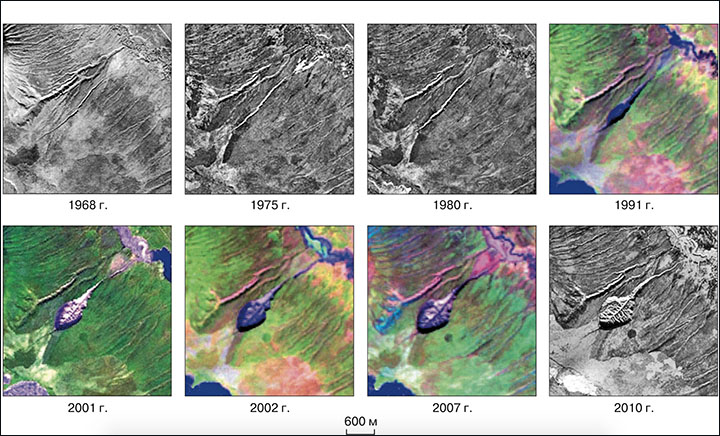 Sergey Fyodorov, researcher at the Institute of Applied Ecology, Yakutsk, told us: 'One of the most serious things we must understand looking at this slump is that its growth is not something we, humans, can stop. We cannot put a curtain against the sun rays to stop it from thawing.
'Even at the beginning of September, when air temperatures drop to zero, you see springs and rivers of water.
'As you stand inside the slump on soft piles of soil that was left after ice thawed, you hear it 'talking to you', with the cracking sound of ice and a non-stop monotonous gurgling of little springs and rivers of water."
The trigger for his crater's formation was man made, caused by the removal of trees.
Then the thawing of the permafrost in Yakutia took over, and the expansion is now rapid.
5. THE UNLOCKING OF ZOMBIE DISEASES
Annual discoveries are now made of the remains of extinct woolly mammoths or rhinos as well as long-gone cave bears and pre-historic horses. The thawing of permafrost has given scientists access to an untold treasure trove of not merely bones but the flesh and fur, the cells and even blood, of the past.
Scientists are working to bring some of these species back to life, yet there is another side to the reappearance of these lost animals.
In the last five years, born-again anthrax in the Yamal peninsula has been released and killed both humans and reindeer.
Hundreds of Russian chemical and bio-warfare troops were deployed to destroy the infected reindeer remains on Yamal. The release of eradicated smallpox remains a threat.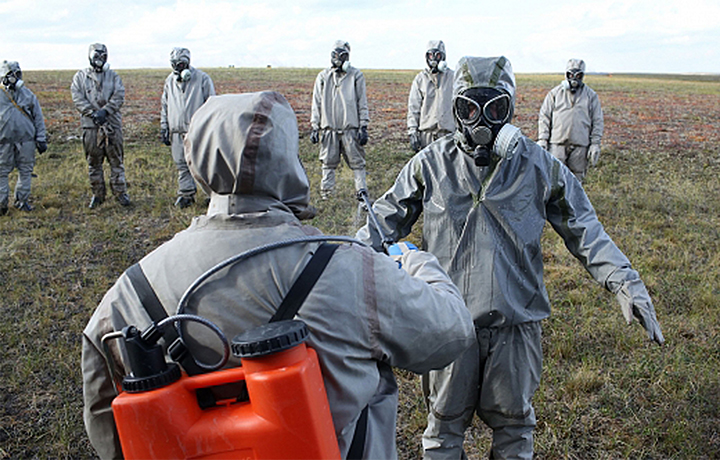 ---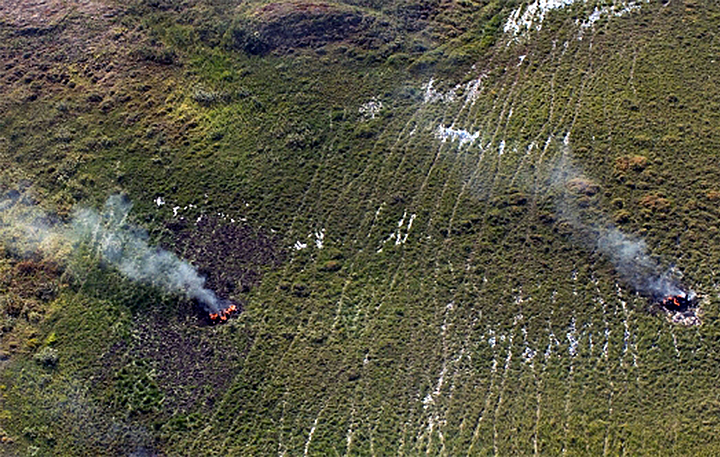 A graveyard on the Kolyma River was created in the 1890s to bury the dead from a major smallpox outbreak. The combination of permafrost thawing and flooding - another consequence of climate change - risks reopening such graves.
Many other dangers lurk in shallow Arctic graves of both humans and animals, which might be unlocked from the ice after centuries, or longer.
Viktor Maleyev, deputy chief of Russia's Central Research Institute of Epidemiology, has warned of new "giant viruses" in, for example, woolly mammoths, the carcasses of which are now appearing with regularity.
'Their pathology has not been proven, we must continue to study them,' he said. 'Climate change will bring us many surprises. I don't want to scare anyone, but we should be ready.'
A study released in October 2021 found that the bacteria Acinetobacter lwoffii, extracted from permafrost thousands or millions of years old, were resistant to antibiotics.
The bacteria were from the mists of time yet had much in common with modern strains, said scientist Dr Nikolai Ravin, head of the Laboratory of Molecular Cloning at the Research Centre of Biotechnology, Russian Academy of Sciences.
'Our colleagues received similar results and the situation is frightening,' he warned. 'Global warming can only be slowed down, but it can never be stopped, and it can release new infections.
'A study of these potential pathogens now buried in permafrost could save our lives and health in the future.'
6. WILDFIRES BURNING ALL YEAR, PEAT FIRES ACTIVE EVEN IN MINUS 60C COLD
In 2021 have seen the worst wildfires in recorded history. If this year, they were further south, last year they raged more intensively in the far north, above the Arctic Circle.
The statistics are jaw-dropping, and the consequences for Siberia's nature, and residents, distressing. The phenomenon of 'smoking snow' in the Tomponsky district of Yakutia highlights the new normal.
Here a fire burns underground in the thawed permafrost, all year, even when the temperature plunges below minus 50C.
A video shows the wafts of smoke rising from the zombie fire some 400 km (250 miles) north-east of the republic's capital Yakutsk, the world's coldest city..
Local resident Ivan Zakharov, who filmed the fire at exactly minus 50C in January this year, told The Siberian Times: 'It is burning in the same area that was hit by summer wildfires.
'This area suffered extremely hot and dry weather. It must be either peat on fire here, or, as some hunters who noticed these fires suggest, possibly young coal (lignite).'
This year's worst-ever wildfires were signalled in the first days of May - with snow and ice still on the ground - in the vicinity of Oymyakon, known as the world's coldest permanently inhabited village.
Huge flames raged on the Road of Bones, built in the Soviet era by prisoners of repression in some of the world's coldest outposts.
Yakutsk and other Siberian cities were blotted out by toxic fumes from the fires, as much as 95 times allowable levels, and the smoke which also wafted across the Pacific to North America.
The Siberian fires in 2021 exceeded those in the rest of the world combined, in a year that saw the huge infernos in the US, Spain and Turkey.
The destruction covered an area larger than Portugal, or Maine.
'They have pumped 800 million tonnes of carbon dioxide into the atmosphere since the start of June, more than the annual emissions of Germany, Europe's biggest polluter,' reported The Times.
'One of the individual blazes was said by Greenpeace to be a contender for the planet's largest fire since records began.'
7. FLOODS... AND DROUGHTS
Children watched in horror as a bridge collapsed in severe floods in Trans-Baikal region in July. A truck was washed away by the swollen waters in Uryum but the driver miraculously escaped.
Siberia can experience floods and droughts at the same time, a weather rollercoaster of lashing rains but also lengthy parched periods without precipitation.
On the same day across the eight time zones from the Urals to the Pacific, weather and news reports may be drawing attention to record heat waves, burst rivers, dry spells, unseasonal snow and tornadoes.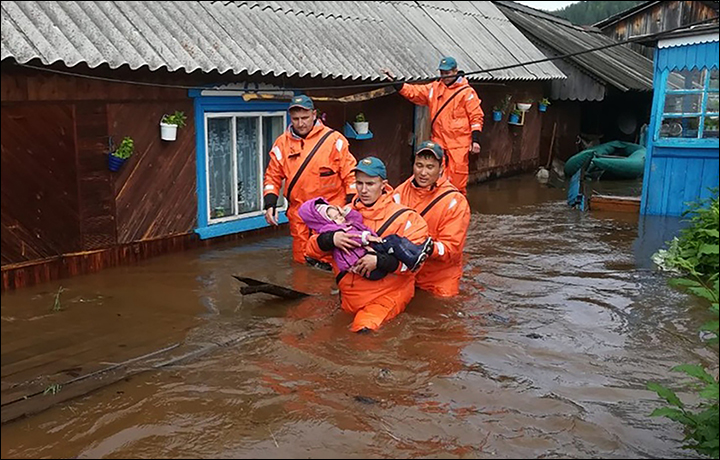 ---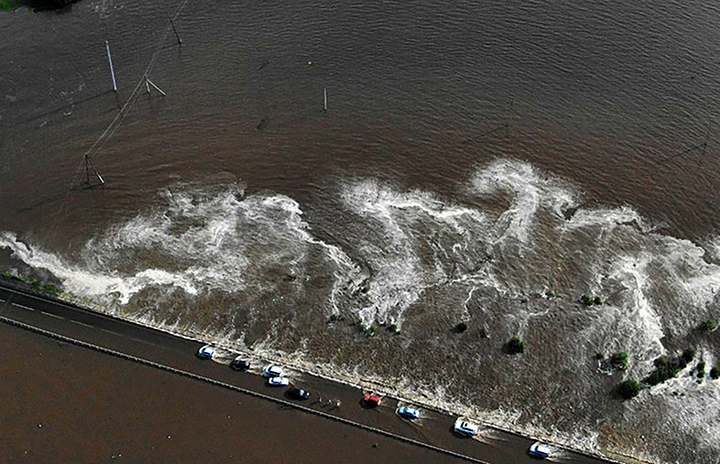 ---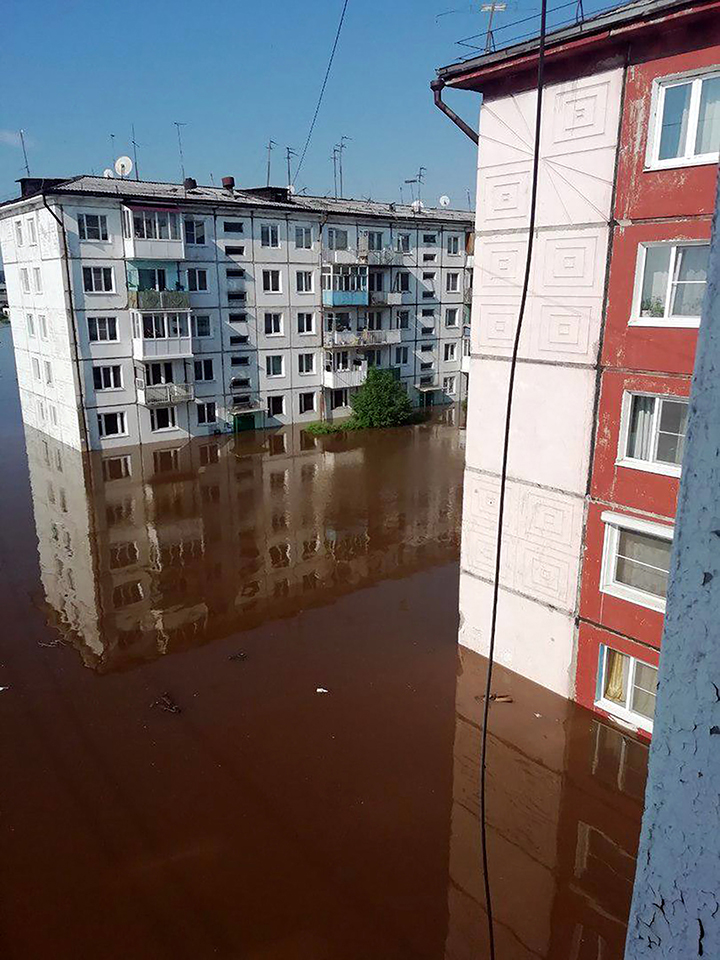 The year 2019 saw the worst flooding in recorded history in Irkutsk region. An epicentre was Tulun where grandmother Anella Danelyuk, 83, called her family to say sudden surging water was up to her neck, as she claimed on a chest of drawers.
She made clear this was her final call before expecting to drown - and she was one of dozens to die and go missing as rivers rose by up to 14 metres (46ft).
Yet it is also long periods of drought - this year in the north - that has enabled the wildfires to rampage across Siberia.
8. NORTHERN SEA ROUTE
There was an epic sight last year of the giant sailing ship STS Sedov sailing across the Arctic Ocean from Asia to Europe. The crew encountered almost no significant ice floes across thousands of nautical miles.
An accompanying Russian icebreaker vessel was virtually redundant as the Sedov ventured across the Bering, Chukchi, East Siberian, Laptev and Kara seas.
The four-masted German-made steel barque's journey shows that the Northern Sea Route now viably connects the Pacific and Atlantic.
How different from 142 years earlier.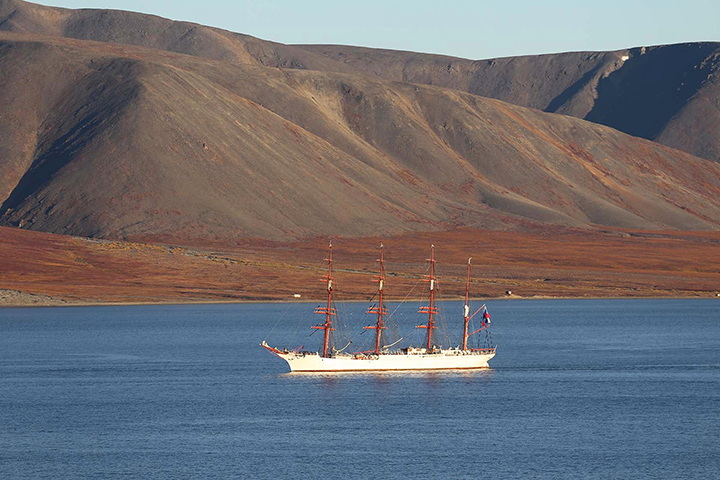 ---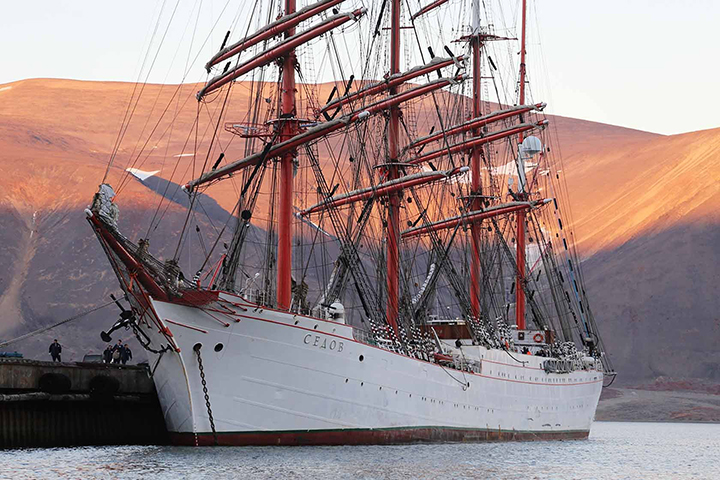 ---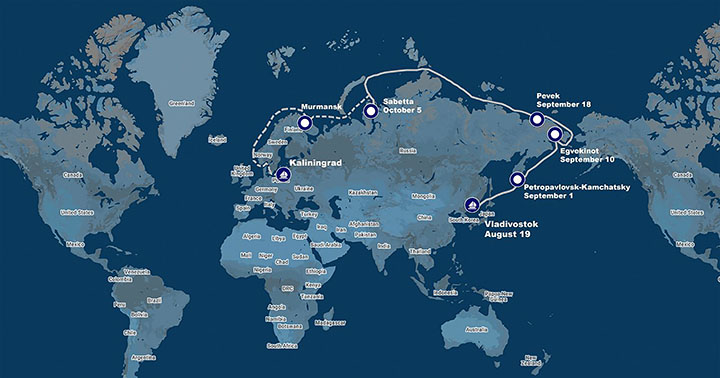 ---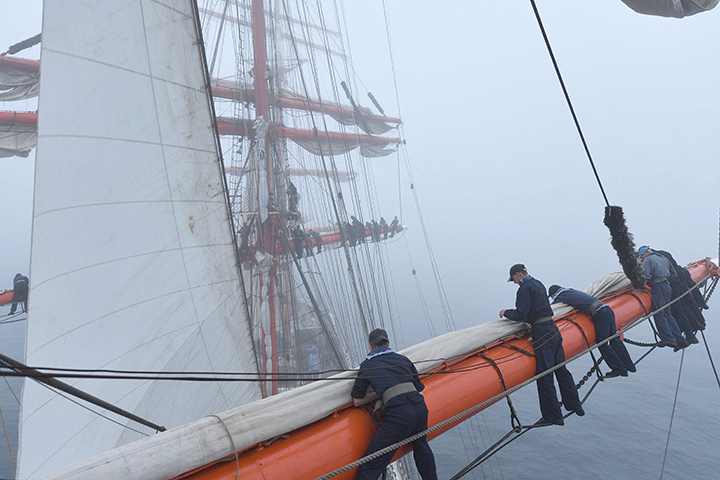 ---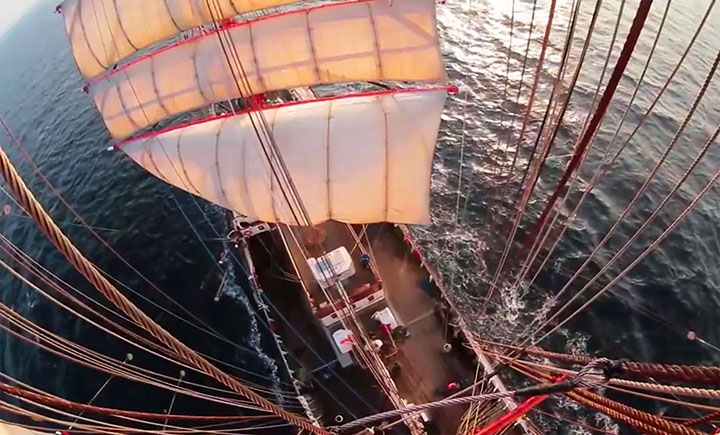 ---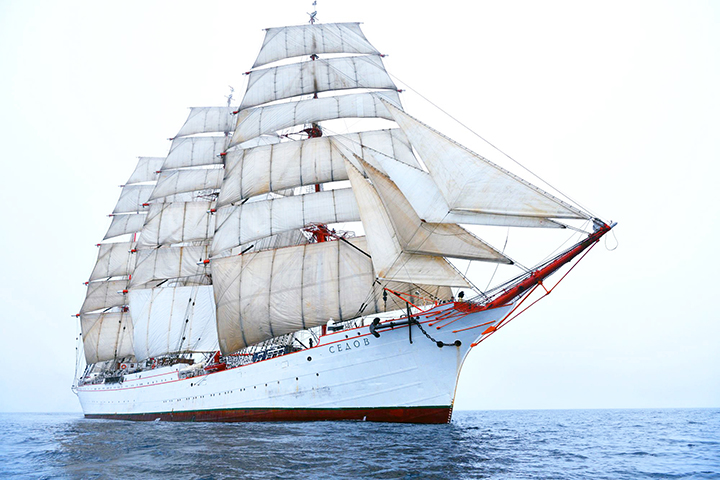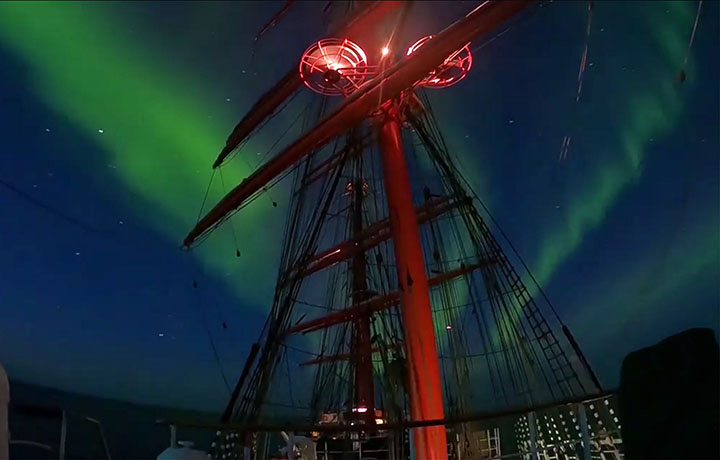 The vessel sailed past the location off Chukotka where in 1878 the famous Vega Expedition became stuck in pack ice for 11 months as it made the first-ever successful voyage from Europe to Asia via the Arctic sea route.
Ivan Fedyushin, second officer on the STS Sedov, said: 'We did not encounter even remnants of ice fields. We can say that global climate changes now make sea routes in polar waters more accessible for all types of ships.'
This is an economic boon to Russia, and the coming years are expected to see a major rise in trade taking advantage of the northern route.