Chief epidemiologist of the Altai region Irina Pereladova gets first shot of Sputnik V vaccine at the end of September 2020. Picture: Anna Zaikova
Three cases of Covid-19 were reported today among the Altai region healthcare workers who were vaccinated weeks earlier with Gam-COVID-Vac, trade-named Sputnik V.
42 medics received the vaccine produced by Moscow-based Gamaleya Institute at the end of September, with the regional chief epidemiologist Irina Pereladova being the first one to get the shot.
The second dose was injected on 14 of October, according to Sputnik V protocol.
A day prior to the vaccination all healthcare workers did Covid-19 tests which showed negative results, Irina Pereladova told Amic.ru news website, saying that it must mean that the volunteer medics got infected within 24 hours after doing the tests, and before getting the first dose.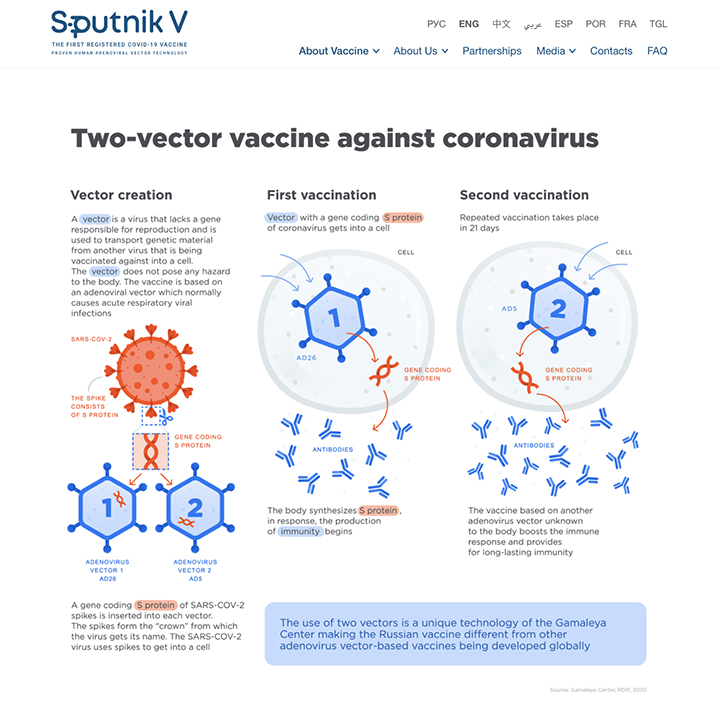 Picture: SputnikVaccine.com
---
No details were released about the doctors who caught Covid-19, but Pereladova said that by 10 November all of them have recovered.
'No singe vaccine guarantees that a person will not get infected, as they might be in the incubation period', Pereladova told amic.ru.
Healthcare workers in Russia have been vaccinated with Sputnik V since the end of September.
Pre-vaccination tests for coronavirus are not mandatory, Pereladova said, as long as basic rules like normal body temperature and good health with no signs of respiratory infections are observed.
'This was our own decision to run the tests on our Altai doctors prior to the vaccination. This was in fact a pure experiment', Pereladova said.
By 15 November the Altai region will receive 1963 more doses of Sputnik V, aimed to be used for healthcare workers.