Investment sought for $5.9 million cloning centre to bring back mammoths and other extinct species
The 400 million rouble paleo-genetic scientific centre will aim to study extinct animals from living cells - and to restore such creatures as the woolly mammoth, woolly rhinoceros, cave lion and breeds of long-gone horses.
The proposal will be presented by the Northern-Eastern Federal University (NEFU) in Yakutsk, which is already deeply involved in collaborative cloning work with scientists in South Korea.
Acting rector Evgenia Mikhailova plans a 'world-class paleo-genetic scientific centre' and support has been promised by the regional government of Sakha repubic, also known as Yakutia, say reports.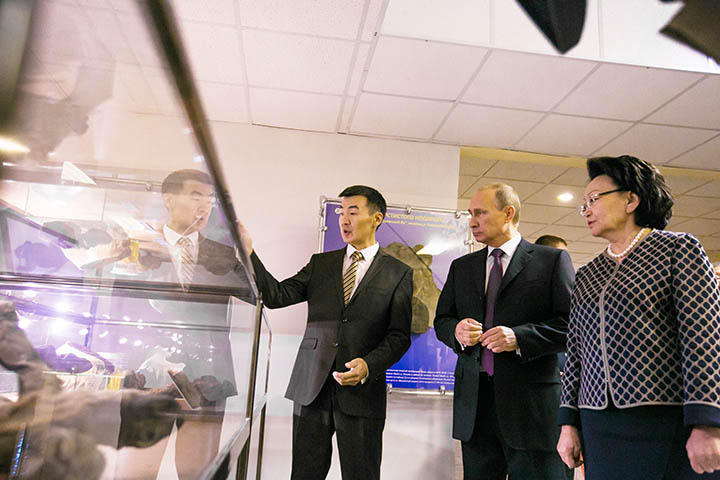 Semyon Grigoryev (first from left) with Vladimir Putin and acting rector Evgenia Mikhailova (first from the right)
Some 80% of unique samples of Pleistocene and Holocene animals with preserved soft tissues have been found in this region.
They are preserved for tens of thousands of years by permafrost.
Plans have already been drawn up that would involve laboratories sunk into permafrost to work with samples from many different extinct species.
Expert Dr Lena Grigorieva said: 'There is no such unique material anywhere else in the world.'
The university has existing close cooperation with South Korean SOOAM Biotech Research Foundation, said Dr Grogorieva, leading researcher of the International Centre for Collective Use 'Molecular Paleontology' of the NEFU's Institute of Applied Ecology of the North.
---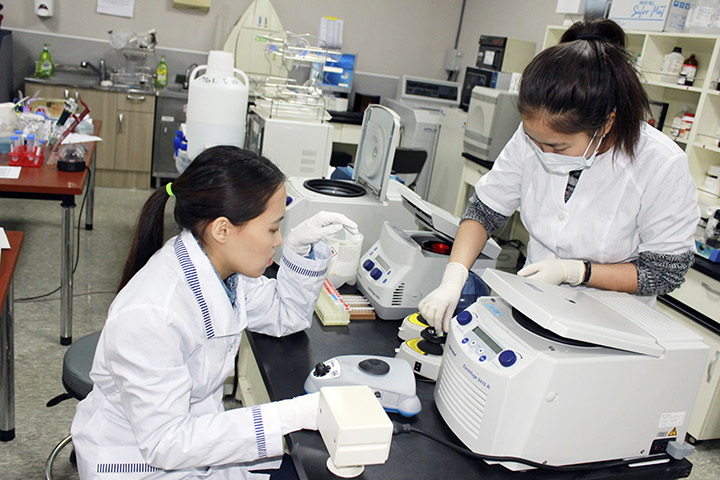 ---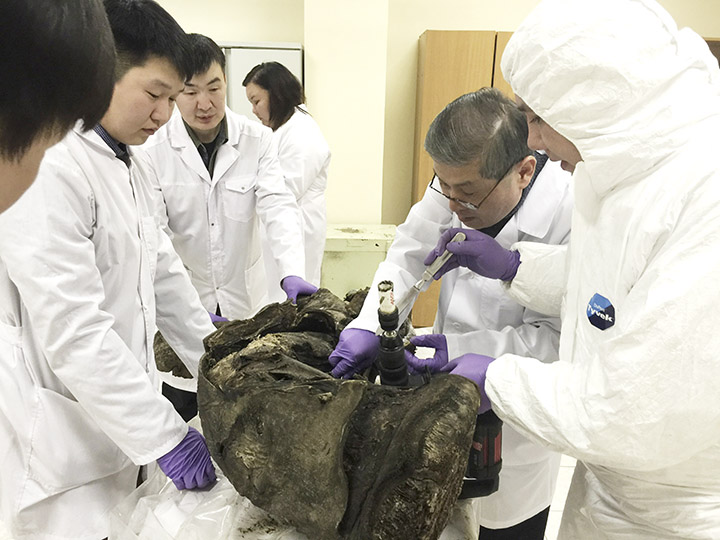 ---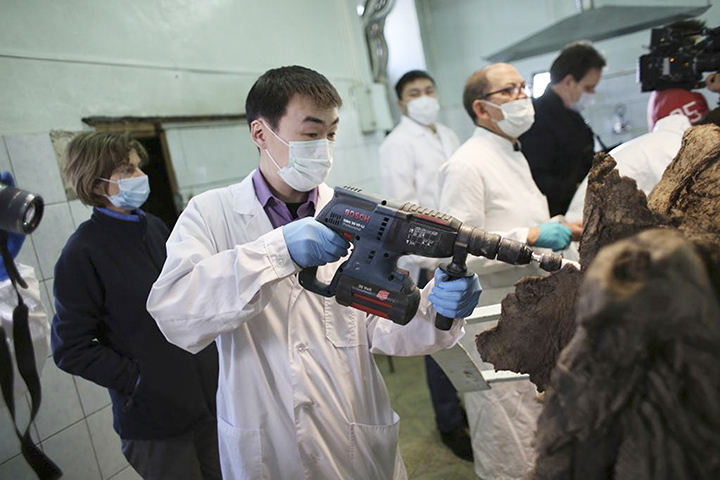 International Centre for Collective Use 'Molecular Paleontology' of the NEFU's Institute of Applied Ecology of the North.
'We study not only Pleistocene animals, another line is the study of the history of settlement of the North-East of Russia,' she said.
'Northern ethnic groups have a unique ancient genetic structure.
'Such studies will help in the study of rare genetic diseases, their diagnosis, prevention.'
The South Korean laboratory is led by Professor Hwang Woo-Suk who has previously praised President Vladimir Putin for his support for research in this field.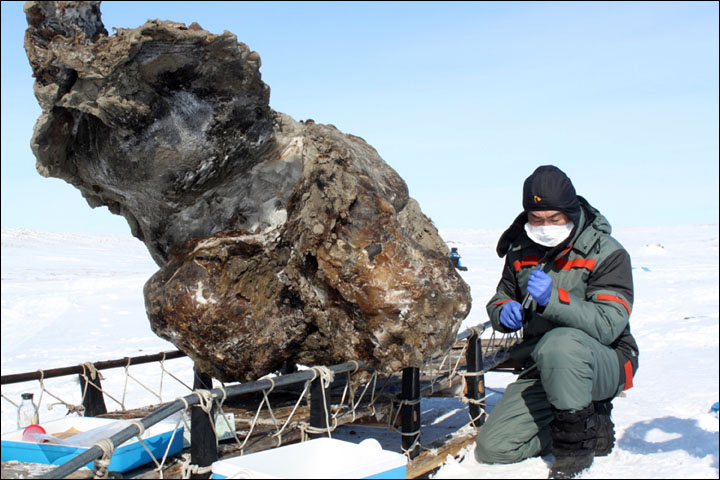 ---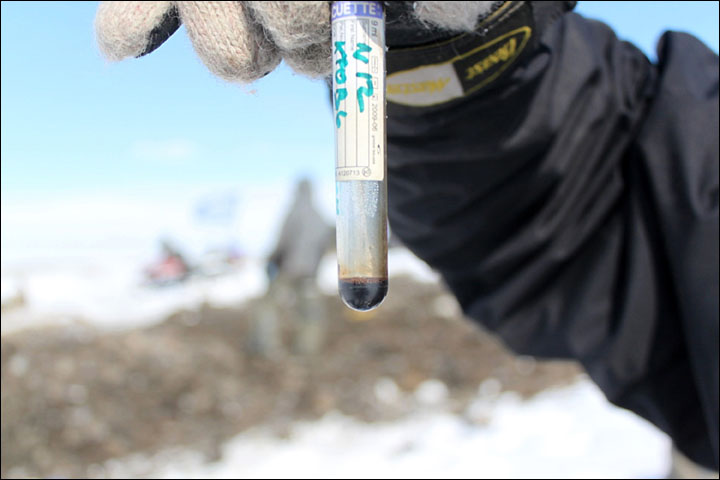 ---
---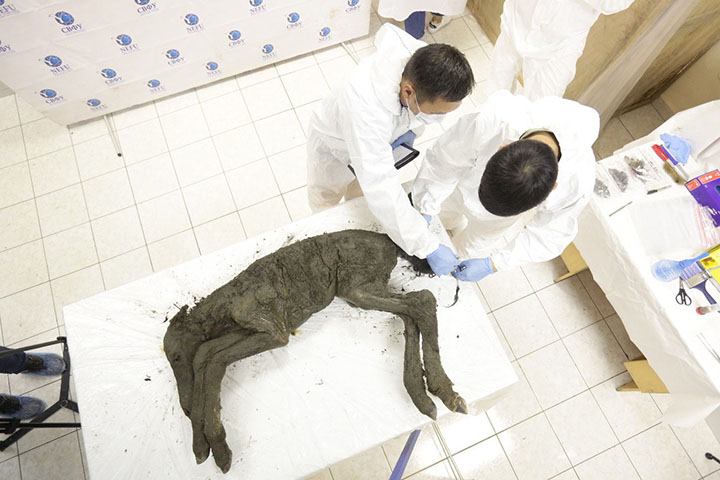 Malolyakhovsky mammoth's carcass on the sledges. Malolyakhovsky mammoth's blood. Ancient foal found in Batagai crater.
The forum to be held in Vladivostok 11-13 September is aimed at sparking investment in eastern Russia.
Putin said ahead of this year's session: 'Russia has currently ensured the most comfortable conditions for attracting advanced technologies and creating new innovative industries.
'The special economic zones are advanced special economic zones of the Far East offer foreign investors tax preferences and a simplified administrative regime with infrastructure being modernised at the government's expense.'